Affordable DIY: How to Find Cheap Tools and Equipment for DIY Projects
Discover strategies for finding affordable tools and equipment for your DIY projects without breaking the bank. Start your budget-friendly DIY journey today!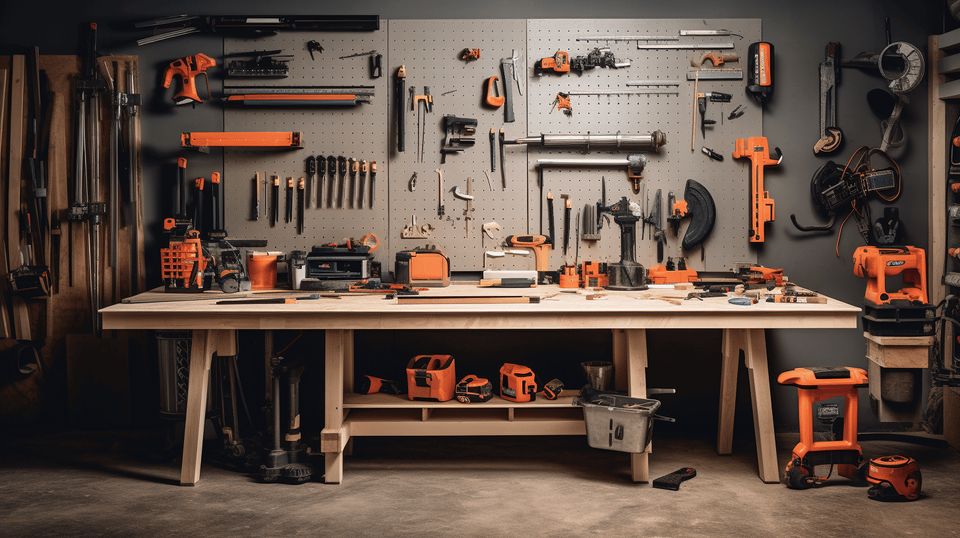 Embarking on a DIY project is as exciting as it is rewarding: touching up that old furniture pieces, creating something new from scratch, or fixing up your home's special corners. However, a major concern for many DIY enthusiasts is the cost of tools and equipment. High-quality tools often come with hefty price tags, but this doesn't mean your DIY dreams can't become reality. With a little shopping smarts and attention to detail, you can find quality tools and equipment at affordable prices. This guide will explore how to navigate through various reliable sources for inexpensive tools and gradually build a robust and well-rounded toolbox without breaking the bank. Enjoy the satisfaction of hands-on work and bask in the fruits of your labor without the worrisome expense. So, let's get started on getting equipped for your DIY journey.
Finding Affordable Tools and Equipment
Investing in the right set of tools can indeed transform your DIY projects. Not only can this critically enhance your efficiency, but it can also save you considerable amounts of money in the long run. However, the initial cost can often be a roadblock for many. Fret not, there are many cost-effective alternatives to choose from and we will guide you along the way.
Harbor Freight
Lined with vans and trucks loading up on tools and machinery, Harbor Freight is often the go-to choice for savvy shoppers. They are known for their affordable range of power tools, generators, jacks, and tool boxes, among others. Going for these cost-effective tools can help you strike a chord of balance between your requirements and your budget.
Online Tool Stores
The online marketplace offers a plethora of options for comprehensive tool solutions matching your needs. It is convenient, provides extensive range, and the customer reviews can dispel your own doubts about a product's performance. Therefore, finding the right tool at a bearable cost becomes significantly manageable from the comforts of your home.
Acme Tools
Paving its way online, Acme Tools has made quite the name for itself among DIY enthusiasts and professionals alike. Providing exclusive discounts, clearance offers, and good bargains, it makes the ultimate destination if you're seeking affordable tools without compromising on quality.
Reputable Brands
Purchasing tools from reputable brands like Ronix, Dewalt, Bosch, Metabo, Knipex, Makita, Milwaukee, and Craftsman is a smart move. Despite the slightly steeper price tag, it vets its worth in the form of durability, reliability, and performance. Remember, it's not about buying cheap tools, it's about investing in affordable equipment that gets the job done.
Affordable Brands
If your budget is tighter, considering options from affordable brands like Harbor Freight, Walmart, and Ryobi may be more suitable. These brands offer a decent quality of tools at a much lower price, making them an excellent choice when the budget is a prime concern.
Sales and Discounts
Patient shoppers can bag impressive deals during sales events like Black Friday. Both online and physical stores are brimming with offers on tools and equipment during these periods. These discounts are a great way to acquire high-quality tools at significantly reduced prices.
B&Q and Homebase
For the UK populace, B&Q and Homebase are like a haven for affordable DIY tools and equipment. Varying from raw materials to fully-assembled fixtures, these stores are littered with budget-friendly options, satisfying the needs of every DIY enthusiast.
Buying in Bulk or Second-hand
Seeking opportunities to buy in bulk can bring down costs drastically. Even if you don't require a heap of tools, partnering with a friend can split the cost and still grant you the discount. Additionally, buying second-hand tools is another feasible way to avoid the hefty retail prices without compromising too much on quality.
Finding affordable tools does not mean you need to compromise on quality or durability. It's all about being resourceful, patient, and remember - saving money creates room for more tools in the future!
Building a Well-Stocked Toolbox
Building a well-stocked toolbox can mean the difference between simple and seamless DIY projects and nights filled with frustration. Having the right tool on hand, not only saves you time but can also ensure your project runs smoothly. Let's dive into how you can build that perfect toolbox for any task you wish to tackle.
Essential Tools
Determining which tools are pertinent and which can be overlooked can be a toss-up. Yet, you can't go wrong with staples like a drill, circular saw, sander, and measuring tape. These are the pillars of any well-equipped toolbox and can smoothly assist you with diverse tasks around the house: from fixing a leaky faucet to putting on shelves or creating a handcraft piece for your living room.
Researching Prices
While it may seem tempting to purchase a needed tool immediately, pause to research prices first. Shopping around or waiting for sales could score you big savings on items that can be quite steep full-price.
Tool Combo Kits
If you're starting from scratch, consider tool combo kits. These kits offer a collection of complementary tools and cost less than buying each device separately. Combine that with the convenience of fulfilling multiple requirements at once, and it's easy to see why these kits are gaining popularity.
Investing in Quality
Remember, high-quality tools provide better performance and durability than their cheaper counterparts. While it might seem like a significant expense upfront, investing in quality can pay off in the long-term through longer lifespan and superior functionality.
Multipurpose Tools
Another cost-effective strategy is opting for multipurpose tools. These gems provide the functionality of multiple devices in one and can save you money and valuable storage space. They're the Swiss Army Knife of the tool world - ready to help you tackle multiple issues with single-handed readiness.
Versatile and Inexpensive Tools
Utility knives, jigsaws, and other versatile and inexpensive tools also deserve a spot in your toolbox. They might not have the glamour of high-powered drills or circular saws, but their usefulness in various situations warrant their inclusion.
Inspecting Used Tools
If you're dipping your toes into tool acquisition or tight on budget, used tools can be a valid option. But caution is required as you must carefully inspect for signs of damage or excessive wear. Always make sure these tools are in good working condition before you seal the deal.
Gradually Building Collection
Don't feel pressured to acquire every tool overnight for a well-stocked toolbox. It's okay to gradually build your collection. Consider asking for tools as gifts or slowly purchase necessary tools as your DIY projects evolve.
To sum it all up, a well-stocked toolbox isn't built in a day, nor does it need to break the bank. Investing in the right tools at the right time, prioritizing quality, and scouting for versatile tools can take you a long way towards crafting the ideal toolbox.
Budgeting and Prioritizing Tool Purchases
Starting a woodworking project? Or perhaps it's time to replace your old garage tools? Budgeting and prioritizing tool purchases can seem like a daunting task. But don't fret. Here's a comprehensive guide to assist you with your decision-making process. This guide will not only help you build a robust tool collection over time but also ensure you get the most bang for your buck.
Table Saw Investment
What's the one piece of kit that every garage workshop must have? A table saw. It tops the list because of the variety of cutting tasks it can handle. Whether you're grooming timber, cutting sheets of plywood or customized crafting, a table saw is your go-to tool.
Consider a table saw investment within budget. Prioritize functionality and longevity over extravagant features.
Weigh the cost against your project needs. If your project requires a lot of intricate cutting, a well-built table saw can significantly save time and effort.
Building Your Collection
Building your tool collection is a journey, not a race. It's not about filling your toolbox in a rush, but getting the right tools that meet your specific project needs.
Identify and understand the tools you need for your specific project.
Prioritize repair tools like wrenches or pliers. They can help with unexpected fixes and also come in handy for other household tasks.
Build your collection over time instead of in one go. This spreads out the cost and allows you to invest in quality products each time.
Don't forget about essential tools like hammers, measuring tapes, and utility knives.
Variety of Screwdrivers
Don't ignore the ordinary screwdriver. This tool might seem primary, but you'll be surprised at its importance.
Invest in a variety of screwdrivers with different tips. They will help you tackle a range of screws used in different projects.
Look for screwdriver sets that offer a wide variety. Such sets provide additional flexibility for your projects and often come in a convenient carrying case.
Power Tool Sets
If you undertake regular woodworking or DIY projects, power tool sets will be a fantastic investment. They offer a range of tools perfect for these jobs, ensuring you have everything at your fingertips.
Consider power tool sets that meet your unique requirements. You can find varieties with tools such as drills, circular saws or grinders.
Always prioritize quality. Insist on tools known for durability and superior performance.
Extra Blades for Jigsaw
A jigsaw is a versatile tool, but its versatility can increase tenfold with an array of specific blades.
Buy additional blades for versatility with a jigsaw. You will appreciate the extended cutting options when working with different materials.
Consider Budget and Quality
While budgeting is critical, don't compromise on quality. You might save some money initially, but low-quality tools break down faster and require frequent replacements.
Prioritize buying the best quality tools within budget. Quality tools last longer and perform better, eventually saving you money in the long run.
Budgeting and prioritizing your tool investments can be a challenge, but with these insights, you can build the perfect tool collection one tool at a time. Happy shopping and productive woodworking!
Saving Money and Getting the Best Deals
DIY projects can be a delight. But let's face it, costs can quickly add up. Below are some quick tips to save money and get the best deals when assembling your DIY tool kit:
Sales and Discounts
Everyone loves a good bargain, and DIY enthusiasts are no exception. Retailers offer seasonal sales and discounts on their tools. Be keen to maximize these opportunities. Anticipate holiday sales, Black Friday bargains, or other significant events, as these times traditionally see prices dropped dramatically. Also, signing up for newsletters from your preferred tool retailers may provide access to exclusive discounts.
Gift Ideas
Are you or a friend or loved one a bonafide DIY enthusiast? If your answer is yes, consider DIY tools as gifts. These not only serve a practical purpose but are often greatly appreciated due to their usefulness and longevity – not to mention they save the recipient a good bit of money.
Avoiding Unnecessary Tools
Many DIY neophytes fall into the trap of buying tools not urgently needed. Specialty tools might look enticing, but remember, they come with a price. Instead, focus on multipurpose tools that serve more than one function.
Considering Specific Tasks
Before investing in any tool, take a minute to evaluate the specific task at hand. Some projects require specific tools, but often, generic ones will suffice. By approaching tool purchases this way, you not only save funds but space as well.
Safety First
No tool is worth compromising safety. Regardless of the price or brand, ensure all your DIY tools meet the required safety standards. And hey, sometimes this might even mean spending a little more, but always remember, your safety takes priority.
Comparing Prices
It stands to reason, but just a friendly reminder to always compare prices before making a purchase. Saving money often involves a little research. A tool may be cheaper in one store than another, and it's always a good idea to be on the lookout for the best deal.
DIY Communities
Joining DIY communities or online forums is an excellent avenue for finding tips and recommendations on tools. These communities often share insights on where and when tools are sold at discounted prices, which can go a long way in helping you snag a great deal.
To sum up, saving money on DIY tools is all about planning, researching, and making informed choices. By following these tips, you stand a chance of getting the best deals, keeping your budget in check, and making your DIY projects more affordable!
Conclusion
With the affordable tools and equipment tips shared in this article, you can definitely begin your DIY project without breaking the bank. Remember that smart tool shopping involves recognizing and evaluating brands, considering new, used, or bulk buying options, and taking advantage of sales and discounts. Similarly, prioritizing and budgeting your purchases and gradually building up your collection will allow you to make wiser purchase decisions. Furthermore, guidance from DIY communities and being firm on budget and quality criteria can also usher you towards better deals.
Above all, one of the smartest decisions you can make when it comes to purchasing your DIY tools and equipment is selecting a reliable vendor. A vendor such as Ultra Handy on Amazon is a trusted online store that not only offers a vast range of high-quality DIY tools but also supports customers in making their DIY projects successful.
In essence, being a smart shopper for all your DIY needs is all about balance. Striking that right balance between affordability, quality, and utility might not be easy, but with the practical tips shared in this blog, it is absolutely achievable. Embrace the DIY spirit, and happy shopping!
Frequently Asked Questions
Where can I find affordable tools and equipment for my DIY projects?You can find affordable tools and equipment for your DIY projects at hardware stores, online marketplaces, garage sales, thrift stores, and even rental shops. Additionally, consider checking classified ads, social media marketplaces, and local community forums for second-hand tools.
What are some online marketplaces to buy cheap tools for DIY projects?Some popular online marketplaces where you can buy cheap tools for DIY projects are Amazon, eBay, Craigslist, and Facebook Marketplace. These platforms offer a wide range of options, both new and used, at lower prices compared to traditional retailers.
Are there any specific times or seasons when tools and equipment are available at discounted prices?Yes, there are specific times and seasons when tools and equipment are available at discounted prices. These include major sales events like Black Friday, Cyber Monday, and end-of-season clearance sales. It's also worth keeping an eye out for special promotions and deals offered by retailers throughout the year.
How can I ensure the quality of cheap tools and equipment?To ensure the quality of cheap tools and equipment, read product reviews and ratings before making a purchase. Check for reputable brands and sellers, and if possible, inspect the items in person before buying. Additionally, consider buying from sellers who offer warranties or return policies.
Are there any DIY tool rental services available?Yes, there are DIY tool rental services available where you can temporarily rent tools and equipment for your projects. These services are a cost-effective option, especially for tools that you might only need for a one-time or occasional use. Look for local tool rental companies or check if home improvement stores offer rental services.