Building Your Budget-Friendly Toolbox: Essential Tools Every Enthusiast Needs
Discover the essential tools needed to build a budget-friendly toolbox for woodworking enthusiasts. Learn how to save money without compromising quality.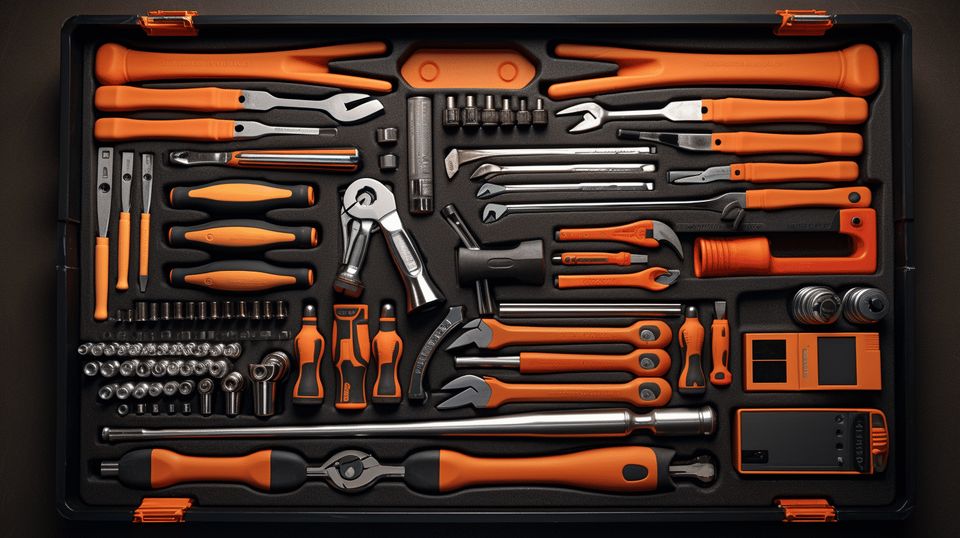 There's an old adage that a craftsman is only as good as his tools. But for the DIY enthusiast on a budget, curating an effective toolbox can seem like a daunting, and expensive, task. Fear not, because it's entirely possible to build a toolbox brimming with all the essential gear without breaking the bank. This guide will help you navigate your way towards a budget-friendly toolbox, making sure you have what you need for all your creative tasks, home improvements, and quick fixes. From discussing different types of toolboxes to recommended brands and ideal contents, we will explore every facet of establishing your essential, affordable toolbox. So, sit back, and prepare to become a wizard of the workshop without emptying your wallet.
Types of Budget-Friendly Toolboxes
Whether you are a DIY enthusiast, homeowner, or seasoned professional craftsman, having a well-organized toolbox is essential for smooth and efficient work. However, toolboxes can be expensive, especially when looking for high-quality options. This is where budget-friendly toolboxes come into the picture. There are several types that are accessible, useful, and cost-effective. From tool chests to plastic tool boxes, let's dive in and explore the different types of budget-friendly toolboxes.
Tool Chests
Tool chests perhaps are the most common type of toolbox. They come in various sizes and designs, with some even featuring built-in working surfaces and lights for added convenience. As an alternative to more expensive versions, compact tool chests have gained popularity for their portability and affordability. While maintaining a practical size, they still offer ample storage for tools, making them a great budget-friendly option.
Tool Bags
A tool bag, such as the Crescent CTB1450, is another type of toolbox that favors mobility and easy accessibility. Lightweight yet sturdy, tool bags offer compartments that allow for excellent organization of tools, ranging from small, intricate tools to larger ones. Considered very budget-friendly, one can often find a range of them available at fair prices.
Plastic Tool Boxes
If you're after something lightweight and ideal for occasional use, plastic tool boxes might be just what you need. They are well-suited for lighter tools and their need for transportation. Besides, these toolboxes are resistant to impact, weather, and chemical damage, making them a long-lasting option. The DEWALT TSTAK Tool Box is a recommended budget-friendly plastic toolbox that combines sturdiness, convenience, and cost-efficiency.
Tool Belts, Bags, and Buckets
Last but not least, let's consider tool belts, bags, and buckets, which are fantastic for high-mobility tasks. They're extremely practical when you have to move around frequently, as they allow you to keep your most-used tools at hand. These types of storage are perfect for quick jobs where there's no need to lug around heavy toolboxes, so they're great for both robust tasks and more delicate projects.
Affordability doesn't necessarily equate to skimping on quality. With the right budget-friendly toolbox, you can retain all the necessary functionality and organization that a more costly toolbox can provide. Despite their lower cost, these toolbox options are still durable, practical, and provide excellent value.
Recommended Tool Chest Brands
If you're a DIY enthusiast or professional craftsman, you understand the significance of having a reliable, robust tool chest to store all your tools. The right tool chest makes it easier to keep your tools organized and easily accessible, which significantly increases your work efficiency. Tool chests come in various shapes, sizes, and designs, but not all brands offer quality products. Below, we delve into the top brands renowned for their exceptional tool chests.
Husky
Husky has established an impeccable reputation over the years with their wide range of robust, reliable, and reasonably priced tool chests. They offer metal tool chests that are both durable and capable of sustaining heavy loads, making them an excellent choice for busy workshops. Husky's tool chests come in a variety of sizes, capacities, and styles, catering to different needs and preferences.
Craftsman
Craftsman is another reputable brand that has been in the industry for quite some time. Craftsman tool chests are known for their exceptional quality and durability, making them well worth the investment. Whether you're looking for a small chest for your home garage or a large one for a professional workshop, Craftsman has got you covered.
Gearwrench
Gearwrench is a relatively new entrant, but they've caught the market's attention with their innovative design and features. They are best known for their portable tool chests that guarantee durability and superior organization for your tools. Working professionals particularly love this brand for their ergonomic designs, providing convenience and flexibility during work.
Milwaukee
If you're after heavy-duty tool chests that can handle a ton of tools and take a pounding, Milwaukee is a brand that should be on your radar. Known for their strength and sturdiness, Milwaukee tool chests are especially popular among professionals who need robust and expansive storage solutions.
Goplus
Goplus offers a fine balance between cost and quality. Their 5-Drawer Rolling Tool Chest is one of the best budget tool chests under $500. Despite being relatively inexpensive, this tool chest doesn't compromise on features, offering ample storage spaces and durability to withstand daily use.
WEN
WEN emphasizes quality and affordability, making it a favorite among DIY enthusiasts and hobbyists. Their 73015 Garage Rolling Tool Chest makes for a cost-effective solution for those seeking a reliable tool chest without breaking the bank. Like Goplus, WEN also proves that you don't need to spend an exorbitant amount to get a decent tool chest.
Choosing the right brand for your tool chest is vital as it determines the product's quality and lifespan. A good tool chest can hold up for years, protecting your tools and ensuring you remain organized and efficient in your workspace. Whether it's Husky, Craftsman, Gearwrench, Milwaukee, Goplus, or WEN, select the one that resonates with your preferences and meets your work requirements. Keep an eye on budget-friendly options like the Goplus 5-Drawer Rolling Tool Chest or WEN 73015 Garage Rolling Tool Chest, especially if you're on a tight budget.
Essential Tools to Include in Your Toolbox
There's a certain contentment and self-assurance that comes from having the right tools in your toolbox. Regardless if you're a professional handyman working on a complex project, a DIY enthusiast desiring to carry out minor repairs at home, or just preparing for the unexpected. In all these situations, specific tools will prove indispensable. Let's explore a list of essential tools that would significantly boost your tool arsenal.
Hammer
First and foremost, no toolbox is complete without a trusty hammer. It's one of the most basic and versatile tools you can own, and it's used for a myriad of home tasks from hanging pictures to assembling furniture.
Screwdriver
Coming up closely behind the hammer is the screwdriver. This tool is necessary for tasks that involve tightening or loosening screws. From cabinet installation to electronic repairs, a screwdriver comes in handy more often than you might expect.
Tape Measure
Accuracy is essential for any DIY project. That's why a tape measure is a must-have tool. With a tape measure, you can ensure precision in projects like carpentry, plumbing or even just measuring space for a new piece of furniture.
Hand Tool Kit
You might find it beneficial to look into a comprehensive hand tool kit like the Amazon Basics 173-Piece Hand Tool Kit which offers a wide range of tools. This incredibly convenient set is a boon for DIY enthusiasts as it ensures you have all the necessary tools at your fingertips. From DEWALT Mechanics Tool Set that includes comprehensive tools like sockets, wrenches, pliers, screwdrivers - having all your essentials in one place saves time and enhances efficiency.
Multi-Tools
High quality multi-tools such as the Leatherman Surge, Leatherman Charge+ TTi, and Gerber Center are invaluable for those on-the-go repairs. These tools house several functional devices in one compact package - from knives and pliers to wire cutters and bottle openers.
Power Tools
Professional work often requires more than just manual tools; power tools from a reputable brand like Milwaukee Tool can significantly enhance your workflow. These heavy-duty devices, designed for prolonged use and maximum performance, can tackle a variety of tasks efficiently.
Tripod
A more niche tool, a tripod is critical for maintaining stability during tasks that require precision and steadiness. Whether you're painting a straight line, leveling a picture, or drilling an accurate hole, a tripod can make the job easier.
Tweezers
If you're into precision work, a set of high-quality tweezers such as Swiss Dumont, A*F, or Horotec can be a wise investment. They're essential for any intricate task that your fingers are too large to handle easily.
BBQ Tools
While not classically associated with a toolbox, BBQ tools are a delightful addition to any grill master's repertoire. There are numerous sets available that include tongs, spatulas, brushes, and basting pots. Don't forget fun and functional accessories like whiskey glasses and decanters to enhance your BBQ experience.
Indeed, having these essential tools in your toolbox arms you with the ability to navigate and solve most home repair, improvement, or maintenance tasks. So ensure you gather up these tools to be ready for any DIY challenge that comes your way.
Conclusion
Building your own budget-friendly toolbox is all about understanding your specific needs and learning to prioritize essential tools over more specialized ones. Brands like Husky, Craftsman, Gearwrench, Milwaukee, Goplus, and WEN offer high-quality tool chests that are both affordable and durable. These toolboxes are an ideal starting point for your journey towards creating a more efficient and cost-effective workspace.
But a toolbox is only as good as the tools it carries. Therefore, ensuring that your toolbox is stocked with a hammer, screwdriver, tape measure, and a comprehensive hand tool kit is paramount. Additionally, multi-tools, power tools, tripods for outdoor projects, tweezers for fine tasks, and even BBQ tools for those casual outdoor cookouts can be valuable additions.
It's also worth highlighting that our Amazon store, Ultra Handy, provides a wide array of tools and equipment for those who love spending time outdoors or prefer DIY tasks. Our mission is to help our customers succeed in life and work, and we believe equipping them with the right tools is an instrumental part of that journey.
In conclusion, ability meets opportunity when the right tools are at your disposal. So, why wait? Start building your perfect toolbox today and unlock a world of potential!
Frequently Asked Questions
What are some essential tools every enthusiast needs in their toolbox?Some essential tools every enthusiast needs in their toolbox include: 1. Screwdrivers (both Phillips and flathead), 2. Adjustable wrench, 3. Hammer, 4. Pliers (regular and needle nose), and 5. Tape measure.
Why is it important to have a budget-friendly toolbox?Having a budget-friendly toolbox allows enthusiasts to pursue their hobbies and projects without breaking the bank. It enables them to acquire the necessary tools at affordable prices and enjoy their passion without financial stress.
Where can I find budget-friendly tools for my toolbox?Budget-friendly tools can be found at various places such as hardware stores, online marketplaces, garage sales, and thrift stores. It's also worth checking for deals and discounts, comparing prices, and considering second-hand options.
Are budget-friendly tools of lesser quality?Not necessarily. While some budget-friendly tools may be of lower quality, many affordable options are perfectly adequate for hobbyists and enthusiasts. It's important to read reviews and choose tools that offer a good balance of quality and affordability.
What are some other essential tools I should consider for my budget-friendly toolbox?In addition to the basic tools mentioned earlier, some other essential tools for a budget-friendly toolbox include a utility knife, level, socket set, drill, and safety goggles. These tools cater to a variety of DIY projects and repairs.