Building Your Budget-Friendly Toolbox: Essential Tools for Every DIY Project
Discover the must-have budget-friendly tools for your DIY projects. Make your toolbox complete without breaking the bank. Start your DIY journey today!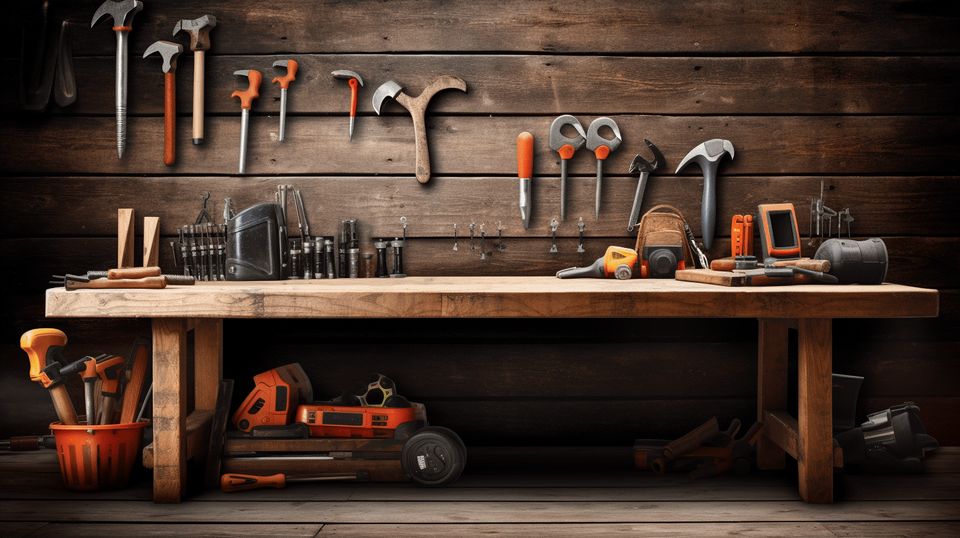 Is there a sense of satisfaction that comes to mind when you picture completing a DIY project with your own hands? If you're nodding along, welcome to the world of do-it-yourself projects - a place where you can let your creativity loose and save some money along the way too. But before you set out to conquer your next project, a well-equipped toolbox is a must-have.
From transforming worn-out furniture to creating unique home decor pieces or even tackling minor repair works around the house, your toolbox will serve as your trusted companion. This article aims to help you build a budget-friendly toolbox with all the essentials. Whether you're an occasional handyman or a seasoned DIY enthusiast, these selected tools will make every project a smoother and more efficient process. Let's kick things off by discussing the fundamental tools that should have a prime spot in your toolbox.
Fundamental Tools for DIY Projects
Undertaking a DIY project can appear daunting, especially if it's your first time. But, with the right set of tools, each project becomes simpler, more efficient, and, most importantly, more enjoyable. In this section, we'll discuss the fundamental tools every DIY enthusiast should have in their toolbox. These instruments range from the humble hammer to, possibly unexpected, a variety in paint brushes to make your masterpiece come to life!
Hammer
A hammer is a multipurpose tool used for a variety of tasks, including driving nails into surfaces, removing nails, or breaking up items. Its versatility hard-pressed to be argued with and makes it an essential part of any DIY toolkit. With a properly balanced, high-quality hammer, you're equipped for almost every basic home improvement task.
Cordless Drill
The cordless drill is beneficial when a project requires you to drive screws into or remove them from various materials. It provides portability, power, and convenience that traditional hand tools cannot match. Therefore, having a reliable, durable cordless drill can be a game-changer for your DIY projects.
Kreg Jig
The Kreg Jig is a master of joinery, making it easier than ever to create perfect joints. This simple device helps to eliminate the guesswork and complexity usually associated with woodworking, allowing novices and experts alike to join wood pieces with poise and confidence.
Measuring Tape
In DIY, precision is paramount, and it all begins with accurate measurements. Measuring tapes are among the best tools for DIY projects, providing the exact dimensions needed to avoid costly errors and shoddy workmanship.
Paint Brushes
Paint brushes play a critical role when it comes to the last finishing touch. Quality paint brushes ensure smoother paint applications, providing a flawless and professional-looking outcome.
Sander
For woodworking projects, a sander is invaluable. It helps to smooth surfaces, remove old paint, and prep wood for staining or painting. It's worth investing in a power sander to expedite the process and achieve a more uniform finish.
Sanding Paper
While the power sander handles the larger surface areas, sanding paper is vital for the more intricate nooks and crannies. It offers precision in removing old finishes and ensuring smooth transitions in woodworking projects.
Screwdriver Set
A good, diverse screwdriver set is necessary for DIY projects at home. With various sizes and types, from Philips to flat-head, you're prepared to tackle any screw-related tasks that may come your way.
Adjustable Wrench
An adjustable wrench is another essential tool. It provides a firm grip and excellent leverage to tighten or loosen nuts and bolts of different sizes. This generally comes in handy in plumbing and assembly jobs.
Pliers
Pliers are unsung heroes in the toolbox. With their gripping, bending, and cutting capabilities, they are perfect for tasks that require a strong and precise grip.
Cutters
To round off the list, we have cutters. Flexible and sturdy, these tools are great for cutting wires, cable ties, and thin metal sheets. Alongside the other tools on this list, cutters give you the power to modify your raw materials to meet your project specifications.
There you have it, from driving nails with the hammer to fine detailing with sanding paper or a paintbrush, these are the fundamental tools required for most DIY projects. Remember, having the right tools can ease the process and set your project on the pathway to success. Happy DIY-ing!
Essential Power Tools
Contrary to popular belief, DIY projects don't have to be a stressful endeavor. With the right power tools, any seemingly daunting task can turn into an enjoyable hands-on experience. So, which essential power tools should you own? Any DIY enthusiast, from the amateur handyman to a seasoned construction worker, must have a circular saws, drills, impact drivers, and combo kits of the drill and impact driver. If you have ever struggled with stubborn lug nuts and rusted bolts, prepare to be thrilled as an impact wrench can be a real game-changer.
Circular Saws
For beginners venturing into the world of DIY, a circular saw is a fundamental tool. Ubiquitous in construction and woodworking, circular saws are versatile cutting equipment. With a round, toothed blade that spins at high speeds, it lets you cut swiftly and accurately wherever it's needed. The convenience and efficiency of using a circular saw in your projects are unmatched.
Drills
Where would any DIY enthusiast be without a good drill? This power tool has proven its worth in more ways than one can count. From hanging artwork to putting up shelves and even constructing furniture, drills are undisputed in their utility. A reliable and durable drill is a tool that any DIY person should have in their arsenal.
Impact Drivers
As you delve deeper into working on various DIY projects, you may come across the need for an impact driver. With more torque than a standard drill, an impact driver can drive large fasteners and screws into wooden and other materials without stripping them, saving you from a lot of frustration. Time to wave the struggles of stripped screws and busted materials goodbye!
Drill and Impact Driver Combo Kit
Now, let's combine the best of both worlds for ultimate convenience and function. A drill and impact driver combo kit is a staple for any DIY enthusiast. With these two power tools at your disposal, you can handle an extensive array of tasks. Regardless of your experience level, this combo kit is a must-have in your toolbox.
Impact Wrench
Finally, we introduce the powerhouse - the impact wrench. For those overly tight lug nuts or rusted bolts that refuse to budge, an impact wrench comes to the rescue. By delivering high torque output with minimal exertion from the user, this power tool firmly establishes itself as a game-changer. Make room in your toolkit; the impact wrench is a worthy addition!
Invest in these essential power tools and watch as they drastically improve your DIY experience. The joy in working with your hands, crafting, constructing, and bringing your visions to life is immeasurably enhanced when you have the right tools by your side. These, indeed, are more than just tools - they are a DIY enthusiast's best friends. Stay tuned for more DIY insights!
Budget-Friendly Tool Options
Whether you're a novice DIY enthusiast or an experienced handy-person, investing in a set of power tools is a smart move. However, it could just as easily become an expensive endeavor if you're not sure where to shop or what to look for. Luckily, numerous budget-friendly options in the market can equip you with the tools you need without breaking the bank. One such product line worth considering is the Hart Power Tools lineup.
Hart Power Tool Lineup
Setting the tone for economically viable tool options, Walmart's Hart Power Tools lineup brings affordability to your workbench. Spanning over numerous categories from cordless drills to circular saws, these tools vow to power your projects without straining your finances.
The offerings from Hart have a unique blend of excellent price point and quality, a factor any DIY-er cherishes. So, why all this fuss about Hart power tools? What sets them apart in the budget tool segment?
Robust Design: Despite the budget tag, Hart doesn't cut corners when it comes to build and design. The tools feel premium in hand and are designed to withstand consistent usage.
Versatility: The Hart power tool line-up is a home to a variety of tools that cater to diverse DIY projects, whether you're constructing wooden furniture or repairing some appliances.
Accessories & Add-Ons: Hart understands that a tool is only as good as its components. Therefore, they offer an affordable range of high-quality accessories and add-ons too!
After-Sales Support: Hart also provides warranty coverage and responsive customer service assuring you of continued support post-purchase.
As captured in Walmart's tagline, "Save money. Live better," the retailer's Hart tool lineup empowers you to achieve your DIY aspirations while maintaining your budget balance. Choosing Hart power tools means saying yes to reliability, versatility, and most importantly, savings.
In the domain of power tools, price should never dictate your purchase decision compulsively. Instead, value for money should be the key influencer. After all, even the most extensive tool set would mean very little if it doesn't deliver the expected performance. So, the next time your home improvement projects beckon, remember – thanks to brands like Hart, at Walmart you don't have to compromise quality for cost. Remember, a good set of tools is an investment that keeps on giving.
Miscellaneous Tools
Discovering and utilizing miscellaneous tools can enhance your daily routines, making tasks easier and more efficient while also adding a touch of exciting novelty to your day-to-day activities. Today, we're going to spotlight three types of miscellaneous tools: cordless stick vacuums, tools for DIY gel manicures, and OBD2 scanners. Each of these insightful tools brings something unique to the table.
Cordless Stick Vacuums
Cordless stick vacuums are a perfect blend of practicality and innovation. These devices spar with traditional vacuums, providing lightweight, portable cleaning that keeps your spaces spotless. Among their many benefits:
Easy handling: With cordless stick vacuums, dragging bulky devices and tripping over cords becomes a thing of the past.
Efficient Cleaning: These tools offer power-packed performances akin to their corded counterparts.
Space-saving design: With a sleek design and minimal size, these vacuums are easy to store even in cramped places.
Tools for DIY Gel Manicures
Transform your nail-care routine with tools for do-it-yourself gel manicures. Having the right tools and products can streamline the process, making it both fun and easy. These DIY tools offer:
Salon-style precision: These tools provide precision and finish similar to professional salons, right in your home.
Savings: Say goodbye to expensive salon visits. With a small upfront investment, you can achieve beautiful nails at a fraction of the cost.
Creative Control: Choose your colors, your designs, your timeline. DIY manicure tools give you complete control over your nail fashion.
OBD2 Scanners
For car enthusiasts and the DIY-mechanic at home, having an OBD2 scanner is a must. These tools, including options like the BlueDriver Bluetooth Pro OBDII Scan Tool and Foxwell NT201, help diagnose vehicle faults before they become costly issues. Among their many advantages:
Troubleshooting: These scanners read error codes from your vehicle's computer, providing insight into potential issues.
Convenience: Small, portable and easy-to-use, OBD2 scanners can provide quick diagnostics on the go.
Financial savings: By identifying problems early, you can potentially save on expensive long-term repair costs.
From the convenience of cordless cleaning to the joys of home-manicured nails to the quick vehicle diagnostics, these miscellaneous tools offer significant benefits. By finding the right gadget for your needs, you'll enhance your routines and make everyday tasks even more enjoyable.
Recommendations for Occasional Use
Whether it's assembling a piece of furniture or simply tightening up those loose screws around the house, having a reliable screwdriver set is a staple for every household toolbox. However, it can be overwhelming to find the perfect set, especially for occasional users who might not require a vast arsenal of professional-grade tools.
Enter the "Black and Decker Screwdriver Set," your ultimate handy companion for minor fixes and occasional DIY projects. This set is suited for light jobs and features user-friendly designs that make screwdriving a breeze, even for novices.
Let's delve into why this particular set should be your go-to tool collection:
Variety of screwdrivers: The set boasts a range of screwdriver sizes, both flat-head and Phillips-head. This means you'll always have the right tool for the job handy.
Durability: With materials renowned for their resilience, these screwdrivers hold up well against wear and tear. You can count on them to last for years of occasional use.
Convenient storage: The set comes nestled in a compact, lightweight case, making it easily transportable and simple to store without occupying too much space.
User-friendly design: The handles are designed for a comfortable, non-slip grip, preventing unexpected mishaps and making your screwdriving tasks more manageable.
Value for money: Given its durability, variety, and user-friendly features, this screwdriver set offers excellent value for money for the occasional user.
Whether your needs are light maintenance or spur-of-the-moment DIY projects, the Black and Decker Screwdriver Set is designed to provide you a hassle-free and efficient experience. Armed with this versatile little toolkit, you'll be ready to tackle whatever minor repair tasks come your way. And, thanks to its robust build, even if your usage evolves over time, this trusty set can effortlessly adapt to more frequent use.
So, if you're a light user of tools, and you seek reliability, user-friendliness, and value, turn to Black and Decker for your screwdriver set. This tried-and-tested brand won't let you down.
Conclusion
In the grand scheme of things, having a well-equipped toolbox can not only fuel your DIY dreams but also figure as an investment that stands the test of time. While casting a glance at some top-notch, budget-friendly tools, we've seen that quality and affordability can indeed go hand in hand.
The truth is, there's no 'one size fits all' when it comes to selecting the correct tools. Each DIY task has its unique needs, but equipping yourself with a comprehensive set of versatile tools such as those offered by Ultra Handy is a great place to start. After all, empowered with the right set of tools, your ambitious DIY project could become a riveting success story. Whether you're a beginner or a seasoned DIYer, remember that the best toolbox is one that serves your unique needs effectively. And above all, always prioritize safety while using any tool. Happy DIY-ing!
Frequently Asked Questions
What are the essential tools for every DIY project?The essential tools for every DIY project include a hammer, screwdriver set, pliers, tape measure, utility knife, level, drill, saw, and wrench set.
Why is it important to have a toolbox for DIY projects?Having a toolbox for DIY projects is important as it allows for easy organization and accessibility of essential tools. It saves time searching for tools, ensures you have everything you need in one place, and increases efficiency during projects.
Can I substitute power tools with manual tools in DIY projects?While power tools make DIY projects easier and quicker, you can substitute them with manual tools if you don't have access to power outlets or desire a more hands-on approach. However, it may take more time and effort to complete the task.
Where can I purchase budget-friendly tools for DIY projects?Budget-friendly tools for DIY projects can be purchased at various places, such as home improvement stores, online marketplaces like Amazon, auctions, yard sales, or even borrowing from friends or family members.
Do I need to buy all the tools at once for DIY projects?No, you don't need to buy all the tools at once for DIY projects. Start with the basic tools and gradually build your toolbox as you take on more projects. Prioritize tools based on the type of projects you plan to work on.