DIY Made Easy: Tips for Finding Cheap Tools and Equipment for Every Project
Discover valuable tips for finding affordable tools and equipment for your DIY projects. Learn how to save money without compromising on quality.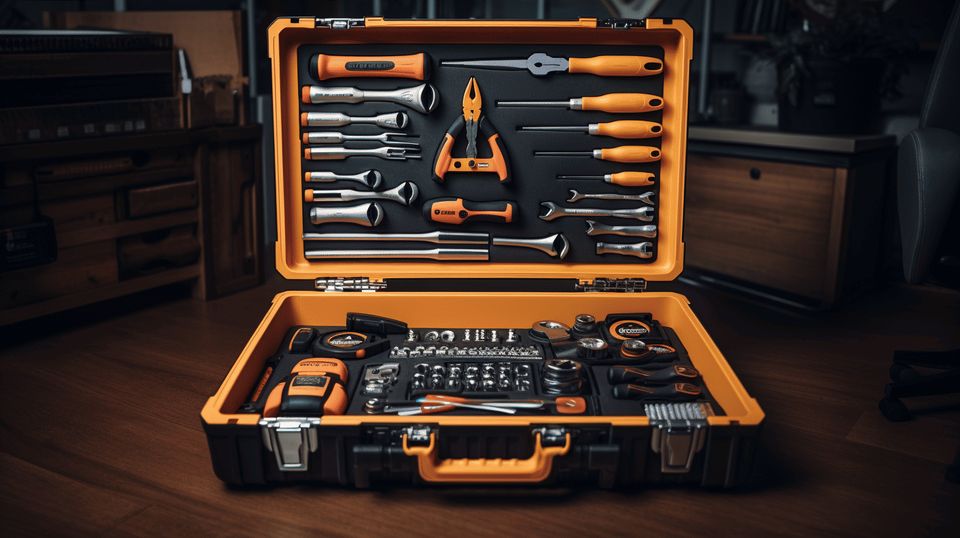 Who doesn't relish the satisfaction of tenaciously managing a DIY project from start to finish, particularly if it saves money in the long run? If you're enthusiastic about DIY projects, you understand that top-notch tools and equipment are pivotal to achieving exceptional results. The challenge, though, is finding the right tools without blowing your budget. Fortunately, affordable options are accessible if you know where to look.
From budget-friendly kits for novices, gently used equipment for price-conscious enthusiasts, to bargain prices on high-performance power tools, there's a multitude of ways to build an enviable DIY arsenal without draining your wallet. Let this guide to affordable DIY tools and equipment be your compass as you navigate the vast world of hardware stores, online marketplaces, and second-hand tool shops.
Affordable Options for DIY Tools
Taking on those do-it-yourself (DIY) projects is quite an adventure! Learning new skills, creating something with your own hands, or fixing things around your home - that's the kind of satisfaction no money can buy. But, let's face it, the tools you need for these projects can sometimes be a bit pricey. The good news is, you don't always have to splurge on tools to do a great job. There are affordable options for DIY tools that won't burn holes in your pocket, and we're here to discuss a few of them.
Budget-friendly DIY Tool Kits
You might be surprised to find out how many DIY tool kits are available for under $30. Yes, you heard that right, under thirties! These bolt-you-need kits can help you tackle a wide array of tasks, from repairs to furniture assembly. They usually come stocked with the essentials, such as:
Screwdrivers
Hammer
Tape measure
Pliers
Wrench
This type of "one-size-fits-most" set is perfect for beginners and those who don't require specialist tools frequently. As a bonus, they often come in a compact, storage-friendly case, making them ideal for apartment living.
"A workman is only as good as his tools." - This adage might hold true under certain circumstances. But, remember, a $30 tool kit won't stand up to heavy-duty work. If you're just starting or using tools sporadically, they're just as good as any high-end counterparts.
Used Power Tool Prices
For those big jobs or professional-grade DIYs, power tools are fundamental. Unfortunately, these powerhouses could be quite heavy on the budget. A practical way to get around this issue is by exploring second-hand power tools. And a remarkable place to start hunting for those tools would be websites like UsedPrice.com.
It's not uncommon to find durable, long-lasting power-tools on these websites for a fraction of the retail price. Here are some examples:
| Retail Price | Used Price |
| --- | --- |
| $135 | $45 |
| $200 | $70 |
| $300 | $125 |
It's essential, though, to be cautious when purchasing used tools, and ensure you're not buying a product with hidden defects or limited lifespan. Always check reviews, warranty, return policy and, if possible, test the tool out yourself before purchasing.
So, here we have it, folks - you do not always need to reach deep into your pocket for your DIY ventures. Affordable options like budget-friendly DIY tool kits and second-hand power tools can take care of your projects just as well. As long as you're smart about your purchases, you can find fantastic tools on a budget.
Get back to your DIY projects without breaking the bank. Because sometimes, affordability doesn't compromise efficacy. And, the satisfaction? Priceless!
Various Price Ranges for DIY Power Tools
There's nothing more rewarding than a well-executed DIY project. While a handy person is as good as their tools, navigating the aisle of power tools at your local hardware store can be overwhelming. The various tools available, from cordless drills and saws to inflators, grinders, and power tool combo kits, come in different price ranges, making the selection process a challenging task for first-timers.
Cordless Drills and Saws
Cordless Drills
Generally, the price of cordless drills fluctuates based on factors such as brand reputation, battery life, and additional features. Entry-level models can cost as low as $20 to $50, while higher-end models with advanced features can go up to $200 and above.
Saws
Depending on the type and functionality, the price of saws varies. While a basic handsaw can be obtained for under $10, specialized saws such as the circular, reciprocating, or miter saws can range between $60 to $600.
Inflators
The inflators are an underrated tool in the DIY arsenal that is particularly useful for inflating tires, sports equipment, and even air mattresses. The price bracket for inflators is considerably broad, with compact manual pumps priced as low as $10, while high-capacity electric inflators can reach up to $100.
Grinders
Grinders, famed for their versatility and ability to cut, sand, and grind various materials, are another power tool that should be in every DIY enthusiast's toolbox. Basic grinders can start at approximately $40, with top-tier models soaring into the several hundred dollars, especially those designed for heavy-duty purposes.
Power Tool Combo Kits
For those that want an all-in-one solution, power tool combo kits are perfect. These kits generally contain a cordless drill, a saw, a grinder, and sometimes even an inflator. Prices start usually around $100 for a basic kit and can go up to $500 or more for a high-end kit from a well-established brand.
Proper comprehension of the price ranges of the various DIY power tools aids in making an informed purchase decision, thereby empowering you to tackle DIY projects with confidence.
Affordable Power Tool Brands
Power tools, the undisputed heroes of any handyman's garage or a DIY enthusiast's toolkit, are known for transforming manual work into effortless tasks. But beyond their utility, these marvels of engineering often account for substantial financial investment, not all of which might be within everyone's reach. The good news, however, is that some brands have staked their reputation on delivering affordable yet highly durable, sophisticated, and efficient power tools. One such brand deserving of our attention today is Ryobi.
Ryobi
With the growing popularity of the DIY movement, the demand for cost-friendly, high-performing power tools has never been greater. Ryobi, a globally recognized brand, has consistently met this demand while maintaining its dedication to quality and durability.
Firstly, let's don the hat of value for money. Rest assured, Ryobi offers affordable power tools that don't compromise on utility. It's not uncommon to find a Ryobi drill or saw on the shelf that impresses with sheer horsepower yet speaks to your pocketbook. Their range is rather extensive, including everything from drills, circular saws, and reciprocating saws, to multi-tools, heat guns, and grinders. And guess what? Each of these tools is ready to play its part in your next home improvement project without emptying your wallet.
In terms of quality, one thing's for sure: Ryobi doesn't trade durability for affordability. This company is known for manufacturing well-engineered products that can last for years, even under heavy use. Users report satisfaction with their tool's performance, citing the equipment's ability to keep up with their DIY projects' bustling pace. What's more, their tools often come with a decent warranty, giving consumers extra footing in the unlikely event of unexpected hardware faults.
Finally, when we switch our focus to user-friendly features, Ryobi stands out with its intuitive design. Many of their tools are designed for ease of use, with simple yet effective functions that can be operated with little training. This makes Ryobi an excellent choice for beginners entering the world of DIY or seasoned veterans looking for tools that won't require a complicated manual to operate.
In conclusion, when it comes to affordable power tool brands, Ryobi deserves recognition for its commitment to delivering cost-effective, quality power tools designed for any DIY project you have in mind. Sharp on performance, light on the wallet, easy to handle, and longevity guaranteed, Ryobi should definitely make your shortlist for affordable power tool brands.
Buying Tips from Industry Experts
Are you looking for the perfect power tool for your need but are overwhelmed by the countless choices in the market? Fret not! Those who know best in this field - the industry experts - have some nifty advice for you that can make your buying journey much smoother and efficient. One such maven in the power equipment industry, Techtronic Industries Power Equipment, an acclaimed leader in manufacturing professional and consumer power tools, has some valuable tips for buyers.
Techtronic Industries Power Equipment's Guide to Purchasing Tools
The expert team at Techtronic Industries Power Equipment suggests you have a clear idea of these points for a beneficial tool shopping experience:
Identify Your Needs: Understand the kind of tasks you will be performing with the tool. This will help you in sifting out the exact type you need.
Know Your Budget: Power tools can range from affordable to splurging. Ensure you know how much you want to spend before diving into your buying journey.
Quality Over Quantity: The temptation for cheaper, multiple tools is real. But, durable and reliable tools, though pricier, provide longevity and efficiency. This highlights the principle of 'buy once, use forever.'
Check For Safety Features: Equipment with automatic shut-off or brakes, protective guards, and ergonomic designs are safer for use and worth considering.
After-sales Service: Lastly, but importantly, always take into account the after-sales service provided by the manufacturer. It is crucial for keeping your tools maintained properly.
"Your tools are your partners. Choose them wisely to create the flawless crafts you dream of," says a product manager at Techtronic Industries Power Equipment.
Reading through these straightforward yet significant tips can help you make well-informed decisions while purchasing your tools. Always remember that buying a tool is an investment towards efficiency, quality results, and ultimate satisfaction. By taking insights from industry pros like Techtronic Industries Power Equipment, you're well on your way to finding the perfect power tool companion!
Cost-effective Options for DIYers
Venturing into the exciting world of DIY can be both thrilling and cost-effective. However, to make your projects come to life and succeed, you'll need more than just enthusiasm: you'll need tools. The hurdle can be the cost associated with acquiring these sometimes expensive items. But, did you know there are ways to access much-needed DIY tools without being burdensome on your wallet? Here we shine a light on two cost-effective options: tool libraries and buying secondhand tools.
Tool Libraries
A clever solution for budget-conscious DIYers is making use of tool libraries. "What is a tool library?" you might ask. Well, it's exactly what it sounds like: a place where you can borrow tools instead of books. Tool libraries provide the joy of accessing a vast range of tools for your projects without the need for individual ownership.
The benefits of using a tool library include:
Broad access to tools that may be expensive to buy
Potential for skilled advice from fellow DIYers or library staff
Significant cost savings on tool purchases or rentals
Opportunity to try out various tools before making a heavy investment
Imagine how much you'll save! No more concerning yourself with the costs of that miter saw or power drill; you've got the tool library.
Buying Secondhand Tools
Another brilliant tactic to save money on tools is buying secondhand. Though previously owned, many tools remain in excellent condition and can provide the same service as brand new ones.
Benefits of purchasing secondhand tools include:
Cost savings: Secondhand tools are generally cheaper than new ones.
Environmentally friendly: You're reusing tools, which reduces demand for new production.
Expands your budget: You can purchase more tools with the same budget due to cost savings.
Before diving headfirst into secondhand shopping, don't forget the power of smart shopping. Check for reputable sellers, look for visible damage, and make sure the tool functions as expected before making a purchase.
By utilizing tool libraries and buying secondhand tools, you'll be amazed at how much money you can save without compromising your DIY projects. Whether you're crafting a piece of furniture, remodeling your kitchen, or building a garden shed, these wallet-friendly options ensure your tools won't break the bank.
Specialized DIY Power Tools
As an ambitious DIY enthusiast, you're well aware that each project requires specific tools to yield the best results. From constructing a bookshelf to fabricating a metal sculpture, there's always a specialized tool designed to make the task easier and more efficient. In this section, we'll deep-dive into the fascinating world of specialized DIY power tools, exposing you to some of the most innovative tools on the market that will undoubtedly level up your DIY game.
Perhaps you've had some experience with general woodcarving tools such as chisels, gouges, and mallets. But have you ever wondered how you can enhance your woodcarving skills beyond the basic toolkit? Companies like Flexcut Tools have revolutionized the woodcarving industry by developing a unique range of products designed specifically to make intricate woodcarving tasks an absolute breeze.
So, what are these specialized DIY power tools that have been making waves in the DIY community?
Pneumatic Chisel: This versatile tool uses air pressure to drive the chisel, allowing for faster, effortless wood removal even on the hardest woods.
Power Carving Duplicator: Designed for carving an exact duplicate of a 3D object.
Micro Carver: Perfect for finely detailed work, this tool features a high-speed handpiece and variable speed control for precision carvings.
"The right tool can turn a challenging project into a fulfilling creative experience."
Our DIY journey is not merely about completing projects; on the contrary, it's a continuous learning experience, a process that strengthens our skills and expands our creative horizons. By embracing the specialized DIY power tools available in the market, we not only improve our productivity but also create extraordinary objects of art, decor, or utility. Explore these tools today and expand your DIY toolkit, merging creativity and efficiency in virtually every project you take on.
Conclusion
Embarking on a DIY project is as exciting as it is rewarding. Yet, enthusiasts often find the costs daunting. However, with the guidance provided in this article, you can navigate the world of affordable tools and enjoy the true spirit of 'doing it yourself'. From budget-friendly to secondhand tools, and tool libraries, there are numerous ways to equip your workstation without breaking the bank.
For a seamless shopping experience, Ultra Handy has an array of DIY pick-me-ups ready to be delivered to your doorstep. As an ally on your journey to self-fulfillment, we dedicate our time to support your success in life and work. Discover a vast selection of cost-friendly DIY tools on our Amazon store and take the first step towards making your projects come to life.
Remember, every successful DIY project begins with the right set of tools. So, why wait? Get started today!
Frequently Asked Questions
Where can I find cheap tools and equipment for my DIY projects?You can find cheap tools and equipment for your DIY projects at various places such as online marketplaces like Amazon and eBay, local hardware stores, thrift stores, garage sales, and even rental centers.
Are cheap tools and equipment of good quality?Not all cheap tools and equipment are of good quality, but it is possible to find affordable options that are still reliable. Look for trusted brands, read customer reviews, and consider the specific needs of your project before making a purchase.
How can I save money on tools without compromising quality?To save money on tools without compromising quality, try shopping during sales and promotions, comparing prices from different sellers, considering used or refurbished options, and investing in versatile tools that can be used for multiple projects.
Are there any online resources for finding cheap tools and equipment?Yes, there are several online resources for finding cheap tools and equipment. Apart from popular marketplaces like Amazon and eBay, you can also check out websites and forums dedicated to DIY enthusiasts, where users often share tips and recommendations for affordable tools.
What should I consider when buying used tools and equipment?When buying used tools and equipment, it's important to inspect their condition, ask about their history of use, and if possible, try them out before purchasing. Additionally, consider purchasing from reputable sellers or platforms that offer buyer protection.