Finding Bargain Tools for the Budget-Conscious DIY Enthusiast
Discover effective strategies to find bargain tools for DIY enthusiasts on a budget. Get tips on how to save money without compromising on quality and functionality.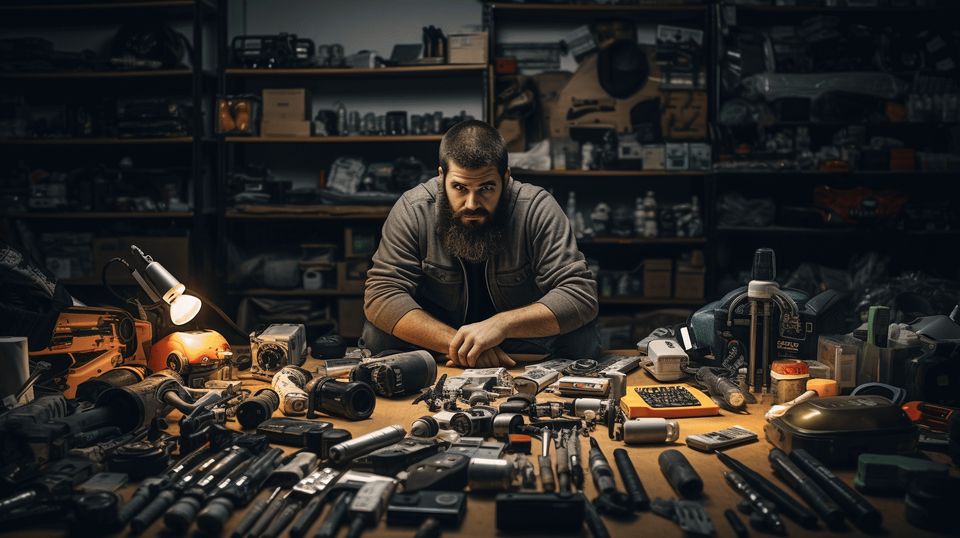 Imagine this; you're a DIY enthusiast with home improvement issues lined up, but you realize that a good part of your tool collection needs an upgrade. Or maybe you've just moved into a new home and you've got a blank canvas of a garage eagerly waiting to be filled with all sorts of gadgetry. But you're on a tight budget, and some tool prices can make your wallet flinch, right?
Welcome aboard! This article is all about helping you navigate the world of tools while remaining budget-conscious. From exploring value for money brands to guides on finding quality, affordable tools, we're set to arm you with information that will enable you to kit your toolbox without breaking the bank. We've crafted a list of brands that offer durability and reliability at friendly prices, retailers who offer impressive tool deals, and specific tools that offer you incredible bang for your buck!
So, whether you're aiming to fix a leaky faucet, build a kitchen table, or keep your lawn admirably manicured, we'll show you how to do it without wrenching your finances. Read on to discover the bargain tools that are friendly to both your projects and your pocket!
Exploring Budget-Friendly Tool Brands
In the realm of construction, interior design, and DIY projects, tools are the magician's wand. They fuse power, precision, and time-efficiency into one, making them invaluable assets. However, striking a balance between budget and quality can sometimes feel like walking on a tightrope. But worry not; In this article, we'll navigate the aisles of hardware stores to uncover some budget-friendly tool brands that won't burn a hole in your pocket but still ensure high-quality performance.
DeWalt
In the heart of every craftsman resides a yearning for tools that exude reliability. One such brand manifesting this trait is DeWalt. Noted for its enduring reputation and wide array of tools, the brand manufactures everything from drills to saws that meet all levels of craftsmanship. What makes DeWalt stand out is not just the superior quality, but also their commitment to affordability. This marriage of value and cost-effectiveness makes DeWalt a trustful companion for your tool needs.
Wagner
For paint pros, Wagner is a name synonymous with excellence. It's a brand that prides itself on versatility and affordability. With a range extending from painting tools and heat guns to stain sprayers, Wagner's equipment thrives on user-friendliness. Their optimized designs reduce painting time and bestow a professional finish, easily transforming novices into seasoned experts.
Milwaukee
When we shift the spotlight towards power tools, Milwaukee springs into mind. With their tools resonating high durability and power, they have become a go-to for professionals and hobbyists alike. Milwaukee's commitment to budget-friendly pricing adds a feather to their proverbial cap, making their tools a value-packed investment.
WorkPro
WorkPro handles the demands of both heavy-duty applications and small fixes around the house. They offer comprehensive tool kits wrapped in cost-effective packages. The brand marks its territory with sturdy, long-lasting tools that impart excellent control, aiding in precise workmanship.
Bosch
Powerful precision is Bosch's winning trait. The brand has been a mainstay in the tool industry, known for its top-tier functionality and budget-oriented pricing. Bosch's diverse range of tools accommodates construction professionals and household fixers alike.
Craftsman
Craftsman taps into the quintessential need for superior quality tools that do not break the bank. The brand combines durability, reliability, and cost-effectiveness to design tools that perform efficiently in all conditions. Its affordability makes Craftsman an excellent option for those on a tight budget.
Rockwell
Last but certainly not least, Rockwell cannot go unmentioned. Distinguished for its high-performance tools that champion innovation, the brand's line-up echoes the excellence of great design combined with budget-friendliness. Ideal for undertaking intensive tasks, Rockwell's tool repertoire aids in delivering stellar results without pushing the financial envelope.
When hunting for budget-friendly tool brands, remember that budget doesn't have to sacrifice quality. The brands highlighted in this article stand as testimony to the fact that affordability and high-grade performance can coexist beautifully in the same sentence. Happy tool shopping!
Places to Find Cheap Tools
When embarking on a new DIY project or taking up a home improvement task, finding the right tools without spending a fortune is a challenge faced by many enthusiasts. However, contrary to popular belief, you don't always have to break the bank to equip your toolbox with the most efficient implements. Here's a breakdown of the best places to find high-quality but cheap tools for your carpentry, plumbing, or painting needs.
Daily Deal Sites
Sheer buying power can often unlock deep discounts on tools. One way to find these deals is through daily deal sites. These platforms work by offering a limited quantity of a particular item at an impressive discount every day. Unnoticed by many, these sites can be a treasure trove for high-quality tools at bargain prices.
Get on the mailing list to receive daily or weekly updates of their deals.
Be ready to grab a deal when you see one, as most deals disappear within a day.
Inspect the product details and reviews before making a purchase.
The key to this strategy is patience. It might be weeks before the tool you need shows up at a price you're willing to pay, but when it does, the savings can be significant.
Big-Box Home Improvement Stores
Big-box home improvement stores like Home Depot or Lowe's often have sales or promotions on tools. These retailers source tools in bulk, hence can afford to sell them at discounted prices. They usually provide a broad range of quality levels and brands to choose from.
Keep an eye out for seasonal sales.
Clearance racks often have hidden gems waiting to be discovered.
Look out for store-specific bargains or loyalty programs – they're a great way to save money.
Discount Tool Retailers
If you're willing to forgo big brands, discount tool retailers like Harbor Freight and Northern Tool offer tools at very competitive prices. These places often have an array of tools catering to the needs of professionals or hobbyists. Although the quality may vary, most tools carry satisfactory performances for household demands.
Check out their regular sales flyers and online catalogs for the best deals.
Sign up for their email newsletters to get coupons and sale alerts.
Remember, the trick to finding a good deal is to do your research and compare prices. Whether you're a DIY enthusiast or professional tradesperson, getting the tools you need at a fraction of the price doesn't have to be a pipe dream.
Recommended Budget-Friendly Tools for Quick Home Repairs
Quick and easy home repairs shouldn't turn into an overwhelming nightmare. Sometimes, all it takes is a well-stocked toolbox and a dash of DIY resolve. However, you might question which tools are essential for your collection. Fear not, as we've compiled a list of budget-friendly, must-have tools that are well-adapted for most home repairs. These simple tools provide excellent utility and make home maintenance a breeze, even for novices.
Screwdriver Set
A good set of screwdrivers is a fundamental part of any household toolkit.
Flathead screwdrivers are handy for a variety of tasks, such as tightening cabinet hardware or loosening screws.
Phillips-head screwdrivers, are indispensable for tasks that need a sturdier grip like assembling furniture.
Remember, investing in a full set that includes both types in multiple sizes can save you time and hassle in the long run.
Hammer
A sturdy, well-balanced hammer is one of the most versatile tools you can own. It's necessary for everything from hanging pictures to putting together flat-pack furniture. Opt for a claw hammer, which offers the dual functionality of driving in nails and removing them.
Tape Measure
"Measure twice, cut once" - this familiar saying underscores the importance of a tape measure in your toolbox. An essential for home projects, it ensures precision and prevents costly mistakes. Get a retractable one for convenience and durability.
Adjustable Wrench
An adjustable wrench is a godsend for various plumbing jobs around the house. Its adaptable jaw can fit a range of nut and bolt sizes, eliminating the need for a whole set of different wrenches.
Utility Knife
Last but not least, a utility knife. From opening packages to cutting through wallpaper, this tool is an underrated hero in your arsenal. Ensure to keep it sharp and have replacement blades on hand.
There you have it, a curated list of tools suitable for quick and easy home repairs. Each one doesn't cost an arm and a leg but provides impressive versatility and functionality. Now, you're well on your way to keeping your home in tip-top shape, one DIY repair at a time!
Value for Money Brands
When it comes to power tools, there's a vast array of options out there. However, if you're looking to get the best bang for your buck without compromising on quality, two brands stand tall, Ryobi and Makita. These brands have been leading the market for years, offering consumers reliable power tools at different price points. Let's dive into why Ryobi and Makita are considered the best value for money brands in the power tools industry.
Ryobi
High quality at a lower price, that's one phrase that perfectly encapsulates the brand Ryobi. If you're a DIY enthusiast who prefers not to break the bank when buying power tools, Ryobi is the brand to go for. Known for quality and durability, it delivers top-notch performance every single time.
Here's why you should consider Ryobi:
Budget-friendly: The most stand-out feature of Ryobi is that they provide high-quality power tools at a low price. Whether you're looking to buy a drill, a saw or a sander, Ryobi got you covered without emptying your wallet.
Adaptable: Ryobi offers versatile tools that can adapt to different tasks, thanks to their range of innovative attachments.
User-friendly: The brand's tools come with easy-to-read manuals, which makes them a great option for beginners.
Makita
Next in the lineup is Makita, a brand known for its exceptional service and widespread availability. It's true, Makita is slightly pricier compared to Ryobi. But what you get in return is worth every penny.
Here's what brings Makita ahead of the curve:
Highly Reliable: When you invest in a Makita power tool, you're investing in reliability. Its tools are designed to withstand strenuous usage and harsh conditions.
Versatile: From drills and sanders to saws and grinders, Makita has a broad range of power tools for you to choose from.
Service and Availability: Makita is known for its exceptional after-sales service and its products are available widely. This implies that you need not worry about finding spare parts or getting your tool repaired.
When it comes to power tools, both Ryobi and Makita offer excellent value for money. These two brands deliver the perfect blend of quality, reliability, and budget-friendliness. So, whether you're a hobbyist or a professional, you can't go wrong by choosing either one.
Discounted Power Tool Deals
The mesmerizing world of power tools can be an absolute game-changer when it comes to taking on a variety of household jobs or professional projects. From drilling and sawing to sanding and fastening, power tools truly take the grunt work out of manual labor. What's more, you don't have to sink a fortune into acquiring these incredible gadgets. Welcome to the treasure trove of discounted power tool deals.
Dewalt 20V Max XR Multi-Tool Kit
When it comes to power tools that offer both durability and ergonomics, not many brands come close to Dewalt. This holds especially true for the Dewalt 20V Max XR Multi-Tool Kit, a comprehensive kit that's engineered to add versatility to your toolbox.
Functionality: The 20-volt Max XR features a powerful Motor that delivers up to 57% more run time over brushed power tools. It's versatile, allowing you to cut, sand, and scrape with a suite of quick-changing accessories.
Ease of Use: The XR is an easy-to-use tool with a quick-change accessory system that makes switching tasks a piece of cake. Furthermore, it's cordless, relieving you of tangled cord nightmares.
Affordability: While Dewalt's reputation may suggest pricey products, the Dewalt 20V Max XR Multi-Tool Kit is currently available at a discounted price on Amazon. This makes it an absolute steal for both amateurs and seasoned artisans.
Quick Tip: To take full advantage of these discounted power tool deals, it's always a good idea to compare and monitor prices online. Deals may fluctuate based on stock levels, seasonal demand, and promotional offerings.
The promise of high performance, user-friendly operations, and a great price point make the Dewalt 20V Max XR Multi-Tool Kit an exemplary deal. Remember, a well-curated toolbox is not an expense—it's an investment in efficiency, effectiveness, and, most importantly, in your creativity and grit in doing it yourself!
Customer Satisfaction and Top Brands
In the world of power tools, customers make decisions based on a variety of factors. They seek reliable tools built to last, products that deliver bang for the buck, as well as units designed to offer performance in various tasks. However, one key aspect that overshadows others is customer satisfaction. It's a fundamental element that ties in directly with the brand's reputation, influencing consumer buying behavior significantly. Let's explore customer satisfaction by looking at two top brands in the business- Stanley and Makita.
Stanley
They say you're judged by the company you keep, and when it comes to power tools, Stanley is definitely among the elites. Trusted by professionals and amateurs alike, Stanley has built its reputation on consistency and quality over years of dedicated service. But what makes customers lean towards Stanley? Here are a few key reasons:
Quality: Stanley is committed to delivering high-quality power tools that withstand demanding conditions while delivering optimal output. This commitment is a key factor in garnering customer satisfaction.
Innovation: Stanley continuously works on improving designs, fine-tuning performance, and creating new solutions that meet the evolving needs of the market.
Service: Stanley is known for its comprehensive after-sales service. Their customer-friendly approach and quick response time keep customers satisfied, reinforcing their trust in the brand.
Stanley's unwaivered dedication to excellence has made it one of the top-rated power tool brands as per customer satisfaction according to numerous reviews and market studies.
Makita
One cannot speak about the power tool industry without mentioning Makita. Its wide range of power tools is recognized globally, and customer satisfaction plays a big role in its popularity. Let's delve a bit more into why Makita is well-loved:
Durability: Makita's power tools are designed to last. The brand invests heavily in technology and materials that ensure long-lasting tools, a feature customers highly appreciate.
Variety: From drilling machines to sanders, Makita has a comprehensive offering to cater to all customers' needs. This large selection results in increased customer satisfaction as customers can find precisely what they're looking for under one brand.
User-Friendly: Makita power tools are designed with the end-user in mind. Their products are ergonomically designed for improved handling and reduced fatigue, which enhances the user experience, consequently improving customer satisfaction.
Clearly, both brands have a pivotal role in shaping the power tool industry. Their focus on customer satisfaction highlights the effort they put into their products and the value they place on their customers. No matter the task, Stanley and Makita have made sure they're there to support you, their valued customer, and that is a testament to their success.
Complete Tool Kits
A well-equipped tool kit is any handyman's best friend, saving you trips to the hardware store and simplifying maintenance tasks. The adage "the right tool for the right job" rings true for both seasoned professionals and first-time DIY-ers. So whether you're a seasoned professional or just starting out, having a complete tool kit can make all the difference when it comes to tackling projects.
Amazon Basics 173-Piece Hand Tool Kit
Let's zoom in on one product that stands out in the market: the Amazon Basics 173-Piece Hand Tool Kit. This set is bursting with a variety of tools, each designed to ease your DIY journey, whether you're fixing a leaky faucet or assembling furniture.
This Amazon tool kit boasts:
An extensive and diverse tool collection. With everything from a hammer and screwdrivers, to pliers and a tape measure, there's nothing you won't be able to handle.
Quality and durability. Each tool is made from high-quality steel and polished chrome to withstand repeated use and resist corrosion.
Storage convenience: The kit comes packed in a compact, sturdy case. No more losing tools or searching your workspace to find what you need.
The Amazon Basics 173-Piece Hand Tool Kit offers a great selection of tools for general projects at home. You will certainly appreciate the convenience and efficiency it brings to your work, no matter the project. Just picture yourself pulling out the perfect tool for the job from your kit, making your DIY goal seem that much closer.
Armed with a complete tool kit, you're ready for whatever DIY challenges your home throws at you. It truly is a worthwhile investment. Happy DIY-ing!
Harbor Freight - Low Prices on Tools
When it comes to shopping for power tools, generators, or tool boxes, we all want top, dependable quality without emptying our wallets. If this resonates with you, then Harbor Freight may just be your Tool Nirvana. Known for its extensive inventory and surprisingly low prices, Harbor Freight has become the go-to hub for both professional tradesmen and enthusiastic DIYers.
Unbeatable Bargains on Power Tools
From drills and grinders to sanders and saws, Harbor Freight offers a wide assortment of power tools without the extravagant price tag. Rest assured, these low prices don't come at the expense of quality. At Harbor Freight, you'll find durable, resilient power tools that are designed to weather even the toughest of jobs, proving that price doesn't always equate with performance.
Generators without Breaking the Bank
Emergencies can occur at any time. With Harbor Freight's affordable line of generators, you can be prepared without putting a severe dent in your budget. Harbor Freight offers a wide array of generators fitting for everything from campsite getaways to home power backup during storm season.
Cost-Effective Toolboxes
Every artisan, whether a seasoned professional or a weekend hobbyist, needs a sturdy and well-organised toolbox. Harbor Freight's selection of toolboxes is as impressive as their prices. They offer a spectrum of sizes and designs to accommodate just about any tool collection, making sure all your tools are neatly stored, easily accessible and, of course, securely locked when you're on the go.
Remember, though it's evident that Harbor Freight excels in providing low prices, don't let the numbers fool you into thinking that you're getting a subpar product. Quality, durability, and dependability are the cornerstones of every tool found within their aisles. Harbor Freight is steadfast in its mission to provide customers with products they can rely on, at prices they'll appreciate. Investing in tools should never break the bank, and with Harbor Freight, it certainly won't.
Highly Recommended Cheap Impact Driver
If you're in the market for a reliable yet affordable power tool, then take a look at the Ryobi 18V One+ P237 impact driver. Known for both its effectiveness and value-for-money, this product has been a delight to budget-conscious DIY enthusiasts.
The Ryobi 18V One+ P237 stands tall with its robust performance despite the friendly price tag. It delivers up to 1,800 pounds of torque, providing the power you need to drive long screws into hard materials swiftly and efficiently. The belt clip feature is also a handy addition, giving you easy access to the tool during your projects.
Moreover, it offers versatile driving applications thanks to the three speed settings:
Low (0-1,700 RPM)
Medium (0-2,500 RPM)
High (0-3,200 RPM)
From furniture assembly to heavy-duty construction, this device offers the flexibility you need to complete various tasks. It also features a Tri-Beam LED Light, ensuring you can work in low-light conditions without compromising precision and safety.
The comfort of use is often overlooked in power tools, but not with the Ryobi 18V One+ P237. Its trademark GripZone overmold design provides optimal grip, eliminating user fatigue during prolonged use.
When we talk about value for money, the piece-de-resistance for this impact driver is its compatibility with any Ryobi One+ batteries. In other words, if you have pre-existing Ryobi tools, there's no need to purchase a new battery for this impact driver.
Overall, the Ryobi 18V One+ P237 is a fantastic bargain for a power tool. Its versatile features and robust performance, coupled with affordability, place it on a pedestal amongst budget-friendly tools perfect for the cost-conscious DIY-er. So, no matter the scope of your upcoming DIY endeavor, consider adding this impact driver to your arsenal to ensure efficient, precise, and convenient execution.
Frequently Asked Questions
Where can I find bargain tools for DIY enthusiasts?You can find bargain tools for DIY enthusiasts at several places such as online marketplaces like Amazon and eBay, local thrift stores, garage sales, pawn shops, and even by searching for deals and discounts on websites specializing in tools and equipment.
Are bargain tools of good quality?Not all bargain tools are of good quality, but with some research and caution, you can find affordable tools that offer decent quality. Look for reputable brands, read customer reviews, and inspect the tools for any defects or signs of poor craftsmanship before making a purchase.
Should I buy used tools to save money?Buying used tools can be a great way to save money, especially if you are on a budget. However, make sure to inspect the tools thoroughly, check for any damages or wear, and test them if possible before finalizing the purchase.
Are there any online forums or communities where I can find recommendations for bargain tools?Yes, there are many online communities and forums dedicated to DIY enthusiasts where you can find recommendations for bargain tools. Some popular ones include Reddit's DIY and Home Improvement communities, DIY forums like DIYChatroom.com, and various Facebook groups focused on DIY projects and tool recommendations.
Should I prioritize price over quality when buying bargain tools?While finding affordable tools is important, it's crucial to strike a balance between price and quality. Opting for extremely cheap tools might result in poor performance and frequent replacements. Look for tools that offer a good balance of quality and affordability to ensure they last longer and serve their purpose effectively.