Finding Quality Tools at Discounted Prices: A Savvy DIY Enthusiast's Guide
Discover how to find high-quality tools at discounted prices. This guide is perfect for DIY enthusiasts looking to save money without compromising on quality.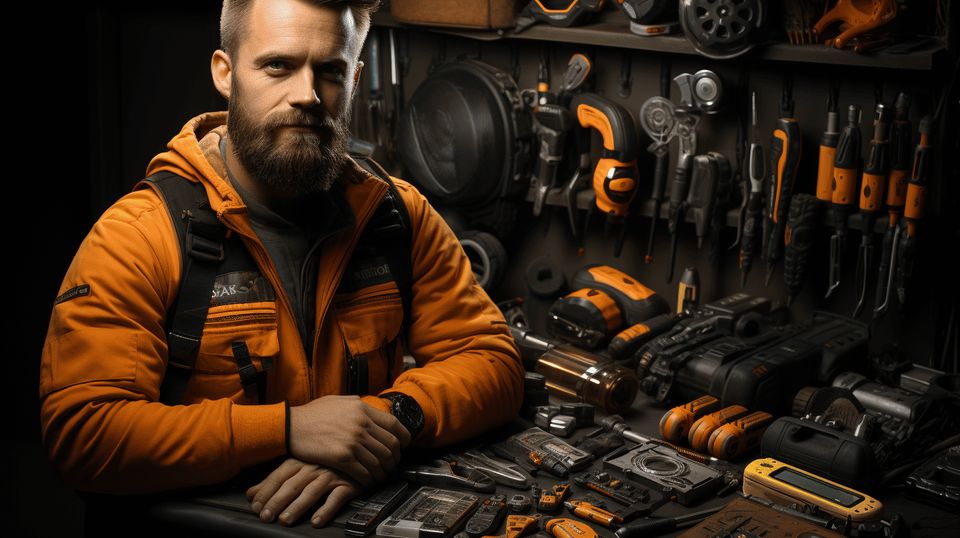 There's a special kind of joy that comes from completing a Do-It-Yourself (DIY) project. That sense of achievement you feel while admiring your very own handiwork is quite extraordinary. But every savvy DIY enthusiast knows their success lies in their toolbox. Quality tools can make the difference between a smooth, enjoyable project and a frustrating, drawn-out one. However, acquiring these tools without breaking the bank might seem like a Herculean task. Don't worry, it doesn't have to be. This guide is the answer to your budget-friendly tool shopping. Discover how to find quality tools at discounted prices, discern between the various range of tools available, take advantage of special offers and promotions, and more. So fasten your tool belts - it's time to make your DIY dreams a reality without hurting your pockets.
Understanding the Range of Tools Available
Immersing in any DIY project or professional task often involves making use of the right toolkit. And in today's marketplace, there is a staggering variety of tools for every conceivable task. Believe it or not, there are actually over 40,000 quality tools available from the best brands! This sea of options can sometimes make it quite challenging to know which tools to choose for your personal or professional projects. However, understanding the range of tools available to you can make these decisions a whole lot easier.
One fascinating trend in the world of tools is the rise of cordless power tools. Gone are the days of being tethered to an electrical outlet whenever you need to drill a hole, saw through a piece of wood, or sand down a rough surface. Cordless power tools offer convenience and modern features that can greatly increase efficiency. Not to mention, they've become quite powerful and versatile, often matching their corded counterparts in performance.
Yet, cordless power tools are just one category in the expansive world of tools. The landscape of available instruments spans from traditional hand tools like hammers and screwdrivers, to complex power tools, all the way to high-tech digital tools for specific industries. Each one of these categories hosts an array of brands, each with their unique features and advantages.
Choosing the right tool often comes down to an understanding of your specific needs, budget, and the skillset required to handle the tool. Just because a tool is fashionable or highly rated doesn't put it above others. It needs to be the perfect fit for you and the task at hand.
Understanding the range of tools available in the market can be a daunting task, but it's a necessary step in selecting the best tools for your needs. So before you embark on your next project, whether it's big or small, home-based or professional, take some time to learn about your options. It might make all the difference in the world as far as productivity, efficiency, and results are concerned.
Taking Advantage of Special Offers and Promotions
Uncovering the myriad of special offers, promotions, and exclusive deals is like joining in a treasure hunt where exciting discounts await discovery. Whether it's The Home Depot's enticing markdowns or Amazon's exclusive Prime Early Access Sales, these events are golden opportunities to save money and stock up on necessities. From household items to the latest gadgets, the power to shop smart is right at the fingertips.
Labor Day Sales
Regarded as a high point in the yearly sales calendar, Labor Day sales see some of the steepest discounts imaginable. Stores like The Home Depot often offer special values, promotions, even clearance deals, turning the holiday into more than just an end-of-summer celebration. Let's delve into what makes this particular event so special.
For instance, The Home Depot, a retailer known for its extensive range of tools and gear, typically offers special Labor Day values. These represent opportunities for savvy shoppers to bag massive savings. Leveraging such events can significantly bring down expenses, especially if you're planning a home renovation or repair project. These sales often extend to many areas within the stores, promoting discounted prices even on items that rarely see markdowns - all in the name of customer value.
To shop smart, keep an eye on:
Tools and equipment
Clearance items
Exclusive promotions
Labor Day specials
Amazon's Prime Early Access Sale
Offering the ultimate buyer's experience, Amazon's Prime Early Access Sale is another event that thrifty shoppers can't afford to ignore. Amazon Prime Members usually have the privilege of early access to Lightning Deals; this is a huge advantage over standard customers when it comes to snagging the best promotions.
In the midst of the fast-paced online shopping environment, early access allows Prime Members to circumvent the rush, ensuring that they are ahead of the queue when it comes to limited stock items. Deals found during these sales events cover everything from electronics to household essentials, making it a shopping haven without necessarily breaking the bank.
Make the most of your membership by:
Watching out for Lightning Deals
Incorporating early access to your shopping strategies
Shopping online during sales hours
Seeking out the most sought-after products
Shopping smart isn't about mere purchases; it's reclaiming control over your budget. The options for capitalizing on special offers and promotions are numerous - why not make every cent count in your pursuit of the best deals?
Comparison Shopping for the Best Deals
Comparing prices before making a purchase isn't a new concept. Traditionally, customers would have to visit numerous stores to find the best price. But in today's digital age, online comparison shopping has risen in popularity, becoming a practical way to secure the best deals available. Simply put, comparison shopping is a must for diligent buyers, ensuring you get the most out of your hard-earned money.
Dewalt, Ryobi, Milwaukee Tools
When it comes to comparison shopping for tools, brands such as Dewalt, Ryobi, and Milwaukee often top the list. Each of these brands has earned a reputation for manufacturing durable and high-performing tools, ideal for both professional tasks and DIY projects. However, equal quality doesn't always mean equal pricing. A Dewalt drill could cost you significantly more compared to similar Ryobi or Milwaukee models.
Identifying the brand that offers the best value involves investigating the cost per use. Professional contractors may find that spending extra on a Dewalt product results in long-term savings thanks to its build quality and durability, while a home DIY enthusiast may get better value from a Ryobi tool that also performs well but at a lower upfront cost. Remember, the goal isn't to find the cheapest tool – it's to find the one that offers the best quality for the price.
Shopzilla and ShopSavvy Platforms
Online platforms like Shopzilla and ShopSavvy have made comparison shopping significantly more convenient for consumers. With the click of a button, shoppers can compare prices of millions of products from different sellers, including tool brands like Dewalt, Ryobi, and Milwaukee.
Shopzilla sets itself apart by curating a comprehensive list of products available at discounted prices. Whereas ShopSavvy remains a favorite among consumers for its easy-to-use interface and the option to receive price alerts for specific items, giving you the chance to strike when the deal is just right.
Remember to exercise caution while shopping online, verifying that the retailer is reputable before making any purchases. Be mindful of shipping costs too, as they can sometimes turn a good deal into a not-so-good one.
Engage in the practice of comparison shopping, and you're bound to discover that the best deals aren't always the first ones you come across. The perfect balance of quality and affordability is out there waiting for you – all it takes is a little research!
Finding Discounts on Quality Tools with Trusted Online Retailers
Seeking quality tools at a discounted price? Wondering where you can find trusted online retailers for all your power tool needs? In the era of digital shopping, you have the advantage of numerous platforms offering both new and second-hand quality tools. By choosing renowned e-commerce sites, you're assured of trying different brands and tools without breaking the bank.
Acme Tools, ToolNut, and Toolbarn
Famed for their broad selection and great discounts, online stores like Acme Tools, ToolNut, and Toolbarn are the go-to destinations for power tools. From cordless drills to jigsaws and everything in between, these marketplaces shoulder the promise of quality and affordability. The beauty of their business model lies in giving consumers a chance to compare different brands, reviews, and prices, enabling a more informed purchasing decision.
Amazon and eBay
Renowned e-commerce giants like Amazon and eBay have made it incredibly easy to find deals on both new and used tools. Whether you're on the hunt for a variety brand toolkits or singular assets for your collection, these platforms are veritable troves of tool deals. Additionally, their built-in, multilevel product reviews enable you to evaluate prospective buys before making the investment.
Harbor Freight Tools
If you're after low prices on power tools, generators, tool boxes and more, Harbor Freight Tools might be your perfect match. Known for its wide range of affordable options, this platform has something for every DIY enthusiast or professional handyman. Your search for cost-effective, yet quality tools might just end here!
DeWalt, Makita, Stanley Brands
Overwhelmed by the sheer array of tools and brands out there? No need for confusion when DeWalt, Makita, Stanley, and other quality brands offer big savings across various websites. These trusted manufacturers have stood the test of time, consistently delivering excellence in their tools. By focusing on quality, they ensure that your investment not only stays durable but also reliable for the jobs ahead.
Cutting corners shouldn't be an option when shopping for tools. Despite a price-conscious mindset, it's fundamental to prioritize quality, carefully assessing which brands and platforms offer the most value. Remember, with numerous online retailers at your fingertips, equipping yourself with top-grade tools doesn't have to strain your budget.
Leveraging Daily Deal Sites and Factory Outlets
Whether you are a DIY enthusiast or a professional craftsman, getting good value for your tool purchases can be a real game-changer. It's all about smart shopping, and that includes leveraging daily deal sites and factory outlets. Let's review a few of the top players in this space, namely Woot, Direct Tools Factory Outlet, and CPO Outlets. Each of these sites offers you the opportunity to save big on your tool needs.
Woot
Woot is often the go-to daily deal site for tool hunters looking for serious bargains. What makes Woot stand apart is their fantastic offers on a vast array of tools. Every day, the site presents a new deal, aiming to provide customers with the best bang for their buck. It's like a treasure hunt, with the treasure being heavily discounted tools. Add to these savings the excitement of discovering each day's deal, and Woot quickly becomes a tool shopper's haven.
Direct Tools Factory Outlet
If you are loyal to brands like Ryobi and Ridgid, you might want to bookmark Direct Tools Factory Outlet. This factory outlet is a trusted source for significant savings on these popular tool brands. Their product range is robust, and their prices often unbeatable. Here, you can find everything from hand tools and power tools to outdoor gear and accessories, all at exceptional prices. Visiting this site can transform your shopping experience, making it easy for you to afford high-quality, branded tools.
CPO Outlets
Last but not least, CPO Outlets is another virtual paradise for tool shoppers. What's impressive about CPO Outlets is their selection of both new and reconditioned power tools. If you're targeting renowned brands like Milwaukee and Dewalt, this outlet offers you an incredible opportunity to buy these often pricey tools at significant discounts. Plus, with their reconditioned options, you get double the value – gently used, high-quality tools for a fraction of the original price.
To wrap it up, these three daily deal sites and factory outlets have truly revolutionized the way you can shop for tools. They offer a combination of great deals, quality products, and a wide variety, all while making it possible for you to stretch your dollar further. The next time you need to buy tools, remember Woot, Direct Tools Factory Outlet, and CPO Outlets – your wallet will thank you!
Discovering Tools at Discounted Prices on Various Platforms
The quest for high-quality power tools at affordable prices can seem like a never-ending journey. But fear not, we're here to guide you through the maze of countless online and offline platforms where you can find these invaluable gems at discounted prices. Whether you are an experienced builder or a DIY enthusiast, stocking up your workshop without burning a hole in your pocket is all about knowing where to look.
Craigslist
Craigslist has proven to be a trove for affordable power tools. As a classified advertisements website with dedicated sections for various communities, services, and items for sale, you have access to a marketplace right at your fingertips. Yet, what makes Craigslist stands out are the opportunities to find excellent local deals on power tools. Whether you're hunting for a cordless drill, a power saw, or perhaps an air compressor, this platform provides countless direct, local deals, removing the challenge of shipping costs and giving you the advantage of inspecting your tool before purchase.
Mac Tools, Acmetools.com, Milwaukee Tool
Elevate your tool search by visiting platforms well established in the power tools market. Mac Tools, Acmetools.com, and Milwaukee Tool are more than just online stores; they are institutions recognized for delivering high-quality power tools. These platforms not only provide a variety of dependable tools but also offer frequent sales and discount campaigns. If reliability and durability hold high regard in your books, you will find these platforms a reliable source for your power tool needs.
Amazon, Home Depot, Lowe's, Ace Hardware
For those who appreciate the convenience of having numerous options in one place, e-commerce platforms like Amazon, Home Depot, Lowe's, and Ace Hardware are the go-to options. These platforms offer a wider variety of brands, tool types, and price ranges, making them attractive to a broad audience. The best part is, reduction campaigns are a consistent feature on these platforms. Therefore, if you are patient and persistent, you're likely to land an excellent deal on the power tool you've been eyeing.
Tooled with this new understanding, your journey to discovering power tools at discounted prices is now more focused and promising. No more random and fruitless searches; you can now find your desired tools at pocket-friendly prices on these trusted platforms. Get ready to power up your tool arsenal, without stretching your budget!
Tips for Securing the Best Deals on Tools
Getting your hands on the right tools can make all the difference when tackling a new project. However, rapidly increasing prices and countless brands to choose from may make finding the right tools for your need a daunting task. Fortunately, prices are not set in stone. With the right strategies, one can nab great tools without breaking the bank. Here are some tips to help you secure the best deals on tools.
Comparison Shopping
One of the fundamental steps towards securing the best deals on tools is comparison shopping. Today's digital world provides endless opportunities to compare prices for specific brands or tool types. Applications like ShopSavvy and Google Shopping have revolutionized this approach by offering immediate access to price comparisons and best deal alerts on tools.
Once you decide on the type or brand of tool, input it into these apps. They quickly scan numerous online stores to provide a consolidated list of places where one can find the selected tool alongside the corresponding prices. This way, you can spot the place offering the best value for your money.
Remember, the price tag alone should not guide your decision. Always consider factors such as the tool's quality, warranty, and customer reviews to ensure that you are getting a good deal.
Monitoring Sales and Promotions
Bargain hunters are fully aware of the unmatched discounts big sales events like Black Friday offer. These occasions provide fantastic deals for a wide variety of tools. Prominent tool stores such as Amazon, Home Depot, and Lowe's typically offer fantastic discounts on tools during these seasons.
However, don't disregard other less-known promotional periods. Manufacturers or stores may offer limited-time sales, clearance sales, or season-ending sales offering excellent savings opportunities.
Furthermore, signing up for newsletters from your favorite tool stores or following them on social media might reveal early information about upcoming sales and promotions.
Negotiating Prices
Feel free to haggle if you believe the listed price doesn't reflect the tool's value. While many might not realize it, there's usually room for negotiation, especially for in-person purchases at local stores. Try asking for a discount or if there are any upcoming sales you should wait for. You would be surprised how often this strategy can lead to significant savings.
Also, many stores offer price match guarantees. If you've found a better price online or at a different brick-and-mortar store, they could match that pricing. You could leverage this policy to your advantage.
By following these tips, you can ensure that you're not just buying tools, but also getting the best bang for your buck. Always remember, a deal isn't good simply because of a low price tag. Investing in quality now can save you from frustration and additional costs later on. So, when you land that killer deal, make sure it includes durability and dependability.
Conclusion
Be it the high-end tools for a seasoned professional, or basic equipment for a keen beginner; navigating the world of tool shopping can be overwhelming. Understanding the range of tools out there, watching for special offers, and comparison shopping can provide a tremendous help in this regard. Trusted online retailers, daily deal sites, and various other platforms can be great sources for finding quality tools at discounted prices.
However, the ultimate trick to securing the best deals is to practice patience, negotiation, and regular monitoring of sales and promotions. This guide is your roadmap to a budget-friendly shopping experience without compromising on quality.
While you embark on this rewarding venture of DIY projects, allow Ultra Handy to make your journey a tad easier. From supplying high-quality tools to providing encouraging support, we are committed to helping you succeed in your hands-on endeavors. Give your resourcefulness the wings it deserves, and ensure hassle-free work and maintenance with Ultra Handy.
Frequently Asked Questions
Where can I find quality tools at discounted prices?There are several places where you can find quality tools at discounted prices. Some options include checking online marketplaces such as Amazon or eBay, visiting local hardware stores during sales or clearance events, and subscribing to newsletters or email lists of tool suppliers for exclusive discounts and deals.
Are discounted tools of good quality?Discounted tools don't necessarily mean poor quality. Many reputable brands offer discounts on their products during certain periods or for promotional purposes. However, it's important to do thorough research, read customer reviews, and check for warranties or guarantees to ensure you are getting a good quality tool at a discounted price.
Are there any specific times or seasons when tools are heavily discounted?Yes, there are specific times and seasons when tools are often heavily discounted. These include major shopping events like Black Friday, Cyber Monday, and holiday sales. Additionally, end-of-season clearance sales or when new models are released are also good times to find discounted tools.
Are there any online platforms dedicated to offering discounted tools?Yes, there are several online platforms dedicated to offering discounted tools. Some popular ones include ToolBarn, Acme Tools, and CPO Outlets. These platforms often have a wide range of tools available at discounted prices, and they may offer additional benefits such as free shipping or exclusive deals.
Is it possible to negotiate for lower prices on tools?In some cases, it may be possible to negotiate for lower prices on tools, especially when dealing with local or small hardware stores. However, this may not always be applicable to larger retailers or online platforms. It's worth trying to negotiate, but be polite and reasonable in your approach.