Maximize Your DIY Savings: How to Find Affordable Tools and Equipment
Discover effective strategies to maximize savings on tools and equipment for your DIY projects. Find affordable options without compromising on quality.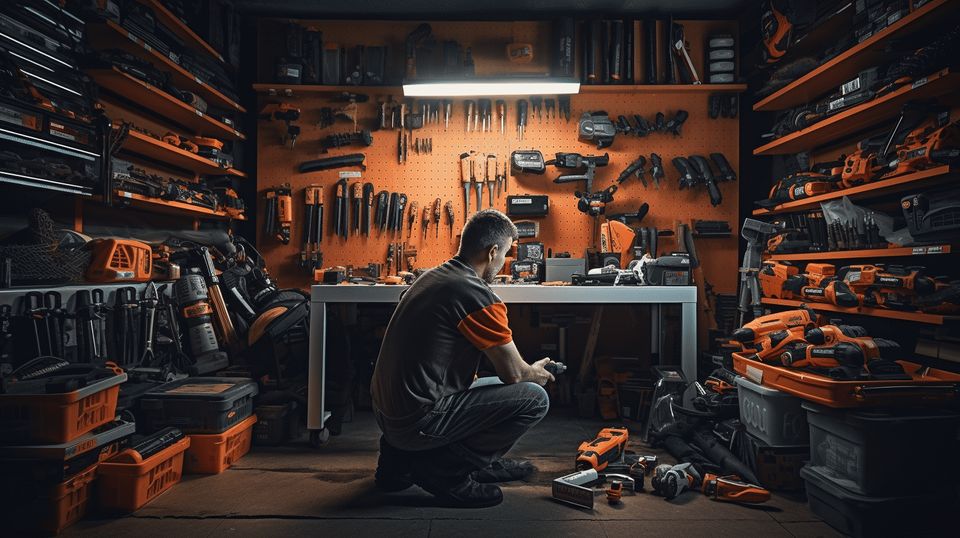 Starting a DIY project brings an inimitable sense of accomplishment in seeing your hard work transform into a usable entity. But there's a crucial part often overlooked but instrumental in reaching this milestone— the necessary tools and equipment. These can range from the basic handheld tools to the more complex power equipment. At times, procuring the right tools may seem like an expensive affair, at first. But fret not! This article will navigate you through various affordable ways to accumulate an impressive toolset without breaking the bank. We will explore the typical cost of power tools, where to find budget-friendly options, and when it might make sense to consider renting over buying. By the end of this DIY savings guide, you'll be equipped to make informed decisions about investing in your tool collection. Let us initiate this journey by first understanding the price range for tools and equipment.
Affordability of Power Tools and Equipment
Are you stuck in a DIY project because the cost of power tools and equipment weighs heavy on your wallet? You're not alone. The misconception that power tools and equipment have to be expensive events significantly deters most enthusiasts. However, if we take a moment to break down the costs, you may be pleasantly surprised at how affordable they actually can be. Let's dive further into the average prices.
Average Prices
To bring it into perspective, the average price range for tools and equipment varies significantly due to the broad spectrum of products available. However, rest assured, there's something for everyone. You can find tools and equipment for as low as $10.9, making it a viable investment for hobbyists or those just starting their DIY journey.
On the more professional end, the cost for power tools and equipment can go up to $43,000 per piece. This range is often for industrial-grade equipment, designed to withstand heavy duty work that comes with a promise of high durability and exceptional performance.
Finding the right balance between price and quality is the key to affordability. Here are a few guidelines to help you on your buying journey:
Understand your needs: Not all jobs require high-end tools. Sometimes, less pricey tools can accomplish tasks just as efficiently.
Do your research: Make sure to understand the market and all available options. Compare prices from different stores before making a purchase.
Consider longevity: Although a tool may be cheaper initially, if it has to be replaced frequently due to poor build quality, you may end up spending more in the long run.
Remember, the right tool ensures efficiency and contributes to the overall success of a project. Happy DIY-ing!
Popular Places to Find Affordable Tools
Whether you're a do-it-yourself enthusiast or a professional tradesperson, you know there's nothing more satisfying than owning a reliable set of tools. Here's the catch though: high-quality tools often come with a prestige price tag. So, where can you find affordable tools without compromising on quality? The answer lies in thoughtful shopping strategies. Here are some places where you can find a decent set of tools that won't break the bank.
Harbor Freight
Harbor Freight is a sought-after haven for tool hunters searching for affordability without foregoing quality. This prominent store has earned a reputation for having a comprehensive range of power tools and equipment at friendly prices. With over 1400 locations scattered worldwide, finding a Harbor Freight store near you is easier than you might think. Significantly, this store's offering entails not just the affordability of tools, but also their quality and reliability.
Online Platforms
In the technological era, you can't overlook the advantages of purchasing tools online. Internet marketplaces such as Amazon and Alibaba have revolutionized the tool shopping experience, providing a wide array of affordable options right at your fingertips. These platforms feature great product descriptions, customer reviews, and compare prices, allowing you to make an informed decision before you open your wallet. Besides, the convenience of having your tools delivered straight to your doorstep can't be overstated.
Pawn Shops
Pawnshops are a goldmine for used tools at reasonable prices. While these secondhand items might have some mileage on them, many are still in excellent working condition. The idea here is to buy valuable tools that have been well taken care of. With a keen eye and a bit of negotiation, you can walk away with a high-quality tool for a fraction of the original price.
Garage Sales and Flea Markets
Lastly, if you enjoy the thrill of the hunt, then garage sales and flea markets are the place for you. It's not uncommon to stumble upon almost-new tools at these venues, sold at a fraction of their original cost. These markets offer a fantastic opportunity to nab huge deals, as sellers are often motivated to clear their stuff rather than make a profit.
Navigating through these affordable tool marketplaces, you're bound to find a great deal that fits your budget without compromising on quality and functionality. Happy hunting!
Investing in Tool Organization
In every craftsman's life, whether professional or hobbyist, tool organization plays a pivotal role. Clear workspaces, sorted tools, and efficient work mechanisms are the result of investing time, effort, and money into tool organization. Not only does it boost productivity, but it also prolongs the life of your tools.
Let's delve into how storage containers and organizers can revamp your tool organization game.
Storage Containers
Frequent searches for missing equipment can waste precious time when you're in the middle of a project. This is where the role of reliable storage containers comes in. By conveniently storing and categorizing tools, you can have everything you need right at your fingertips.
Here are a few benefits of investing in quality storage containers:
Protection: Quality containers provide shelter from harmful elements, preventing rusting and degradation of your prized tools.
Saves Time: Having a stored place for every tool can severely cut down the time wasted in searching for them.
Increases Efficiency: Trying to find tools can slow down your work pace. With readily accessible tools, your productivity can skyrocket.
Organizers
Beyond just storage, organizers add a layer of efficiency and speed to your work process. They usually have compartments designed to hold specific tools, eliminating the hassle of rummaging through a box for a single screwdriver, for instance.
Investing in organizers can offer the following benefits:
Easy Access: Compartments in organizers allow each tool to have its designated space, making them easily accessible.
Space Efficiency: Organizers can fit large numbers of diverse tools compactly, maximizing your storage space.
Lifespan: By preventing tools from banging against each other, organizers help to prolong their lifespan.
Remember that the key focus here isn't to spend extravagantly on expensive storage systems. Instead, the goal is to invest wisely - balancing cost, quality, and utility. Along this journey, you might even rediscover tools you'd forgotten about. As the adage goes: "a place for everything, and everything in its place." Embracing tool organization can truly unveil the joy of effortless and productive crafting.
Considerations for Expensive Equipment
When we talk about starting a new venture or expanding an existing one, the subject of equipment is bound to come up. Whether it's manufacturing, IT, medical, or any other sector, acquiring state-of-the-art equipment is pivotal for driving efficiency and growth. However, the high price tag often associated with such items can be a major concern. Therefore, it begs the question, how does one manage to obtain these essential tools while keeping costs in check?
One solution that has grown in popularity over the years due to its obvious advantages is leasing.
Leasing
Leasing can be a savvy decision for business owners in need of a wide range of equipment or particularly expensive apparatus. This method of attaining assets affords users the flexibility to upgrade to the latest models as the technology advances. Additionally, it also helps in maintaining a healthy cash flow by eliminating the upfront costs required for purchasing outright.
To illustrate why leasing could be a smart approach, let's consider the following points:
Avoidance of Obsolescence: With constant advancements in technology, equipment can quickly become outdated. Leasing allows businesses to keep pace with developments which can provide a competitive edge.
Improved Cash Flow: Payments can be spread out over months or years, making it easier to manage finances.
Tax Benefits: Depending on jurisdiction, lease payments might be fully deductible as business expenses.
"Leasing can be a good option for quickly acquiring a lot of equipment or expensive equipment."
Leasing is not without its drawbacks. For instance, it may end up costing more than an outright purchase in the long run. Also, the business does not build equity in the equipment. Yet, for businesses that value flexibility, cash flow consistency, and staying on top of technological advancements, leasing may well be the optimal path.
In making a decision, it is crucial to conduct a thorough evaluation of both the needs of the business and the terms of the lease. Knowing what suits your business model best will not only help you make an informed decision but also ensure the continued prosperity and growth of your business.
Conclusion
Mastering the art of DIY goes beyond skill, it's also about knowing where to get affordable tools and managing them effectively. Remember, every cent you save in getting tools can be redirected into other life-enriching activities. For an ultra-handy individual on a budget, the path to quality yet pocket-friendly tools might begin at the Harbor Freight, online platforms like your favorite eCommerce store, Ultra Handy, pawn shops, or even a drive to the local garage sale. However, never compromise quality for cost.
Exploring options like leasing for expensive equipment can also help you achieve your DIY projects without straining your finances. And while you amass these tools, don't forget the role of a well-organized workspace. At Ultra Handy, we recognize the importance of tool organization and offer an array of storage containers and organizers you'll find beneficial not just for storing these tools but also enhancing your efficiency.
Just like a seasoned craftsman who knows the right tool for each task, we hope this guide aids you in your quest to have a well-equipped toolbox without breaking the bank. Check out the Ultra Handy store for a range of budget-friendly, quality tools that will be perfect for your next DIY project!
Remember, the world of DIY is at your fingertips. So why wait? Get tooled-up today and begin your journey to create, repair, and decorate your world just as you like it.
Frequently Asked Questions
Where can I find affordable tools and equipment?Affordable tools and equipment can be found at various places such as local hardware stores, online marketplaces like Amazon or eBay, garage sales, pawn shops, and rental companies.
How can I ensure the quality of affordable tools and equipment?To ensure the quality of affordable tools and equipment, it's advisable to read customer reviews, check the product specifications, and choose reputable brands or sellers known for their reliability and durability.
Are there any specific times or seasons when tools and equipment are more affordable?Yes, certain times or seasons like Black Friday, Cyber Monday, and end-of-season sales are known to offer significant discounts on tools and equipment. It's recommended to keep an eye on these sale events for additional savings.
What are some cost-effective alternatives to buying new tools and equipment?Instead of buying new tools and equipment, you can consider renting them from equipment rental companies, borrowing from friends or family, or buying second-hand tools and equipment from reputable sources.
How can I maintain the affordability of my tools and equipment?To maintain the affordability of your tools and equipment, it's important to properly clean and store them after each use, perform regular maintenance and repairs, and invest in quality storage solutions to prolong their lifespan.