Score Big Savings: How to Find Affordable Tools for DIY Projects
Discover practical tips and tricks to find budget-friendly tools for your DIY projects. Score big savings without compromising on quality.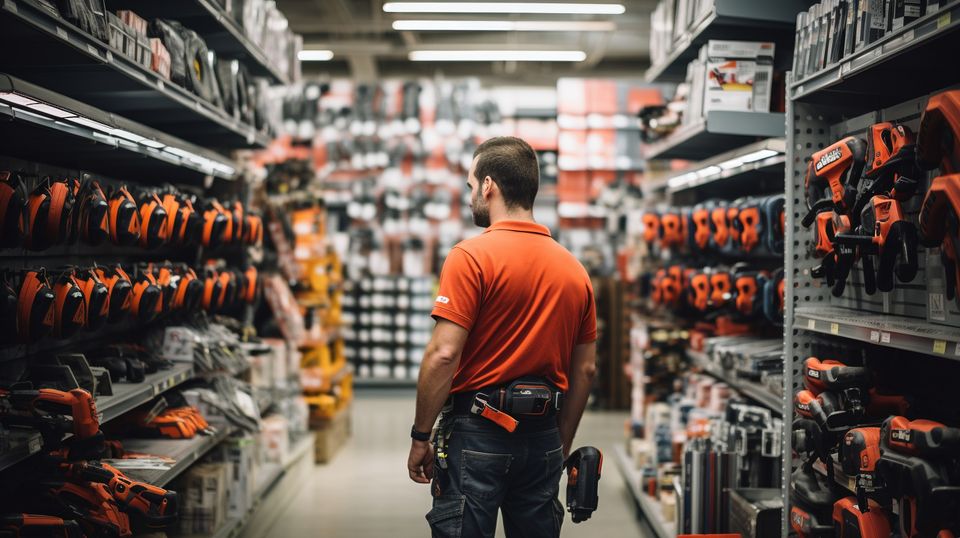 If you're a DIY enthusiast, whether it's dabbling in weekend home improvements or more extensive renovation projects, you know the critical role power tools play. The right tools in your arsenal can transform tedious tasks into an enjoyable process with professional-looking results. But there's a catch - high-quality power tools often carry hefty price tags. But fear not, DIYers! This article is your guide to locating affordable tools, both new and used, that don't compromise on power and performance. Get ready to learn about online marketplaces, tool rentals, top brand discounts, price comparison strategies, and smart ways to shop for used power tools. Your dream workshop doesn't have to break the bank!
Understanding the Balance of Power and Affordability
When you set out to acquire power tools for your DIY or construction tasks, understanding the balance between power and affordability is crucial. The ideal scenario is to secure a suite of tools that gives you the punch you need, without punching holes in your pocket. You want to have tools that, in the face of demanding jobs, deliver excellent performance and yet don't destabilize your budget.
Quality and Durability Considerations
A basic rule of thumb when purchasing power tools, or indeed any items, is that quality and longevity always prove to be cost-effective in the long run. While it's tempting to go for a cheaper price tag, remember that lower prices often mean compromised performance, durability, or both. This is precisely why the old adage, "you get what you pay for," has persisted over time.
Power: Powerful tools mean more productivity as they get the work done faster and with less effort. However, defining power can be different based on the tool type. For example, when we speak of a drill, we consider its speed and torque. A jigsaw, on the other hand, power could relate to strokes per minute.
Durability: This speaks to the ability of the tool to withstand hard use over time without significant wear or breakage. Material composition, manufacturing quality, and design all play a part in determining a tool's durability.
Budget-friendly Options
But what if your budget is tight? The good news is that there are options to balance power and affordability. Power tools combo kits can provide an excellent solution. Not only can they offer potential savings, but different brands also offer a balance of power and affordability, ensuring you don't have to compromise too much on either. Consider these factors when looking at budget-friendly options:
Versatility: Power tool combo kits are versatile, providing you with a range of tools for various tasks all in one package. They usually contain the most commonly used tools and so offer excellent value.
Brand Reliability: Different brands stack up differently when it comes to reliability. It's sworth doing your research and looking at customer reviews to gauge a brand's reputation.
In sum, a keen understanding of the need to balance power and affordability when choosing power tools is vital. By focusing on quality, durability, and the availability of budget-friendly options, you can make your money go further and still complete your projects successfully.
Online Marketplaces for Affordable Power Tools
Whether you are an ambitious DIY enthusiast or a seasoned construction professional, having high-quality power tools can drastically elevate your productivity. Ironically, buying these essential assets can get quite expensive, but here's the good news - you don't necessarily have to break the bank, thanks to affordable power tools available on certain online platforms.
Amazon
As the world's largest online marketplace, Amazon offers a plethora of power tools at discounted rates. From cordless drills to jig saws, routers, and everything in between, you can find tools from popular brands with a wide range of pricing options, to suit your budget and needs. Make sure to also closely monitor Amazon's sales events, such as Prime Day, to nab power tools at even lower prices.
Home Depot
Another excellent avenue for affordable power tools is Home Depot. Their online inventory is commendable, boasting an extensive selection from brands you trust. With tools such as nail guns, air compressors, miter saws and more, they cater to virtually all your construction needs. Plus, there are frequent sales, especially during holidays like Labor Day, offering sizable discounts which you won't want to miss!
Lowe's
Similar to Home Depot, Lowe's also features a broad spectrum of power tools targeting both professionals and DIY enthusiasts alike. Here, you can expect good quality as well as affordability. In fact, Lowe's often has special deals on power tools which significantly drive down the costs. It's worth noting that they usually have price match guarantee, ensuring you get the best deal possible.
eBay
If you don't mind buying second-hand tools, eBay is a fantastic marketplace to check out. It is teeming with both used and new power tools, often at a fraction of the original cost. Whether you are after a bargain on a barely used, top-end drill, or after a very grungy yet still operational circular saw, eBay may very well have what you need at a much more comfortable price.
Craigslist
Last but not least, Craigslist is another platform where users can buy pristinely used or brand-new power tools without the hefty price tag associated with fresh-off-the-shelf items. The site specifically caters to people willing to trade locally, adding an extra layer of convenience. However, since you are dealing with individuals rather than companies, practice caution to ensure a safe transaction.
So, you see, equipping your toolbox with reliable, high-performance power tools doesn't have to cost the earth. With these online marketplaces, affording power tools is no longer an uphill task. I urge you to check them out and, who knows, you might just find that power tool you've always wanted within your budget. Happy shopping!
Power Tool Rental as a Budget-friendly Option
When it comes to DIY projects, there's no denying that the underlying costs can sometimes be an unexpected surprise. You've thought of the raw materials, factored in a little extra for mishaps, and perhaps even accounted for some specialist services. But what about the cost of those necessary but expensive power tools?
Acquiring a new piece of hardware for every task on your to-do list can soon eat into your project budget, potentially making DIY less cost-effective than hiring a professional. However, there is a solution: power tool rental. This option allows project aficionados to access the much-needed machinery at a fraction of the cost.
Let's take a deeper look at why power tool rental might be your next best friend for budget-friendly DIY:
Cost Saving: The most obvious advantage is monetary savings. Renting eliminates the hefty upfront cost of buying brand new, not to mention avoiding potential depreciation and maintenance costs.
Variety of Tools: Rental companies usually have a vast range of tools - more than one could ever hope to maintain at home. This means you have access to the exact tool you need, when you need it.
Space Saving: No need for large storage spaces at home to hold seldom-used tools. With rental, you simply return the tool when you're done.
Quality Tools: Rental companies typically offer high-quality, well-maintained appliances. This ensures you get top performance without the hassle and cost of tool upkeep.
If you're considering a renovation or have a list of home projects to tackle, exploring the power tool rental options can be a wise move. Whether you need a cordless drill for a weekend project or a heavy-duty demolition hammer for a home makeover, renting allows you to access the best tools without breaking the bank. Professionals use this cost-effective strategy regularly - why shouldn't DIY enthusiasts do the same?
When you grapple with the decision between purchasing a power tool or exploring rental options, remember the potential benefits of the latter. It's undeniable that power tool rental is a budget-friendly option offering cost savings, variety, space efficiency, and quality tools for your projects. It's a clever way to stretch your budget without compromising on the quality of your work.
So, the next time you find a DIY trailblazer within you, opt for power tool rental. It's budget-friendly, intelligent, and perfect for those who embrace the thrill of DIY without the added strain on the wallet. After all, there's nothing quite like completing a project with your own two hands, especially when you've found a way to make it more affordable.
Taking Advantage of Discounts from Top Brands
In a world where quality often goes hand in hand with high prices, finding a good deal can feel like striking gold. If you've ever experienced the thrill of making a top-notch purchase at a discounted price, then you're no stranger to the allure of sales and promotional offers. As craft and construction enthusiasts, getting your hands on discounted tools from leading manufacturers such as DEWALT, Makita, and Milwaukee can feel like a personal achievement.
But how can you stay in the loop and snatch these amazing deals before they disappear? It seems like hard work, but with some smart strategies, you can save a chunk of your hard-earned cash on your favourite brands.
DEWALT
DEWALT is a leading manufacturer when it comes to investing in top-of-the-line power tools. Known for sturdy design and high performance, their vast product range can often seem pricey. But have you ever considered the power of newsletters and digital alerts? Signing up for these can provide you with timely updates on sales and promotional offers.
Makita
Just like DEWALT, Makita is an international manufacturer renowned for its high-quality power tools. While you might be ready to pay full price for these top-grade tools, why not take advantage of the frequent discounts Makita offers? Simply subscribing to their newsletters or setting up alerts can keep you in the know about all their upcoming sales events.
Milwaukee
Milwaukee is yet another brand that offers a broad spectrum of high-performing tools. Their signature REDLITHIUM batteries are just one area where they excel among competitors. When the price tags seem steep, remember, Milwaukee frequently has discounts and sales on its vast product range. Again, the power lies in staying updated, and the easiest way to do that is to subscribe to their newsletters and alerts.
Getting your hands on discounted tools from these top brands goes beyond just saving money. It's about the satisfaction of owning high-quality equipment at a lower price, like a badge of honor among industry enthusiasts and professionals. Here's to smart shopping and big savings, because fabulous deals are only a newsletter away!
Used Power Tools
Nothing quite quenches the thirst of a DIY enthusiast more than a toolbox filled with top-notch power tools. However, new tools can drill a large hole through your wallet, leaving you wishing for a more budget-friendly solution. Enter the world of used power tools - a place where quality meets affordability.
How to find good deals on used tools
Looking for that perfect power tool that's been slightly loved and well cared for? Online marketplaces are like treasure troves just waiting to be discovered. Opting for used power tools doesn't necessarily mean that you're settling for lower quality. In fact, you can snag some of the most coveted brands at a fraction of their retail price.
So, how do you go about scoring these great deals?
Do your homework: Before investing in a used power tool, research its new counterpart first. This gives you a clear picture of what to expect regarding performance and price range.
Check online marketplaces: Websites like eBay, Craigslist, and Facebook Marketplace are great platforms to start your search.
Read descriptions carefully: Sellers usually detail the tool's state, including its defects or shortcomings. Read these descriptions thoroughly to avoid unwelcome surprises.
Safety considerations
While purchasing used power tools can be quite a bargain, it's crucial to prioritize your safety. Here's a quick safety checklist:
Examine the tool's condition: Ensure that the tool is free from obvious damages or wear. It might be a good idea to have it examined by a professional before using it.
Verify the tool's origin: To avoid stolen goods, try to ascertain the tool's origin. This might be easier when purchasing from a reputable second-hand dealer.
Check for necessary safety features: Most power tools should come equipped with various safety features. Make sure these are intact and fully functional.
Remember, a well-stocked toolbox doesn't have to be the exclusive domain of millionaires. You can have equally satisfactory results with used power tools, without breaking the bank. However, it's important to tread cautiously and arm yourself with the right knowledge - a sturdy shield against possible pitfalls and potential scams.
Price Comparison
The Power of Price Comparison
Picture yourself standing in an electronics store, eyeing the latest smartphone boasting unmatched features. Even though the price tag makes you gulp, you're tempted. It's then that you remember a golden rule about savvy shopping: always compare prices from different retailers and online platforms.
Let's dive into the compelling world of price comparisons, also called comparison shopping. It's not only about saving a few bucks, if done right, this practice can completely revolutionize your purchasing habit and keep your wallet happy in the long run.
Unleashing the Potential of Price Comparison
Price comparison might seem like a simple concept on the surface—set your eyes on a product, check the prices offered by different stores, and go with the cheapest deal. But it goes much farther than that, it's a blend of research, patience, and intelligent decisions.
Here are some key reasons why price comparison is a crucial part of smart shopping:
Save Money: The most obvious benefit of price comparison is the potential for savings. You often find a wide range of prices for the same product, depending on the seller. Always take some time to compare, and you're likely to snag a better deal.
Product Reviews and Ratings: Online platforms offer customer reviews and ratings. Price comparison allows you to weigh price against quality, making your investment worthwhile.
Negotiate Better: When you find lower prices elsewhere, you have the power to negotiate either online or in-stores. Retailers want to keep their customers, and they are sometimes willing to match or beat a competitor's price.
Variety of Choices: Comparison shopping allows you to explore diverse retailers, providing a wider range of choices. This way, you're not confined to what an individual store offers.
To put it simply, comparing prices equips you with the necessary knowledge to make an informed purchasing decision—leading to a satisfying deal, both in terms of money and quality.
So, the next time you spot an eye-catching product, remember to compare prices from different retailers and online platforms. It's a small step toward shopping victory that can cause big ripples in your savings. Beat the market like a pro, because you're smarter than to pay more!
Conclusion
Embarking on DIY projects doesn't mean you have to break the bank on tools and equipment. By understanding the sweet spot between power and affordability, exploring online marketplaces, taking advantage of discounts from notable brands, and considering used power tools, you can acquire the gear you need and still keep your finances intact. Remember, a keen sense of comparison shopping is a boon, and there's no shortage of options when it comes to affordable tools. As you navigate this journey, our Ultra Handy eCommerce Amazon store may just become your go-to source for versatile, durable, and cost-effective tools. Here's to building a more efficient, happier DIY life!
Frequently Asked Questions
Where can I find affordable tools for DIY projects?You can find affordable tools for DIY projects at various places such as local hardware stores, online marketplaces like Amazon and eBay, garage sales, pawn shops, or even borrowing from friends or family.
Are there any websites or stores specifically dedicated to selling affordable tools for DIY projects?Yes, there are websites and stores dedicated to selling affordable tools for DIY projects. Some popular ones include Harbor Freight Tools, Home Depot's budget-friendly section, Lowe's clearance section, and websites like ToolBarn and ToolUp that offer discounted tools.
What are some tips for finding the best deals on tools for DIY projects?To find the best deals on tools for DIY projects, consider: 1. Comparing prices and shopping around different stores or websites, 2. Keeping an eye on sales and promotions, 3. Checking for coupons or discount codes, 4. Buying used tools in good condition, and 5. Considering tool bundles or kits for additional savings.
Are there any online marketplaces where I can buy used tools at a lower cost?Yes, there are several online marketplaces where you can buy used tools at a lower cost. Some popular ones include eBay, Craigslist, Facebook Marketplace, and websites like OfferUp and Letgo.
Should I prioritize affordability over quality when buying tools for DIY projects?While affordability is important, it is also essential to consider the quality of the tools. It's better to invest in tools that are durable, reliable, and designed for the specific DIY projects you'll be working on. Balance affordability and quality to ensure a good long-term investment.