The Savvy DIY Enthusiast's Guide to Finding Bargain Tools and Equipment
Discover expert tips and tricks for finding affordable tools and equipment for your DIY projects. Maximize your savings without compromising on quality.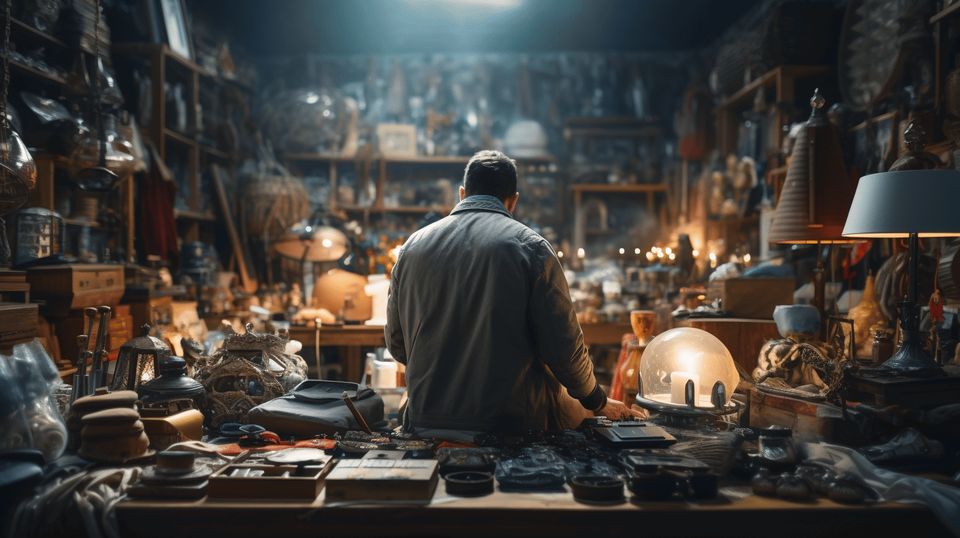 Welcome to our savvy guide designed specifically for the do-it-yourself enthusiast in all of us. Navigating the countless options for tools and equipment in a saturated market can be daunting. Too many options can make one feel overwhelmed and unsure where to find the best deals. But worry not! We've got you covered.
Our guide will walk you through the best places to score fabulous bargains, the perks of investing in tool sets, sage advice for buying quality items on a budget, and some helpful tips on how to maintain and store your tools properly for longevity.
Whether you're a hobbyist passionate about DIY projects or a professional tradesperson hunting for dependable tools without breaking the bank, you're sure to pick up some valuable pointers here. Let's not hold back and dive right in.
Best Places to Find Bargains on Tools and Equipment
Isn't it amazing how a tool can instantly boost your productivity? Whether you're a DIY enthusiast or a professional tradesman, having the right tools and equipment can significantly cut down on your effort and time. But here's a catch; quality tools can set you back quite a bit, especially if you're not aware of where to find fantastic bargains. So, where can you lay your hands on good tools without breaking your bank? Let's explore.
A Guide to Home Depot
Say tool shopping, and Home Depot instantly springs to mind. With their well-stocked tool section and a vast array of special values, you're sure to find a deal suiting your needs. Not to mention, Pro Special Buys, a must-check section for anyone looking for a decent savings. Occasionally, their buy one, get one offers on power tools are a real steal.
Lowe's Promotions & Clearance Items
One can't talk about tool shopping without bringing Lowe's into the conversation. Always take a gander at their "Savings" section where they put promotions and clearance items. From practical hand tools to high-powered equipment, their offerings seldom disappoint.
Amazon Deals
Amazon, the purchasing powerhouse, is another platform to bag some savings. Their daily deals section often features a variety of tools and accessories, while their iconic Prime Day Events are perfect to stock up on discounted tools.
Deals on eBay
Being an auction site, eBay is one place where you can score tools for a fraction of their retail price. If you're okay with previously owned tools, this place is a treasure trove.
Woot Offers
Did you know Amazon operates a subsidiary called Woot? This under-the-radar site hosts daily deals on a variety of items, including tools. Woot's Bargain Bin section is an excellent spot to discover jaw-dropping prices on tools.
Ace Hardware Special Sale
Ace Hardware, though fewer locations compared to Home Depot and Lowe's, has its charm when it comes to tool sale. Their red hot buys and rewards program can help trim down your overall spending.
Harbor Freight for Low Price Tools
When talking about budget tools, Harbor Freight is hard to beat. They specialize in providing quality tools at rock-bottom prices. Their Inside Track Club offers exclusive deals and early access to sales.
GreenWorks Offers on Amazon
If you're keen on going green, consider GreenWorks. They specialize in eco-friendly power tools and often run promotions on Amazon.
Checking out UsedPrice.com for Used Tools
Going the used route is another option to save big on tools and equipment. UsedPrice.com is a reliable platform that compiles data from various selling sites, giving you a fair idea of the going rates for used tools.
Why CPO Outlets?
Last but not least, is CPO Outlets. Here, you'll find a vast array of new and reconditioned tools often cheaper than typical retail prices. Don't miss their Deals section for some extra savings.
Finding quality tools at a bargain price doesn't need to be a hit and miss affair. The key lies in knowing where to look and when. And with so many stores and online platforms offering promotions, clearance sales, and special deals, there's always the opportunity to stretch your dollar further!
Advantages of Buying Tool Sets
When it comes to home repairs, DIY projects, or professional-level work, having a reliable set of tools is a must. Power tools and equipment, conveniently grouped and sold as combo sets are worth considering for various reasons. Whether you're a beginner looking to purchase multiple tools or a professional seeking to upgrade your toolbox, you'll find distinct advantages to buying tool sets. The benefits extend from cost-effectiveness to the immersive convenience offered by high-quality brands. Notably, in today's market, the trend of cordless power tools, designed with advanced battery technology for extended run times, is transforming the toolset landscape. These include commendable brands like Makita and DeWalt, remarkable for their innovation and reliability.
Benefits of Combo Kits
Buying power tools in combination sets or combo kits offers several benefits:
Cost-effectiveness: Purchasing separate tools can amount to considerable expenses. Instead, combo kits provide a collection of tools often at a reduced price compared to buying them individually.
Convenience: Tool sets eliminate the need to seek out individual tools, saving valuable time. They offer the ease of having essential tools bundled together.
Uniformity: With a combo kit, all the tools are of the same brand, guaranteeing uniformity and consistency in quality and operation.
Accessories: Tool sets often come with useful accessories such as drill bits, saw blades, and batteries, which are necessary for operation but may be costly if bought separately.
Investing in Quality Brands
There's something to be said for brand loyalty; especially when it reflects on the tool's quality and performance. Brands like Makita and DeWalt have established their dominance in the industry through commitment to safety, innovation, and longevity of the products. These brands offer tool sets that not only meet functionality and reliability standards but also provide customer support and warranties, further proving their worth and reassuring their users.
Consideration of Cordless Tools
In the 21st century, cordless power tools are quickly becoming the norm. They offer the portability and ease of use that corded tools don't, allowing users to work seamlessly in their spaces without the worry of finding compatible power sources or dealing with cumbersome cords. Brands like Makita and DeWalt increasingly offer battery-powered tools with extended run times, proving that convenience doesn't have to compromise on power.
Ultimately, investing in a collection of tools, especially from reputable brands, is a wise choice. Whether for the convenience of having them bundled together, the cost-saving benefits, or the innovative cordless technology, the advantages of buying tool sets are plentiful. These tool sets not only stand as a testament to the brands' ingenuity but also serve to underline the pivotal role of tools in efficiently accomplishing tasks.
Tips for Buying Tools on a Budget
Everyone, from the seasoned DIY expert to the enthusiastic amateur, knows that having the right tools can make all the difference. But with the wide variety of tools on the market—from power drills to paintbrushes—it's easy to rack up quite a bill. Thankfully, there are some smart strategies you can employ to cushion the blow to your wallet. Here are a few tips on how to save money while stocking up your toolbox.
Waiting for Sales and Discounts
Arguably one of the simplest ways to save money when buying tools is by waiting for special sales and discounts. Many home improvement and tools stores offer regular sales throughout the year. Moreover, online retailers like Amazon and eBay also host sales events that could help you save a bundle on your tool purchases. It requires a bit of patience and strategic planning, but the potential savings make it worthwhile.
Buying Second-Hand Tools
Consider buying secondhand tools—these can be real money savers, especially if the tool is well-maintained. Used tools don't necessarily mean 'worse-for-wear'. Quite the contrary, many tool owners sell their tools due to upgrades or simply because they no longer have use for them. Platforms such as eBay and local classified ad websites are great places to look for these deals.
Researching and Comparing Prices
Dedicate some time to research before you set out to buy. Make use of online platforms like Amazon, eBay, and UsedPrice.com, which allow users to compare prices and offerings from different sellers. Not only will this provide you an idea of the average price for the tool you're interested in, but it also gives you the upper hand in bargaining, especially when buying secondhand.
Taking Advantage of Major Sales Events
Major sales events such as Black Friday, Cyber Monday, and seasonal end-of-year sales often have substantial discounts. These events serve as the perfect opportunity to snag tools at a significant markdown. Remember, the key here is to plan ahead and be patient.
Purchasing tools doesn't have to mean breaking the bank. With some careful planning, savvy shopping, and patience, you can find top-quality tools that fit into your budget. Happy tool hunting!
Proper Maintenance and Storage of Tools
Tools are an essential part of any household or professional setup. They play a vital role in accomplishing tasks big and small, from fastening a picture frame to constructing a house. However, just having quality tools isn't enough; regular maintenance and proper storage are integral to keep them in optimum condition. In this section, we will guide you on how to take better care of your tools, ensuring their longevity and effectiveness.
Regular Inspection of Tools
Your tools need regular check-ups, just like your car or your health. Taking a few moments to examine your tools can prevent accidents and ensure they're in good working condition. Here's what you need to look out for:
Cleanliness: Ensure your tools are always clean after use. Dirt and grime can lead to rusting and deterioration.
Damage: Look out for cracked handles or damaged parts. Using damaged tools can be dangerous and ineffective.
Sharpness: For tools that require a sharp edge, regular honing is necessary. Blunt tools can cause more harm than good.
Function: Test your tools regularly to ensure they are functioning as intended. Any deviation could be a sign of an underlying issue.
Proper Storage for Easy Access
Maintaining an organized workspace isn't just aesthetically pleasing; it also aids in productivity and prolongs the life of your tools. Proper storage solutions prevent unnecessary damage and make it easy to locate your tools when needed. Here are a few tips:
Storage boxes: Invest in quality, sturdy containers to store your tools. It'll keep them safe and intact.
Pegboards: These are great for hanging tools and offer visual accessibility.
Tool Chests or Cabinets: These offer a spacious and dedicated space for larger tools and equipment.
Checking out John Deere's Air Compressors
Sometimes, it's not just the hand tools that need maintenance, but also the hefty, power-driven ones. For instance, air compressors, essential in powering a multitude of tools, are significant investments warranting careful maintenance. If you're in the market for a reliable and efficient air compressor, consider checking out John Deere's air compressors. They are known for their rugged design, performance, and most importantly, a user-friendly interface that simplifies the maintenance process.
So, while it's necessary to have the right tools for the job, regular inspection, proper maintenance, and storage will ensure those tools stay effective for a long time. Whether it's your handsaw, your hammer, or your power tools, give them the care they deserve, and they will serve you equally well in return. Remember, a well-kept tool is a safe and reliable one.
Online Platforms for Tools
Stepping into the digital world, some businesses have revolutionized the way we access tools - both for professional contractors and Do-It-Yourself (DIY) enthusiasts. Take for instance, Hilti's Tools On Demand (TOD), Whitton Supply, and Ace Hardware's online store. These platforms have harnessed the power of technology to provide convenience and a wide array of tools at your fingertips. Let's delve deeper into what these platforms have to offer.
Hilti's Tools On Demand (TOD)
When it comes to buying, renting, or simply researching the crème de la crème of power tools, Hilti's Tools On Demand (TOD) platform should be your first stop. Hilti's digital platform not only provides access to a vast range of tools, but also offers a seamless navigation experience.
You can conveniently purchase power tools, hand tools, and other construction equipment online.
Their unique rental service allows you to rent tools as per the needs of the project, be it long term or short term.
Customers also gain access to their research insights, aiding better decision making when selecting tools.
Hilti's commitment to superior customer service through its digital platform makes it a favorite amongst contractors and casual DIYers alike.
Whitton Supply
Whitton Supply takes tool shopping a notch higher with its extensive offerings. Not just limited to tools, this online destination aims to serve as a comprehensive solution for construction and DIY projects.
Whitton Supply is a treasure trove of power tools, safety gear, work boots, and virtually everything needed for construction-related work.
Their interactive platform design ensures you can easily find the right products, with filters and search options to discover the tools you need.
An instant chat feature allows customers to seek immediate assistance, fostering an interactive shopping experience.
Offering a wide range in inventory and promising quick deliveries, Whitton Supply is thoughtfully curated for easy browsing and convenient shopping.
Ace Hardware's Online Store
Loyal customers of Ace Hardware can now rejoice as the retailer's expansive tool assortment is available online. The beauty of Ace Hardware's online store lies in combining the ease of online shopping with the trust of their established brick-and-mortar stores.
Ace Hardware's online platform showcases a vast catalog ranging from power tools, outdoor equipment to home goods.
The platform provides a smooth user experience with its 'click and collect' feature - a perfect blend of online and offline shopping.
Their store locator helps customers find the nearest retail store for any in-person shopping needs.
Ace Hardware's online store meets both the practical requirements and the local charm that customers have come to appreciate over the years.
Each of these platforms offers its unique advantages, yet all of them are united by a common purpose - making tool shopping a comfortable and satisfying experience. By focusing on customer convenience, these platforms have undeniably changed the way we shop for tools today. In this digital revolution, the right tool is just a tap away.
Advice on your DIY Garden
In the bustling world of modern-day living, crafting a beautiful, vibrant garden can serve as an oasis of tranquility, while also providing you an opportunity to use your hands and create something magical. With DIY gardening becoming increasingly popular, sourcing the right products, managing costs, and choosing the appropriate transportation methods are all critical aspects to consider as you commence your green-fingered journey.
Checking out The Home Depot
When embarking on a DIY garden project, it's always a good idea to check out home improvement stores. The Home Depot, for instance, offers a vast assortment of plants, tools, and basic gardening necessities. It's more than a store, it's like a trusty adviser who ensures your project flourishes exactly as you've envisioned it. Here's what you can expect when shopping at The Home Depot:
Tips and Advice: Their in-house experts share excellent tips and advice to enhance any garden project, from planting bulbs to setting up a sprinkler system.
Seasonal Recommendations: Depending on the time of year, The Home Depot provides guidance on the right kind of plants that best suit the season, promoting a healthy and productive garden.
Buy More, Save More Deals: Economically wise, 'Buy More, Save More' deals come in handy when purchasing large quantities, ultimately leading to overall cost savings.
Transporting Grain by Wagon
While we often associate wagons with bygone eras, they can still serve as highly practical, cost-effective tools for certain tasks - notably, transporting grain. Especially for larger garden projects, where volume and weight can abruptly increase, employing a wagon is a simple, efficient solution. The cost-effectiveness of transporting grain by wagon is underpinned by a few key reasons:
Lower Fuel Costs: Unlike machinery, wagons don't need petrol or diesel to operate. The absence of fuel costs alone can make wagon transportation a very economically appealing option.
Reduced Maintenance Costs: With fewer moving parts compared to vehicles or tools, wagons require less maintenance, ensuring lower upkeep expenses.
Inexpensive Purchase Cost: While the cost can vary depending on the type and size, generally, purchasing a wagon is a reasonably affordable investment.
Trusted Store: Ace Hardware
In the realm of gardening projects, not every tool or accessory you need will be plant or grain-related. This is where Ace Hardware comes in. Known as the store with everything you need for your DIY projects, Ace Hardware should definitely be on your list of trusted stores.
When it comes to gardening, Ace Hardware provides you with more than just tools. They offer expert advice, varying product ranges to suit your individual needs, and special offers that make shopping even more interesting. Here are a few reasons why you should consider Ace Hardware:
Advice and Expertise: Ace Hardware pros are always there to guide you. Whether it's about choosing the right tool or finding suitable paints, their thoughtful advice ensures you get exactly what you need.
Range of Products: Beyond gardening supplies, you can find anything from cleaning goods to pet food, quite literally all under one roof.
Special Offers: Ace Hardware values its customers. They regularly provide special offers and rewards, helping you save whilst shopping.
Tending to a garden is a rewarding experience. Whether you're just starting off or are an experienced gardener, reliable stores like The Home Depot and Ace Hardware can make your DIY garden projects seamless. Combining the right tools with cost-saving transportation methods will not only fulfill your gardening desires but do so in an economically-friendly way.
Conclusion
After this thorough dive into the world of DIY tools and equipment, you're now equipped with the knowledge to make savvy purchasing decisions. From knowing where to find bargain deals to understanding the significance of investing in quality brands and combo kits, your next DIY endeavor won't break your budget.
But remember, buying the tools is only half the battle. Maintaining them properly and ensuring they are stored correctly will prolong their lifespan and save money in the long run. Plus, nothing beats having your tools in tip-top shape, ready and waiting for your next project.
And for those moments when you're ready to get your hands dirty, but can't find the right tool, don't forget about the online marketplaces available. Not only will you have access to a diverse array of tools from reputable brands, but you can often find incredible deals and discounts during major sales events.
To supercharge your DIY journey, don't hesitate to check out the range of products on Ultra Handy's eCommerce store. They have an impressive variety of tools and outdoor equipment perfect for do-it-yourself enthusiasts like you! Here's to successful projects and cost-effective acquisitions! Keep exploring, keep creating, and remember: the world is your DIY oyster!
To quote the African proverb, "If you want to go fast, go alone. If you want to go far, go together." So let's go far together on this DIY journey with Ultra Handy.
Frequently Asked Questions
Where can I find bargain tools and equipment for DIY projects?You can find bargain tools and equipment for DIY projects at various places such as online marketplaces like Amazon, eBay, and Craigslist, local thrift stores, garage sales, and online classified ads.
What are some tips for finding good quality bargain tools and equipment?Some tips for finding good quality bargain tools and equipment include researching and comparing prices, reading customer reviews, inspecting the items in person before purchasing, and looking out for clearance sales and discounts.
Are refurbished tools and equipment a good option for DIY enthusiasts?Yes, refurbished tools and equipment can be a great option for DIY enthusiasts. Refurbished items are often restored to like-new condition and are sold at a lower price, providing a cost-effective way to get high-quality tools and equipment.
Should I buy second-hand tools and equipment?Buying second-hand tools and equipment can be a good idea if they are in good condition. However, it's important to inspect them thoroughly and test their functionality before making a purchase to ensure they will meet your needs.
How can I maintain my bargain tools and equipment to ensure their longevity?To maintain your bargain tools and equipment, keep them clean and properly stored, follow the manufacturer's instructions for maintenance and usage, and regularly inspect them for any signs of wear or damage. Additionally, using them correctly and avoiding excessive strain can also prolong their lifespan.