Affordable Alternatives: How to Find Cheap Tools and Equipment for DIY
Discover cost-effective alternatives for DIY tools and equipment. Find budget-friendly options without compromising on quality for your next DIY project.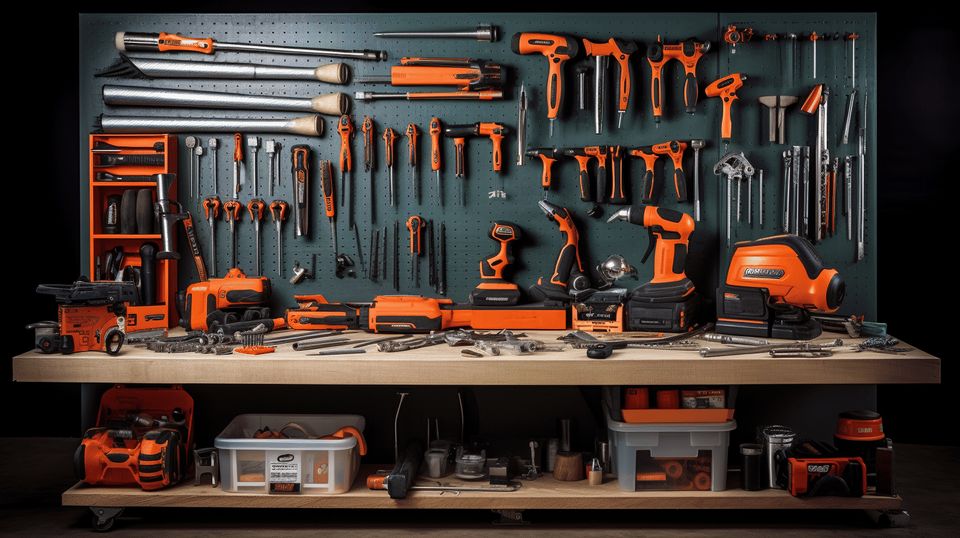 Crafting or repairing things at home can be incredible fun and doubly satisfying if you are a devotee of the do-it-yourself (DIY) culture. Sure, there is immense pride and satisfaction in creating something with your own hands. However, for successful DIY projects, you'll need the right set of tools and equipment.
Reliable, efficient, and affordable gear may not always be easy to find. You may be looking at branded tools that could set you back a hefty sum, thus putting a severe strain on your pocket. Perhaps you've despaired at the sight of expensive price tags attached to high-quality tools and wished there was a more cost-effective solution.
Well, guess what? There is! And this article is the comprehensive guide you need to find affordable alternatives. Getting the right power tools, hand tools, or cordless equipment at discounted prices doesn't have to drain your pocket. Home Depot, Lowes, and Craftsmen— just to name a few, often have great deals for you to explore. Even the wide marketplace of Amazon and Alibaba can lead you to fantastic finds that offer the best of both worlds— quality and affordability.
So, get ready and dive in as we show you how to start crafting masterpieces without parting with a small fortune. Brace yourselves for the exciting world of affordable DIY!
Discounts and Deals on Power Tools
Are you a builder, a DIY enthusiast, or simply someone who's looking to spruce up their home? Then you're probably interested in getting your hands on top-of-the-line power tools. However, premium quality often comes with a premium price tag. But fret not, you can still get power tools from top brands like Craftsman, DeWalt, and Ryobi without burning a hole in your pocket through the amazing offers from stores like Home Depot, Lowes, and Acme Tools. Here, we will guide you through some of the best places to bag discounts and deals on power tools.
Home Depot
Who doesn't know Home Depot with its bright orange banner that screams of countless deals on anything and everything for your home? Their slogan "More Saving. More Doing." pretty much encapsulates what they bring to the table.
You can often find power tools at discounted prices during sales.
They offer special buy of the day where certain products are heavily reduced for 24 hours.
Coupons and offers which are regularly updated on their website can provide additional savings.
Whether you plan to visit their store in-person or browse online, be ready for an endless parade of deals that are too good to pass up.
Lowes
Step into any Lowes and you'll feel like a kid in a candy store. Not only do they have everything you could possibly need for your next home project, they also offer lots of opportunities to save.
Their weekly ads reveal the hottest deals on power tools.
Price match guarantee ensures you get the best price on your purchase.
Discounts for veterans, military personnel, and their families are also in play.
Lowes does their best to make sure your next project doesn't end up breaking your bank.
Acme Tools
Rounding up our list is Acme Tools, an online haven for power tool lovers. Simply visit their website and let yourself be dazzled by the variety of discounts they offer.
Exclusive internet specials give you ample opportunities to score big on select items.
Their deals of the day section is not to be missed with new discounts cropping up every day.
They have promotions for specific brands and might even throw in free shipping.
Choosing Acme Tools means choosing affordability without compromising on quality.
As you can see, acquiring the top tier power tools doesn't have to be expensive. Whether you choose to shop from the comfort of your home or make a trip to your local store, deals and discounts are waiting for you. Happy shopping!
Cordless and Corded Equipment
Though they might seem similar, cordless and corded power tools each have their unique pros and cons, making them suitable for different types of projects. Today, we're taking a closer look at some of the top brands in the power tool industry, including Craftsman, Dewalt, and Ryobi.
Craftsman
Over a century old and still going strong, Craftsman has long been a household name in the world of power tools. Best known for its sturdy and reliable products, Craftsman covers a broad spectrum of both cordless and corded tools.
Cordless: Brightly clicked in red and black, Craftsman offers affordable cordless equipment that holds their charge well and provides commendable run-time. From drills to saws, each cordless tool is lightweight, portable, and easy to handle, making them an ideal choice for homeowners, DIY enthusiasts, and contractors alike.
Corded: As for Craftsman corded tools, these are synonymous with power. Though less portable than their battery-operated counterparts, the plug-in models deliver consistent power, are highly durable, and basically indestructible, making them perfect for heavy-duty tasks.
DeWalt
If there's a brand with an excellent mix of innovations and traditions in the power tool market, DeWalt takes the cake. They are highly reputed for their performance-driven and ergonomic designs, offering a plethora of cordless and corded tools.
Cordless: When it comes to DeWalt, their cordless tools stand out for their long battery life and power, comparable to corded tools. Each product is built with advanced technology that can withstand tough conditions, making them the go-to choice for most professional builders.
Corded: DeWalt's corded tools are just as impressive, known for being particularly durable, rugged and built for heavy-duty use. They deliver stable performance and are designed with advanced safety measures, ensuring you get the job done, not just effectively, but also safely.
Ryobi
Ryobi might not be as old as the Craftsman or DeWalt, but don't be fooled – they've earned their rightful place among these leaders with their user-friendly, green tools.
Cordless: Ryobi excels in offering cordless equipment suitable for everyday DIY tasks and light construction. These tools are incredibly innovative yet affordable, thereby making them an attractive choice for homeowners on a budget.
Corded: For those needing the constant power that only corded tools can deliver, Ryobi has a fantastic array of options. Great for a variety of demanding applications, these tools are designed with superior ergonomics, leading to less user fatigue and more productivity.
So, whether you're a professional seeking power and performance or a DIY enthusiast just starting your toolkit, you're guaranteed to find the right fit among these three leading brands. Opting for cordless or corded will purely depend on the task at hand, as both types come with their unique set of advantages. As you delve into the world of power tools, remember - the right tools can make a world of difference!
Wholesale Power Drills
When it comes to the assembly line or the construction site, nothing speeds up the job quite like wholesale power drills. They have become an indispensable tool for both professionals and hobbyists-friendly, promising optimal performance and superior efficiency. Today's power drills not only sport impressive tech upgrades but also offer high affordability when purchased in bulk. Thanks to wholesale purchases, companies and individuals can procure advanced tools at a fraction of the original cost.
The Magic of Power Drills
True magic begins when you press the trigger of a power drill. From hanging shelves and frames to creating masterpieces out of raw wood, one can accomplish a multitude of tasks with this versatile tool. Among many available versions, cordless power drills appear to be a favorite, offering unparalleled convenience and flexibility.
Lightweight and portable, they are perfect for on-the-go use.
Enhanced battery longevity ensures uninterrupted operations.
Modern safety features and adjustable speed provide easy control.
Maximizing Value through Wholesale
Whether you are a business owner supplying your workforce or a solo contractor equipping your toolbox, choosing wholesale power drills maximizes value for your investment.
Cost Efficiency: Buying wholesale often translate to significant cost savings, especially when procuring high-quality power tools.
Consistency: Wholesale purchases assure a unified set of tools, boosting teamwork and ensuring consistency in performance.
Range of Options: Wholesalers usually have an extensive range of products, allowing you to select drills that perfectly suit your needs.
"Investing in reliable power drills reflects directly on the quality and efficiency of your work. By buying wholesale, you get to combine quality with affordability."
So, when it's time to upgrade your power tools or equip your crew with the best, don't forget to explore the world of wholesale power drills. For reliability, performance, and budget-friendly solutions, nothing beats this investment!
Price Range of Power Tools
Navigating the vast world of power tools can be a dauntless endeavor. From the gargantuan saws that buzz through thick wooden slabs, to tiny precision screwdrivers that work delicately on intricate mechanisms, power tools come in all shapes, sizes, and—of course—prices. Herein lies the golden question: What is the average cost of power tools and how do their prices vary?
The cost of power tools isn't a straightforward subject. Factors such as brand reputation, tool category, durability, and technical specifications significantly influence the prices. This is why a simple drill can cost anywhere from $30 to $300, while a robust table saw may set you back anywhere between $200 to $2,500.
Cordless Drills: These versatile tools can range from $30 for entry-level models, up to $300 for professional, high torque varieties.
Circular Saws: Standard models typically fall within the $40-$150 price range, whereas high-powered cordless circular saws can cost up to $500.
Table Saws: Light-duty, portable table saws can be found for $200 – $600. Heavy-duty cabinet saws designed for professional woodworkers could reach prices up to $2,500.
There are also multi-tool sets available that offer cost savings, bundling various power tools together. A comprehensive set could fetch a price from anywhere around $200 to $800, based on the quality and quantity of the tools included.
"The best way to judge the correct price of a power tool is to weigh its cost against your specific needs and budget. Sometimes, spending a bit extra for a quality tool that lasts gives you better value in the long run."
When it comes to power tools, the price tag is not always indicative of the tool's capability or longevity. The brand's reputation, customer service, warranty, and other after-sale services should be factored into the buying decision as well.
The price range of power tools is indeed vast, and the affordable option for a casual DIY enthusiast might not suffice for a professional carpenter's needs. It's not just about buying the most expensive tool in the market, but about finding the right balance between price, performance, and your individual requirements. With careful consideration, you can select the right power tool that will help you successfully complete your tasks without causing a significant dent in your wallet!
Bachelor Pad DIY Tools
So you've finally got your own bachelor pad! It's your fortress, your refuge, your own slice of paradise. But as you settle down in your haven, you realize that sometimes things break down, and calling a maintenance guy for every small issue will add up. Enter the need for DIY tools every bachelor should have in their bachelor pad.
Sure, DIY may sound intimidating especially if you're not one to get your hands dirty. But imagine having to wait days on end for a leak to be fixed or a lightbulb to be replaced. Luckily, with a basic understanding and a few essential tools, you will be well prepared to tackle most minor maintenance and repair tasks around your bachelor pad.
1. Screwdriver Set
First things first, having a versatile screwdriver set is an absolute necessity. From tightening loose screws on your furniture to opening up a gadget, this tool can single-handedly solve numerous woes.
2. Cordless Drill
A cordless drill is extremely handy and can save you tons of time and energy. Whether you're hanging a picture, installing shelves or any other DIY jobs around your place, a drill will make your life easier.
3. Measuring Tape
This may sound simple but is often overlooked. Precise measurements are crucial in many household DIY tasks, so don't downplay this unassuming tool!
4. Utility Knife
A utility knife is incredibly versatile. Be it for opening packages, trimming wallpapers, or any other random tasks that require a cutting edge, this tool efficiently does the job.
5. Hammer
This is another staple that every bachelor should possess. Aside from the usual hammering and removing of nails, a good claw hammer can be used for prying things apart, cracking open nuts, or even certain demolition works.
6. Adjustable Wrench
An adjustable wrench is vital for tasks related to plumbing or anything that involves tightening or loosening nuts and bolts.
Maybe you're looking at these tool suggestions and thinking this seems like a hassle. Or perhaps you're humming the tune to your favorite DIY show, excitedly ready for your DIY journey. Regardless of your initial attitude, these basic tools will not only potentially save you cash in the long run but also give you a sense of self-sufficiency and achievement as you tackle tasks around the house.
With these stashed in your toolbox, you're not just a guy in a bachelor pad anymore; you're the Master of your own Domain. It's time to gear up and embrace your new DIY lifestyle!
Affordable Options on Harbor Freight
Invitation to Animation
---
When it comes to finding quality tools at affordable prices, Harbor Freight is a preferred choice for many. It's like a hidden treasure trove that unfolds a world of pocket-friendly options for your woodworking, gardening, or any DIY projects.
Reliable Tools at a Pocket-Friendly Price
---
Harbor Freight operates under a simple philosophy: to provide hardworking individuals with high-quality tools at ridiculously low prices. Whether you're a seasoned mechanic or a rookie DIYer, if quality and affordability are your game, Harbor Freight is your name.
A variety of power tools, hand tools, and automotive tools
A wide selection of outdoor tools and equipment
An incredible range of tool storage options
Impressive Discounts and Coupons
---
That's not all. Harbor Freight is also known for its frequent sales and coupon distribution, which offer significant discounts and make shopping for tools even more affordable! Harbor Freight's coupons are a bit like cherries on top of your favorite sundae—adding that extra touch of sweetness to your shopping experience.
"Harbor Freight is where you can fill your toolbox without creating a hole in your pocket."
In-Store and Online Availability
---
No matter where you are, Harbor Freight makes it easy for you to shop. With over 1000 stores nationwide and a user-friendly website, Harbor Freight ensures that whether you prefer shopping in-stores or online, you can get the tools you need with a click or a short drive.
Final Thoughts
Before you start your next project, give Harbor Freight a visit. Share the secret with your friends, and transform your work with the power of affordable tools, only at Harbor Freight!
Cheap Tool Suppliers
If you fancy yourself as a skilled handyperson or you're just starting your DIY journey, hunting for the best tool suppliers can be a laborious task, especially when you're on a budget. Fear not! We are here to share some insider tips, specifically on two major online platforms that provide cheap, yet quality hardware you can count on- Amazon and Alibaba.
Amazon
When it comes to household shopping in the 21st century, it's impossible to skip Amazon. This e-commerce giant offers a boundless variety of products and tools are no exception. In fact, you can find every conceivable tool on Amazon, from utility knives to heavy-duty power drills. Think of any reputable brand, chances are Amazon stocks it!
What makes Amazon stand out, is not just the exceptional variety, but the user-friendly interface and fantastic customer service. And for those always hunting for deals, here's a tip: Amazon often offers discounts and deals, especially during their annual sales like Prime Day and Black Friday.
Wide selection of tools
User-friendly platform
Quality customer service
Regular sales and discounts
That said, while the prices on Amazon are generally competitive, they might not always be the cheapest option. This is especially true for bulk purchases, which brings us to our next supplier.
Alibaba
Enter Alibaba, the Chinese e-commerce behemoth that redefines wholesale shopping. If you are looking for a supplier that can provide you larger quantities of tools at competitively low rates, Alibaba might just be your dream-come-true!
Primarily a platform for businesses, Alibaba caters to both small and large orders. So, whether you're a business owner looking to restock your inventory or a homeowner embarking on a massive DIY project, Alibaba has got you covered.
Best for bulk orders
Competitive pricing
Global shipping options
Variety of suppliers
However, keep in mind that while Alibaba's prices can be remarkably cheap, international shipping rates and potential customs duties can add up. So, it's always a good idea to factor these into your budget.
While both these platforms come with their pros and cons, one thing is clear: they are caterers of quality tools at competitive prices. So, whether you're a novice DIY enthusiast, or a seasoned handyman, Amazon and Alibaba have options that are worth exploring. Who knew quality tools at great prices were just a few clicks away?
Affordable Cordless Tools
For many home renovators and DIY enthusiasts, cordless tools have become the staple of their toolkits. Lighter, portable and without the inconvenience of a power cord, cordless tools are a lifeline for many handymen and women. More importantly, the cost of these devices doesn't have to break the bank. Affordable cordless tools are widely available, and some of the most renowned brands in the market include Milwaukee and DeWalt.
Milwaukee
Leading the pack when it comes to affordable cordless tools is Milwaukee. Combining the perfect balance of quality, innovation, and value, Milwaukee's line of cordless tools has become a favorite for contractors and DIYers alike. Offering everything from drills, to saws, to lighting for your workspace, Milwaukee has a significant presence in the cordless tools market.
Let's dig a little deeper into the factors that put Milwaukee in the spotlight:
Quality: Milwaukee cordless tools are known for their durability and lasting quality, making them great long term investment.
Innovation: With every new release, Milwaukee proves they're at the cutting-edge of technology. Many of their tools exhibit features that set them apart from the competition.
Value: While not necessarily the cheapest in the market, the price of Milwaukee tools is well-matched with their quality, putting them high in the value-for-money list.
DeWalt
Another brand that's worth mentioning when discussing affordable cordless tools is DeWalt. Respected and highly recognized in the industry, DeWalt has been crafting high-quality cordless tools that are both reliable and affordable.
Here's why DeWalt has a significant contribution to the cordless tools landscape:
Reliability: DeWalt tools are known for their dependability. There's an assurance that a DeWalt tool is designed to perform effectively and hold up well over time.
Variety: DeWalt offers a wide range of tools to choose from, covering nearly all kinds of jobs and applications.
Cost-effectiveness: DeWalt positions its products as a cost-effective solution that doesn't sacrifice quality, making it a favorite among budget-conscious users.
As evident, both Milwaukee and DeWalt have their unique strengths when it comes to affordable cordless tools. Therefore, making a choice largely depends on one's specific requirements, preference, and of course, budget. Rest assured, both brands provide cordless tools that deliver on performance, quality, and affordability. Ultimately, the decision isn't about just choosing between the two – it's about identifying the perfect tool set that matches your tooling needs.
Durable and Value-Priced Hand Tools
For any DIY enthusiast or professional handyman, quality and affordability are the two key factors when selecting hand tools. Without a doubt, the reputation of the tool's brand matters in determining whether your investment will provide long-term value and meet your crafting needs. Two brands that never fail to provide durable and reasonably priced hand tools are Craftsman and Ryobi.
Craftsman
Craftsman has been a beloved brand in the American market for over ninety years, offering a wide array of hand tools that flawlessly marry durability and cost-effectiveness.
For starters, Craftsman is particularly praised for its ratchet sets. Crafted with chrome-plated, high carbon steel, these ratchets showcase remarkable toughness, resisting corrosion for a guaranteed extended lifespan.
With added features like easy-to-read markings and quick-release systems, their ratchet sets offer exceptional convenience and speed.
Furthermore, the Craftsman lifetime warranty is a testament to their confidence in the durability of their tools, ensuring that customers receive value for their money.
Ryobi
Ryobi, on the other hand, is a renowned international brand acclaimed for its budget-friendly power tools.
The brand's cordless drills are loved worldwide for their extended run time, courtesy of their innovative lithium-ion batteries.
Combining lightweight design and impressive torque, Ryobi drills provide ease of use without compromising on power.
Despite their affordable price, Ryobi doesn't skimp on state-of-the-art features like LED work lights and magnetic trays for bit storage, proving that budget-friendly doesn't necessarily equate to lower quality.
"Quality has never been a question when it comes to Craftsman and Ryobi. These brands consistently deliver tools that perform excellently and last a lifetime," says a expert hardware store owner.
In the world of hand tools, Craftsman and Ryobi prove to be true champions—providing high-performance, durable, and budget-friendly options for both journeymen and hobbyists alike. Whether you favor the rugged resilience of Craftsman or the advanced utility of Ryobi, these brands guarantee superior tool quality without breaking your bank.
Starter Toolkits for New Homeowners
Making a Well-Stocked Starter Toolkit for New Homeowners
Buying a new home is an exciting endeavor that introduces homeowners to a new world of responsibilities. Among these responsibilities is the maintenance and improvement of your humble abode. One of the most underrated yet vital investments new homeowners can make is in a well-stocked starter toolkit. A comprehensive toolkit not only saves you numerous trips to the hardware store but also prepares you for the minor fix-ups and DIY projects that inevitably crop up when homeownership commences.
Essential Tools
A starter toolkit should ideally include a mix of versatile, basic tools that can help you tackle a wide range of home repair tasks. Here's a checklist of items that should make it to every new homeowner's toolkit:
Screwdrivers: Both flat-head and Phillips head to cover your bases.
Hammer: From hanging picture frames to small construction projects, this tool is incredibly useful.
Measuring Tape: Crucial for home improvements projects and furniture measurements.
Pliers: These will come in handy for a variety of tasks involving cutting, bending, or holding objects firmly.
Utility Knife: Great for opening boxes and myriad household tasks.
Adjustable Wrench: Ideal for any nuts and bolts in your home that need tightening or loosening.
Flashlight: A portable light source will be invaluable in emergencies or when working in low light conditions.
Tape: Include varieties such as duct tape, electrical tape, and plumber's tape.
Remember, these tools are the foundation of your toolkit, from which you can expand based on your specific needs.
Storage is Key
A toolkit isn't any good if you can't find the tools when you need them. Therefore, investing in a durable, well-organized toolbox is just as important as the tools themselves. Select a toolbox with slots for different tool types, which will make locating a particular tool much quicker and easier.
"Taking care of your tools is as important as using them correctly." - Anonymous Carpenter
Practicing regular tool maintenance - including cleaning, lubrication, and proper storage - can prolong the lifespan of your toolkit and ensure your tools are ready for action when you need them most.
As you journey into homeownership, your starter toolkit will undoubtedly become your best friend. Packed with the essential tools of the trade and a storage system that promotes functionality, your toolkit will be there to support you through a multitude of minor home repairs and DIY projects.
A house is made of bricks and beams, but a home is made of love and dreams - and a well-stocked toolkit doesn't hurt either.
Budget-Friendly Crafting Tools
When delving into the world of crafting, the price tag of essential tools and supplies can seem daunting. Fear not, dear arts and crafts enthusiasts, because there are numerous budget-friendly crafting tools that won't break the bank. These cost-effective options give you the freedom to let your creativity shine without worrying about the cost. Let's explore a couple of the best places to shop for these affordable crafting necessities.
Dollar Tree
Dollar Tree is a mecca for budget-conscious crafters. Almost every item in their arts and crafts section hovers around a dollar, making a trip to this store a goldmine for those crafting on a budget. Here's a quick snapshot of what you might find:
Craft sticks and popsicle sticks
Glue sticks and hot glue guns
Beads of all colours
A wide variety of paintbrushes and paints
Craft paper and coloured cardstock
"Dollar Tree has been a go-to store for crafting supplies. The low prices allow me to buy more without spending much."
The affordability of Dollar Tree does not compromise the quality of its items, so crafts created with materials from this retail giant are both economically and aesthetically pleasing.
Woot
Another hub of bargain crafting tools is Woot, an online wonderland of discounts. Known for its flash sales and daily deals, Woot provides a wide range of crafting supplies. From high-quality yarn to sewing machines, Woot assures savings and satisfaction. Here is a glance at what's available:
Comprehensive sewing kits
Drawing tablets and pencils
Yarns in various materials and colours
Die-cut machines and materials
Picture frames and other DIY decor
Most notable about Woot is its ability to cater to both beginners and professionals alike. Whether you're just starting to dip your toes into crafting or you've been crafting for years, Woot caters to all levels of crafting expertise.
By scouring through Dollar Tree and Woot for budget-friendly crafting tools, you can turn into a craft whizz even on a shoestring budget. So get out there, let your imagination run wild and create crafting masterpieces without burning a hole in your wallet!
Researching and Finding the Best Deals
Finding the best deals when shopping for tools and equipment can be quite a task. With so many options available in today's market, it's vital to leverage both online and local resources to ensure you're getting the most bang for your buck. Understanding the strengths and weaknesses of these sources can help you make more informed decisions and save money in the long run.
Online Resources
The internet serves as a treasure trove of information and resources. Everything from product reviews to price comparisons and deals can be found with just a few clicks. Here's how online resources can aid in your quest for the best deals.
Product Reviews: Reading reviews from other consumers can provide a wealth of information about a product's quality and performance. These testimonials often reveal if a tool is worth its price or if cheaper alternatives might be just as effective.
Price Comparisons: Numerous websites allow you to compare prices across different online stores. This can help you find the lowest price for a particular item without having to visit each store's website separately.
Online Deals: Many retailers offer exclusive online deals or coupons, which can provide significant savings. Subscribing to newsletters or following these retailers on social media can ensure you're always aware of these deals.
Remember that online shopping also comes with additional considerations, particularly shipping fees and arrival times, which could impact the overall value of your purchase.
Local Hardware Stores
Despite the conveniences and wealth of information offered online, local hardware stores shouldn't be overlooked. They offer unique benefits that can often make them the best choice for finding deals. These include:
Tool Rentals: If you only need a certain tool for a temporary project, renting it from a local hardware store can be much cheaper than buying it outright.
Personal Service: Unlike online shopping, visiting a local store allows you to speak with knowledgeable staff who can offer recommendations and practical advice.
Immediate Availability: No waiting for shipment. You can have the equipment in your hands the same day you decide to purchase it.
From a research perspective, both online resources and local hardware stores play pivotal roles in finding the best deals. Each comes with its own set of benefits and should be utilized strategically based on your unique needs and circumstances. Happy shopping, and may the best deals find you!
Finding Second-Hand Tools
Becoming a DIY enthusiast or a home improvement expert requires an array of tools that one may not have on hand. Acquiring brand-new equipment can be a costly affair, and for both novice and seasoned builders, buying second-hand tools can be a prudent and economical decision. Not only does it save money, but it also helps to reduce waste, making it a more sustainable option.
Thrift Stores
Thrift stores can be a veritable treasure trove for second-hand tools. Often overlooked, these establishments frequently house an eclectic array of tools at budget-friendly prices:
Hand tools: Think hammers, tongs, and screwdrivers.
Power tools: Look for drills, circular saws, or power sanders.
Gardening tools: Seek out shovels, rakes, and pruning shears.
Remember, patience is key here, since high-quality tools can be rare. And always check the tool's condition before purchasing!
Flea Markets
Next on the list are flea markets, popular for their vast array of goods, including handy tools awaiting a second life. But, beware of:
Inflated prices: Some sellers may hike the price due to a tool's vintage appeal.
Poor quality: Always inspect tools closely to avoid buying faulty or overly worn items.
eBay and Amazon
Online marketplaces like eBay and Amazon also offer previously owned tools. While eBay allows bidding, Amazon has a specific section for used items alongside new ones. Advantages of these platforms include:
Wide selection: With a vast array of sellers, chances are high you'll find the tool you need.
Price comparisons: With multiple listings for the same item, you can easily compare prices.
However, don't forget to factor in shipping costs and always check seller reviews!
Staying wallet-wise doesn't mean you have to compromise on the quality of your tools. With some perseverance and savvy, shopping for second-hand tools can be an enjoyable and profitable experience. So, why not give it a shot and lay the foundation for your DIY projects today?
B&Q - The Cheapest Place to Buy DIY Tools
Who else knows the intimate connection between perfect DIY projects and the right tools? Of course, we all do! Ambitious DIYers understand that to create masterpieces, you can't just make-do with subpar tools. You require the best. But, where to buy these top-notch DIY tools without breaking the bank? The answer is right at your fingertips, and it's B&Q. Known for its affordable and extensive assortment of DIY tools, B&Q saves you the hassle and leaves you with more pounds in your pocket.
A Wide Assortment Of Quality Tools
One thing that sets B&Q apart from other home improvement outlets is its wide variety of tools. Whether you're looking for woodworking tools, painting tools, or general shop tools, this store has you covered.
Woodworking tools: Saws, hammers, screwdrivers, and more – you'll find everything you need to tackle your woodworking projects successfully.
Painting tools: From roller brushes to spray cans, one can acquire everything from B&Q to take a painting project from sketch to reality.
General Shop tools: Got a loose screw? Or do you need a nut that fits just right? Their general shop provides every tool you've ever imagined needing.
Affordability Like None Other
It's not only the variety and quality that gets B&Q praises; affordability plays a huge role too. Many are surprised at the prices offered here. Whether you're a beginner builder just starting your toolkit or an experienced tradesperson looking for high-end tools without spending high-end money, B&Q proves to be the place.
"I was astonished at how much quality I got for the prices. B&Q is my go-to for all my DIY needs," says a valued customer.
With that said, you would be doing yourself a disservice by not checking out their store for your DIY needs. The combination of variety, quality, and affordability that B&Q offers are hard to beat. As long as you're passionate about DIY, B&Q is ready to support you every step of the way with their budget-friendly, quality tools.
Online Resources for Learning and Buying
In the digital age we live in, there is an abundance of online resources for learning and buying a wide array of products and services. With the click of a button, one can immerse themselves into a vast ocean of information, discovering everything from how the universe was formed to how to knit a scarf. These resources can also offer consumers an opportunity to purchase anything they might need, from books and furniture to high-end technology devices.
Free Online Resources
Free online resources act as reliable allies for those eager to learn. Users can surf through numerous websites and forums that cover a myriad of topics — all without spending a penny. These resources foster a culture of self-learning, allowing individuals to educate themselves at their own pace. Some of the popular resources include:
e-learning platforms: These offer courses across a diverse range of subjects such as Computer Science, Arts, Business, and more.
Digital libraries: They house multiple books, research papers, and other forms of written content.
Video tutorials: These cater to visual learners, illustrating complex topics via animated videos or practical demonstrations.
Notably, these resources aim to break barriers to education by making learning accessible to everyone, regardless of geographical location or financial status.
Utilizing Online Auction Houses
Bid farewell to conventional methods of acquiring rare and unique items. Online auction houses are the new marketplace where buyers gather to bid on an array of products from collectibles to real estate. They offer the following advantages for customers:
Accessibility: Anyone with an internet connection can participate in these auctions without the need for physical attendance.
Variety: Online auction houses host a diverse range of products, making it possible to buy almost anything.
Convenience: These platforms enable buyers to place bids at their convenience, eliminating the need for planning trips to physical auction places.
And while an auction can be an adrenaline-filled, pulsating experience, it's essential to exercise caution. Buyers should thoroughly research the items and understand the bidding process to avoid getting stuck with a lemon.
Building Reuse Centers
In an era where environmental consciousness is rising, building reuse centers stand out as a beacon of sustainable consumerism. These centers offer various construction materials from deconstructed buildings, allowing builders and homeowners alike to purchase quality materials at discounted prices. These resources include:
Lumber
Plumbing fixtures
Architectural items like windows, doors, railings, etc.
Flooring materials like tiles, hardwood planks, etc.
Aside from the cost savings, building reuse centers contribute significantly to environmental protection by limiting the demand for new products, thereby reducing the waste that ends up in landfills.
Indeed, the internet has reshaped how we learn and acquire goods. From free educational resources and online auction houses to building reuse centers, e-commerce platforms are a testament to the progressive strides of technology. They have not only made the world a smaller place but also a more sustainable one by fostering eco-friendly practices.
Rate Solutions for Different Budget Needs
Simplifying Energy Costs for Everyone with Georgia Power
We all understand that the cost of maintaining our homes can be a huge factor for many of us. Despite energy being an essential part of our day-to-day lives, it's also one sector where we constantly seek to find ways to control costs better. This is especially true for those of us trying to balance between paying our power bills and managing other household finances.
Well, Georgia Power has come up with impactful solutions to this ever-challenging situation. They provide a ray of hope for Georgia residents looking to cut energy costs without sacrificing the comfort and convenience electricity provides at home.
Distinct Rate Solutions
Georgia Power is paving the way with multiple options for managing energy costs. Each solution speaks to a different budget and requirement.
Fixed Rate Plan: With a fixed rate plan, users will have peace of mind knowing that their energy rates per kilowatt-hour are not subject to fluctuations. This allows residents to better manage their monthly budget forecasts.
Time-of-Use Plan: This plan is designed to help residential power users control energy costs better by offering lower energy rates during off-peak usage hours.
Prepay Plan: The prepay plan is an excellent rate solution for residents who wish to monitor their energy usage effortlessly. As the plan name suggests, customers have the flexibility to prepay for their power and manage usage according to the balance.
"Empowerment comes in diverse packages. Our aim is to offer solutions that complement each individual's unique energy usage and budget preference," Georgia Power's spokesperson once noted.
Why Choose Georgia Power?
Georgia Power doesn't just provide power. They offer convenience, control, and budget-friendly solutions. They help residents make informed choices about energy usage without instigating drastic lifestyle changes.
Georgia Power is your go-to power provider if you are looking for customized power cost solutions. Their innovative plans are designed to fit your budget needs, offering you an impressive level of control over your energy costs.
In these challenging economic times, having a power provider that understands your individual financial situation is crucial - and that's what Georgia Power stands for. It's why they continue to roll out new and innovative solutions to give customers even greater comfort and control over their energy usage.
Surplus Tool Stores
Discover An Incredible World Of Surplus Tools
Imagine a treasure trove, stacked with an eclectic mix of tools. A place where you can find just about any tool, whether it's for a professional job or a simple home repair project. Welcome to the world of surplus tool stores, a paradise for all DIY enthusiasts, professionals, and hobbyists on the hunt for bargain deals.
Surplus tool stores, as the name suggests, specialize in selling surplus tools—products which are in surplus from the manufacturer, often because of overproduction, updated models, or cancelled orders. They offer an extensive range of new and used tools at heavily discounted prices, making such stores a hot favourite among many.
Why choose surplus tool stores?
It's not just the affordable pricing that makes surplus tool stores stand out. They carry some unique benefits that deserve your attention:
Wide Variety: From power tools to hand tools, plumbing tools to automotive tools, you'll find an astounding diversity in surplus tool stores. There's something for everyone!
Quality Assurance: Don't judge the tools by their surplus tag. Most of these tools come directly from manufacturers or official dealers, so you can expect them to be of high quality.
Experience Adventure: Shopping at a surplus tool store often feels like a treasure hunt. You never know what you might unearth!
Eco-friendly Choice: By opting for surplus tools, you are essentially choosing to prevent perfectly good tools from ending up in a landfill. It's a win for you and a win for the planet.
Finding the Right Surplus Tool Store
To experience the real thrill of shopping from surplus tool stores, it's crucial to search for one that matches your needs. Read reviews, ask for recommendations, and research about their product guarantees to ensure you're stepping into a genuine store that values its customers.
Whether you're a professional worker gearing up for a big project or a home improvement beginner, surplus tool stores present a fascinating opportunity to save money and acquire exceptional tools. So, go ahead, explore these stores, and let yourself be surprised by the gems you can find.
Valuing Used Tools
Have you ever heard the saying, "a tool is only as good as the person who uses it"? It might be a cliché, but there's a good amount of truth in it as well. Whether you are looking to buy or sell a used tool, or perhaps you're just curious about the value of the tools you already have, it's essential to understand how to value used tools appropriately.
A tool's worth is not just defined by its age or its visual condition. Many other factors might play a crucial role as well. Let's have a look at some aspects you should consider while valuing used tools:
Brand: There's a reason certain brands tend to cost slightly more. Brands such as Snap-on or DeWalt often signify quality and longevity, making their pre-owned tools more valuable than those from lesser-known brands.
Condition: This covers more than just physical appearance. Does the tool work as it should? Are all its parts accounted for and in proper working order? The better the condition, the higher the value.
Rarity: Vintage or rare tools that are hard to find could fetch more money than more common ones. However, rarity doesn't always guarantee value. The tool still needs to be practical and functional.
To get an idea of how much people are willing to pay for used tools, it can be useful to compare prices on sites dedicated to the resale of used items. One such site that specializes in this field is UsedPrice.com. It's a well-known platform where you can find a huge selection of used tools for sale, including data for price comparison purposes.
UsedPrice.com is essentially an online blue book for used goods, including tools, electronics, firearms and more. Their expansive database goes back over 20 years, enabling you to assess the value of nearly any tool you might come across.
UsedPrice.com also offers additional services such as valuation certificates, which are incredibly helpful if you're selling your tools and want to substantiate the asking price. Using this resource, you stand to enjoy the confidence of knowing you aren't underselling yourself or overpaying for new additions to your toolset.
Remember, knowledge is power. When you know the worth of your tools, you're no longer at the mercy of buyers or sellers. You're in control, and that's where you want to be. So, why wait? Start valuing your used tools today, and dictate your own terms in this bustling market.
Tools and Equipment from Major Retailers
Amazon
Known worldwide for its e-commerce operations, Amazon takes center stage as one of the premier online destinations for buying tools and equipment. This internet marketplace brims with a wide variety of items. Everything from cordless drills, hammers, and tape measures, to industrial-grade welding machines and high-performance power saws, can be found in Amazon's virtual shelves.
One of the prime benefits of shopping for tools on Amazon is the vast array of options available to buyers. Every type of tool imaginable is available from both major and minor manufacturers, making it simple for customers to find exactly what they need. Here are a few key maximum-strength advantages offered by Amazon:
Price Comparison: Amazon presents an arena where tool manufacturers compete to offer the best possible price. Buyers are presented with a range of pricing options, allowing them to choose one that meets their budget.
Reviews and Ratings: One of the unique features of Amazon is the ability to know what other customers think about a product. Users tend to leave honest feedback and ratings on their purchases, which can be a valuable resource when you're making decisions.
Convenience and Delivery: With Amazon, the hassle of walk-in shopping is eliminated. The tools you need are just a click away and can be delivered right to your doorstep.
Amazon's extensive selection and competitive pricing strategies make it an ideal shopping destination for both professional contractors and do-it-yourself enthusiasts. The platform's seamless shopping experience guides users through each step of the process, from product selection to secure checkout.
Home Depot
From the backyard craftsman to the professional contractor, Home Depot stands as a cornerstone in the building and construction sector. Not only does this major retailer offer everything needed for home improvement projects, but they also provide professionals with the equipment necessary to get the job done right.
Why is Home Depot a preferred choice among many?
In-store and Online Shopping: Home Depot allows customers to shop either in person at one of their many convenient locations, or online through their easy-to-use website.
Expert Advice: Each Home Depot store is staffed by experienced individuals in the field. They're available to give advice, suggest necessary tools, and provide a helping hand.
Tool Rental Program: Perhaps the best selling point for Home Depot is their tool rental program. When you only need a tool for a single job, renting can be a more cost-effective solution than buying.
For individuals who value in-person interactions, hands-on product examination, and practical expert advice, Home Depot is the ultimate shopping destination.
When you're deciding where to buy your next tool, take the time to consider whether you value the convenience and comparison shopping offered by Amazon, or the hands-on approach and expert advice offered by Home Depot. Both retailers are top-notch in their field and come with their unique perks. Making an informed decision can lead to a more satisfying shopping experience for your tools and equipment needs.
Tutorials and Tips on DIY Projects
It's amazing what you can create with your own two hands, especially when you're armed with the right skills, materials, and a pinch of creativity. Engaging in DIY projects can be a fulfilling way to spend your spare time. They not only stimulate your brain and spark your creativity, but also have the potential to save you money if you're artfully transforming things you already have lying around. So, without further ado, let's delve into some essential tips and tutorials for thriving in the world of DIY.
Self Learning is Key
The first port of call in the DIY journey is self-learning. You need to educate yourself about the tools, materials, and techniques to be used. There are many online platforms available, offering a wide range of tutorials, which could be the perfect place to start your DIY journey. Remember, the first step is always the hardest, but with patience and determination, you can master anything.
Choosing the Right Project
When deciding what to create, consider the materials and tools you already have. Avoid ambitious projects that require expensive materials and specialized tools, especially if you are a beginner. Start small and gradually move on to complex tasks. The key lies in gradual progress.
Read and Follow Instructions
It may sound obvious, but it's worth mentioning because people often overlook the importance of following instructions. DIY tutorials usually provide step-by-step guides, which should be followed to the letter. It is essential to avoid skipping steps or improvising, especially when you're starting.
The Online Platforms section of our website is a treasure trove of ideas for DIY projects. It provides a comprehensive guide to different projects, materials required, step-by-step procedures, and the expected outcome. Here are a few things you can expect:
Detailed and easy-to-understand tutorials
Interactive forums to ask and answer questions
A variety of projects, from beginner to advanced
An opportunity to share your creations and get feedback
As Benjamin Franklin once said, "Tell me and I forget, teach me and I may remember, involve me and I learn." The hands-on nature of DIY projects is the perfect way to implement this ethos, transforming mundane materials into something beautiful and functional with your own hands.
Remember, patience and persistence are your best friends in the world of DIY. Each project is a learning experience, offering new skills and the potential for great satisfaction at seeing your ideas turned into reality. Let this be the invite to your DIY journey, step out of your comfort zone and have fun creating!
Building a Cost-Effective Tool Collection
Whether you're a seasoned artisan or a newbie DIY enthusiast, building a cost-effective tool collection is every craftsman's dream. Adding prudently to your garage arsenal doesn't mean skimping on quality. It is about pairing meticulous selection with optimal use of resources—let's dive into how it can be made possible.
Understanding Your Needs
The first step towards building a cost-effective tool collection is understanding your specific needs. If you're into woodwork, for example, focus on tools like power drills, saws, and chisels. On the other hand, for general home maintenance, a basic set—comprising of screwdrivers, hammers, wrenches, and pliers—would suffice.
Avoid Impulse Buying
A common pitfall is impulse buying, which shouldn't be the case when building your tool collection. Always plan your purchases, taking into consideration factors like:
Frequency of use
Available space for storage
Type of projects you undertake
Invest in Multipurpose Tools
Multipurpose tools are a great way to maximize value for money. Tools such as a multi-tool screwdriver or a 5-in-1 painter's tool provide extraordinary versatility without burning a hole in your pocket.
Go for Sets Instead of Single Tools
Another smart move is to opt for sets instead of single tools. For instance, a pair of crescent wrenches may cost less than a full set of box wrenches but will offer less flexibility. Plus, sets often come with a case for convenient safekeeping.
Know When to Splurge
While a cost-conscious approach is essential, there are instances where high-end tools can save you time, deliver superior results, or even last longer. Items like a high-quality saw or a branded power drill can make a significant difference. Therefore, knowing when to splurge can sweeten the deal of a cost-effective tool collection.
As you embark on this journey of amassing a tool collection, remember that it's a gradual process, not an all-at-once task. So, be patient, research well, and keep refining your arsenal as per your evolving needs. After all, this collection will be the foundation of all your handy work! Success lies in methodical selection, wise investment, and efficient usage. Get your toolbox ready; your crafting dream is about to take shape.
Specialized Tool Stores
In an age where do-it-yourself (DIY) projects are more popular than ever, specialized tool stores have picked up in popularity and demand. These properties combine expertise, a broad range of products, and a commitment to quality that supermarket chains or general tool stores simply can't match. Today, we're zooming into two specialized tool stores that have earned their stripes for delivering quality products and top-notch customer service: Archery Pro Shops and Northern Tool + Equipment.
Archery Pro Shops
Archery Pro Shops often feel like a paradise for archers. With sleek arrows, stylish quivers, and high-performance bows adorning the walls, these stores merge sporting and utility into a seamlessly designed sanctuary.
Expert Knowledge: Staff members in these shops are usually passionate archers themselves. They offer crucial insights into each product's pros and cons and often offer tips about using them effectively.
Wide Inventory: Unlike traditional sports stores, Archery Pro Shops typically offer an unusually vast array of products, including targets, bows, arrows, quivers, bowstrings, and more.
Quality Centricity: These shops place a high premium on quality. Ranging from the raw materials to the final product, each stage is carefully monitored and controlled.
Just as a bowman's accuracy depends on his equipment, the success of an Archery Pro Shop lies in its ability to understand an archer's need.
Northern Tool + Equipment
From the professional tradesman to the home handyman, Northern Tool + Equipment is a favorite among those seeking serious hardware. Providing an extraordinary selection of industrial-grade equipment, it has become the go-to for many in search of quality tools for various projects.
Prolific Range: The store's wide inventory, showcasing a plethora of tools from power generators and pressure washers to welding equipment and pneumatic tools, only strengthens its reputation.
Professional Knowledge: Northern Tool + Equipment often employs industry veterans with deep insights into the tools and their applications. These staff members are well-equipped to guide customers on choosing the right tools for their needs.
Relentless Quality Focus: This store's commitment to quality is unnegotiable, consummating its status as a trusted supplier of top-tier equipment.
Northern Tool + Equipment has carved out a niche for itself by prioritizing quality, diversity, and professional counsel. One step inside this tool sanctuary, and even the most dedicated DIY enthusiast may feel like a kid in a candy shop.
In summary, Archery Pro Shops and Northern Tool + Equipment are specialized tool stores that have mastered their crafts. They offer top-quality products backed by expert knowledge, allowing customers to embark on DIY projects with confidence. Their rising popularity signals a shift in consumer preferences towards specialized tool stores that provide precisely what they need, with a dash of expert advice to boot. For those willing to ditch the one-size-fits-all outlets for tailored solutions, specialized tool stores are a requisite destination.
Garage Sales for Cheap Tools
When you think of a treasure hunt, your mind might instantly envision pirates and buried chests of gold. But in the real world, your quest for valuable finds can very well begin at your neighbour's garage! Garage sales can be a goldmine for high-quality tools at incredibly cheap prices. If you're a do-it-yourself enthusiast, a hobbyist, or simply someone who likes to keep a handy kit for minor home repairs, you shouldn't overlook the potential of garage sales.
Why Opt for Garage Sales?
Garage sales tend to be a melting pot of items that people no longer need, offering a magnificent variety of tools. Most often, these tools are well cared for and have plenty of life left in them, ensuring you get top value for less. Here are a few compelling reasons to start attending garage sales for tools:
Saves Money: New tools can make a huge dent in your wallet, especially if you're looking for specialized equipment. But at garage sales, you can find these tools at a fraction of their original cost, without compromising on quality.
Unexpected Finds: Visionary minds thrive on creativity, and you never know when a random tool may spark inspiration for your next project! Garage sales are full of such surprising finds that can introduce a new layer of innovation to your work.
Environmentally Friendly: By buying pre-loved tools, you are not only saving money but also supporting a more sustainable lifestyle by reducing the demand for new products.
"One man's trash is another man's treasure."
Could there be a more fitting quote to describe the joy of stumbling upon a power drill or a pristine set of screwdrivers at a neighborhood garage sale?
But how do you make the most out of these sales? Successful garage sale tool hunting requires a keen eye, some groundwork, and the ability to haggle. Look out for advertised sales in your local newspaper or community message boards. Arrive early for the best choice and don't be afraid to negotiate prices. Remember to inspect each tool for proper functionality before you pay.
While the thrill of the hunt is certainly a draw, garage sales are not the only place where cheap tools can be found. Charity shops, online marketplaces, and even auctions can also yield a rich bounty of cheap tools. It's all about keeping an open mind and being persistent.
So, next time a sign for a local garage sale catches your eye, don't just drive past. You might just find the exact tool you've been hunting for, and at an unbeatable price!
Conclusion
Our journey through the world of affordable DIY tools and equipment—ranging from major stores such as Home Depot to lesser-known suppliers like Alibaba—has been nothing short of insightful. We've explored various strategies to secure value-priced tools, including looking into online deals and considering second-hand equipment.
Remember, tools from value-retailers can offer similar quality and functionality as their expensive counterparts. Affordable tools should not be mistaken for inferior goods. Instead, they offer an economical solution that can fit within your budget.
Choosing tools that best fit your purpose and budget is the first step to creating wonderful DIY projects at home. For those looking to expand their toolbox further, consider checking out the range of budget-friendly and high-quality tools in our Ultra Handy store.
Ultimately, it isn't about how much your tools cost, but how well you can utilize them. So, roll up your sleeves, pick up your cost-effective tools, and let your creativity run wild with your DIY projects.
Frequently Asked Questions
Where can I find affordable tools and equipment for DIY projects?You can find affordable tools and equipment for DIY projects in various places such as online marketplaces like Amazon or eBay, local thrift stores, garage sales, classified ads websites, and rental stores.
Are cheap tools and equipment of good quality?Not all cheap tools and equipment are of good quality, but it is possible to find affordable options that offer decent quality. It's important to read reviews, compare products, and choose reputable brands or sellers to ensure you are getting a good value for your money.
What are some online marketplaces where I can find cheap tools and equipment?Some popular online marketplaces where you can find cheap tools and equipment are Amazon, eBay, Craigslist, and Facebook Marketplace. These platforms often have both new and used items available at competitive prices.
Is it better to buy or rent tools and equipment for DIY projects?The decision to buy or rent tools and equipment depends on various factors such as the frequency of use, complexity of the project, and your budget. If you need a tool for a one-time or occasional use, renting might be more cost-effective. However, if you frequently engage in DIY projects, it may be more convenient and economical to purchase the tools.
What are some tips for finding the best deals on tools and equipment?To find the best deals on tools and equipment, consider the following tips: 1. Compare prices from different sellers or rental stores, 2. Look out for sales or promotions, 3. Buy used tools in good condition, 4. Join online communities or forums where people share tips on affordable tools, 5. Consider purchasing tool bundles or sets for better value.