Affordable and Reliable: How to Choose the Right Tools for DIY Enthusiasts
Discover key factors to consider when choosing affordable and reliable tools for DIY enthusiasts. Get tips on selecting the right tools for your projects.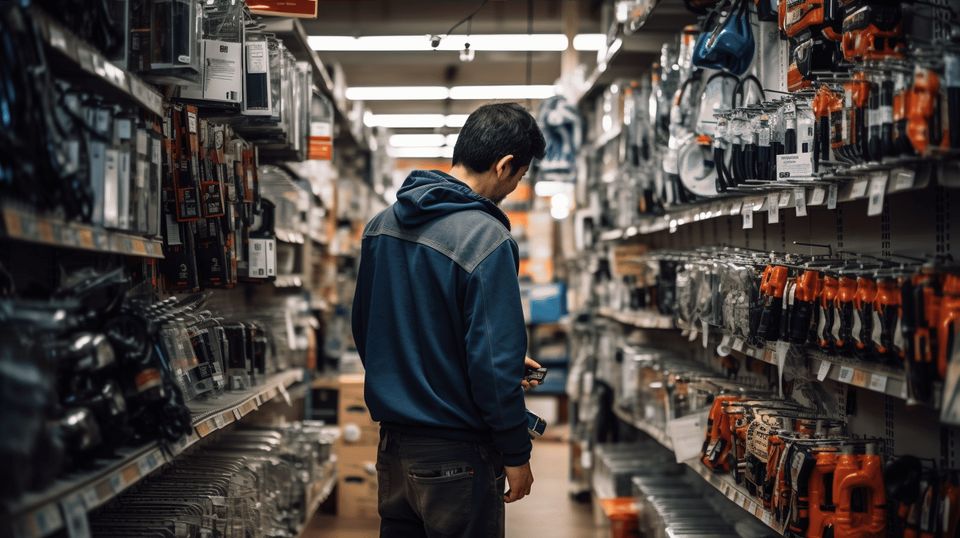 Buckle up, DIY enthusiasts, and scramble for your shopping list. Simplicity meets efficiency in this comprehensive guide designed to help you pick out the best, most reliable, and indeed, affordable tools for your upcoming projects. Whether you're a seasoned professional looking to enhance your arsenal or a rookie enthusiast just starting out, the importance of having the right tool at hand can't be overstated. It's not merely about buying the most expensive or the most advertised tool; it's about understanding the value they offer and making a decision that syncs with your budget, your projects' requirements, and your skill level. Throughout this guide, we walk you down the exciting aisles of cordless power tool combo kits, dissect top tool sets of 2023, do a deep dive into real tool reviews and comparisons, explore projected market growth for DIY tools, compare various tool prices and brands, and draw valuable insights from professionals and DIYers who've been there and done that. So, let this journey begin and by the time we are done, you will be an informed buyer, ready to add the right tools to your collection.
Cordless Power Tool Combo Kits
In the ever-evolving world of power tools, cordless power tool combo kits have proven to be remarkable gems. Not only have they managed to change the construction and DIY game forever, they've earned a reserved spot in the hearts (and carts) of contractors, handypersons and even rookies. Never before has completing an array of tasks, from drilling holes to cutting through materials and screwing bolts been any easier. With the cordless power tool combo kit in your arsenal, you're essentially carrying an entire tool shed in one durable, cost-effective, easy-to-use package.
Options Available
If you've decided to up your game and dive into the world of cordless power tool combo kits, understanding the various options available makes your decision less daunting. They typically come in sets of two to six tools, covering the basics to the more specialized.
Some of the most common tools you'll find in these kits include:
Drill/driver: handy for drilling holes and driving screws through material.
Impact driver: provides even more torque for tougher jobs that a drill/driver can't execute.
Circular saw: efficient for straight cuts on wood.
Reciprocating saw: Ideal for demolition-like tasks, cutting through materials.
Flashlight: handy for illuminating your workspace.
It's worth noting that the exact tools vary per brand, with some even including amazing extras like work lights, radios, and even Bluetooth speakers!
Testing and Comparison
When it comes to gauging the performance of cordless power tool combo kits, rigorous testing and comparison are the name of the game. We pay keen attention to things like power, battery life, design ergonomics, and even pricing.
Some kits boast high power levels that can stand up to heavy-duty tasks, while others perform impressively in battery life tests. Ergonomics is another crucial factor, considering that ease-of-use significantly impacts the user experience. Lighter and more comfortable tools rank higher in user-friendliness.
Furthermore, cost-effectiveness is a major determining factor when comparing cordless power tool combo kits. Depending on the number of tools included, prices can vary. However, rest assured that investing in such a kit is certainly more economical than purchasing each tool separately.
Understanding the ins and outs of cordless power tool combo kits empowers you to make an informed decision. Whether it's for professional use, DIY projects, or simply feeding your knack for top-quality power tools, these kits are an investment that continually give back. Embrace the cordless revolution and be enchanted by how incredibly convenient, economical, and productive these tools can be. It's time to step into the future of power tools. Shall we?
Top Tool Sets of 2023
Head into 2023 with confidence in your tool collection! As the new year approaches, it's the perfect time to take inventory of your garage or workshop and explore upgrading your current tool set. Regardless of whether you're a professional contractor or a DIY enthusiast, having a high-quality and reliable tool set is an absolute necessity. And with the myriad of brands and options available on the market, choosing the right one can be an overwhelming task. That's where we come in! In the upcoming sections, we will present you with expert examinations of some of the top tool sets of 2023.
Brands Tested and Reviewed
Before helping you make an informed decision on the best tools for your specific needs, we must first dive into the market's frontrunners. We've researched and tested an extensive variety of brands, examining everything from versatility and durability to value for money. Here are some brands that have made it to the top of our list:
DeWalt: Known for its high-performance power tools, DeWalt offers a comprehensive set that is suitable for heavy-duty tasks. The set boasts ergonomic designs and long-lasting batteries that boost efficiency and convenience.
Makita: Ideally suited for professional operators, Makita's tool sets stand out as a result of the brand's innovation and quality-assured products.
Black & Decker: This brand prides itself on providing affordable, yet highly durable, tools for home use. Black & Decker's tool sets are perfect for DIY tasks around the house.
Milwaukee: Famed for their cordless power tools, Milwaukee produces tool sets known for their high-performance motors and superior battery technology.
"In the world of power tools, there's no substitution for quality and reliability."
Comparing Cordless Power Tool Brands
When it comes to cordless power tools, not all brands are created equal. In fact, there's quite a gulf in performance and price points. As such, it's crucial to discern the features and benefits of each brand to understand its value:
Runtime: DeWalt and Milwaukee offer a longer runtime thanks to their high-capacity batteries and energy-efficient motors.
Power: Makita and DeWalt excel in this area, providing high torque for heavy-duty use.
Versatility: Milwaukee and Black & Decker lead the pack in this regard, offering a wide range of interchangeable tools and accessories.
User comfort: Makita wins hands down, with ergonomically designed handles that minimize user fatigue.
Just bear in mind that the best tool isn't always the most expensive one. It's the one that best fits your requirements, budget, and comfort level. With this comprehensive analysis of the top tools sets of 2023, you'll undoubtedly make a savvy, well-informed decision.
Power Tool Reviews and Comparisons
When it comes to empowering yourself for a do-it-yourself project or professional construction works, few things can compare to quality power tools. The right power tool not only makes the job easier but also ensures precision and efficiency. With new technological advancements and brands flooding the market, power tool reviews and comparisons have become increasingly critical. They help both professionals and DIY enthusiasts make well-informed decisions.
Professionals, hobbyists, and homeowners trust power tool reviews and comparisons as the most reliable source of firsthand information about the performance, benefits, and drawbacks of various tools. They provide a detailed and unbiased view, enabling consumers to compare different tools in terms of various parameters like price, features, durability, customer feedback, and overall performance.
Benefits for DIY Enthusiasts
The rise of the do-it-yourself culture has heightened the demand for power tools, but these aren't simple purchases. Here's where power tool reviews and comparisons show their relevance.
Making wise selections: Power tool comparisons allow DIY enthusiasts to make educated choices based on the tool's efficiency, reliability, and cost-effectiveness.
Saving valuable time: These reviews save consumers time by providing detailed information about different products in one place, eliminating the need to research each tool individually.
Access to user experiences: Reviews often feature real experiences from users, providing insights into a tool's durability and performance under various conditions.
Subsequently, these benefits make power tools reviews and comparisons an indispensable asset for any DIY enthusiast.
The Popularity and Demand
In today's fast-paced digital world, consumers aren't merely looking for products. They're looking for experiences. Power tool reviews and comparisons are now the arterial vein of the power tool industry, connecting consumers with products that meet their needs and enhance their project execution experiences.
As a result, it's no surprise that the popularity of these reviews and comparisons has skyrocketed. Online platforms dedicated to power tools are overflowing with reviews from all around the world. These review analysis and comparisons are now a popular segment, even in print media, owing to their high demand and the undeniable utility they offer to consumers.
By meticulously evaluating power tools through reviews and comparisons, we potentially open the door to a world of possibilities – enabling professionals to perfect their craft and turning any DIY project into a satisfying success!
Projected Market Growth for DIY Tools
The DIY or "Do-It-Yourself" industry has been experiencing a significant surge in recent years due to several factors. Part of it is thanks to millennials and Generation Z, who, fueled by social media platforms, have turned to home improvement and renovation projects as a form of self-expression. But what does the future hold for the DIY tools market? Let's crunch some numbers and projections.
The DIY tools market is expected to grow considerably in the coming years. One massive driver of this growth is the rising popularity of home improvement reality shows and the increasing cultural shift towards creativity and self-sufficiency. More and more people are finding joy and satisfaction in taking on home refurbishing jobs, decorations, and even small-scale construction projects.
However, there are other reasons shaping the projected market growth for DIY tools:
E-commerce Boom: Over the past decade, E-commerce has revolutionized the retail sector. Many consumers prefer to shop for their DIY tools online, due to the convenience of home delivery and the wide range of products available.
Environmentally Friendly Choices: An influx of eco-conscious consumers are driving the demand for environmentally friendly DIY tools. These tools limit harmful emissions and decrease the consumer's carbon footprint.
Technology Integration: With the advent of Internet of Things (IoT), DIY tools are becoming smarter. The integration of technology into DIY tools, for instance, power tools with built-in smart features like maintenance reminders or tracking lost tools, are making them more appealing to technologically inclined users.
Market Innovation: Innovations, such as compact and cordless power tools, are significantly contributing to market growth. These advancements are making DIY projects more accessible and less intimidating to those without a background in handy work.
Naturally, the global pandemic has also played a role in this projected market growth. As more people spend time at home, DIY projects are increasingly being seen as an ideal way to keep busy and productive.
This projection of the DIY tools market's growth should come as good news for manufacturers and retailers alike. They can capitalize on this prospective upswing by tailoring products to different demographics and needs, whether that means launching lines of eco-friendly tools or creating smart tools that make projects easier and more efficient.
So, whether you're a handyman or a retailer, keep an eye on the DIY tools market. Given the current trends and projections, it's an area full of opportunities and potential growth. As always, the key to success lies in understanding and meeting the needs of your customers - those who love to roll up their sleeves and take the DIY route.
Comparing Tool Prices and Brands
In the world of tools and hardware, balance is crucial. Every craftsman, from a novice DIY enthusiast to a professional contractor, understands the importance of finding the right tool at the right price. Indeed, knowing how to navigate through the multitude of tool brands while taking cost considerations into account has become an essential skill. In this section, we will dive deep into this realm to shed light on price comparison tools and discuss some of the most well-known tool brands.
Price Comparison Tools
Today's market provides a wide range of handy gadgets perfect for any project you can think of. However, the price difference between brands can be overwhelming. This is where price comparison tools step on the scene, making it possible for you to compare prices of your desired tool from different retailers in one go.
Specialised price comparison tools offer a fantastic way to save time and money, ensuring you're getting the best value for your hard-earned cash. All these tools, including websites or apps, function by utilising powerful algorithms. They scan the internet to bring back a list of prices for the desired item from various retailers. Points to consider include:
Efficiency: These tools drastically cut down the time needed to conduct market research, allowing you to spend more time focusing on your project.
Savings: By providing a direct comparison, you are positioned to make the most informed decision and potentially get the best deal.
Variety: Not limited to one or two retailers, these tools source prices from a variety of platforms, increasing your chance of finding the best price.
Well-known Brands
Selecting tools from trusted brands can often be a sure-fire way to ensure durability and efficiency. This doesn't mean you need to drain your wallet for pricey high-end brands. There are numerous well-known brands known for their reliability and affordability.
Makita: Renowned for their durable and efficient power tools, Makita has been a craftsman's favorite for years. With their wide range of products, you're practically guaranteed to find the tool you need.
Bosch: This brand's commitment to innovation and performance has earned it a spot among the ranks of top tool providers worldwide. Bosch boasts a diverse product line, including some of the industry's best cordless tools.
DeWalt: DeWalt, known for reliability and performance, offers an impressive variety of tools used by professionals and DIY enthusiasts alike.
Ryobi: If affordability is your main concern, Ryobi may be your go-to. Their broad range of budget-friendly tools doesn't sacrifice quality, making it a favorite among homeowners.
Remember, the ultimate decision is yours to make. Price and brand are critical factors, but personal preference and the specific demands of your project play equally significant roles. Whichever brand you decide to go with, consider using price comparison tools to ensure you achieve the best value for your investment. Happy crafting!
Valuable Insights from Professionals and DIYers
When it comes to home improvement and construction projects, the quality of the tools you use can make or break your output. The word of professionals in the field and other do-it-yourself enthusiasts (DIYers) carry substantial weight in deciding what tools to purchase. They offer valuable insights, born out of the first-hand experience.
Tool Reviews and Ratings
Whether you're a seasoned veteran in the industry or just starting your DIY journey, tool reviews and ratings are a beneficial resource. Sure, the company description of a tool can boast numerous features and benefits, but does it live up to these in real-life situations?
Following are some reasons why tool reviews by professionals and DIYers are valuable:
They Offer Real-world perspectives: Professionals and DIYers share their experiences with tools in different scenarios, offering practical insights that might not be covered in the product description.
They Provide Objective views: Reviews and ratings are unbiased as they are based on individual experiences. They can reveal the strengths and weaknesses of a tool honestly.
They Aid Decision-making: When choosing a tool, numerous options available can be overwhelming. Authentic reviews can help direct your buying decision.
"Actual usage speaks louder than theoretical product descriptions."
However, when relying on reviews and ratings, it's essential to consider the credibility of the reviewer - a fact established in the biases of power tool ratings. An experienced professional might have different expectations and feedback from a tool than a hobbyist DIYer.
Overall, tapping into the wealth of knowledge from professionals and DIYers can help individuals make informed decisions. Creating that perfect cabinet or building the eco-friendly house of your dreams starts with having the right tools. Use these shared insights to your advantage and embark on your project with confidence.
Conclusion
Embarking on a DIY project can be a thrilling experience. And with the right tools on your side, it becomes not just safer but also more efficient and enjoyable. We've taken the time to outline different power tools and their numerous features, discussed industry-leading brands, and even delved into cost comparisons to help you make an enlightened decision.
At Ultra Handy, we've always leaned toward making your DIY experience effortless, whether you're fixing a small household issue or tackling a larger project. And remember, the right choice of power tools not only determines your work's efficiency but also contributes significantly to the overall success of your endeavor.
"Success isn't merely a product of chance, but a result of choosing the right tools."
To reiterate, it's not just about finding a tool. It's about getting a sturdy, reliable one that will drive your desired results while offering excellent value for money. So, keep exploring, and let Ultra Handy be the trusted partner on your do-it-yourself journey. Happy DIYing!
Frequently Asked Questions
What are some affordable and reliable DIY tools for enthusiasts?Some affordable and reliable DIY tools for enthusiasts include: 1. Stanley 94-248 65-Piece Homeowner's Tool Kit, 2. BLACK+DECKER LD120VA 20-Volt MAX Lithium-Ion Drill/Driver Kit, 3. DEWALT DWE305 12-Amp Reciprocating Saw, 4. Bosch GLL 30 Self-Leveling Cross-Line Laser, and 5. WEN 2305 Rotary Tool Kit with Flex Shaft.
Where can I find affordable DIY tools?You can find affordable DIY tools at various places, including hardware stores, online marketplaces like Amazon and eBay, discount stores like Walmart and Home Depot, and even at garage sales or through classified ads.
What should I consider when choosing DIY tools?When choosing DIY tools, consider factors such as quality, durability, reviews and ratings, functionality, warranty, and your specific DIY needs. It's important to find a balance between affordability and reliability.
Are cheaper DIY tools less reliable?Not necessarily. While some cheaper DIY tools may lack the durability and advanced features of more expensive options, there are many affordable tools that offer excellent performance and reliability. It's important to research and read reviews to make an informed decision.
Should I invest in a tool set or buy individual tools?This depends on your specific needs and budget. Buying a tool set can be a cost-effective option if you need multiple tools, as it often offers a better deal compared to buying individual tools. However, if you only require a few specific tools, buying them individually may be more practical.