Affordable DIY: How to Find Bargain Tools and Equipment
Discover budget-friendly DIY tips on how to find bargain tools and equipment for your projects. Save money without compromising on quality with these valuable resources.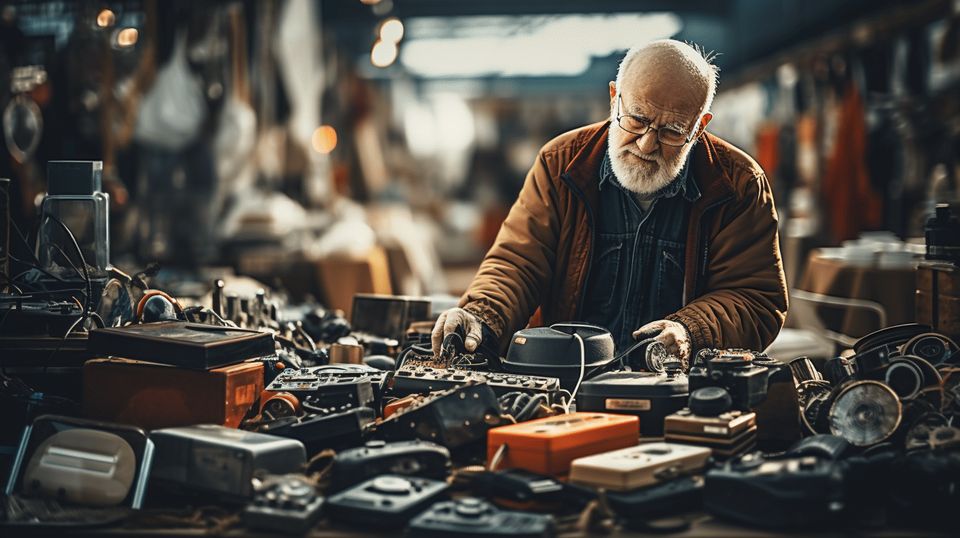 Roll up your sleeves, unbuckle your tool belt, and let's dive into the world of affordable DIY! Everyone loves the satisfaction that comes from completing home improvement projects with their own hands. However, investing in high-quality tools and equipment can be quite pricey—making it challenging for budget-conscious DIY-ers.
But fear not! This article is here to guide you through a treasure trove of affordable tools and equipment, ready to fuel your DIY dreams. We'll explore everything from eye-catching deals and discounts on power tools to the underrated value of reconditioned items. We'll even shine a light on places you'd never think to look for hidden tool gems—like thrift stores or garage sales!
Ensuring quality without emptying your wallet can be tricky, but it's definitely not impossible. By the end of this article, you'll have the necessary tools, both literally and metaphorically, to start your next DIY project—sans financial worries. Let's tweak, build, and most importantly, save together! Buckle up; this is going to be a fun ride!
Finding Deals on Power Tools and Batteries
Sprucing up your garage with the latest power tools or making sure your current gadgets never run out of juice with efficient batteries need not break the bank. Thanks to the big merchants in the industry, there are several deals and discounts on power tools and batteries available year-round. We're here to help you uncover the best of these deals and make your next purchase decision a breeze.
"Creating shouldn't be a heavy expenditure, it should be a joy!"
Amazon Prime Day
When anyone discusses slashed prices and hard-to-resist deals, Amazon Prime Day almost always gets a mention. This annual event has become the go-to for those seeking amazing offers on power tools and batteries. These deals cater to popular brands like DeWalt, Milwaukee, and Makita, making it a haven for lovers of quality and durability. From cordless drills to versatile power tool kits, Amazon Prime Day provides excellent bang for your buck!
Home Depot
With their widespread reach and commitment to customer satisfaction, Home Depot often has discounts, coupons, and deals on power tools from established brands like Makita, Milwaukee, and DeWalt. These deals can range from a few dollars off specific products to massive price cuts during seasonal sales. Moreover, Home Depot's knowledgeable staff can provide insight on the perfect power tools and batteries for your needs.
Lowe's
Not to be outdone, Lowe's boasts exclusive deals on power tools and batteries that make shopping an absolute delight for DIY enthusiasts and professionals alike. Immersed in a culture of hardware expertise, the Lowe's shopping experience delivers exceptional value, both in products and the prices they're offered at. Like Home Depot, Lowe's also provides year-round opportunities to purchase reputable power tools at a fraction of the cost.
Acme Tools
A respected name in the world of power tools and accessories, Acme Tools frequently offers their customers various promotions and discounts. Whether you're in search of a DeWalt circular saw, a Milwaukee high-torque wrench, or Makita's latest battery model, Acme Tools may just surprise you with an offer you can't refuse.
In the world of power tools and batteries, the savvy shopper never has to pay full price. Be it Amazon Prime Day, Home Depot, Lowe's, or Acme Tools, these retailers continually roll out deals that make stocking up your tool shed a satisfying experience. Always remember to balance the allure of a good deal with the recognition of a quality product. Cutting corners on cost should never mean compromising on quality. Happy shopping!
Specific Deals and Discounts
Let's dive right into a secret that savvy shoppers know all too well. The best time to snag incredible bargains on your favourite items isn't just during the holiday season but includes major observances like Labor Day. This year, an annual occasion that deserves marking on any bargain hunter's calendar is particularly special, especially if you're a DIY-enthusiast or professional tradesperson in search for DeWalt tools & accessories.
Best Labor Day Deals on DeWalt Tools and Accessories at Amazon
Celebrated for their robust durability and excellent performance, DeWalt's array of tools simplifies tasks, regardless of whether you're a seasoned handyman or a beginner working on their first DIY project. Better yet, this Labor Day, Amazon is pulling out all the stops with an exceptional sale on numerous DeWalt items.
One standout deal features the ever-popular and versatile 20V Max Cordless Drill/Driver Kit. Imagine yourself delving into task after task, powered by DeWalt's signature reliability and strength. The best part? It's not going to burn a hole in your pocket this Labor Day Weekend. You can bag this excellent tool at a steal price of $99, saving $80 from its original price.
These unparalleled offers, however, won't be around for an eternity. For those hoping to add some treasured DeWalt items to their tool collection or gift a practical piece to a loved one, there's no better time to act than now. With Labor Day around the corner, gear up to take advantage of these significant savings, and usher in a new realm of productivity, creativity, and craftsmanship with DeWalt tools.
Whether you've dreamed of stocking up your toolbox, or you plan to surprise a handyman in your life, Amazon's Labor Day weekend sale offers you a chance to acquire DeWalt's top-tier gadgets at a fraction of their standard retail prices. So, mark your calendars and prepare to play your cards right to seize these unbeatable deals.
Purchasing Reconditioned Tools
Whether you're a seasoned craftsperson or a DIY enthusiast just beginning to build your toolbox, purchasing reconditioned tools can be a budget-friendly solution. Before dunking into new, expensive tools right off the bat, considering reconditioned ones may merit a deeper look. They are refurbished to factory standards and can serve as an affordable, reliable option to meet all your improvement, project, or repair needs.
Here, we touch upon a few platforms where you can find such treasures and the advantages each holds.
Craigslist
Craigslist might be the first site that comes to your mind when you're looking for second-hand goods in your local area, and it's no different for reconditioned tools. Many a time, contractors and hobbyists who have upgraded to newer equipment list their older tools on this platform. Here's why it's worth considering:
Great Deals: More often than not, reconditioned tools listed here are at quite discounted prices. They have usually been well-maintained, showing signs of use but remaining perfectly functional.
Choice and Variety: As the site is immensely popular, there is an abundance of tools to choose from, which increases your chances of finding the specific tool you need.
Local and Convenient: You can connect directly with sellers in your vicinity, keeping things local and simplifying delivery or pick-up.
Amazon
Amazon, a one-stop-shop for everything under the sun, houses an extensive array of reconditioned tools as well. It ties to major brands and tool recon experts, ensuring top-notch quality with each purchase. Have a glance at the benefits:
Trust and Reliability: Purchases are backed by Amazon's A-to-z Guarantee, enabling returns or refunds if the tool doesn't meet your expectations.
Wide Reach: Amazon stocks tools from a range of brands and categories, providing an unmatched variety.
Competitive Prices: With the frequent promotional discounts and deals available, Amazon lives up to its reputation of being a great place for value buys.
Pawnshops
Pawnshops may not be what you traditionally think of for tools, but they can be goldmines for finding reconditioned ones. They offer some unique benefits:
Information Availability: Pawnshops can provide insights about the resale prices of tools and equipment in your market, aiding in a well-informed purchase.
Potential for Negotiation: Unlike most other platforms, pawnshops allow room for bargaining. If you're good at it, you might land an incredible deal.
Instant Acquisition: Unlike online platforms, you can buy and take home the desired tool immediately after payment, without the wait for shipping.
Purchasing reconditioned tools requires a bit of patience and sharp eye, but can result in significant savings without compromising on functionality. So next time your DIY project calls for a specific tool, don't hesitate to check these platforms before making the leap to brand-new equipment.
Affordable Options for Finding Tools and Equipment
Cultivating and strengthening a DIY skillset can be incredibly rewarding. It not only provides a sense of satisfaction and self-reliance but also, indeed, can save one a fair amount of money. The primary hurdle, however, can often be the cost of buying the necessary tools and equipment. The good news is there are numerous affordable ways to find these items. This section will explore three excellent routes to consider: Thrift Stores, Garage Sales and Tool Libraries.
Thrift Stores
Thrift stores are a treasure trove of gently used, functional tools waiting for a new lease of life in a DIY enthusiasts' toolkit. These stores typically have a special section for hardware where they categorize and arrange tools, making it easier for visitors to shop around. Depending on the location, you might discover a diverse range of tools including hammers, wrenches, screwdrivers, and sometimes, even power tools. Here are a few points to bear in mind:
Prices are typically significantly lower than retail stores, making it an affordable option.
Check the tool for any damages or wear and tear before buying.
Although thrift stores carry a wide array of tools, they might not always have the specific one you're searching for. So, it's advisable to be patient and visit often.
Garage Sales
Garage Sales are another goldmine for inexpensive tools and equipment. Many people sell old tools they no longer use or have inherited but don't need. Keep an eye out for neighborhood garage sales, estate sales, or even online listings announcing such sales.
Prices can even be negotiated down, making it an even better deal for budget-conscious shoppers.
Tools sold at these sales are often in good condition since they were for personal and not commercial use.
Variety depends largely on the sale, so check multiple sales for the best chance to find what you need.
Tool Libraries
A relatively new yet increasingly popular concept is that of tool libraries. These are local resources that allow members to borrow tools for a specified period—much like a traditional book library. This method can save a significant amount of money, especially for those who need a specific tool for a one-time project.
Membership and borrowing fees are often nominal, making the library a fantastic resource for those on a tight budget.
The range of tools is usually quite comprehensive, covering everything from gardening to home repairs.
Libraries demand responsible borrowing and returning of tools, so it's important to respect their guidelines and timelines.
When the traditional route of purchasing brand-new tools from a hardware store is not an option, remember that thrift stores, garage sales, and tool libraries can offer an affordable solution. The journey to becoming a DIY master does not have to be an expensive one. It's about creativity, ingenuity, and, above all, a will to learn and do it yourself.
The Value of Quality Tools
Stepping into a home improvement store, a myriad of tools in all varieties and price points can certainly steal your attention. But here's a critical piece of advice: don't let the competitive pricing of low-quality tools veer you off track. The attribute of quality for tools is a non-negotiable facet, demanding utmost consideration. Paying some extra bucks to get your hands on a top-notch piece might seem daunting at first; however, the long-term benefits make it a worthwhile investment.
Running a comparison between high and low-quality tools, the contours of superiority lean towards high-quality tools due to several reasons. Primarily, they are designed for longevity. Investing in a high-quality tool ensures you wouldn't have to visit the tool shop again for a while. Buying cheap tools often results in continuous repurchasing, which not only takes a toll on your pocket but consumes precious time.
Secondly, high-quality tools often make DIY projects effortless, saving both your productive hours and energy. They get the job done efficiently, and the final output is typically more refined and professional looking. With low-quality tools, you could end up spending more time on fixes and adjustments than on the actual job.
Curating a list of the advantages of higher-quality tools, we get:
They last longer – Quality tools exhibit exceptional durability, outlasting their cheaper counterparts by a substantial margin.
Enhanced efficiency – Quality tools offer top-notch performance, turning complex chores into smooth tasks.
Cost-effective in the long run – Despite their higher initial cost, quality tools prove to be an economical choice in the long run, with fewer trips to the tool shop and less wasted time on inefficient work.
Remembering the famous quote by Benjamin Franklin, "The bitterness of poor quality remains long after the sweetness of low price is forgotten." It's crucial to keep in mind that while high-quality tools might come with a heftier price tag, they promise a seamless DIY journey filled with efficiency and satisfaction.
So the next time you're standing in the tool aisle, conflicted between a high-quality tool and its cheaper version, pause and reevaluate. Remember the long term benefits of higher-quality tools, and without hesitation, make the better investment. After all, a tool is not merely a device; it's a contributor to your project's success.
Comparing Deals and Prices
In our fast-paced, consumer-driven world, savvy shoppers know that comparing deals and prices is the tried-and-true method of finding the best value for their hard-earned money. It's about more than just pinching pennies – it's about ensuring you get the most bang for your buck on every purchase, whether it's a luxury item or a practical tool.
When it comes to tools, it's often assumed that the highest price tag guarantees the best product. However, that's not necessarily the case. Price should never be the only determining factor in your choice of tools. Rather, consider factors like durability, performance, and need fulfilment in concert with the cost. This way, you're more likely to make a well-rounded decision, rather than being swayed by a low cost or tempted by a high-end brand name.
With a strategic approach in place, price comparisons can save big. Here are some factors to consider when comparing tool deals:
Quality: Lower prices can sometimes come with diminished quality. To avoid subpar tools, always check customer reviews and ratings before settling for a cheaper option.
Usage: Think about how often you'll be using the tool. For seldom used tools, a less expensive option might suffice. However, for tools used regularly, investing in something more durable might prove financially wise in the long run.
Brand Reputation: Established brands often offer a balance between quality and cost. By offering reliable tools at reasonable prices, they gain a reputation for providing products that deliver good value.
Promotions and Discounts: Retailers often have promotions or discounts on tools. Capitalizing on these opportunities might allow you to get a high-quality tool at a fraction of the original cost.
But remember, while lower prices can feel like a win, ensure you're not compromising on the quality. A high-quality tool might cost you more upfront, but it can save you money – and headaches – in the long run. So next time you're shopping for tools, make sure to compare deals and prices. It's not just about spotting the lowest price – it's about snagging the best value for your money.
Organizing and Storage Solutions
Keeping things neat, tidy, and well-organized invariably allows you to breathe easy in your own space, be it your office, garage, or home. It is vital to have a place for everything and everything in its place. This is where investing in quality storage containers and organizers becomes critical – not only do these storage solutions keep your tools sorted, but they also make them easy to find. Have you ever reached over to your toolshed in the middle of a chore, only to realize you cannot locate the right tool at the right time? That frustration can easily be avoided with the right organizing and storage solutions.
Imagine you're engrossed in a bespoke DIY project that demands a specific tools set. But, hunting for each tool in your disarrayed toolbox becomes a task in itself, thus cumbersomely delaying your progress. However, adopt the strategy of committing to quality storage solutions, and expressly, the difference becomes apparent. The clutter disappears, everything sits right where you would naturally reach out, and dissipation of time and energy is minimized.
The perks of quality storage solutions extend beyond just convenience to offer:
Optimum space utilization: Efficiently design storage containers and organizers take up minimal space while offering maximum utility. Hence, 'compact yet Capacious' becomes your new mantra.
Enhanced life of tools: By preventing haphazard storage, these solutions prevent unwanted scratching, rusting and damage to tools.
Elevated aesthetic appeal: Great storage solutions can complement the decor of your space, enhancing its visual appeal.
"Order is heaven's first law," said the poet Alexander Pope. By incorporating high-quality organizing and storage solutions into your space, you not only emulate this principle but also perceptibly navigate your chores with less stress and more efficiency.
Affordable Options for Office Supplies
Managing an office implies several responsibilities; maintaining a steady supply of office tools and equipment is one of them. It's not all about having pens and papers; it includes everything from computers and printers to comfortable office chairs. The good news is, you do not need to break the bank to meet these needs. There are affordable options available in the market that we will discuss below.
Amazon Business
When it comes to cost-effective office supply solutions, Amazon Business leads the pack. It is a go-to marketplace that offers a diverse range of products tailored to meet various office requirements. For a company striving to harness economies of scale, this platform could be a game-changer.
Here are some reasons to consider Amazon Business for your office supplies:
Bulk Purchase Benefits: This allows you to make substantial savings on your purchases.
Price Comparisons: It enables you to view prices from various sellers at a glance, ensuring you get the best deal.
Business-exclusive Pricing: Stick to your budget with discounts and special deals exclusive to businesses.
Walmart
For decades, Walmart has been synonymous with affordability. So, it's no surprise that they also offer reasonably priced office supplies. With a wide variety of products, Walmart can meet most, if not all, of your office supply needs in one go.
Why opt for Walmart for office supplies?
Flexible Shopping Options: Whether you prefer online shopping or in-store shopping, Walmart got you covered.
Price Match Guarantee: It ensures that you won't find a better deal elsewhere.
Convenience: With stores spread around the country, you can solve your office needs without much hustle.
Uline
Uline might not be as mainstream as Amazon Business or Walmart, but they have carved a niche for themselves in the business world with their wide variety of industrial and shipping materials. The platform is known for its quality supplies, fast delivery, and affordability that make it worthy of consideration.
Benefits of choosing Uline:
Extensive Product Range: They stock over 37,500 products, ensuring that you will find whatever you need for your office.
Same Day Shipping: This is ideal if you need your supplies urgently.
Customer Support: Uline has a responsive customer service team that can help you find what you need.
In essence, it all boils down to your needs and budget when shopping for office supplies. But by considering these various options - Amazon Business, Walmart, and Uline, you are bound to find what you need at a price that fits your budget.
Custom-Engineered Equipment for Special Applications
Making the switch to custom-engineered equipment for special applications can be intimidating, given the potential costs involved. But, it's important to understand that with careful planning and strategic sourcing, affordable options are available.
Custom-engineered tools and equipment are specifically designed to suit unique project requirements. Generally speaking, these tailored tools offer an elevated level of efficiency, reliability, and functionality—qualities sometimes not found in off-the-shelf varieties.
But how does one source affordable custom-engineered equipment? It starts with comprehensive research and establishing a network with reliable manufacturers.
In the realm of customization, work closely with your chosen manufacturer. Highlight your project's specific requirements and negotiate for the best price possible. Building a strong relationship with a manufacturer often presents an opportunity to form a long-term partnership, leading to mutually beneficial deals and discounts.
Remember to cast your net wide. Approach multiple manufacturers to compare equipment features, customer service, delivery timelines, and, of course, costs. By doing so, you glean a wider perspective on available options and could potentially score more affordable deals.
Don't disregard the potential of pre-owned custom tools. In some instances, companies who've finished their projects may have no further need for their specialized equipment. Platforms such as eBay or Craigslist might have listings for used custom-engineered equipment. Just ensure you verify the item's condition and functionality before making a purchase.
Lastly, consider leasing. If your project is temporary or if purchasing custom tools outright isn't feasible, look into leasing options. This can be an economical approach to acquiring custom-engineered equipment, without the high upfront costs.
In the hunt for affordable custom-engineered equipment, patience and due diligence are your best allies. Although it may initially seem like an uphill task, the investment in tools that perfectly meet your needs is worth the effort.
Always remember, when it comes to specialized projects, having the right tools can make all the difference. And achieving this doesn't always require breaking the bank!
Frequently Asked Questions
Where can I find bargain tools and equipment?You can find bargain tools and equipment at various places such as local thrift stores, garage sales, online marketplaces like Craigslist or Facebook Marketplace, and online auction websites like eBay.
What should I consider when buying bargain tools and equipment?When buying bargain tools and equipment, consider factors like the condition of the item, the brand reputation, the functionality, and whether replacement parts and accessories are readily available. It's also important to check for any warranties or guarantees.
Are there any risks associated with buying bargain tools and equipment?Yes, there are some risks associated with buying bargain tools and equipment. These can include potential defects, limited or no warranties, lack of product support, and potentially buying stolen items. It's important to do proper research and inspect the items before making a purchase.
How can I ensure the quality of bargain tools and equipment?To ensure the quality of bargain tools and equipment, thoroughly inspect the item for any visible damages or signs of wear. Test the functionality if possible. Additionally, researching the brand reputation and reading customer reviews can give you insights into the quality of the product.
What are some alternative options for finding affordable tools and equipment?Apart from buying bargain tools, you can also consider renting tools from local tool rental stores or borrowing from friends or family. Another alternative is to join online communities or forums where people sell or exchange tools and equipment at affordable prices.