Budget DIY: Finding Cheap Tools and Equipment for Every Project
Discover budget-friendly options and smart ways to find affordable tools and equipment for your DIY projects. Save money without compromising quality.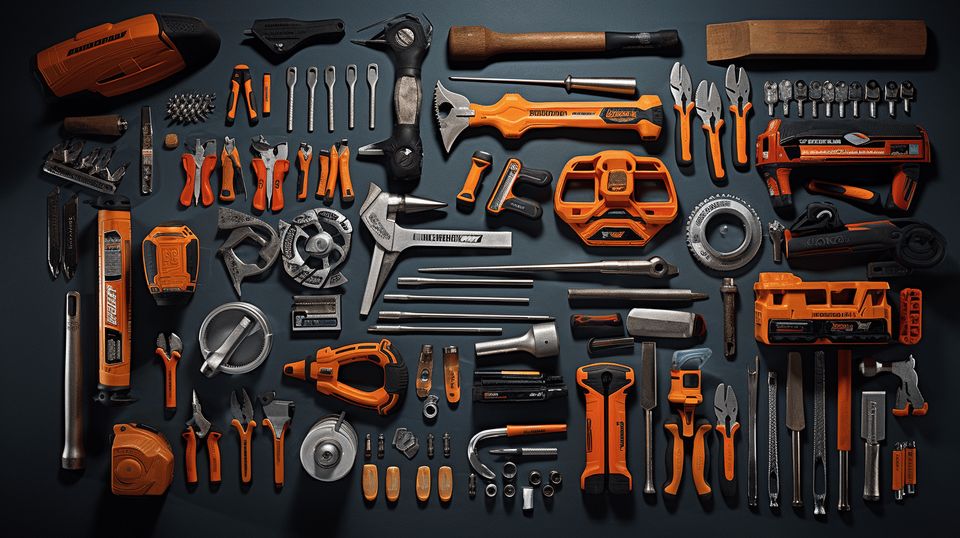 There's a certain satisfaction that comes from rolling up your sleeves and tackling a home improvement project yourself. It's mentally stimulating, allows you to unleash your creativity, and best of all – it can save you a bundle of money. But what if you're just embarking on the DIY path and find yourself lacking the necessary tools and equipment for the job? Or, what if you're an experienced tinkerer, yet feel your toolset could do with an upgrade without breaking the bank? This is where our comprehensive guide steps in. From finding the best budgeting apps to manage project expenses, to scouting for discounted tools and crucial power tools for beginners, we've got you covered. Let's take the first step into your exciting DIY journey, filled with budget-friendly solutions you're bound to love.
Budgeting Tools for Managing Finances
When it comes to managing your finances effectively, there's no one-size-fits-all approach that suits everyone. It truly comes down to your income, expenses, and, most importantly, your personal preferences and habits. Luckily, with technological advancements, a few handy tools can greatly simplify the process and help you track your income and expenses more accurately. Below, we delve into an array of budgeting tools, each with unique features designed to keep your finances in check.
Goodbudget and Pen and Paper
The simplest approach to budgeting may sometimes be the best. Goodbudget is a budgeting tool that embraces the envelope system, making it easy to allocate and track your funds across different categories. However, don't disregard the good old Pen and Paper method. Jotting down your expenses can help you feel more connected to your spending decisions, making it an excellent tool for enhancing financial discipline.
QuickBooks, Xero, and Zoho Books
If you're running a business and struggling to manage your finances, consider business budgeting software such as QuickBooks, Xero, and Zoho Books. Each offers a range of services, from invoice generation to comprehensive financial reports. They aim to not only streamline your budgeting tasks but also provide insight into the financial health of your organization.
Planguru
Planguru is another budgeting software that stands out for its versatility. Feed in your business's data, and it forecasts your revenue while tracking your expenses. The flexibility of this software enables it to cater to a wide range of businesses, irrespective of their size or industry.
Mint and PocketGuard
For everyday financial management, budgeting apps like Mint and PocketGuard come in handy. These tools automatically track and categorize your income and expenses, developing a clear picture of your financial situation. By identifying where your money is going, these apps can help you avoid overspending and meet your financial goals.
YNAB
You Need A Budget (YNAB), albeit costing $5 per month, offers a more detailed approach to budgeting. This software encourages users to plan for the future, ranging from routine bills to unexpected expenses. Its proactive approach to budgeting makes it well worth the investment.
In essence, managing your finances need not be a daunting task. With the right budgeting tool, you can spend wisely, save effectively, and steadily work towards financial freedom. Regardless of whether you choose a simple Pen and Paper method or opt for sophisticated software like YNAB, the key lies in consistently tracking your income and expenses while staying committed to your financial goals.
Finding Discounted Tools and Equipment
Being an enthusiast of Do-It-Yourself projects calls for owning a reliable and effective set of tools, accessories, and equipment. However, these necessary items don't always come at a budget-friendly cost. So, what can a DIY enthusiast do to find discounted tools without compromising quality or performance? The good news is, several big-name retailers and online platforms offer great deals and noteworthy discounts. Here's where to look:
Acme Tools is one of those retailers well-known for their discounts and special offers for power tools especially tailored for DIY followers. Constantly revamping their offers, you can often find top-quality brands at reduced prices.
Lowe's and Home Depot are two other top-tier retailers offering discounts on a wide variety of power tools. Plus, keen bargain hunters shouldn't overlook their clearance sales. These events can be a goldmine for finding tools and accessories at even lower prices.
Looking for the best time to snag that expensive power tool you've had your eye on? Prime Day and Black Friday are excellent opportunities. These two events often feature markdowns on top brand names such as DeWalt and Milwaukee.
For those who prefer to take their search online, DIY Tool Supply and CouponArea are fantastic platforms. They frequently feature coupons and promo codes applicable to a wide array of tool purchases.
Bargain-focused retailers like Harbor Freight and Northern Tool have built their reputations around offering affordable pricing consistently. Vibrant ranges of tools bearing impressively discounted prices can frequently be found in these stores.
Lastly, The Home Depot's rental service is a fantastic option for the occasional DIY project that calls for a specific tool you don't currently own. Why buy when you can rent?
Remember, finding discounted tools and equipment doesn't mean skimping on quality. It's all about knowing where to look, seizing the right opportunities, and harnessing the power of coupons and discounts. Not only can you save money, but you can also build an impressive arsenal of tools and equipment that any DIY enthusiast would be proud of.
Must-Have Power Tools for DIY Beginners
Power Drill
If there were a popularity contest for power tools, the Power Drill would undoubtedly win the crown. A versatile and vital tool, a beginner can use a power drill for everything from assembling furniture to hanging pictures on the wall. This tool is characterized by its ability to drill holes and drive screws with stunning efficiency.
The Straightforward Choice: As a DIY enthusiast, your hands are sure to appreciate the power and convenience of a cordless power drill. It is portable, easy to handle, and capable of performing most DIY tasks effortlessly.
Handy Expert Tip: Aim for a power drill with an adjustable clutch. This brilliant feature allows you to control the torque, preventing the drill from driving a screw too deeply or damaging your material.
Jigsaw
The Jigsaw is a paramount power tool for those who love intricate designs and detailed work. It has a reciprocating blade which makes it perfect for cutting curves on soft materials like wood, thin metal, or plastic.
Why a Jigsaw?: Its ability to make plunge cuts without a pilot hole and cut intricate shapes with precision makes it a preferable power tool. It's an absolute game-changer for those seeking to add a creative touch to their DIY projects.
Handy Expert Tip: Always use appropriate safety wear while handling a Jigsaw: safety glasses to protect your eyes from flying sawdust and ear protection to minimize noise impact.
Circular Saw
The Circular Saw is undoubtedly the preferred power tool for heavy-duty cutting. It's equipped with a round, flat blade which can cut fast and deep into materials, including hardwood, composites, or metal.
Why a Circular Saw?: Its versatility and strength set it apart. It can make both rip cuts (along the grain) and crosscuts (across the grain) with exceptional smoothness.
Handy Expert Tip: For beginners, a corded circular saw is generally easier to use, and investing in a quality blade can significantly improve the tool's performance.
Miter Saw
Last but not least, a Miter Saw is a specialized tool to make precise angled cuts for molding, framing, and trimming. It features a rotating blade which can swivel left or right for making miters cuts, and the blade can be tilted for making bevel cuts.
Why a Miter Saw?: For anyone interested in woodworking, this tool can be a game-changer. It allows the user to make quick, accurate crosscuts in a workpiece at a predetermined angle.
Handy Expert Tip: Always secure your material firmly against the fence when using a miter saw for a steady cut.
By equipping themselves with a Power Drill, Jigsaw, Circular Saw, and Miter Saw, DIY beginners can confidently undertake a wide range of projects. These tools offer versatility, strength, and precision, equipping every DIY fanatic with the means to shape, create, and transform. So remember, it's not just about having tools in your box, it's about having the right tools. Happy building!
Tool Deals and Discounts
Everyone loves a good deal, especially when it comes to capital-intensive purchases like power tools. Even more so when you're on a budget. In the world of DIY, it's easy to find yourself needing more tools than originally planned for that grand project sitting in your garage. Thankfully, there are numerous avenues for securing those much-needed power tools at a discounted price without compromising on quality.
One popular destination amongst DIY enthusiasts is the Harbor Freight Monthly Tool Catalog. This catalogue is a gold mine of affordable tools, hardware, and accessories. Each month, they release new deals on a broad selection of merchandise, meaning every 30 days you stand a chance of finding the very tool you need at a lower price. These tools are far from subpar- all products by Harbor Freight meet industry standards and come with the guarantee of lifelong service.
Moreover:
You'll stumble upon more than just power tools. Harbor Freight's catalogue also features hand tools, automotive tools, and various tool storage solutions all at discounted rates. It's a one-stop shop for your entire DIY project!
The discounts offered transcend the brick-and-mortar stores. You can gather your tool deals conveniently online, and have them shipped to your doorsteps. No more sifting through piles of tools at the store!
Above it all, Harbor Freight believes in securing your investment. They offer an extensive warranty on their tools, allowing for replacement or refund in case of defect.
"You must not equate low price with low quality. At Harbor Freight, we ensure that all our tools, no matter their cost, meet and exceed industry standards." - CEO, Harbor Freight.
The savvy DIYer knows that the essence of tool shopping isn't just finding the cheapest option, but securing value for money. Keep an eye on the Harbor Freight Monthly Tool Catalog and don't let that coveted tool slip from your grasp when it comes at a discounted price. It's the perfect way to augment your toolbox while sticking to your budget. Not only will you get the tool you so desperately need, but you'll also get the satisfaction of nabbing a great deal.
Frequently Asked Questions
Where can I find cheap tools and equipment for my DIY projects?You can find cheap tools and equipment for your DIY projects at various places such as thrift stores, garage sales, online marketplaces like eBay and Craigslist, discount stores, and even by borrowing from friends or family.
Are cheap tools and equipment of good quality?Not all cheap tools and equipment are of good quality, but there are affordable options available that offer decent quality. It's important to do your research, read reviews, and choose reputable brands or sellers to ensure you get the best value for your money.
Can I find cheap tools and equipment for specialized projects?Yes, you can find affordable tools and equipment for specialized projects by looking for specific deals, discounts, or promotions offered by manufacturers or retailers. Additionally, consider renting specialized tools if you only need them for a short period of time.
What should I consider when buying cheap tools and equipment?When buying cheap tools and equipment, consider factors such as durability, functionality, warranties, return policies, and customer reviews. It's important to balance cost with quality to ensure you get tools that will last and perform well.
Are there any safety concerns when using cheap tools and equipment?While cheap tools and equipment can be perfectly safe to use, it's important to inspect them for any defects or damage before using them. Follow all safety guidelines and instructions provided by the manufacturer to minimize any potential risks.