Maximize Your Savings: How to Find Cheap Tools and Equipment for DIY
Discover effective ways to find affordable tools and equipment for your DIY projects. Learn how to maximize your savings without compromising quality.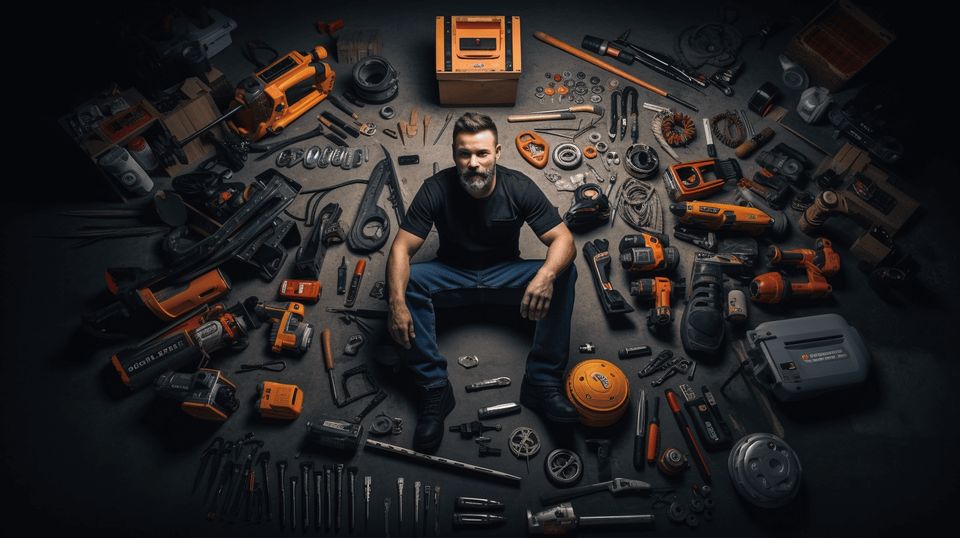 In the realm of do-it-yourself (DIY) projects, the right tools can make a huge difference in the ease and success of your efforts. However, acquiring a variety of high-quality tools and equipment can quickly become an expensive endeavor. The good news is, finding cheap tools doesn't have to be a daunting task. With savvy shopping skills, a keen eye for deals, and knowledge about where to look, you can assemble a fully equipped DIY toolkit without breaking the bank.
From well-known hardware stores to online retailers, countless sources are teeming with affordable tools and equipment. Investigate these places methodically and compare prices rigorously to ensure you snag the best deals. Also, understanding the brands, like Makita, Milwaukee, DeWalt, Ryobi, and Ridgid, and their offerings helps in discerning value for money. Furthermore, don't overlook uncommon sources like estate sales, yard sales, or even Craigslist, as they can be treasure troves of affordably priced tools.
In this guide, we will navigate the world of affordable tool hunting, providing tips and suggestions on how to maximize your savings while assembling your DIY toolkit. Whether you're a seasoned DIY enthusiast or a beginner, these insights will come in handy in your future tool shopping expeditions.
Embrace the journey to discover affordable, quality tools and equipment - it's not just about saving money, but also about the thrill of finding the best deals and maximizing your DIY capabilities. Let's embark on this quest together!
Finding Deals at Popular Stores
There's always a special kind of joy in getting high-quality products at discounted prices. The same thrill often arises when we find unbeatable deals at our favorite stores. Our article today will delve into tips for finding incredible deals at three popular stores, namely Home Depot, Lowes, and Acme Tools. Let's cut to the chase and discover how we can bag these bargain deals!
Home Depot
This retail giant is a haven for do-it-yourself individuals looking to find a wide range of products, with power tools being an important category. At Home Depot, you can get both the newest power tool models and last season's tools at discounted prices.
Here are some strategies to nab a great deal at Home Depot:
Keep an eye out for seasonal sales: Home Depot tends to slash prices at the end of a season, resulting in mega-deals for power tools.
Register for their newsletter: This is an easy way to stay updated on the latest deals and discounts.
Check out the "special buy of the day": It's an online only deal, available for only 24 hours.
Lowes
Stepping up next is Lowes, another retail competence proving its mettle in the world of power tools. Lowes strikes the perfect balance between quality and affordability, meaning there's always a chance of scoring a spectacular deal.
The ways to secure a deal at Lowes include:
Be a part of the Lowe's Advantage Card community: This allows you to enjoy 5% off on every purchase.
Dive into clearance sales: Lowes often hosts clearance sales where you might find your desired power tool at a drastically reduced price.
Acme Tools
Last but not least, there's Acme Tools. Power tool aficionados find themselves regularly perusing this store's offerings for exclusive discounts and clearance offers on power tools, tool accessories, and even outdoor power equipment.
Acme Tools, though less renowned than Home Depot and Lowes, is a goldmine for deals:
Take advantage of Acme Tools' clearance section: Here, you'll find mouth-watering discounts on a range of power tools and accessories.
Pay attention to brand-specific sales: More often than not, Acme Tools will offer significant discounts on particular power tool brands.
In sum, finding the perfect deal is not always about luck; it's about diligence and patience. So, next time you're shopping at Home Depot, Lowes or Acme Tools, don't forget to employ these simple strategies. They could lead to significant savings for you while ensuring you walk away with top-notch products. Be the smart shopper who knows where and when to find the best deals!
Deals and Discounts on Brand Tools
To ensure your toolkit is always up to date, we've put together information on some of the best deals offered by the most renowned brand names in the industry. With these bargains, you can get not only world-class quality but also excellent value for your money.
Makita
For professionals and DIY enthusiasts alike, Makita has always been a preferred choice. Renowned for both their quality and durability, Makita tools are fundamental for anyone serious about their work. They're currently offering some attractive deals, including a package where you can get up to two free select power tools with a select tool kit purchase.
Milwaukee
Milwaukee is another household name in the tools industry. They offer a wide range of tools and accessories that combine robustness with performance. Similar to Makita, Milwaukee also has a deal available where you're eligible to receive up to two free select power tools with the purchase of a selected tool kit.
DeWalt
One can never go wrong with DeWalt tools. They are famous for their reliability and high performance. Powering up your toolbox with DeWalt's fine instruments is always a great idea. Remember to take advantage of the current deal: Purchase a select tool kit and qualify for two free select power tools.
Ryobi
Budget-friendly and feature-packed, Ryobi tools have earned an excellent reputation among tool users. They are known for their user-friendly design, making them a favorite among beginners. Like the other brands mentioned, Ryobi also offers the same fantastic deal. Buy a select tool kit and receive up to two select power tools for free.
Ridgid
Ridgid is known for crafting tools that stand the test of time. Delivering tools with unparalleled performance and endurance, Ridgid has made its way into the favorite brands of many professionals. Their current offer matches the others: Purchase a chosen tool kit and get up to two select power tools at no cost.
These deals are too good to pass up. It's not every day you get the opportunity to upgrade your toolkit while saving money. So whether you're a professional seeking high-performance tools or a newbie looking for good quality tools that won't break the bank, these deals can help you get the most out of your purchase.
Online Retailers and Deals
Welcome to the world of online tool retailers, the one-stop solution for all the tools and equipment you might need for your projects. The beauty of online retail is you typically have access to more options than physical stores can offer, and often, you can score some impressive deals. Speaking of deals, we've lined up an insightful exploration of some of the best places to shop for tools online: Amazon Prime Day, Best Buy, and Dynamite Tool.
Amazon Prime Day
If there's one event that sends ripples in the world of online shopping, it's Amazon Prime Day. This is the time when Amazon opens the floodgates of deals and everybody is invited. From an impressive compilation of power tools to a plethora of handy gadgets, Amazon Prime Day is a treasure trove of top-tier tools. Are you fond of industry giants such as Black & Decker, Sun Joe, and Milwaukee? You'll be delighted to know that these popular brands usually feature in the Prime Day deals. If you've been on the fence about buying that specific tool, keep your eyes peeled on Amazon during Prime Day—you just might snag it at an unbelievable price.
Best Buy
Don't let the name fool you—Best Buy isn't just about computers, appliances, and electronics. In fact, Best Buy's online and in-store offerings extend to an excellent selection of power tools. The beauty of shopping at Best Buy lies in their wide range of options paired with attractive price tags—an alluring combination for any tool aficionado. Whether you're in search of quality hand tools or heavy-duty power tools, you can often find them at discounted prices on Best Buy, another reason why it's truly one of the "best" places to buy tools.
Dynamite Tool
When it comes to specialized tool retailers, Dynamite Tool definitely makes some noise. This popular online retailer carries everything from cordless tools to power and hand tools, meaning it has you covered whether you're an amateur DIY enthusiast or a seasoned contractor. The list of brands Dynamite carries is equally remarkable, with big names like Milwaukee, Makita, and Dewalt tagging along. For those who are particular about their tools, shopping at Dynamite Tool presents the opportunity to choose exactly what you want from an array of top-tier brands.
Isn't the online tool retail space amazing? It offers conveniences and deals that are hard to match in brick and mortar stores. Whether you're after the comprehensive deals of Amazon Prime Day, the core retail strength of Best Buy, or the specialized offerings from Dynamite Tool, it's clear that buying tools online isn't just about convenience—it's also about getting the best bang for your buck. Happy shopping!
Additional Ways to Find Affordable Tools
In the world of DIY and home improvement, nothing excites more than a good set of tools. But, with prices soaring, finding affordable tools can feel like a treasure hunt, a chase that ultimately leads to your local shop with a 'Sales' board on display. But did you know there are other ways to find useful, inexpensive tools - ways that don't involve waiting in line or rummaging through shelves? Let's delve into them.
Estate Sales and Yard Sales
Estate sales and yard sales are a treasure trove for inexpensive tools. These sales often come about when people move, downsize, or simply decide to purge their old things. A keen eye and a little patience could uncover a Craftsman toolset that someone else no longer needs.
Check local community pages for upcoming estate sales.
Be prepared to bargain to score an even better deal.
Bring cash. Many sales don't take card payments.
From wrenches and hammers to power drills and table saws, these sales are golden opportunities to bag a bargain.
Harbor Freight
Walking into Harbor Freight is like stepping into a wonderland for tool enthusiasts. Known for its unbelievably low prices on power tools, generators, jacks, and tool boxes, Harbor Freight has over 1400 locations making it a convenient and affordable choice.
Their offerings might not always be from top-tier brands, but for the casual DIYer or the budget-conscious professional, they provide good value for money. Plus, their extended warranty often ensures that if a tool breaks, it can be replaced at no extra cost.
Craigslist
While it may not seem like the obvious choice when hunting for tools, Craigslist can often yield surprising results. Whether you're looking for a specific Craftsman tool or a random piece of equipment, it's highly likely a search will bring up someone looking to sell.
However, it's important to remember:
Before making a payment, always check the condition of the tool.
Consider safety precautions when meeting sellers.
Negotiations may be a norm, so don't shy away from haggling.
So, the journey to find affordable tools does not have to end at your local tool shop. With a bit of creativity and patience, you can have your dream toolset at prices that won't drain your wallet. Whether it's a wrench from an estate sale or a power drill from Harbor Freight, every tool counts.
Budget-friendly Tools and Equipment
Keeping your tool shed well-stocked is essential for taking care of home repairs, executing DIY projects, and even tackling emergencies. However, amassing a substantial collection of tools doesn't have to break the bank. Whether you're a seasoned DIYer or a budding enthusiast just starting, there are a variety of budget-friendly tools and equipment that can offer excellent functionality without leaving a hole in your wallet.
Adjustable Wrenches
They say versatility is an invaluable trait and this couldn't be truer for adjustable wrenches. These must-have tools are an economical option that eliminates the need for multiple wrenches, saving you both money and space in your toolbox. An adjustable wrench can handle a wide variety of nuts and bolts, making it an ideal tool for various tasks.
Voltage Detector
If you're looking to add value and convenience to your toolbox, a voltage detector is a great option. As a savvy DIYer, safety should be your top priority. A voltage detector offers an affordable solution to detect electrical currents in appliances and wiring, keeping you safe and informed during your projects.
Hammer and Screwdrivers
Every toolbox needs a sturdy hammer and a set of screwdrivers. These basic tools are available at affordable prices and are indispensable for a range of DIY projects. From assembling furniture to hanging pictures, a reliable hammer and screwdriver set can come to your rescue in a multitude of tasks.
Stud Finder
Picture this, you're hanging a heavy mirror on your wall, and you want to ensure it's secure. Enter the stud finder, an affordable gadget that helps locate studs in your walls. This tool can be a great asset when you need to hang heavy items like shelves, mirrors, and artwork, giving you peace of mind and ease of installation.
Spray Paint Guns
If you enjoy adding a creative touch to your projects, a spray paint gun could be the tool for you. These practical and cost–effective tools are perfect for giving your old items a fresh coat of paint, offering a professional finish at a fraction of the price.
In summary, well-chosen, budget-friendly tools can make your DIY journey more enjoyable and less expensive. By prioritizing versatility, safety, and functionality, you can fill your toolbox with impressive, useful equipment without breaking the bank.
Tips for Finding Affordable Tools
Finding the right tools can often be a pricey affair. Especially for a DIY enthusiast or a new homeowner starting from scratch, acquiring a respectable toolkit can be quite an investment. But, it doesn't always have to be! There are ways to find affordable tools that won't break your bank. In this article, we'll explore some handy tips for finding affordable tools.
Garage Sales and Flea Markets
Believe it or not, the old adage of "one person's trash is another person's treasure" can be quite literal when it comes to hunting for affordable tools. Garage sales and flea markets often have hidden gems waiting to be discovered. Similarly, platforms like Craigslist and specialized social media groups can also be gold mines for good deals on used tools.
While the idea of purchasing used tools might sound dubious to some, many tools have long lifespans and carry their value well through years of use. So, don't shy away from these options. Approach them with an open and discerning eye, and you might just snag a steal of a deal.
Power Drill Options
One tool that often tops the list of essentials is the power drill. No toolbox is complete without one. But these devices can range from surprisingly affordable to exorbitantly expensive. A key factor here is to choose between corded and cordless options. Generally, corded drills cost less than their cordless counterparts. While the freedom of a cordless drill is certainly appealing, a corded one can offer just as much utility at a fraction of the cost.
Jigsaw and Other Tools
Another excessively handy yet often-overlooked tool is the jigsaw. Perfect for curve cuts, cut-outs, and a host of DIY projects, a jigsaw is a highly versatile addition to your toolbox. And the best part? It's usually quite affordable!
Among the tools discussed, the power drill and jigsaw are just the beginning. When it comes to filling your toolbox cost-effectively, the possibilities are virtually endless. From hand tools to heavy-duty power tools, there are affordable options out there – you just need to know where to look!
Remember, the value of a tool is not always defined by its price tag. Affordable tools, when selected thoughtfully, can provide lasting utility and impressive results. So give these tips a try, and embark on your quest for finding affordable tools with confidence and optimism. Happy tool hunting!
Investing in Quality Tools
When diving into the world of DIY projects or becoming a professional handyman, the first thing you'll need are the right tools for the job. Selecting the right tools can make or break a project, and investing wisely in high-quality tools should always be your main priority. But facing the myriad of options on the hardware store shelves can be quite overwhelming. You're faced with one crucial question: Should you invest in individual tools or a complete tool kit?
Individual Tools vs. Complete Tool Kits
It's typical for beginners to gravitate towards the allure of complete tool kits. They're convenient, comprehensive, and often budget-friendly. The downside? Most inexpensive kits sacrifice quality for quantity. The end result: tools that don't last, and performance that's often disappointing.
Experts suggest investing in higher-quality tools individually. Choosing individual tools allows you to ensure each piece in your collection is robust, reliable, and designed to last. It might cost more upfront, but consider it as a long-term investment: a well-made tool is more efficient, providing better results for your projects and lasting longer in your toolbox, thus saving you from further expenses on replacements.
Balancing Price and Quality
When it comes to power tools specifically, do not underestimate the value of buying from reputable brands. Renowned tool brands are known for their robust design, advanced technology, and customer service. Not to mention their comprehensive warranties which showcase their confidence in the durability of their products.
However, high quality doesn't always have to mean the highest price. Balancing price and quality is essential. There are plenty of mid-range brands out there that deliver performance and durability without breaking the bank. The key is to do your homework: read product reviews, get recommendations from professionals in the field and take the time to compare different brands and models.
In the world of tools, quality should never be a compromise. Aim for the best your budget can allow. It's not about having the most extensive collection, but about having the right, reliable set that will help you ace your projects, time and time again. Ultimately, investing in quality tools is investing in the successful completion of your DIY projects and in your growth as a craftsman.
Where to Buy Affordable Tools
Whether you're a seasoned handyman or enthralled in the whimsy of a new DIY project, having the right tools at your disposal is the very bedrock of success. But with the price tags on high-grade equipment often soaring sky-high, how can one ensure accessibility without breaking the bank? Here's a handy guide for procuring affordable tools without compromising on quality.
Surplus Tool Stores and eBay
While it might seem obvious, many overlook the sheer potential of surplus tool stores and online markets as the more economical way to gather their toolkit. Surplus tool stores typically offer tools at drastically reduced prices by selling items that are either overstocked or slightly damaged. In either case, these tools function perfectly and make an excellent budget-friendly addition to your workshop.
Then, there's the expansive world of online marketplaces like eBay. With a plethora of sellers and a vast array of tools – both new and used – you're almost guaranteed to find the tool you're seeking at a price that sits comfortably with your budget.
Trade-In Programs
If you're looking to upgrade your arsenal of tools and want to dissociate from the old ones, then trade-in programs are a promising avenue. Numerous hardware stores and companies offer trade-in deals on power tools, both in-store and online. By trading in your outdated tools for credits, you can upgrade to better quality tools and simultaneously offload your old equipment.
Renting Tools
Now let's mull over a different perspective: why buy expensive equipment when you could rent it? This seems particularly viable for one-time use or occasional projects. Renting tools instead of buying can save you a significant amount of capital, especially for those high-end, costly pieces. Moreover, it prevents your garage or shed from cluttering up with equipment that sits unused most of the year. Many home improvement stores and specialized rental businesses offer an impressive variety of tools for rent at reasonable prices.
Embarking on the journey of buying affordable tools doesn't need to be daunting. It's a matter of shopping smart, timing right and not being hesitant to consider alternatives like renting or buying used tools. In the end, a well-stocked toolkit needn't cost the earth - it only requires a smart buyer.
Conclusion
Unlocking the secrets to finding affordable tools and equipment doesn't mean you have to compromise on quality. In fact, by having an idea about where to look, when, and what to look for - you can strike a fantastic balance between quality and affordability. Whether you choose to go for estate sales, online retail giants like Amazon, or familiarize yourself with the regular sale seasons at popular brick-and-mortar stores, don't forget that some of the best deals are grabbed by those who keep a keen eye on shifting prices and discounts.
And whenever you feel ready to explore some quality deals online, remember that our store Ultra Handy on Amazon always aims to bring savings right at your fingertips. Because at the end of the day, it's not just about getting your hands on the next tool; it's about acquiring assets that will help you succeed, and build, and create. Take a peek at what we have on offer here.
Frequently Asked Questions
Where can I find cheap tools and equipment for DIY projects?You can find cheap tools and equipment for DIY projects at various places such as local thrift stores, garage sales, online marketplaces like eBay and Craigslist, discount stores, and even borrowing from friends or family.
What are some tips for finding affordable tools and equipment?To find affordable tools and equipment, consider these tips: 1. Look for sales, discounts, and clearance deals, 2. Buy used tools in good condition, 3. Compare prices from different sellers, 4. Rent tools instead of buying when applicable, and 5. Join DIY communities or forums to find recommendations and deals.
Are cheap tools and equipment of good quality?Not all cheap tools and equipment are of good quality, but there are affordable options available that can still serve your DIY needs. It's important to read reviews, inspect the condition, and research the brand or manufacturer's reputation before purchasing.
Can I get discounts on tools and equipment during specific times of the year?Yes, there are certain times of the year when you can find discounts on tools and equipment. Look out for sales on popular holidays like Black Friday, Cyber Monday, and during end-of-season clearance sales to score some great deals.
What are some essential tools every DIYer should have?Every DIYer should have the following essential tools: 1. Screwdriver set, 2. Hammer, 3. Tape measure, 4. Adjustable wrench, 5. Pliers, 6. Level, 7. Utility knife, 8. Power drill, and 9. Safety goggles. These tools can cover a wide range of DIY projects and are a good starting point for any DIY enthusiast.