Budget DIY: Finding Cheap Tools and Equipment for Home Projects
Discover budget-friendly options for tools and equipment to complete your DIY home projects without breaking the bank. Get started on a budget today.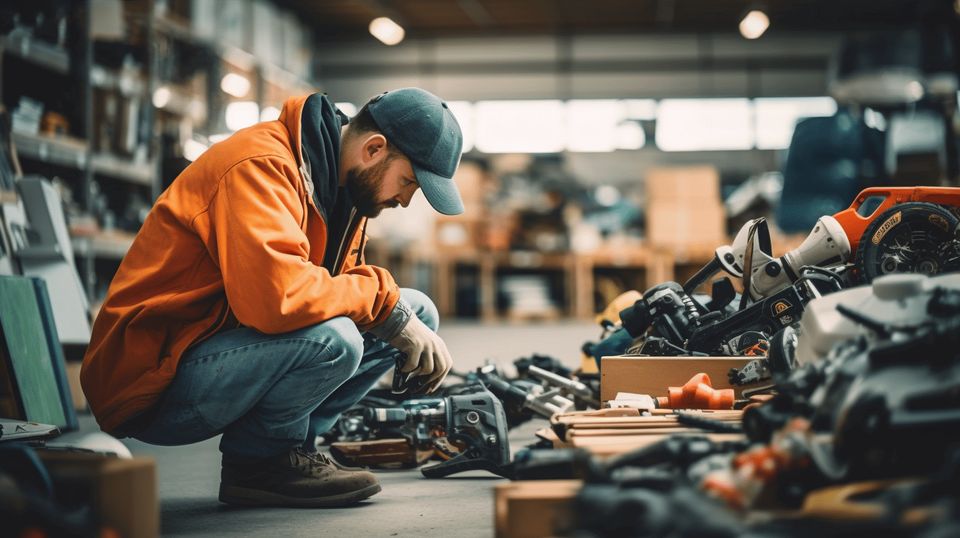 Embarking on a fantastic DIY home project can quickly lose its thrill when you find yourself weighed down by the cost of tools and equipment. Whether you're a first-time homeowner fixing up your space, a seasoned DIY enthusiast striving for that personalized touch, or a thrifty individual just trying to save a few bucks while improving the comfort and value of your home, there's always a way to make ends meet and stay within budget.
This helpful guide aims to introduce you to a world of cheap and cost-effective tools and equipment, outlining various avenues, both online and in-store, through which you can acquire them. From shopping at home improvement stores to exploring online marketplaces and rental options, we'll be diving into practical tips and strategies so you can confidently gear up for your next DIY project without breaking the bank.
Additionally, we'll highlight some of the most essential and advanced tools for homeowners and DIYers alike, noting their functionalities and why they might make a great addition to your toolbox. Ultimately, our goal is to empower you with the knowledge and resourcefulness necessary to tackle DIY home projects with confidence.
Finding Cheap Tools and Equipment
When it comes to home improvement and workshop efforts, possessing an extensive toolbox is critical. Nevertheless, acquiring these tools and equipment can be a costly feat. And that's precisely where we come in! We've undertaken the mission to surface the best ways to source cheap tools and equipment whilst ensuring a healthy balance of quality. So, whether you're a DIY enthusiast or a professional artisan, read on for insights on where to find the most affordable tools and hardware.
Special Values and Promotions at Home Improvement Stores
Home Depot, Lowes, and Acme Tools swiftly come to mind when one thinks of home improvement stores. Aware of the steep prices that tools can command, these stores have been enriching their offerings with special values, exclusives, and promotions. As a customer, you can rapidly expand your toolbox by homing in on the clearance sections. Here, you often find high-quality power tools being offered at significantly reduced prices, making them a great bargain.
Discounted Prices on eBay
As an online marketplace, eBay has made a name for itself by providing an unending supply of goods sold by different vendors worldwide. You can unearth discounted prices on power tools and workshop equipment if you know your way around the platform. It's similar to sifting through a digital flea market, and the excitement of finding a great deal matches no other.
Low-Cost Options at Harbor Freight
Known for its low prices, Harbor Freight is yet another avenue to find affordable tools and equipment. The store provides a hearty assortment of power tools, generators, jacks, and tool boxes, among other essentials. Their attractive pricing policy is a huge lure for cost-conscious contractors and DIY novices alike.
Wide Range of Tools on Amazon
With its global reach and countless vendors, Amazon bids an astounding range of tools and equipment that cater to all. From beginner-friendly sets to professional-grade power tools, the platform is a one-stop-shop for all your tool needs. It's crucial, however, to validate vendor credibility when purchasing from Amazon to guarantee the quality of your acquisitions.
Subscription Options for Tools and Equipment
If buying tools isn't appealing, subscription options can provide a viable alternative. For a fixed monthly fee, these services offer the convenience of having access to a broad tool catalog. They particularly suit temporary project needs or instances where you might need an uncommon tool infrequently.
Discovering and sourcing cheap tools and equipment can seem daunting initially, but as our investigation revealed, there are ample avenues available. From scouring through special values at home improvement stores and discounted offerings on eBay to considering subscriptions, you can find economical and practical solutions for your tool needs. This exploration empowers you to accessorize your toolbox optimally, ensuring each penny spent is indeed well-invested.
Choosing the Right Outdoor Power Equipment
When it comes to yard maintenance, having the right tools makes all the difference. But with the market offering a dizzying array of outdoor power equipment options, it can be a daunting task to select the right one. From lawn mowers and leaf blowers to chainsaws and hedge trimmers, the choice between gas and electric can significantly impact your yard performance and maintenance routine.
Gas vs. Electric Equipment
Both gas and electric outdoor power equipment have their unique set of advantages, making it essential for you to choose the one that best suits your specific needs.
Gas Power Equipment
The lovers of traditional yard care might find gas-powered tools an excellent option. These machines often provide longer run times, more power, and the flexibility to use anywhere, making them ideal for larger, more intensive jobs. Nevertheless, keep in mind that gas models require regular maintenance and can be louder, with higher greenhouse gas emissions.
Electric Power Equipment
If a quieter, cleaner and lightweight option is what you seek, then electric-powered tools could be the right fit. These come in two variants: corded and cordless. While the corded tools ensure unlimited runtime, you are confined to a certain distance from the power outlet. On the other hand, cordless tools provide greater mobility but are reliant on battery life. Plus, electric models are usually easier to start and need less upkeep compared to their gas counterparts.
"Gas and electric outdoor power equipment each have their own benefits, so it's important to choose the option that works best for your yard."
In deciding, consider the size of your yard, the kind of tasks you'll be performing, and your comfort with routine maintenance. No matter what you choose, remember that the right equipment can help make your yard work faster, easier, and more enjoyable.
Top Brands for Power Tools
Power tools have become a mainstay for both enthusiastic DIYers and seasoned professionals. They tackle challenging tasks much easier and quicker, resulting in a more efficient and productive workflow. To get the best bang for your buck, it's crucial to know the power tool industry's top brands. This way, you ensure that your investment enables you to deliver on the most demanding jobs. The standout favorites include Makita, Milwaukee, and DEWALT.
Makita
Stepping into the power tools world, it'd be near impossible to overlook Makita. It's a name synonymous with reliable, high-performance tools that last. When hearing about Makita, the first thing that may come to mind is 'dependability'. For many people, this means tools that work consistently and deliver results regardless of the job's scope. The brand's organisational philosophy of being 'environmentally responsible and serving communities' adds a cherry on top.
Milwaukee
Another heavy hitter in this space is Milwaukee. Their tools are known for their remarkable durability, performance, and innovation. The brand prides itself on leading the industry in both durability and performance. With Milwaukee items, cross-compatibility of their cordless system ranges from power tools to outdoor power equipment. This attribute makes Milwaukee one of the most loved and versatile line-ups for power tools in the market.
DEWALT
DEWALT is not a mention you can miss in the power tool industries. It's a brand reputed for designing and optimizing professional workhorse solutions; the tools trusted on the world's toughest jobsites. Its well-crafted tools withstand harsh jobsite conditions, emphasizing durability and efficiency winning the heart of many professionals. The impressive lineup of power tools they offer makes them an enticing choice for both professional contractors and occasional DIYers alike.
These three top brands, Makita, Milwaukee, and DEWALT, are not just names; they stand as definitions of quality in the power tools industry. Their tools catalyze precision, efficiency, and safety in working environments. Plus, with their constant push for innovation and market-specified solutions, you can't help but anticipate what revolutionary tool they'll introduce next. From the general contractor to the specialized trade pro and the energetic DIYer, there's something for everyone.
Recommended Power Tools for DIY Beginners
Embracing the DIY world can be incredibly rewarding, especially when you've got the right tools in your hands. Effective power tools offer you the ability to handle and execute projects in a prompt and professional manner. But what power tools should a beginner invest in? Contrary to popular belief, you don't need an extensive, professional-grade tool collection to get started. There are several fundamental tools that will serve as a solid foundation for your DIY journey. Let's walk you through the essential power tools that every DIY beginner should consider owning: a power drill, jigsaw, circular saw, and miter saw.
Power Drill
Arguably the most commonly used power tool in both professional and amateur settings, a power drill is certainly a tool worth investing in. Power drills are highly versatile, providing the ability to create holes, insert screws, and even mix paint or concrete depending on the attachment. Think of this tool as your right-hand man – there when you need it and ready for various tasks.
Jigsaw
Get primed for intricate cutting with a jigsaw. This popular tool is adept at making curves and shapes in various materials, from softwoods to plastics. The beauty of a jigsaw lies in its ability to slice through materials with precision and ease, making it an invaluable tool for any budding DIY enthusiast.
Circular Saw
When it comes to straight cuts, a circular saw is king. This powerful tool can make quick work of cutting through lumber, making it a must-have for any DIY woodworking projects. In addition, circular saws are often more mobile than table saws and just as efficient, giving you the ability to work with ease no matter the workspace size.
Miter Saw
For those planning on tackling molding and framing projects, a miter saw is going to be your best friend. This handy power tool excels at making accurate angled cuts. With a miter saw, you can expect ease and precision, whether you're cutting architectural trim or creating picture frames.
By investing in these basic power tools, you're setting yourself up for a successful DIY journey. Remember, sometimes it's not about having the most tools, but about having the right tools. And with a power drill, jigsaw, circular saw, and miter saw in your toolkit, you're on the right path to DIY success.
Options for Affordable Power Tools
Stepping into the world of power tools is like opening a gate to a vast field of opportunities and possibilities. Whether you're an experienced craftsperson or just starting your D.I.Y journey, the need for affordable yet highly efficient power tools is universal. This section delves into three reputable brands - Craftsman, Dynamite Tool, and WORX, that offer a range of professional bi-line power tools without breaking the bank.
Craftsman
Steeped in a heritage spanning over nine decades, Craftsman has managed to carve its unique position in the industry with a blend of innovation, performance, and value. While their catalog is broad, it's the discounted power tools that have won them legions of die-hard fans. From drills and saws to impact drivers and wrenches, Craftsman offers a plethora of options that speak to the diverse needs of every builder and maker.
Expert recommendation alert- Try their range of toolsets. They combine functionality and affordability seamlessly!
Dynamite Tool
Professional tasks demand professional tools. Dynamite Tool has earned their mojo in the industry by providing cordless tools, power tools, and hand tools from a roster of renowned manufacturers. Whether you are hanging a picture frame at home or tackling a hefty construction project, Dynamite Tool's broad spectrum of tools has you covered. Their commitment to quality and durability ensures that you receive the best value for your money.
Did you know? - Dynamite Tool has more than 30 years of operation under its belt. Their experience offers peace of mind when it comes to selecting the most efficient tool for your projects.
WORX
Turning a leaf towards the world of garden-variety tools, WORX is the name that's on everyone's lips. Offering a wide range of lawn and garden equipment, and power tools, their products boldly assert their belief in innovation, power, and performance. Their eco-friendly line of battery-operated tools enables you to work in silence, sans any tangled cords.
Thought starter- Want to hear an innovative twist? WORX has developed tools that use the same battery form factor to power all WORX cordless products. This shows their understanding and belief in providing consumers with innovative solutions.
Investing in power tools can appear daunting at first, but looking at these affordable brands, it's clear that quality doesn't always have to come at a steep cost. Craftsman, Dynamite Tool, and WORX provide power tools employed by both the professionals and the DIY warriors, that defy the notion that affordability compromises on excellence. These brands warrant consideration, judiciously blending cost-effectiveness, durability, and performance.
Renting Power Tools
As an ardent DIY enthusiast or a seasoned construction professional, you're likely aware of the significant role power tools play in any project. From drills to saws to nail guns, it's nearly impossible to resist the allure of their versatility and convenience.
Yet buying these essential gadgets can be quite pricey, not to mention the storage space they demand. So, why not consider renting instead? Two remarkable rental services that ensure you get your desired power tools at affordable rates include Valley Lumber & Rental and Beacon Rentals.
Valley Lumber & Rental
Valley Lumber & Rental has become a go-to favorite for many due to its affordable and reliable Milwaukee power tool rentals. Not only are their rental rates competitive, but they also offer a wide range of power tools. Whether you're looking to remodel your home, fix that wobbly chair, or take on a massive construction project, they've got you covered.
But wait... there's more! Valley Lumber & Rental frequently offers irresistible discounts, coupons, and sales to ensure your projects don't burst your wallet. You can expect top-notch customer service and quick delivery directly to your doorsteps.
When it comes to selection, Valley won't disappoint. Their range of Milwaukee power tools exudes diversity, ensuring that irrespective of your project's scale or complexity, there's a tool perfectly matched to your requirements.
Beacon Rentals
Beacon Rentals, based out of Barron, WI, is yet another reputable stop for Milwaukee power tool rentals. Known for its commitment to quality and reliability, Beacon Rentals ensures you're never left stranded in the middle of a project.
Besides providing robust and reliable tools, Beacon Rentals also offers delivery services. These services might prove to be a godsend if you're tackling an extensive project and needing several tools on-site.
Furthermore, renters can rest easy knowing they're receiving top-quality equipment. Beacon Rentals takes pride in maintaining their tools in pristine conditions, which guarantees not only safety but also efficiency while carrying out your project.
"The right tool for the right job" is a phrase that carries weight, especially when undertaking DIY or construction projects. While purchasing power tools might seem like the obvious choice, renting is an equally efficient — and often more economical way to go about it. Next time you're in the market for a power tool, consider checking out rental services like Valley Lumber & Rental or Beacon Rentals. After all, why buy when you can rent?
Finding Cheap or Free Gardening Tools
If gardening is your passion but you're on a budget, fear not! Cultivating a green thumb doesn't necessarily require deep pockets. A sustainable and budget-conscious approach to sourcing gardening tools is available within arm's reach. This article shares some invaluable insider tips to help you find cheap or even free gardening tools by repurposing household items or making your own tools. Let's dive in to explore the various ways you can save big and garden greener!
Repurposing Household Items
Look around. You'll acknowledge that countless neglected items in your house can serve as practical gardening tools. This methodology not only saves money but also promotes creative recycling, contributing to a healthier planet. For instance:
Old Spoons and Forks: These could serve as tiny spades, perfect for weeding and creating small planting holes.
Newspapers and Cardboard: They make excellent mulch and compost materials, assisting in soil enrichment.
Plastic Bottles: Cut in half, they can function as a plant pot or a 'mini greenhouse' for seedlings.
Broomsticks or Old Mops: These can be transformed into stand-by garden stakes or poles.
Repurposing old items doesn't just help your wallet; it also helps reduce waste, making it a double win for you and the planet!
DIY Garden Tool Making
If you're a hands-on person, making your own garden tools can be an exciting and cost-effective hobby. Added to that, it's customized equipment, tailored for your unique gardening needs. Here's a quick rundown on how you could kickstart your own production:
Easy Trowel: From an old, sturdy kitchen spatula, which you can reshape and sharpen into a helpful digging tool.
Homemade Garden Hose: Consider coupling a PVC pipe with fittings and connect it to your water source.
Seed Tape: With some toilet paper and a homemade paste of flour and water, you can create your own seed tapes that make planting a breeze.
DIY Compost Bin: Turning kitchen scraps into nutrient-rich compost is possible with an unused garbage bin and a drill to make some holes.
Remember, gardening not only nurtures your plants but also your creativity, resourcefulness, and respect for Mother Nature. Through repurposing household items and creating your DIY garden tools, you can uncover a wealth of potential savings and unexpected joy. Happy gardening!
Essential Tools for Homeowners
As a homeowner, having a well-equipped toolkit is more than just a necessity; it can be an absolute game-changer when it comes to handling minor repairs or upkeep in your house. Whether you are a new homeowner or already settled in, owning certain tools is significant to make your life easier. Our list includes safety equipment, hammers, pliers, cordless power drills, screwdrivers, and tape measures.
Safety Equipment
First and foremost, let's discuss safety equipment. Every homeowner should prioritize their safety when dealing with any sort of housework, from the simplest tasks to the more intricate ones. Essential safety items include goggles to protect your eyes from debris, a sturdy pair of gloves for handling rough materials, and a high-quality mask for respiratory protection. This equipment forms the primary line of defense against usual home repair-associated hazards.
Hammers
Moving to our second item, we have the classic tool - hammers. A claw hammer is the most widespread type used in homes. The claw on one end of the head can remove nails, while the flat part on the other end can drive nails into surfaces. It's a dependable tool that is vital for almost any home project.
Pliers
Pliers come next on our list. These gripping tools are necessary for numerous tasks around the house, from tightening bolts to removing nails or bending wires. Slide-joint pliers and needle-nose pliers are two subtypes you should consider adding to your toolbox.
Cordless Power Drills
Fourth on the list is the cordless power drill. Imagine needing to put a fixture on a wall or piece furniture together – this tool quickly drills holes and drives screws, making it practical for the majority of home projects.
Screwdrivers
Next is the quintessential household tool - screwdrivers. They come in different shapes and sizes, nonetheless, the flat-head and the Phillips-head screwdrivers are the most commonly used. These tools are indispensable for tightening and loosening screws in fixtures and appliances around your home.
Tape Measures
Last but not least, we have tape measures. Whether you're planning to install a new appliance or simply want to know the length or width of a room, a tape measure is fundamental equipment. They're easy to handle and can provide quick and precise measurements.
To draw it all together, it's beneficial to have these tools present in our homes. Ensuring your toolkit is well-equipped can save you both time and money, and might even inspire you to take on some home improvement projects. Remember, it's always essential to ensure you're using the correct and safe techniques when handling these tools.
Advanced Tools for DIYers
If you're a seasoned do-it-yourselfer, you may be thinking about enhancing your toolkit with some more advanced apparatus. Let's explore three powerhouse tools - brad nailers, laser levels, and table saws - which can significantly augment your DIY proficiency.
Brad Nailers
Brad nailers are a delightful must-have for anyone engaged in detailed woodworking projects or trim work. When regular nails and hammers just won't cut it, a brad nailer provides the precision and finesse you need. They're perfect for situations that require a discreet, delicate touch, for instance:
Attaching lightweight trim
Furniture repair
Picture frame assembly
Small craft projects
With a brad nailer, you can promptly drive thin, inconspicuous nails without leaving a trace – a skill that hand nailing often falls short of providing.
Laser Levels
Next on the list is laser levels. This tool is a game-changer for projects requiring dead-on accuracy. From hanging pictures, mirrors or shelves at a perfect level, to aligning tiles, cabinets or flooring, a laser level ensures you achieve a laser-precise finish, pun intended. And here's the best part: it frees up your hands, enabling you to work quickly and efficiently.
Table Saws
Lastly, we have table saws - a stalwart in the toolkit of woodworkers and builders alike. There are few power tools that can match a table saw's versatility and prowess. They can rip, crosscut, and square lumber; plus, they can accomplish miter and bevel cuts with equal ease.
Rip cuts: Table saws excel at making long, straight cuts along the length of a board.
Crosscuts: These are cuts made across the width of a board, and table saws ensure they're precise and smooth.
Squaring: If you need to square lumber, table saws can do the job with conviction.
Miter and bevel cuts: Table saws can cut angles with precision, making them perfect for creating frames or molding.
In the realm of DIY, where precision, speed, and convenience are paramount, brad nailers, laser levels, and table saws can be the difference between a passable project and a masterpiece. Remember, the quality of your work is often a reflection of the quality of your tools. As always, ensure safety is your priority when using these advanced tools. Happy DIYing!
Recommended Tape Measure
When it comes to precision and reliability in measuring tools, one product stands out amongst the rest - the Stanley 25-Foot PowerLock Tape Measure. This tool is recognized as the crème de la crème of the tape measure realm. Why is this particular tape measure lauded more than others? Let's dive in!
Stanley's stellar construction and the breed of elegant simplicity define this 25-foot tape measure. Here's why:
Accuracy: Considered an essential yardstick (quite literally) across various industries, the Stanley PowerLock takes precision seriously. Designed to meet international accuracy standards, it ensures your measurements are spot-on every time.
Durability: An optimal choice, particularly for heavy-duty users, the PowerLock's durable casing guarantees a long lifespan. It's built to withstand the rough and tumble of daily professional use, yet valuable enough for household projects.
Design: With a compact, easy to grip design, it's the epitome of user-friendly. Its sturdy slide lock promises smooth operation and an effortless locking mechanism for expediency and efficiency.
The Stanley Brand: Known for crafting high-quality tools, Stanley's commitment to exactness and functionality shines through in this tape measure. It's a shining testimony to their credibility, giving users the confidence that they're using the best of the best.
There's no doubt that the PowerLock's exceptional design and unwavering performance puts it a notch above the rest. For measuring with precision, maximizing efficiency, and ensuring longevity – the Stanley 25-Foot PowerLock Tape Measure is the clear victor. It's no wonder it lives up to the reputation as the 'best overall tape measure for accurate measurements.' Trust in Stanley, and your measurements will thank you. Reliable, resilient, and right on the money, the Stanley 25-Foot PowerLock Tape Measure is everything you could want in a tape measure.
Affordable Housing Search Tools
Searching for affordable housing can be a daunting task. Housing that appeals to one's budget without compromising on the livability factor may seem like finding a needle in a haystack. The good news, however, is that there are a myriad of affordable housing search tools and resources designed to help individuals and families navigate this complex landscape, efficiently and effortlessly.
One such tool that has proven invaluable, particularly for residents in Ohio, is the Ohio Housing Locator. An accessible tool, it seamlessly connects people to affordable rental housing options within the state.
Ohio Housing Locator
Ohio might be your next destination, or you might already be a resident looking for a change of scenery - whatever the case, the Ohio Housing Locator is your trusted ally. Accessible to everyone, this tool funnels the options into a concise list that matches your specific needs and budget constraints.
The search tool has an intuitive interface that makes it easy to enter your preferences. Would you prefer a condo in downtown Cleveland or a cosy apartment in suburban Columbus? Your choices in terms of location, size, price, and housing type are just a few clicks away with this handy tool.
Here are the key features that make Ohio Housing Locator a preferred choice for many:
User-friendly Interface: Quickly input your chosen parameters and receive relevant results.
Wide Range of Filters: From the type of housing to the expected cost range, you can customize your search precisely.
Up-to-date Listings: Frequent updates ensure you miss out on no options.
Free of Charge: Access these features without spending a penny.
The use of tools such as the Ohio Housing Locator can drastically simplify your housing search process, making it more focused and less time-consuming. Gone are the days of driving around neighborhoods hunting 'For Rent' signs - these online tools bring the options to your fingertips.
While looking for housing can be stressful, remember that resources are available to assist you. Utilize them for an efficient and effective search. After all, the path to your new home should be as pleasant as the home itself.
Supporting Affordable Housing
Affordable housing: a phrase often tossed into the political arena, but what does it truly entail? The essence of the term lies in the provision of safe, well-built homes that don't bleed residents dry. However, this seemingly simple concept remains elusive in many communities. The dream of owning a home seems distant for many, an aspiration blurred by the daunting landscape of skyrocketing property rates.
This is where organizations like Habitat for Humanity step in.
Habitat for Humanity
The world-renowned non-profit, Habitat for Humanity, has worked tirelessly in the affordable housing sector with a vision that everyone needs a safe, affordable place to live. The organization sources its funding in a myriad of creative ways, one such being selling donated items.
Benefits of supporting Habitat for Humanity include:
Forging strong, self-reliant communities by making housing affordable.
Ensuring every penny earned from the sale of donated items directly contributes to building homes.
Remember, when you shop at or donate to Habitat for Humanity, you're not merely exchanging goods. You're helping provide a roof for someone in need.
As highlighted by the information given, Habitat for Humanity's sales of donated items help build safe and affordable homes in local communities. This is an appealing endeavor, one that warrants our attention and support.
Supporting affordable housing is more than a charitable act; it's a commitment to shoring up the foundations of our communities. It is an opportunity to ensure that everyone, regardless of their economic status, can achieve the basic human right of a safe abode. In supporting affordable housing initiatives, we are fostering a society that will be stronger, resilient, and ultimately more prosperous.
By investing in affordable housing, you're investing in the future of your community. Hence, let's take a step forth and support the cause that ensures a safe, affordable home is not a distant dream for many, but an achievable reality.
Additional DIY Tools and Resources
Starting a DIY project is like going on an adventure. It's fun and exciting, but you can't head out without the right tools and resources. As a builder—whether you're a hobbyist or a professional—you need information just as much as physical equipment. Thankfully, there are many additional DIY tools and resources online and off that can make your project journey smoother.
Online Tutorials and DIY Forums
In our digital era, it's easy to find a host of tutorials and videos for just about any DIY project you can imagine. Online platforms such as YouTube are brimming with step-by-step guides, while DIY specific sites like Instructables offer practical solutions to suit a variety of skill levels. Additionally, joining DIY forums such as the DIY Chatroom can provide community support, insights from experienced DIYers, and answers to specific questions that might pop up in the course of your project.
Books and Expert Advice
Despite the wide availability of online resources, don't overlook the value of good old-fashioned books. Comprehensive DIY books offer in-depth instructions, hand-drawn diagrams, and expert insights, which can be a boon for complex projects. Libraries and book stores have sections dedicated to DIY efforts—featuring topics ranging from home repairs to furniture making.
Moreover, seeking advice from local experts is another excellent resource. If you're a homeowner working on house repairs or renovations, talking to knowledgeable employees at your local home improvement store can provide valuable guidance and recommendations.
Project Management Software
Lastly, project management software can streamline your DIY projects, especially larger ones. These platforms help coordinate tasks, manage expenses, and track your project timeline, ensuring you stay organized and within budget.
Getting the most out of your DIY experience means pairing your resourcefulness and creativity with the right resources, both physical and educational. Luckily, with the numerous sources available today, you're sure to find the tools and information you need to bring your DIY project to life.
Frequently Asked Questions
Where can I find cheap tools and equipment for home projects?You can find cheap tools and equipment for home projects at various places, including thrift stores, garage sales, online marketplaces such as eBay and Craigslist, and discount stores like Harbor Freight and Dollar Tree.
Is it worth buying cheap tools for home projects?It depends on the specific project and your skill level. Cheap tools may be sufficient for simpler tasks or occasional use, but for more complex or frequent projects, investing in higher-quality tools can save you time and money in the long run.
What should I look for when buying cheap tools?When buying cheap tools, look for sturdy construction, ergonomic handles, and a good warranty. Check for any defects or damage, and if possible, try the tool before purchasing to ensure it functions properly.
Are there any online platforms specifically for buying cheap tools?Yes, there are online platforms specifically for buying cheap tools, such as ToolBarn, Northern Tool, and AliExpress. These platforms often offer discounted prices and deals on a wide range of tools and equipment.
What are some alternatives to buying cheap tools?Instead of buying cheap tools, you can consider borrowing from friends or family, renting tools from a local hardware store, or even joining a tool library or community workshop where you can access a variety of tools for a small fee.