DIY on a Tight Budget: How to Find Affordable Tools and Equipment
Discover practical tips to find affordable tools and equipment for your DIY projects. Maximize your budget without compromising quality.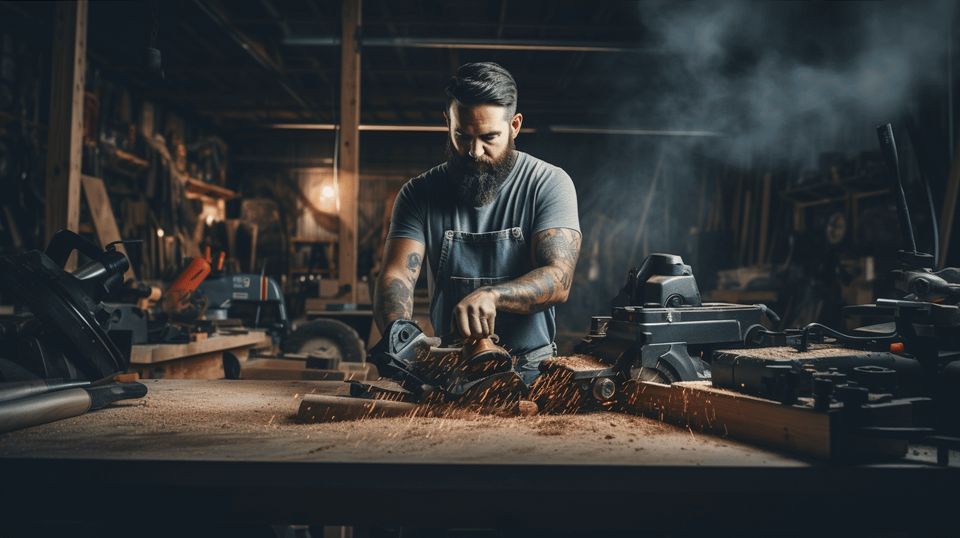 The charm of DIY lies not only in the freedom to personalize your projects but also in the potential to save money--a particularly enticing factor for many DIY enthusiasts. Yet, many often overlook one crucial aspect that can ramp up the costs: the high price of tools and equipment. Thankfully, with a little knowledge and resourcefulness, you can indeed find affordable, quality tools suited for any DIY or home improvement task. This article aims to help you navigate the world of budget-friendly tools, pointing you toward the best tool sets and specific devices essential for your projects. Welcome aboard your journey to creating magnificent DIY projects while keeping your wallet happy.
Affordable Tool Sets for DIY and Home Improvement
When it comes to home improvement or DIY projects, having the right tools in your arsenal is half the battle won. But did you know that you don't have to break the bank to amass a collection of efficient tools? In the current market, a myriad of affordable, high-quality tool sets are at your disposal, all boasting positive ratings from 4.5 to 5 stars. So, whether you're mending a leaky faucet, assembling furniture, or engaging in a home renovation project, everything will feel less daunting with a tool set matching your needs and budget.
Ranging from an accessible $25 to a more investment-leaning $200 and above, these tool sets are designed to cater to a variety of tasks, skill levels, and even project scopes. Understanding the contents and cost of these sets can aid in your decision-making process.
Budget-oriented Sets ($25 - $50)
Ideal for beginners or casual DIYers, these sets usually include essential tools like screwdrivers, tape measures, hammers, and wrenches. They might not be the most comprehensive on the market, but they certainly get the job done for simple repair or assembly tasks.
Moderate Range Sets ($50 - $100)
These sets step it up a notch, packing in a greater mix of tools for diverse projects. Expect to find items such as pliers, socket sets, levelers, and even specialty screwdrivers. Ideal for homeowners who take on regular maintenance tasks.
High-end sets ($100 and above)
For professionals or serious DIY enthusiasts, these kits offer the broadest range of tools—even special instruments like stud finders or circuit testers might be part of the package. They are heavy on convenience and versatility.
While deciding, remember that the right tools can make all the difference. Consider the range of tasks you need to handle and choose a set that offers those specific tools. You don't always have to splurge on a high-end set if your tasks are basic and infrequent.
From the budget-oriented to the high-end, there's an astounding variety of toolsets available, all within an affordable price range. So why not make your DIY projects and home improvement tasks that much easier? With the right tools in your hands, you're set up for success, no matter the challenge that comes your way. Whatever the job—go forth and nail it!
Popular Brands and Stores for Affordable Tools
From the casual DIY enthusiast to the seasoned professional, having reliable, good-quality tools is a must. Moreover, it doesn't hurt to bag a deal on top-rated brands, allowing you to reduce those ever-rising tool bills. In this bustling market of tool manufacturing, some names, such as Makita, Milwaukee, and DeWalt, have not only captured the essence of excellent craftsmanship but also have mastered the art of providing worth-centered deals to their customers. So you might ask, who are these brands? And where can you find their best deals? Let's dive in!
Makita
Makita, a household name when it comes to power tools, has long-standing prominence in the market. The Japan-based company is well known for its innovative technology and durable equipment. With an impressive range of cordless tools, including the groundbreaking 18V LXT system, Makita assures high-quality performance that greatly enhances productivity. For savvy consumers searching for deals and discounts, Makita regularly offers exciting promotions, ensuring customers receive superior products at wallet-friendly prices.
Milwaukee
A brand synonymous with unwavering reliability and robust tools, Milwaukee continues to garner praise among both professionals and hobbyists alike. This trusted manufacturer steadily improves its already robust and diversified portfolio of drills, saws, and hand tools. If value and affordability are what you seek, look no further. Milwaukee regularly rolls out generous discounts and power tool deals, ensuring you get the best bang for your buck without compromising quality.
DeWalt
DeWalt, a brand born in America, is a global market leader in power tools and accessories. Renowned for their engineering and innovative designs, DeWalt provides tools that are both reliable and technologically advanced. Their cordless tool systems, like FLEXVOLT and 20V MAX, offer users increased flexibility and efficiency. Attention deal-hunters: DeWalt often delivers a fantastic line of discounts and promotions, delivering premium tools at a fraction of their regular prices.
Apart from these brands, several home improvement stores deserve mention when talking about affordability. Stores such as Home Depot, Lowes, and Acme Tools continually run promotions on these top-tier brands. Their customer-centric approach paired with diverse inventory assures you not only walk out with the best tools, but you also secure the best deals. So, whether it's a table saw you need for your next woodworking project or power drills for home repair tasks, there's a deal for everyone.
Remember, quality tools are an investment. Though saving money is key, investing in reliable, durable equipment from respected brands will save you further costs down the line. So, go ahead: pick up that drill, grab that saw, and allow these popular brands and esteemed retail stores to help achieve your tool dreams and needs!
Affordable Specific Tools for DIY Projects
Setting out on a new DIY project is an exciting and rewarding venture. However, it can also be a daunting task, especially when your toolbox lacks the necessary equipment. Thankfully there are highly affordable, yet quality tools on the market today specifically designed for your DIY project needs. One such standout product is the Ryobi ONE+ 18V Cordless Orbital Jig Saw.
Ryobi ONE+ 18V Cordless Orbital Jig Saw
A personal favorite among homeowners and DIY enthusiasts alike, is the Ryobi ONE+ 18V Cordless Orbital Jig Saw. This powerful and flexible tool offers a level of comfort and efficiency that is unmatched in its price range.
Here are some convincing reasons why you should consider this particular tool for your next DIY project:
Cost-effective: The Ryobi ONE+ 18V Cordless Orbital Jig Saw is priced at just $69, beating many of its competitors in value for money.
Versatility: It's not limited to cutting just one type of material. It's capable of creating precise cuts on various surfaces, ideal for projects that require versatility.
Portability: This tool is cordless. This gives you greater flexibility and ease of use, as you aren't limited to working near a power source.
Engineered for efficiency: It comes with an adjustable blower to keep your cut line clear and an LED light to enhance visibility - features that allow for precise and efficient work.
"The Ryobi ONE+ 18V Cordless Orbital Jig Saw is an extremely affordable tool for the home DIYer," quoted an industry expert. This authentic statement builds trust in the tool's quality and affordability.
At the end of the day, the DIY journey should be a satisfying one. The Ryobi ONE+ 18V Cordless Orbital Jig Saw, with its affordability, versatility, and ease of use, makes this journey smoother, more productive, and enjoyable. It's not just a tool; it's a necessary partner for your next DIY project.
Cost-effective Power Tool Combo Kits
Imagine you are setting up your first workshop - be it for DIY, trade work, or even as a starter kit for professional craft. The initial investment in tools can rack up a hefty bill. Do you really want to shell out all your hard-earned money buying each tool individually? Here's a thought most professionals in the tools trading industry would echo - why not opt for a power tool combo kit? Power tool combo kits are the perfect money-saving solution for both enthusiasts and professionals alike. Essentially, these kits bundle together a variety of indispensable tools, meaning, you can acquire an arsenal of tools at a lower combined cost than if you were to purchase them separately. Let's delve into some of the primary benefits of these kits:
Value for Money: Combo kits provide multiple tools for a price which is generally lower than the cumulative cost of buying each tool individually.
Versatility: With a range of equipment readily available, you're equipped to handle various tasks without the need for additional tools.
Convenience: Purchasing a combo kit is easier and quicker than shopping for each tool separately. Plus, there's the added advantage of hassle-free storage with all the tools neatly packed in one kit.
Choosing the right combo kit can seem like a daunting task, given the plethora of choices available in the market. But don't fret, we've done the groundwork for you. When purchasing your power tool combo kit, keep in mind the kind of tasks you'll be using them for, and ensure the kit includes all essential tools. And here's some good news. You can conveniently purchase power tool combo kits online. Not only will it save you the trouble of scouring different stores to compare prices and brands, but with free shipping on offer, you're in for a bargain, without even stepping out of your home! Remember, a smart investment in a power tool combo kit not only brings down your overall cost but increases efficiency and productivity. Whether you're an amateur DIY enthusiast, a tradesman, or a craft professional, these kits are indeed a game-changer.
Affordable Tools from Well-known Companies
Whether you're a seasoned handyman or a DIY enthusiast, investing in the right set of tools is crucial. Not only does it ensure efficiency and precision in your undertakings, but it also promotes safety and longevity for your projects. Fortunately, well-known companies like Craftsman, DeWalt, and Ryobi are dedicated to providing reliable and affordable tool options suitable for homeowners. Let's delve into what each of these renowned brands has to offer.
Craftsman
If durability and functionality are your priority, Craftsman tools may just be the perfect fit. This brand offers a vast selection of affordably priced tools, whose performance is on par with more expensive, professional-grade alternatives. Better still, Craftsman upholds a commitment to user-friendly designs, meaning their tools are approachable even for those new to DIY tasks. Furthermore, the brand boasts an enduring reputation for quality, so you know you're investing in products you can trust.
DeWalt
If you are looking for high performance and innovation, DeWalt tools will easily catch your attention. Known for their strong and resilient products, this brand ensures that your tools can withstand intensive and prolonged usage. Think cordless drills, saws, and grinders—all designed for optimal performance, durability, and affordability. With DeWalt, quality is a guarantee meaning you can confidently tackle those home projects knowing you have reliable tools at your disposal.
Ryobi
Ryobi stands as an exemplary option for homeowners seeking reasonably priced tools without sacrificing quality. Offering a vast range of power and hand tools, Ryobi is respected for its innovative approach to design. For instance, their ONE+ system—that allows a single battery to power over 50 different tools—demonstrates their dedication to cost-effective and convenient solutions. The brand consistently impresses with its commitment to providing versatile, robust, and economical options.
All in all, affordability no longer means compromising on quality or performance—with brands like Craftsman, DeWalt, and Ryobi, dependable tools are within your reach. No matter the scope of your project, investing in reputable brands empowers you to build, repair, and create with confidence.
Harbor Freight: Popular Store for Low-priced Tools
Have you ever found yourself knee-deep in a home improvement project, only to find your tools aren't up to snuff? Or maybe you're a professional builder seeking affordable gear to make your job more efficient and lighter on your pockets. In either case, Harbor Freight is your ultimate go-to stop.
Endowed with an array of power tools, generators, jacks, and toolboxes, this store demonstrates a novel way of combining quality and affordability. Through this approach, it morphs into a smorgasbord for construction enthusiasts and tradespeople alike, looking for options that don't break the bank but fulfill their needs aptly.
But, what does Harbor Freight offer that makes it stand out among its competitors? Why is this store the preferred choice for many? Let's delve into that!
Value for Money
A savvy shopper understands the importance of getting the best bang for their buck. Harbor Freight caters to this precise aspect by providing tools that are both high in quality and low in cost. Their offerings represent true value for money, which has, over time, built a loyal customer base, with many individuals and professionals choosing Harbor Freight as their primary tools source.
Versatility of Products
At Harbor Freight, the selection of tools available spans a vast array. From power tools that make heavy-duty tasks a breeze to generators that ensure you have reliable power, and jacks that make car repairs easy to toolboxes that keep your tools organized and accessible. Their versatility and comprehensive range of products accommodating virtually all consumer needs are major factors driving their popularity.
Weekly Deals and Offers
In addition to its everyday affordable prices, what makes Harbor Freight a popular choice among many is its weekly deals and offers on a wide variety of tools and accessories. It means you have a chance of saving even more on your purchases, adding to the overall shopping experience at this store.
Therefore, when the question arises about the best store for affordable, quality tools – Harbor Freight clearly stands out as the reliable choice. Whether you're a DIY enthusiast or a professional contractor, this store caters to your specific needs, providing an exceptional balance of quality and cost-effectiveness. So next time you're in the market for tools, remember – Harbor Freight gets the job done without pummeling your pocketbook.
In the world of affordable and quality tools, Harbor Freight is undoubtedly a market leader - their reputation is well-established and well-deserved. Remember, it's not only about buying a tool, but making a smart choice for your pocket and your project's success, and that is precisely what Harbor Freight offers.
Tested and Reviewed Tool Sets for DIY Projects
Let's dive into some of the best tool sets in the market. These products have been tested and reviewed by users who praise their quality and affordability. They offer great value for money, making them the best options for do-it-yourself projects on a budget.
1. Crescent
The Crescent 170 Pc. General Purpose Tool Set is famously known for its unmatched versatility. It has everything from ratchets to wrenches, ensuring you're equipped for any unexpected home repairs. This set's notable feature is its sturdy, durable carrying case, making it easy to take your tools wherever you need them.
2. Craftsman
Craftsman is a highly esteemed brand in the tool industry. Their 102-Piece Home Tool Set has received high praises for its comprehensive selection of user-friendly tools. Given the brand's reputation for quality and durability, this tool set provides real value for money.
3. DeWalt
DeWalt's 20V Max Cordless Drill Combo Kit has earned rave reviews from DIY enthusiasts. It includes a powerful drill and impact driver, both of which boast long battery life. This kit might cost a little extra, but remember, investing in high-quality tools can save money in the long run as they're less likely to require replacements.
4. Amazon Basics
Don't be fooled by the name. The AmazonBasics 151-Piece Screwdriver Bits Set is anything but basic. It's highly rated for its quality and usefulness and, most importantly, for its affordability.
No matter which tools you opt for, remember important aspects like durability, flexibility, and cost-effectiveness. Do your research, compare prices and user reviews before you make any purchase decisions. When equipped with the right tools, your DIY project can be executed seamlessly without breaking the bank. You'll see first-hand that quality tools don't always have to cost a fortune.
Frequently Asked Questions
Where can I find affordable tools and equipment?You can find affordable tools and equipment at various places such as local hardware stores, second-hand shops, online marketplaces like eBay or Craigslist, and during sales or clearance events.
Are used tools and equipment reliable?Used tools and equipment can be reliable if they are in good condition and have been properly maintained. It's important to inspect them thoroughly before purchasing and consider buying from reputable sellers.
What are some tips for finding affordable tools?To find affordable tools, consider comparing prices from different sellers, looking for discounts and promotions, buying in bulk if possible, and considering renting tools for short-term projects instead of buying them.
How can I save money on high-quality tools?To save money on high-quality tools, you can wait for seasonal sales or clearance events, consider purchasing refurbished or factory-reconditioned tools, or join loyalty programs or mailing lists of tool suppliers for exclusive discounts.
Are there any DIY tool rental services available?Yes, there are DIY tool rental services available in many areas. These services allow you to rent tools and equipment for a specific period, which can be more budget-friendly compared to buying expensive tools for one-time use.