DIY Hacks: Tips for Finding Affordable Tools and Equipment
Discover DIY hacks for finding affordable tools and equipment. Learn how to save money while still getting quality tools for your DIY projects.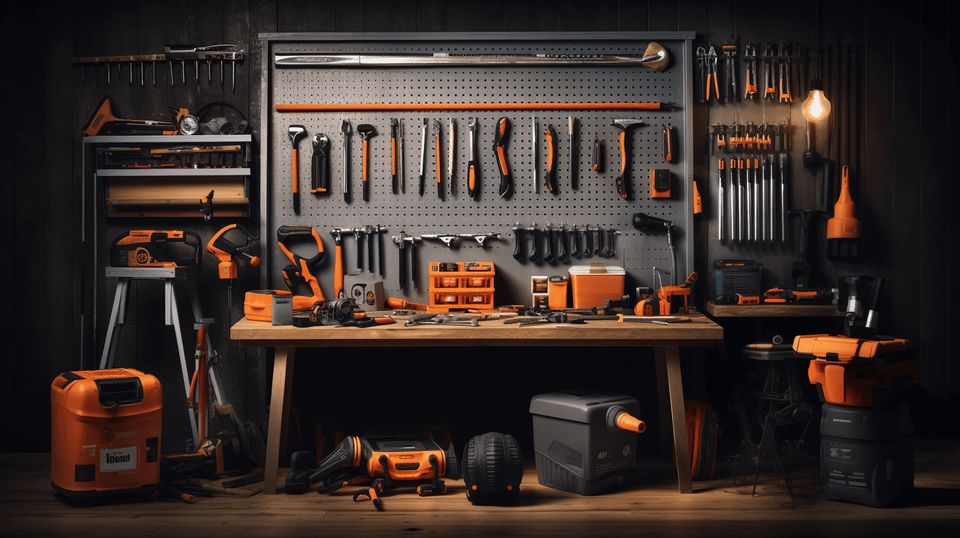 Whether you consider yourself a seasoned handyman or are embarking on your first-ever DIY adventure, one aspect you're likely contemplating is the expense of the tools and equipment required. Often, the cost of these essentials can deter many would-be DIY enthusiasts from ever taking the plunge. However, fear not, because affordable tools and equipment do exist, and this guide is your treasure map to them!
In this article, we'll navigate the landscape of DIY tools and equipment, from popular power tool sets and brands to the best times and places for grabbing fantastic budget-friendly deals. From the passionate builder to the creative crafter, there's something for everyone here. Strap on your tool belt, put on your safety glasses, and say "yes" to your wallet and your DIY visions!
Price Range of DIY Tools and Equipment
Venturing into the DIY world can be a thrilling experience. You've got a project in mind, perhaps refurbishing your living room or building a treehouse for your kids. All is set, but one thing is missing: the tools. This is where you might find yourself confronted with a vast and often confusing maze of choices due to the varied nature of DIY tools and equipment prices.
Variety of Prices
Good tools aren't always the cheapest, but that doesn't mean you need to break the bank to equip yourself appropriately. Prices can range from as little as $25 for a simple hammer or screwdriver set to a whopping $10,000 for industrial tools tailored for heavy-duty operations.
Below are some common tools with their average price range:
Power Drill: $70 - $200
Circular Saw: $70 - $300
Jigsaw: $30 - $200
Sander: $50 - $200
Socket Set: $30 - $100
It's essential to stress that the price largely depends on the brand, power, and extra features of the tool. Having said that, it's not always necessary to go for the high-end option. Based on the task at hand, affordable tools can be just as effective and reliable as their more expensive counterparts.
Popular Power Tool Sets
As expected, purchasing each tool separately could be quite costly. This is where power tool sets come in handy. These are packages with 4-6 core tools that are meant to complement each other, like a drill and a set of drill bits, or a saw and different types of blades.
For DIY enthusiasts who embark on various projects, comprehensive kits are a worthwhile investment. These are higher-priced, usually hovering around the $1,000 mark, depending on the tools included and the brand. But they typically provide an exhaustive set of tools designed to handle a wide array of tasks.
Indeed, whether you opt for individual tools or a complete kit should fundamentally depend on your specific needs, budget, and the frequency of your projects.
So, as you find yourself scrolling through the digital shelves of DIY tools, remember that the cost doesn't always equate to quality. Start with the basics and gradually build your tool collection as your DIY journey progresses. And whether you are a hobbyist or a pro, ensure that the tool you pick fits the job and doesn't hurt your pocket.
Stores and Brands for Affordable Tools
Wallet feeling a little light? No worries, there are fantastic stores and brands out there that offer affordable tools for a multitude of tasks. These include brands like Harbor Freight, Lowe's, IKEA, and Craftsman. Look no further! Now let's delve into more about these stores and the value they can add to your toolbox.
Harbor Freight
Whether you're a DIY enthusiast in need of new tools or a professional looking for quality equipment at great prices, Harbor Freight is a heaven for you. This popular store is renowned for offering a diverse range of power tools and equipment, from drill sets to welding machines. All this while not burning a hole in your pocket. At Harbor Freight, value meets quality.
Lowe's
Next on our list is Lowe's. This store wows its customer base with the extensive selection of power tools available for purchase. What's more impressive? They offer free shipping on orders over $45! So not only do you save on your purchase, but also on shipping costs. Lowe's truly puts the customer's needs first.
IKEA
Most of us associate IKEA with flat-pack furniture. But did you know they also offer affordable and durable hand tools and power tools? From hammers and screwdrivers to electric drills, IKEA is an underrated hub for all your tool needs. And just like their furniture, these tools are designed to withstand the test of time.
Craftsman
When it comes to trusted names in the tools industry, Craftsman has to be mentioned. Known for high-quality tools at affordable prices, Craftsman offers a wide range of tools - from hand tools to power tools and even outdoor equipment. Many professionals swear by this brand, making it a reliable choice for all your tool requirements.
In essence, there are numerous options available when it's about affordable and reliable tools. Every brand listed here has its uniqueness and commitment towards providing quality and value. So next time when you need to replace your old wrench or buy a new power drill, remember these names, and rest assured that you'll be making a wise decision for your pocket. Now, get out there and conquer your next project!
Cost-Effective Options for DIY Tools
Are you a DIY enthusiast who loves working on home projects but frequently feels strained by the ballooning costs of tools? You aren't alone. Many DIY lovers are constantly on the look-out for cost-effective alternatives without compromising on the quality of their work. This section will help shine a light on three instrumental areas where you can save substantial amounts while also sticking to your passion for DIY projects.
Power Tool Combo Kits
In the universe of DIY tools, power tool combo kits have carved a niche for themselves. They often feature a power drill and impact driver, making them incredibly useful for a variety of tasks. Not only do these combo kits come at a lower collective price than if you were to purchase the tools separately, but they also include nifty carrying cases that provide a neat storage solution. Power tool combo kits give you value for your money and support your DIY exploits by eliminating the need for frequent individual tool purchases.
Buying Cordless Tools
Still, if you're more inclined towards individual tools, cordless tools present a great deal. They're often priced lower than their corded counterparts. Besides, they offer mobility and convenience that corded options merely cannot match. But here's a secret tip: when buying cordless tools, always check the date of purchase, as items lying in inventory for a longer period often come at discounted prices!
Tool Sets
Last but not least, tool sets. Essentially, these sets are your one-stop-shop solution as they provide a range of indispensable tools suitable for several DIY projects and repairs. Equipped with essentials like hammers, screwdrivers, wrenches, and pliers, these sets have tools for every repair job under the sun. Buying a tool set offers an economical way of laying your hands on necessary tools without significantly denting your wallet.
Remember, the knack to cost-effective DIY tool shopping lies in being clever and resourceful. Whether it's opting for combo kits, hunting deals for cordless tools, or investing in a tool set, your decisions can lead the way to a well-stocked tool cabinet that doesn't empty your pockets. Happy DIYing!
Finding Budget-Friendly Deals
We've all been there, standing in a hardware store with wide eyes and an even wider wishlist of power tools, yet a slim wallet that cries at every price tag seen. Power tools can be expensive, no doubt about it. However, the good news is that budget-friendly deals do exist. You just need to know when to shop and where to look. By using a little bit of strategy and some insider tips, you can snag power tools without burning a hole in your pocket.
Specific Times for Best Prices
It's not always about where you buy, but when you buy that can save you money. Just like with other industries, power tools have sales cycles. Retailers and manufacturers will often offer discounts during certain times of the year to stimulate sales.
For instance, holiday seasons such as Christmas and Thanksgiving often bring along generous discounts. Black Friday Sales also see a significant price drop. It's a common strategy employed by most big-box stores. The idea is simple: they clear their inventory at the end of the season and make room for new, updated items. And who benefits? The consumers who are ready to wait and pounce on a deal when they see one.
Similarly, Memorial Day, Independence Day, and Labor Day weekends also offer a bounty of sales. If you're able to plan your shopping around these times, you're likely to score some significant savings.
Sam's Club
If sale seasons feel too distant, there's a regular budget-friendly haven for shoppers: Sam's Club. Known for its bulk products and savings, Sam's Club also offers some surprisingly low prices on quality power tools.
A quick scan through their inventory can land you tool kits for remarkably affordable prices - as low as $30-40. And it's not just tool kits; individual power tools also come at extremely generous prices, with some costing as low as $25-30. It's a treasure trove for the budget-conscious and an excellent way to quickly fill up your tool shed without breaking the bank.
Harnessing the best deals doesn't need to feel like a scavenger hunt. By shopping strategically - choosing the right times and the right outlets - you can acquire your beloved power tools without upsetting your budget. The trick is to keep your eyes constantly open for deals and wait patiently when the need isn't urgent. After all, the sweetest victories are the ones that come to those who wait.
DIY Projects on a Budget
Is the sight of a new home improvement show triggering your inner artisan, but your wallet is signaling a red flag? Fear no more! Thriving on a budget while channeling your DIY vibes is totally possible. The key lies in smart purchasing of affordable tools and utilizing ingenious hacks that can save costs without compromising the quality of your craft.
Affordable Tools and Equipment
Before embarking on your DIY journey, the most crucial step is scouting for tools and equipment that offer functionality without burning a gaping hole in your pockets. Here are a few tips to help you get started:
Compare prices: Don't just rush to your nearest hardware store. Take the time to surf the web and visit multiple stores to compare prices. A few dollars saved on every little tool can reflect notably on your overall expenditure.
Buy in bulk: Sometimes, buying tools in bulk can work in favor of your budget. Look for deals that offer wholesale pricing or bundled items.
Opt for second-hand equipment: Websites like eBay and Gumtree are treasure troves for second-hand tools that are sometimes just as good as new ones.
Rent, don't Buy: For one-time bigger projects, consider renting equipment rather than buying them outright.
Creative Hacks and Ideas
Another basic recipe for a successful DIY project on a budget is incorporating inventive hacks wherever possible. These are tried and tested tips that will not only elevate your project but also help keep your budget in check:
Repurpose items: One man's trash is another man's treasure. Look around your house for unused items that could be upcycled or repurposed for your project.
Start with simple projects: If you're new to the DIY realm, start with simple, low-cost projects to gain experience and confidence. Gradually, you can venture into more complex (and possibly more expensive) endeavors.
Remember, the best Do-It-Yourself projects are often the ones that showcase not just your craftsmanship but also your creative genius and resourcefulness. So, let those creative juices flow, and make your DIY dreams come true, even on a budget!
Conclusion
Taking on DIY tasks shouldn't have to be a financial strain. By exploring various stores, brands, and deals near you, affordable and quality tools can be within reach. Often, investing in tool sets or combo kits can lead to long-term monetary savings. Plus, be on the lookout for special deals during specific times of the year!
An ultra handy tip is to consider online avenues like our Ultra Handy Amazon store, where a plethora of cost-effective tools await to empower your DIY journey. Remember, the best investments are those that align quality, affordability, and usefulness. Here's to embracing the DIY spirit without breaking the bank!
Frequently Asked Questions
Where can I find affordable tools and equipment?You can find affordable tools and equipment at various places such as online marketplaces like Amazon and eBay, local classified ads, garage sales, thrift stores, and rental services.
Are used tools a good option for saving money?Yes, used tools can be a great option for saving money. Make sure to thoroughly inspect the condition of the tools and ensure they are in good working order before making a purchase.
Are there any specific times or seasons when tools and equipment are more affordable?Yes, certain times and seasons offer better deals on tools and equipment. Look out for holiday sales, end-of-season clearance events, and annual trade-in programs offered by retailers.
What are some ways to negotiate for a better price on tools and equipment?Some ways to negotiate for a better price on tools and equipment include buying in bulk, bundling multiple items, paying in cash, or asking for a discount if there are any cosmetic damages or minor flaws.
Are there any online communities or forums that provide tips and recommendations for affordable tools and equipment?Yes, there are online communities and forums dedicated to DIY enthusiasts and professionals where you can find valuable tips, recommendations, and discussions on finding affordable tools and equipment.