Budget-Friendly Deals: How to Find Cheap Tools and Equipment for DIY Projects
Discover valuable tips on finding budget-friendly deals for tools and equipment to support your DIY projects. Save money without compromising quality.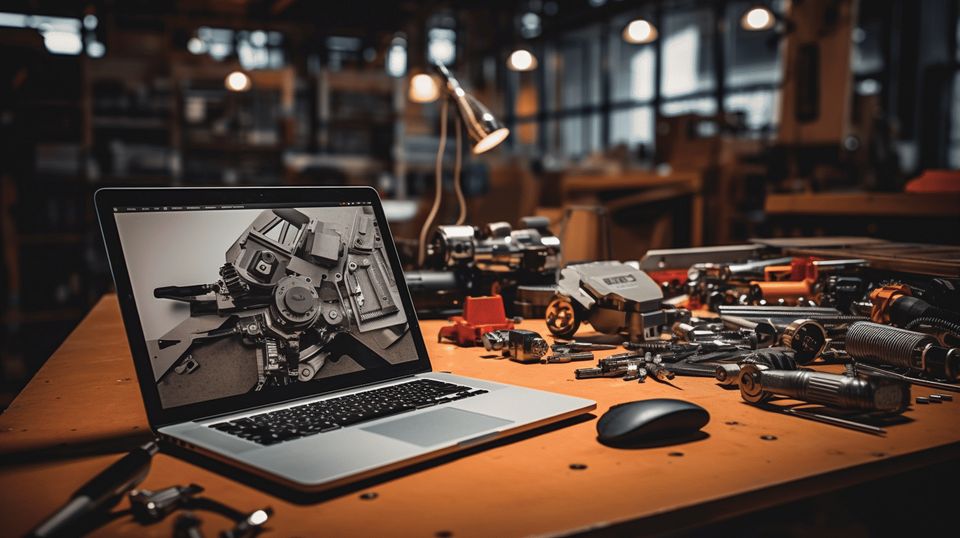 Embarking on a DIY project can be an exciting adventure, full of creativity and the potential for personal satisfaction. But frequently, the cost of tools and supplies can quickly add up, turning an enjoyable endeavor into a financial headache. The good news is that it doesn't have to be this way! With the right tips and tricks, you can find cheap tools and equipment, helping you maintain your budget while creating something extraordinary. In this article, you'll discover a treasure trove of budget-friendly deals, effective strategies to find cost-effective tools, and clever tips for organizing your new equipment. Let's dive into the world of savvy tool shopping and make your DIY dreams a reality without breaking the bank.
Finding Deals on Power Tools
We all need our favorite power tools to complete those hands-on projects that make a house a home. Whether it's drilling a hole, sawing a piece of wood, or even tightening a bolt, power tools take the hassle out of these tasks, making them both quicker and easier to complete. The thing is, power tools can be quite expensive. Are you wondering where the best deals, coupons, and discounts on top brands like Makita, Milwaukee, and DeWalt can be found? Look no further. Here are some top tips on finding great deals on power tools.
Home Depot
Known for its wide variety of supplies and power tools, Home Depot is an excellent place to start your hunt for power tool deals. From drills to wrenches, chainsaws to table saws, you'll find tools from top brands like Makita, Milwaukee, and DeWalt. What about discounts? Whether it's a take-off on the price or a bundled offer, Home Depot offers fantastic savings on these top brands.
Lowes
Next up in your power tool discount quest is Lowes. Just like Home Depot, Lowes is known for its huge variety of power tools from top manufacturers. Are you a fan of brands like Bosch or Black + Decker? Lowes have got you covered with great power tool discounts to help you save on your purchase.
Acme Tools
If you haven't heard of Acme Tools, it's high time you acquainted yourself with this gem. Not only does Acme Tools offer an extensive range of power tools from top brands, but they also offer regular coupons and discounts. Acme Tools is the perfect place for a power tool deal scavenger like you.
Labor Day Deals
Keep an eye out for major holidays, especially Labor Day. Labor Day weekend holds many treats for power tool aficionados across brands like DeWalt, Ryobi, and Klein Tools, offering unbeatable discounts and savings. Our advice? Mark your calendar for the next Labor Day and prepare for the best power tool deals of the year.
Finding a great deal on power tools isn't as daunting as it might seem, thanks to these retailers. So whether you're a DIY-er or a professional, secure your savings today with these irresistible discounts on your favorite brands. Power up your purchases, and make the most of these fantastic deals.
Budget-Friendly Tips for Tools and Equipment
With a little creativity and careful planning, securing high-quality tools and equipment on a budget doesn't have to feel like an impossible task. Here are some strategies to help secure that much-needed piece of equipment or tool without breaking your bank.
Online Platforms
In our digital age, online platforms such as Craigslist and Facebook Marketplace have become treasure troves for bargain hunters. From power drills to paint brushes, these websites offer an array of tools and equipment often at fractions of the original prices. Similarly, online auction houses are a great place to score deals on both new and used equipment.
Borrowing and Renting
If purchasing tools and equipment feels too expensive, consider borrowing or renting them instead. Many home improvement stores offer rentals, providing budget-friendly alternatives to buying expensive equipment outright.
Researching and Planning
Investing in durable, high-quality tools can actually save you money in the long run. By researching brands and models known for their longevity, you avoid the cycle of constantly replacing cheaper, lower quality tools. Spend some time comparing prices and reading reviews before making a purchase.
Seasonal Sales
Who doesn't love a good sale? Major home improvement retailers often have seasonal sales where you can score substantial discounts on tools and equipment. Keep an eye on holiday sales, end-of-season clearances, and special promotional events.
Negotiating and Buying in Bulk
Negotiating can be an effective way to reduce the price of tools and equipment. Also, consider buying in bulk when possible to get further discounts. Larger orders often come with better pricing, and you might find that buying more now can bring considerable cost advantages down the line.
Loyalty Programs
Loyalty programs aren't just for grocery stores - many tool and equipment retailers offer them as well. These programs often provide members with exclusive discounts, early access to sales, and even cash back on purchases. Though it might require a small initial investment, the long-term benefits can potentially offset your costs significantly.
Warehouse and Remnant Sales
Warehouse and remnant sales present more opportunities to save. These events allow vendors to clear out old stock, sometimes offering up to 70% off original prices. Don't shy away from these 'last season' items – chances are, they'll serve their purpose just as well as the latest model!
Secondhand Materials and Decor
Scour your local thrift stores or garage sales for secondhand materials and decor. They might need a little love, but with some elbow grease, these items can add unique, personal touches to your projects without adding stress to your budget.
Trade Tool Suppliers
Finally, look to trade tool suppliers like TradeTools, which provide professional standard tools at prices preferential to tradespeople. Despite the competitive pricing, these suppliers don't compromise on quality - meaning you get the best of both worlds.
In the world of tools and equipment, remember that patience pays. Heed these budget-friendly strategies, and you'll build your stockpile without squandering your savings. Caveat emptor – let the buyer beware, but also let them be smart.
Choosing Versatile and Cost-Effective Tools
Whether you're a seasoned craftsman or a DIY newbie, investing in versatile and cost-effective tools is of paramount importance. Decking your workshop with the right tools will not only save you money but also add an element of convenience, making every project seem less daunting.
Power Drill
If any tool could be described as a jack-of-all-trades, it would be the power drill. They come with a variety of attachments that help you carry out various tasks, from driving screws to boring holes. A good power drill can last forever, and its versatility is unmatched, making it one of the wisest investments you could make for your DIY projects.
Stud Finder
Next on the list would be a stud finder. It's a godsend for anyone who has experienced the frustration of blindly searching for a stud in the wall. A reliable stud finder can eliminate the guesswork and help you locate studs precisely. It's an essential tool for projects that require you to hang heavy items on the wall.
Laser Level
For the meticulous craftsman, nothing can replace a laser level. This device saves a lot of time that would traditionally be spent meticulously adjusting traditional levels. Using a laser level, you can establish straight and correct lines for tasks that need precision, such as hanging pictures or installing cabinets. With its foolproof accuracy and ease of use, the laser level is a must-have for your toolbox.
Quality Paint Brushes
Though it may seem insignificant, a set of quality paint brushes can drastically improve the final outcome of painted DIY projects. Cheap brushes not only shed bristles but also tend to leave unsightly streaks. On the other hand, good quality paint brushes offer smooth and consistent coverage, boosting the appearance of your hard work. They're also more comfortable to use, which can make all the difference during larger projects that require extended periods of painting.
Corded Tools
For beginners on a budget, investing in corded tools such as jigsaws can be a wise decision. While cordless tools offer mobility, they tend to be pricier due to the cost of batteries and chargers. On the other hand, corded tools, despite their limited range, perform just as well, if not better, and tend to be cheaper, making them a sensible choice for those dipping their toes into the realm of DIY work.
In conclusion, the trick is to find tools that give you the best bang for your buck. Good quality, versatile tools will increase the efficiency and enjoyment of your DIY projects, and in the long run, help keep your expenditure under control. Remember, it's not about owning countless tools, but about having the right ones.
Saving Money on Tool Purchases
Whether you're an avid DIY-er, a professional contractor needing to replace worn-out equipment, or simply starting on a new home improvement project, tool expenses can add up quickly. Thankfully, there are multiple ways to save on tool purchases, without compromising on quality and performance. From cash-back apps and coupons to shopping at online retailers, it's all about harnessing the power of a cost-conscious approach.
Cash-back Apps
Cash-back apps have firmly established themselves as savvy shopping tools. Not only do they give you a percentage of your money back after making a purchase, but they also help you rack up rewards over time. When purchasing your tools:
Look out for apps that partner with tool manufacturers or home improvement stores, maximizing the amount you can get back.
Pay attention to the timelines. Sometimes, cash-back offers might be available for a limited period.
Remember, some apps offer not just cash-back but also additional reimbursements through gift cards or other in-app purchases.
Clearly, these apps transform seemingly expensive purchases into more affordable, rewarding experiences!
Coupons
In the quest for saving money on tools, never underestimate the potential of coupons. They are essentially free money that can shave off a significant chunk from the total bill:
Traditional paper coupons from newspapers and magazines can still be used at local stores.
Digital coupons, on the other hand, are often found on retailers' own websites or aggregate coupon sites.
Some retailers even offer "Coupon Stacking," which allows you to use more than one coupon on a product.
Hence, coupons aren't just about small percentages off; they can add up to substantial savings.
Online Retailers
In the age of e-commerce, online retailers offer several advantages for cost-effective tool shopping:
Price comparison: It's quicker and easier to compare prices across multiple retailers.
Wider range: With warehouses instead of shop floors, online retailers often have a wide array of tools to choose from.
Frequent sales and discounts: Internet-based sellers often reduce prices around the year, not just on specific holiday sales or clearance events.
So next time, before heading over to the brick-and-mortar store, try exploring online options for those toolbox essentials.
Evidently, saving money on tool purchases isn't as daunting as it might seem initially. With a little knowledge and a bit of strategic planning, top-quality tools can fit snugly into even the tightest budgets. Now, who said you can't have your cake and eat it too? Let's get shopping and saving, shall we?
Organization Tips for Tools and DIY Supplies
Having your tools and DIY supplies organized can save you both time and money. Not only will you be able to find things easily, but keeping your tools in good condition can extend their life, saving you from having to replace them prematurely. The following strategies can help you maintain a tidy and efficient workspace.
Toolboxes and Containers
A classic approach to organizing tools is using toolboxes and containers. Various sized toolboxes can accommodate different types of tools, both big and small. Rather than having everything mixed together, dedicate each box or container to a specific category of tools. This way, you won't have to rummage around looking for that particular screwdriver which can be time-consuming.
Tool Bags
Another practical way of organizing your power tools is through tool bags. These often come with compartments and pockets that allow you to keep everything in place. Plus, they are usually designed for durability and portability, which makes them perfect for tasks that require moving around your home or outside.
Portable Tool Caddies
Ratchet up your organization game with portable tool caddies. They can hold a variety of tools and supplies, can be easily transported, and can be conveniently placed wherever you're working. This eliminates the need to constantly travel back and forth to your tool storage area.
Accent Walls
If you have a designated workspace, consider an accent wall with pegboards. Pegboards offer a flexible storage solution where you can hang and display tools. This allows for easy access and also gives you a clear overview of your tools. The best part is, a pegboard wall can also bring a stylish edge to your workspace.
Repurposed Materials
Don't be scared to show off your DIY skills by creating your own tool organizers using repurposed materials. Old pallets, mason jars, and PVC pipes are just a few examples that can be transformed into efficient tool holders.
Organizing your tools and DIY supplies should not be a daunting task. With these strategies, you'll have a better-ordered workspace, which will facilitate a smoother and more successful DIY experience. Happy organizing! Remember, a tidy space equals a tidy mind.
Frequently Asked Questions
Where can I find cheap tools and equipment for DIY projects?There are several places where you can find cheap tools and equipment for DIY projects. Some popular options include online marketplaces like eBay and Craigslist, local thrift stores, garage sales, and online classified ads. Additionally, you can also check out discount stores, clearance sections of home improvement stores, or consider borrowing tools from friends or family.
Are cheap tools and equipment of good quality?Not all cheap tools and equipment are of low quality. While you may have to compromise on brand recognition or specific features, there are budget-friendly options available that offer decent quality and functionality. Do your research, read product reviews, and compare prices to find the best value for your money without sacrificing too much on quality.
What are some tips to get the best deals on tools and equipment for DIY projects?To get the best deals on tools and equipment for DIY projects, consider the following tips: 1. Shop during sales and discount periods. 2. Look for clearance items or open-box deals. 3. Buy in bulk or consider package deals. 4. Check out online coupon websites for additional discounts. 5. Consider purchasing used tools from reputable sellers. 6. Compare prices from different sellers to ensure you're getting the best deal.
Should I prioritize brand or price when buying tools and equipment for DIY projects?The priority between brand and price depends on your specific needs and budget. Established brands often come with a higher price tag, but they generally offer better quality and reliability. However, if you are on a tight budget, you can still find decent quality tools from lesser-known brands or generic options. Consider your requirements, read reviews, and strike a balance between brand reputation and affordability.
What are some essential tools and equipment needed for DIY projects?The essential tools and equipment for DIY projects may vary depending on the type of project, but some common ones include a hammer, screwdrivers (flathead and Phillips), drill with bits, tape measure, level, pliers, wrenches, utility knife, and safety equipment such as goggles and gloves. Assess your specific DIY needs and acquire tools accordingly.