Budget-Friendly DIY: Finding Cheap Tools and Equipment
Discover effective ways to find budget-friendly tools and equipment for your DIY projects. Save money while still getting the job done with these tips and tricks.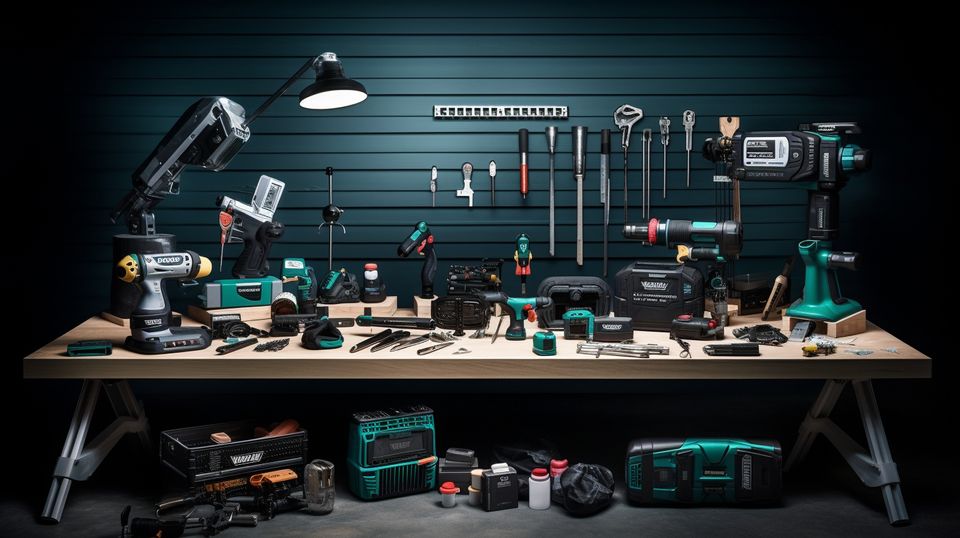 Getting started with a DIY project can be daunting, not just because of the learning curve and potential difficulties, but also due to the potential cost of tools and equipment. However, no matter if you're a novice looking to dip your toes into the world of DIY, or a seasoned pro wanting to expand your toolkit without breaking the bank, there are budget-friendly options available.
The secret is to know where to look, what to look for, and most importantly, understand that a higher price tag doesn't always mean better. This guide will highlight essential, cheaper tools for DIY projects, provide tips on organizing and storing these tools, and delve into some affordable DIY approaches and alternatives. By the end of it, you'll feel more confident about embarking on your DIY journey—without emptying your wallet! Now, let's dive in and start talking tools.
Essential Cheaper Tools for DIY
Tackling your own home improvement and DIY projects can be a rewarding and cost-effective way to give your home a personalized touch. While there are multitudes of resources available to help guide you, what's often left unmentioned is the essential tools required. Depending on what you're working on, the type of tools can vary. Here are some essential yet cost-effective tools that every DIY lover should consider.
Power Tools
When it comes to power tools, the options can be quite overwhelming but don't sweat it! Essential power tools for DIY beginners on a budget include a power drill, cordless nail gun, jigsaw, and more. For example, a DeWalt cordless drill/driver is reasonably priced but still offers excellent performance. Consider opting for a corded jigsaw instead of the cordless one; they are equally powerful but often cheaper.
Hand Tools
In the realm of hand tools, a 46-piece household hand tool kit and adjustable wrenches in different sizes are your best friends. On a budget? Consider the Amazon Basics 173-piece hand tool kit or the Stanley 65-piece Mechanical Tool Set. A utility knife is another inexpensive but invaluable tool used to cut through various materials, making it a must-have for DIY enthusiasts.
Tool Kits
For those who like all their tools in one place, tool kits like the Black + Decker 20V Max Drill and Home Kit offer a comprehensive solution without leaving a hole in your pocket. Alternatively, the Craftsman V20 Cordless Drill Combo Kit is another great investment that includes all the essentials at an affordable price.
Home Improvement Tools
If you're planning to do home improvements, you'll need some specific tools. Rotary tools are some of the best for home improvements and woodworking, and the Dremel 4300 is a high-quality yet affordable choice. The Critter is another cost-effective tool for DIY beginners looking to avoid expensive paint sprayers.
DIY Furniture and Decor Tools
Think of creating your own furniture and decor items? Then you'll definitely need the Kreg Jig and Kreg clamps - they are well-priced and highly recommended. And don't forget about high-quality paint brushes, a stud finder, and measuring tools - they're essential for any DIY lover.
Safety Gear
Last but not least, safety gear is a crucial part of any DIY project. It's always better to be safe than sorry, ensure you have the necessary safety gear, including goggles, gloves, and a durable apron or overalls.
Whether you're a beginner or seasoned DIYer, these cost-effective tools offer great value and functionality to help you tackle your DIY projects like a pro. Remember, investing in the right tools isn't about having the most expensive ones; it's about having the right ones. Happy DIY-ing!
Organizing and Storing Tools
As burgeoning technologies amplify work productivity, it's essential to maximize the benefits these advancements offer. Taking a unique approach to an everyday challenge, we find ourselves exploring the world of tool organization and storage solutions. Amidst a spectrum of approaches, two stand out for their effectiveness and creative zest: QR Code Labeling and innovative Tool Storage Systems.
QR Code Labeling
QR Code Labeling is a game-changer in the world of organization. This method streamlines the process of tool tracking by embedding key information about each tool in a machine-readable barcode. By programming each tool's specifics, including its type, specifications, and location, a simple scan reveals all necessary insights. Now, no more rummaging around boxes or drawers; a swift scan is all it takes!
Swift Access: Your tools become easily accessible once appropriately labeled.
Decreased Loss Rates: The chances of misplacing tools become minimal.
Maximized Efficiency: The overall productivity and efficiency of your tasks improve significantly.
Tool Storage Systems
Coupling QR Code Labeling with advanced Tool Storage Systems ensures a higher degree of control over your tool collections. Ranging from simple pocket organizers to sophisticated wall-mounted units, these systems ensure that there's a place for every tool and every tool in its place.
Space Optimization: Tool storage systems effectively utilize space, promoting clutter-free workspaces.
Durability and Security: These systems are built to last while ensuring the security of your tools.
Ease of Accessibility: They allow quick and convenient access to your tools, decreasing downtime.
A pinch of ingenuity in the form of QR code labeling and tool storage systems can help organize your tools and equipment effectively. The aforementioned strategies not only enhance tool tracking and storage but also foster an environment of organized and productive workspaces. Stepping into the future of tool organization is a matter of integrating these promising solutions into our day-to-day tasks. It's time to transform work productivity by simply redefining how we store and organize tools!
Affordable DIY Approaches and Alternatives
The DIY revolution has brought about a significant change in the way we live and operate in our homes, workspaces, and even our leisure activities. With creativity curling around every corner, we can see the ingenious minds at work in everything from low-cost DIY and open-source hardware to DIY cleaning supplies and weightlifting equipment.
Low-Cost DIY and Open-source Hardware
Embracing a frugal yet effective lifestyle can be delightful, and low-cost DIY approaches and open-source hardware accommodate precisely that. These easy-to-follow, cost-effective methods pave the way for augmenting low-income settings with minimal resources. Cheap and accessible components like Raspberry Pi, Arduino, and affordable coding platforms are just a handful of the resources that are making technology more feasible in low-budget scenarios. Open-source hardware brings a fresh perspective and encourages innovation and bespoke solutions in myriad ways.
DIY Cleaning Supplies
There's nothing quite like a clean, fresh-smelling home. But what if I told you that you could achieve this lovely ambiance without putting a dent in your bank account or resorting to chemicals? More and more homeowners are coming to realize the equal (if not superior) efficacy and affordability of DIY cleaning supplies. Made from everyday kitchen supplies like vinegar, baking soda, and citrus peels, these concoctions do an equally good job of keeping your living spaces spick-and-span while offering a natural approach to cleanliness.
Low-Cost DIY Weightlifting Equipment
Fitness has evolved beyond gym spaces and personalized fancy equipment. As a matter of fact, you can build your own weightlifting equipment, like EP Iron Plates, without having to burn a hole in your pocket. Low-cost DIY weightlifting equipment not only empowers you to sustain your fitness journey in a cost-effective manner but also strengthens your commitment by making you an active participant. You spend less on membership fees and invest more in the genuine pursuit of fitness.
In essence, the DIY way of life is not just about being money-smart; it's about deriving satisfaction in creating something out of nothing and using it with the pride of a creator. What's even better is that this opportunity is accessible to everyone, regardless of economic circumstance, prowess, or background knowledge.
Conclusion
DIY projects can be exciting and fulfilling! They not only allow you to tap into your creativity but also help you save on costs. However, the heart of your DIY projects is having the right set of tools and equipment. Our focus at Ultra Handy is supporting you by offering affordable, durable, and handy tools that will revolutionize your DIY approach. Remember, the secret to maintaining your tools longer lies in organizing and proper storage solutions. Plus, always keep an open mind and be on the lookout for alternative DIY approaches that are budget-friendly. With careful planning and purchasing at our Ultra Handy Amazon store, you never have to blow your budget to realize your DIY dreams. Happy crafting!
Frequently Asked Questions
Where can I find cheap tools and equipment for DIY projects?You can find cheap tools and equipment for DIY projects at various places such as hardware stores, thrift stores, online marketplaces like eBay or Craigslist, garage sales, and even rental stores that offer used equipment for sale.
Are cheap tools and equipment of good quality?Not all cheap tools and equipment are of poor quality. It's important to do research, read reviews, and inspect the items before purchasing. Some affordable options may offer good quality if you choose wisely.
What should I consider when buying cheap tools and equipment?When buying cheap tools and equipment, consider factors like the condition of the item, brand reputation, warranties or guarantees, return policies, and whether it meets your specific project requirements.
Can I rent tools and equipment instead of buying them?Yes, renting tools and equipment can be a cost-effective alternative, especially for infrequent DIY projects. Rental stores often have a wide range of tools and equipment available for various durations.
Are there any online platforms specialized in selling cheap tools and equipment?Yes, there are online platforms like Amazon, eBay, and Alibaba that offer a wide variety of affordable tools and equipment. Always check user reviews, seller ratings, and compare prices before making a purchase.