Finding Bargain Tools: Expert Recommendations for DIY Enthusiasts on a Budget
Discover expert tips for finding bargain tools while sticking to a budget. Get recommendations on high-quality tools that won't break the bank for DIY enthusiasts.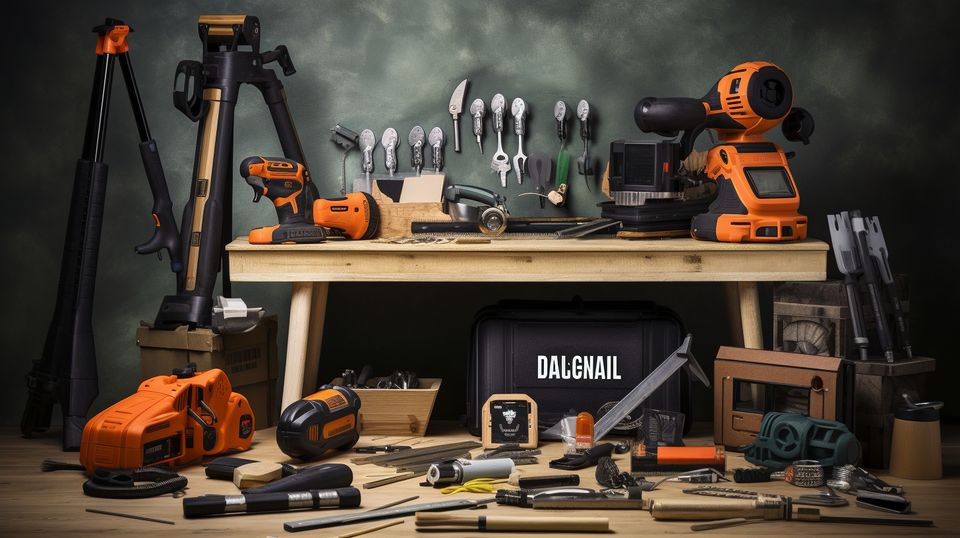 Whether you're taking up DIY as a hobby or you're a seasoned pro handling your own household repairs, one thing's for sure: Quality tools can make a difference. However, as with any investment, price can often be a significant obstacle. But thankfully, this doesn't have to be the case. It's possible to find robust, reliable tools without breaking the bank or emptying your wallet. This article was written with you – the budget-conscious DIY enthusiast – in mind. We'll explore different types of power and hand tools that can provide excellent value, discuss affordable digital resources, and share some top tips for planning and building a budget-friendly tool kit. Ready to start building, crafting, and creating? Let's dive in!
Power Tools for the Budget Conscious
Power tools are cherished assets in any toolbox, essential for both professionals and DIY enthusiasts. However, high costs can often be a barrier to purchasing quality power tools. Fear not; there are a plethora of types and brands of affordable power tools, as well as smart shopping strategies that don't compromise on quality. In this guide, we'll explore power tools well within your budget and enlighten you on how to shop wisely.
Types and Brands of Affordable Power Tools
Costs of power tools vary wildly, with domestic tools typically priced between $25 and $100, while industrial power tools can fetch anything between $150 and $10,000. In the domestic realm, the selection is extensive: drills, saws, sanders, oscillating tools, routers, band saws, and electric screwdrivers. They provide an excellent start for DIY projects without breaking the bank, and each has its unique features that aid various tasks around your home.
Moreover, affordable doesn't always mean compromising on quality. Several brands consistently produce reliable and budget-friendly power tools. Popular brands such as BLACK+DECKER, DeWalt, Craftsman, Bosch, and Makita have earned their reputation from meeting high standards whilst retaining competitive price tags. Ryobi tools have even gained popularity amongst DIY enthusiasts because of their affordability and reliability.
Essential Power Tools for Beginners
If you're just starting your DIY journey and need to have the basic power tools without burning holes in your pocket, here are a few essentials:
Drills: Probably the most versatile of all power tools. From hanging a painting to building furniture, a drill makes all kinds of projects manageable and quick.
Saws: A prerequisite for any cutting tasks. Circular saws are versatile and make quick cuts, while jigsaw and reciprocating saws are perfect for more intricate work.
Sanders: For a smooth finish to your woodworking projects, a sander is essential. It helps in removing rough edges and preparing surfaces for painting or varnishing.
Oscillating tools: These multifunction tools can do everything from cutting, sanding, scraping to grinding.
Shopping Smart: Comparing Prices and Waiting for Sales
To maximize savings on power tools, it's crucial you adopt a smart shopping strategy. Researching and comparing prices is a keystone habit of smart shoppers. Moreover, taking advantage of specific times of the year, such as Prime Day or holiday sales, can significantly cut costs.
Smart shopping also involves understanding when to invest more. Certain tools with higher prices might offer more durability or versatility, ultimately saving you money in the long run.
When it comes to power tools, consider your budget plan, your needs, and the project at hand. Armed with these insights and the right tools, your new DIY venture or professional endeavor will be ready to power ahead.
DIY Hand Tools on a Budget
Being handy around the house shouldn't have to cost you an arm and a leg. Everyone from the DIY enthusiast to the occasional fix-it person can benefit from having a range of tools at their disposal. That's where budget-friendly hand tools come into play. But don't let the word 'budget' fool you - these tools pack a punch. Hand tools, contrary to popular belief, don't have to break the bank. In fact, they can be a fantastic, cost-effective alternative to their more expensive power tool counterparts.
Affordable Hand Tools as Alternatives
When you're working on a project, having the right tool in your hand makes all the difference. Certain hand tools, like a claw-style hammer, are a practical, affordable option that can handle most DIY jobs around your home. Here are some budget-friendly alternatives:
Screwdrivers of various sizes
A good, sturdy wrench
Pliers - needle nose and locking
A durable tape measure
Quality claw-style hammers
These hand tools typically won't set you back much, but they'll definitely come in handy. They can tackle everything from assembling furniture to minor home repairs.
Innovative and Trusted Hand Tools for DIY Projects
An important aspect to consider when shopping for tools on a budget is quality. Even if you're mindful of your spending, it's crucial to ensure you're buying tools that are reliable and durable. Afterall, a tool is only as good as its ability to perform when you need it to.
Finding hand tools that are both trustworthy and budget-friendly might seem like a herculean task, but it's definitely achievable. Brands like STANLEY, CRAFTSMAN, and BLACK+DECKER are renowned for their innovative and reliable tools without the hefty price tags. They're a testament to the fact that budget-friendly doesn't necessarily equate to subpar quality.
Recommended Budget-friendly Tool Kits
One way to gather a collection of functional hand tools without incurring a huge cost is to invest in a tool kit. They offer a variety of tools at a fraction of what it would cost to buy each tool separately.
Take the Cartman 39-Piece Tool Set, for instance. It's an all-inclusive kit that attends to your basic DIY needs, and it comes at a bargain. Similarly, the DEWALT 168-Piece Mechanics Tool Kit is a comprehensive collection of quality tools that cater to both professional and amateur DIY enthusiasts and it won't drill a hole in your pocket.
When it comes to DIY projects, having the right tools matters. But so does being smart about your investments. The good news is, with budget-friendly hand tools and tool kits, you can have the best of both worlds- quality and affordability.
Digital Tools and Resources
In the hustle and bustle of today's fast-paced digital sphere, the value of leveraging digital tools and resources cannot be overstated. Whether you're building a website, crafting engaging digital content, or even using power tools safely, a vast array of digital tools, tutorials, and resources are at your fingertips. Let's delve into the specifics of website builders, DIY design tools, and power tool safety procedures.
Website Builders: Shopping for Features, Not Just Price
When it comes to website builders, choosing a platform goes beyond just the price tags. While lower-cost options may sound appealing, it's vital to consider the variety of features each platform offers. Functionality, ease of use, customization options, and customer support play vital roles in maneuvering your online presence successfully. So, remember, you're shopping for comprehensive features, not just affordability.
DIY Design Tools: Canva and Alternatives
In recent years, budget-friendly digital design tools such as Canva have become essential in creating stunning, professional-quality graphics. These tools provide a host of templates, fonts, and design elements, allowing users to let their creativity flow without the need for extensive graphic design knowledge. While Canva is a popular choice, many alternatives offer unique benefits, giving you plenty of options to tailor your projects to perfection.
Optimizing for Safety: Power Tool Manuals and Safety Measures
When it comes to operating power tools, safety reigns supreme. While it's essential to get tasks done efficiently, it's equally crucial to follow safety measures diligently. An overlooked digital resource in safety optimization is the humble tool manual. Reading through the user manual ensures you understand the tool's performance capacities and safety protocols, allowing you to utilize it properly while reducing risks.
Harnessing these digital tools and resources can hugely benefit the way we work, create, and safeguard ourselves in various tasks. Use them to supercharge your growth in the digital space and beyond!
Essential Tips for DIY Enthusiasts on a Budget
The English language is a beautiful tapestry of words woven together, igniting sparks of creativity, emotion, and imagination. Understanding its intricacies can be a rewarding journey, open doors to literature, writing, or simply enhancing everyday communication. Think Shakespearean sonnets, Oscar Wilde's witticisms, J.K. Rowling's enchanting tales, or Martin Luther King's proclamatory speeches; all have harnessed the power of the English language to stir hearts and transform minds. So, this section is dedicated to uncovering some interesting facets of this globally spoken language, giving you new insights and appreciation for its diverse capabilities.
A Well-Stocked Toolbox
Every DIY enthusiast needs a well-equipped tool kit. Just as a chef requires good knives, a handyman must have a toolkit boasting the essential equipment. Having the right tools handy can be the critical difference between a quick, successful repair and a frustratingly long ordeal. Essential tools that should be part of your kit include a flat head screwdriver, crescent wrench, box cutter, a level, measuring tape, and a cordless drill. By investing in good quality tools, you assure longer-lasting equipment that can save you money in the long run.
Savvy Shopping for Gardening Tools
Gardening tools can burn a hole in your pocket if not purchased wisely. Waiting for seasonal sales or discount offers can prove immensely helpful in nabbing the best deals. Plants, for instance, often go on sale towards the end of the growing season, and you may find attractive markdowns on gardening tools then. With a bit of planning and smart shopping, you can procure quality tools without breaking the bank.
Key to Longevity: Tool Storage and Organization
Proper organization and storage of tools can significantly extend their lifespan. It also has the added benefit of making them easier to access when you need them, saving precious time during DIY projects. Tools left scattered around are not just a safety hazard but also prone to damages like rust, dust build-up, or blunt edges. Invest in a sturdy toolbox, pegboards or wall-mounted racks for larger tools, and small part organizers for nuts, bolts, screws and other small items. This will not only guarantee longer life for your tools but also a more enjoyable, frustration-free DIY experience.
"Give me six hours to chop down a tree and I will spend the first four sharpening the axe." - Abraham Lincoln.
This quote from Lincoln summarizes the importance of preparation, and in our context, the significance of investing time, money, and effort in gathering, maintaining, and organizing your DIY tools perfectly.
So there you have it, a well-prepared DIY enthusiast not only has the best tools but knows when to buy them and how to store them. These essential tips can help you streamline your DIY ventures, making them more productive and enjoyable, whilst saving some hard-earned cash. Happy DIYing!
Conclusion
Arming yourself with the right tools should not break the bank. Whether you're a seasoned DIY enthusiast or a rookie, recognizing the best tools for the job, without overspending, is critical. Always consider the type and brand of tools required, compare prices, and plan for future sales to stretch your budget. By being smart with your purchases and caring for your tools, you lengthen their lifetime and increase your return on investment.
For a convenient, one-stop option, you can check the selection at Ultra Handy. Our eCommerce Amazon store has a broad range of power tools, hand tools, and outdoor essentials, catering to both the avid DIY enthusiast and the outdoor lover. At Ultra Handy, we're committed to helping you succeed in your life and work. Find your ultimate tool kit today and let's build something amazing together - because every great project starts with the right tools. Visit our store today!
Keep pursuing your passion and remember, the world is in your capable hands. Let Ultra Handy be a part of your success journey. Happy DIY-ing!
Frequently Asked Questions
What are some tips for finding bargain tools for DIY enthusiasts on a budget?Some tips for finding bargain tools for DIY enthusiasts on a budget include: 1. Shopping at thrift stores and yard sales, 2. Utilizing online marketplaces like eBay or Craigslist, 3. Checking for discounts and deals at local hardware stores, 4. Joining DIY forums and communities for recommendations on affordable tools, 5. Considering renting tools instead of buying them for one-time projects.
Are cheap tools of good quality?Not all cheap tools are of good quality, but it is possible to find affordable tools that are still reliable and durable. It's important to read reviews, check for warranties, and research the reputable brands that offer budget-friendly options to ensure you get the best value for your money.
What are some essential tools every DIY enthusiast should have?Some essential tools every DIY enthusiast should have include: 1. Screwdrivers (both flathead and Phillips), 2. Claw hammer, 3. Tape measure, 4. Adjustable wrench, 5. Utility knife. These tools can handle a wide range of DIY tasks and projects.
Is it worth investing in expensive tools for DIY projects?Whether it's worth investing in expensive tools for DIY projects depends on your level of expertise, frequency of DIY work, and budget. If you're a professional DIYer or plan to take on complex and frequent projects, investing in high-quality tools may be beneficial. However, for occasional DIY enthusiasts, affordable tools can often suffice.
Can I borrow tools instead of buying them?Yes, borrowing tools instead of buying them can be a cost-effective option, especially for one-time projects. Consider borrowing tools from friends or family, or check if there are tool lending libraries or rental services available in your area.