Finding the Right Tools for DIY Projects: Expert Recommendations on a Budget
Get expert recommendations on finding the right tools for your budget-friendly DIY projects. Discover the essential tools that can help you accomplish your projects with ease.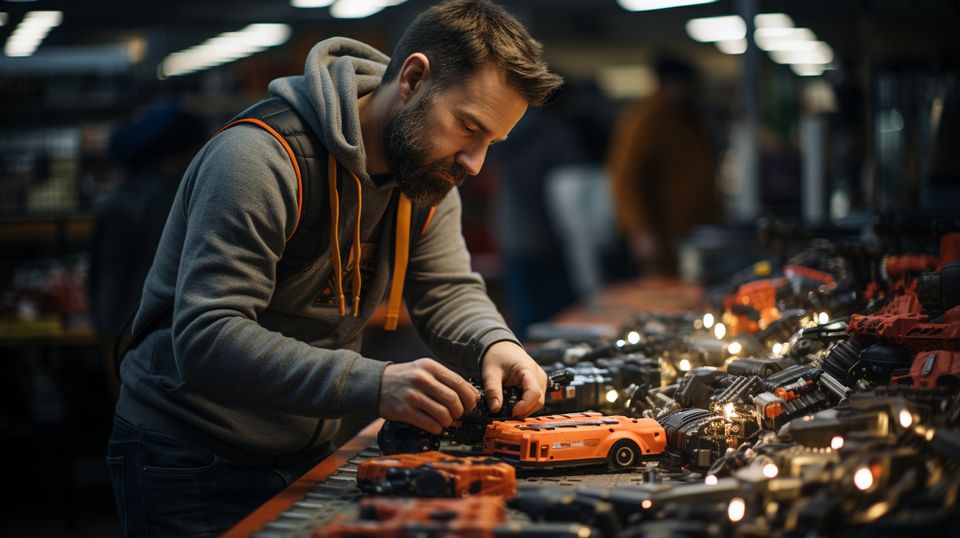 Unlocking the world of Do-It-Yourself (DIY) projects is an adventure that empowers self-reliance, creativity, and wallet-friendly solutions to problems big and small around your home. Sure, it can seem somewhat daunting when you first step into that hardware aisle, confronted by an overwhelming array of tools with names you barely recognize. But worry not, because our objective through this article is to demystify the often intimidating universe of DIY supplies.
Starting your DIY journey doesn't have to break the bank. If you're strategic about it, you can assemble a reliable and versatile set of tools without straining your finances. The trick lies in knowing which tools are essential and worth splurging on, the ones that will serve you well no matter what project they're called to action for. And that's precisely what we aim to help you figure out.
Welcome to our comprehensive guide on choosing the perfect tools for DIY projects, where we'll explore the utility of different tools, the highly recommended power tool brands, the best value power tool combo kits for the more ambitious DIY-er, and even a budget-friendly starter kit for those of you beginning your DIY journey.
As you navigate through this informative guide, think of us as your friendly next-door neighbor, always ready with practical advice to help you come out on top, no matter the project. Let's begin, shall we?
The Essential Tools for DIY Projects
For any DIY enthusiast out there, having the right tools is as crucial as the project itself. Knowing the necessary tools and the functionality of each is like winning half the battle. This article aims to help you choose wisely and steer clear of any potential tool-related mistakes that might hinder your DIY journey.
Cordless Power Drill/Driver
The cordless drill/driver is arguably the most versatile and indispensable tool in a DIYer's collection. They're convenient, powerful, and provide the luxury of portability. With these tools at hand, you can effortlessly drill holes, drive screws and do a range of tasks without requiring constant power connection. Thanks to big names like Ryobi, DeWalt, and Milwaukee, we have some exceptional cordless power tool combo kits available in the market.
Sander
If you're up for some serious carpentry work, a sander is an absolute must. This tool is designed to smoothen surfaces by abrasion with sandpaper, preparing your project of wooden furniture or antique refurbishment for painting or varnishing. The smoother the surface, the better the final finish will be. An uncomplicated yet highly effective tool, a good quality sander can significantly boost your DIY efficiency.
Circular Saw
Need to make straight cuts in a variety of materials like wood, metal, masonry, or plastic? The circular saw is your go-to tool! Ideal for carpentry, construction, and plumbing projects, a circular saw is easy to handle and can be unexpectedly effective once you get the hang of it. Circular saws are rated in the "42 best tools of 2023," along with drills, impact drivers, and chainsaws.
Additional Tools
Beyond these basic tools, your specific DIY projects may call for different types of tools. This could range from a combination square or a sturdy ladder to an electric screwdriver and plier sets, depending on the nature and complexity of the job. The importance of quality control cannot be stressed enough. Quality tools guarantee safety, durability, and a fruitful DIY experience.
There is no denying that each DIY project requirement demands different types of tools. Understanding the role each tool will play in your project will not only help you perform tasks effectively but also enrich your DIY experience. The journey of crafting something by yourself holds a unique sense of accomplishment, made even more enjoyable by wielding the right tools!
Top Power Tool Brands of 2023
As we traverse into 2023, it's worthwhile, especially for home improvement enthusiasts, to explore the top power tool brands making their mark this year. These industry-leading manufacturers always catch the spotlight with innovative designs, top-tier functionality, and unrivaled reliability. The following roundup presents you five of the leading power tool brands you should definitely consider in your next shopping spree:
Ryobi
Ryobi is a well-reputed brand synonymous with value and versatility. The Japanese manufacturer with a history dating back to 1943 has been excelling expectations with its impressive lineup of tools. The best part? They won't burn a hole in your pocket. Here's what makes Ryobi stand out:
Varied product range: From drills and drivers to saws and sanders, Ryobi offers it all.
ONE+ platform: Ryobi's workhorse 18V battery system supports over 200 tools, helping users stick with one brand for their diverse needs.
Known for good customer services and user-friendly designs.
DeWalt
DeWalt, a seasoned player in the power tool arena since 1924, is often a favorite choice among professionals. With a strong commitment to engineering and design, the American manufacturer ensures top-notch performance without compromising durability or reliability. Its key highlights include:
Terrific power and durability: DeWalt's tools are robust, lasting in even the harshest environments.
FLEXVOLT advantage: DeWalt's FLEXVOLT batteries automatically adjust voltage to give you extended run time.
Globally recognized for high-quality and innovative designs.
Milwaukee
Born in the heartland of America, Milwaukee has been delivering professional-grade tools since 1924. Known for redefining the power tool landscape with groundbreaking technology, Wisconsin's finest will never disappoint. Here's the Milwaukee advantage:
M18 platform: Offering a total system solution, Milwaukee's M18 platform hosts over 200 tools on a single battery.
Innovative designs: Milwaukee is widely acclaimed for pushing productivity to the next level with inventive features.
Consistent robust performance and top-quality build.
Makita
With over a century of expertise, Makita is a prestigious Japanese power tool brand with an extensive global footprint. Its tools are highly praised for their superb performance, compact design, and superior ergonomics. What makes Makita unique:
LXT system: Makita's LXT system has the most comprehensive brushless tools powered by 18V lithium-ion batteries.
Environmentally-friendly: Makita focuses on making productivity sustainable with low power consumption and carbon footprint.
Excellent durability and thoughtful designs that fit the user's hand perfectly.
Metabo HPT (formally known as Hitachi Power Tools)
Metabo HPT, also known as Hitachi Power Tools, is a brand that blends German engineering with Japanese craftsmanship. It offers a diverse range of technological advanced tools that are both user and budget-friendly. Here's why we love Metabo HPT:
Pioneering cordless technology: Metabo HPT's MultiVolt system allows the same tool to be used with a cord or cordless.
High standards of quality control and an expansive range of tools.
Provides an excellent balance between durability, performance, and cost-effectiveness.
Each of the power tool brands listed here has their own strengths and areas of expertise. The choice between Ryobi, DeWalt, Milwaukee, Makita, and Metabo HPT largely depends on your personal needs, preferences, and the specific tools you require for certain applications. Whatever your choice may be, you can be assured that these top power tool brands will provide reliable and efficient tools that are value-for-money and make your home improvement tasks a breeze. Remember, pros recommend these brands based on their reliability and performance, providing value for every dollar spent.
Best Value Power Tool Combo Kits
Discovering the right power tool set can feel like navigating a minefield, with so many brands, specifications, and budgets to consider. But worry not—there are numerous robust combo kits available today that bundle together the most essential power tools for the everyday handyman. Among them, the Milwaukee M18 18V 6-Tool Combo Kit, Ryobi One+ 18V Cordless 4-Tool Combo Kit, and the DeWalt 20V MAX Cordless Combo Kit stand out as the best value power tool combo kits in the market. Each of these kits offers a fantastic blend of performance, versatility, and value.
Milwaukee M18 18V 6-Tool Combo Kit
The Milwaukee M18 18V 6-Tool Combo Kit reigns supreme among all combo kits. It's designed with the professional in mind and offers unprecedented power, runtime, and versatility. Included is a careful selection of six power tools, two lithium-ion batteries, a charger, and a durable carrying case. Loaded with every tool you could possibly need for a host of DIY and remodeling tasks, Milwaukee M18 stands as the overall best combo kit.
Unrivaled Power and Performance
Great Value for the Cost: Despite its high upfront cost, the long-term value is unparalleled.
Perfect for Professionals and Enthusiasts Alike: With six tools included, it's suited to many varying tasks—whether you're a seasoned pro or a DIY fan.
Ryobi One+ 18V Cordless 4-Tool Combo Kit
With a reputation for high quality and cost-effective tools, Ryobi doesn't disappoint with their One+ 18V Cordless 4-Tool Combo Kit. This versatile kit includes a drill, reciprocating saw, circular saw, and a torch, along with a pair of batteries and a charger – giving you all you need to take on DIY tasks around the house. It's the best value for money in this list.
Surprisingly Affordable: Gives you impressive power tools without a hefty price tag.
Attachments Included: Comes complete with a drill, reciprocating saw, circular saw, and a torch.
Limited Lifetime Warranty: To give you peace of mind, Ryobi offers a generous warranty on their combo kit.
DeWalt 20V MAX Cordless Combo Kit
A brushless motor means more power, a longer lifespan, and less maintenance. If you're seeking the benefits of brushless technology, then the DeWalt 20V MAX Cordless Combo Kit is your go-to choice—the best brushless combo kit in the market. This kit offers five versatile tools, providing flexibility for a wide range of construction and remodeling projects.
Features Brushless Motor Technology: Higher power efficiency and longevity.
Includes 5 Premium Tools
Extended Battery Life: Perfect for those lengthy projects.
Every contractor, DIYer, or hobbyist has unique needs and preferences. The best power tool combo kit for you will depend on your specific requirements and budget. However, with their blend of performance, versatility, and value, the Milwaukee M18 18V 6-Tool Combo Kit, Ryobi One+ 18V Cordless 4-Tool Combo Kit, and the DeWalt 20V MAX Cordless Combo Kit are top contenders for any toolbox.
Economical Starter Power Tool Set
For any DIY enthusiast or homeowner dabbling into the world of power tools, the initial costs can be quite steep. However, an economical starter power tool set could be your ticket to exploring this exciting world without breaking the bank. Typically, such a set would include some must-have tools like a cordless power drill/driver, sander, and circular saw. The versatility of these tools and their crucial roles in conducting home improvement tasks make them indispensable in any power tool set. Grabbing these tools together, often at a significant discount, could be a savvy way to kickstart your DIY journey.
Diving a little deeper, let's look at each individual tool in the set:
Cordless Power Drill/Driver: Imagine you need to hang up a painting or install a shelf. Without a power drill, you'd exhaust yourself driving screws into walls or woodwork manually, not to mention how time-consuming it would be. That's where a power drill comes in handy. And a cordless one, even more so, as it eliminates the hassle of dragging cords around and gives you the freedom to work anywhere.
Sander: If you have ever tried to sand a piece of furniture or any woodwork manually, you'd appreciate how much effort it can save. Sanding is often a necessity before painting or staining for desirable finishes. A sander lets you do this task in a fraction of time and delivers a much smoother, even surface.
Circular Saw: A circular saw is key for any significant woodworking or construction project. Need to chop a few feet off a piece of plywood or lop a 2x4 to its desired length? A circular saw is your best friend for such tasks. It's fast, precise, and saves a ton of manual labor.
"Choosing the right tools can not only reduce your labor and frustrations but can also bring out the true joy of DIY projects."
Irrespective of the type or brand of the power tool set you choose, always remember to focus on tools offering maximum utility for your specific needs. An economical starter power tool set can be a great kick-off point, allowing you to gradually expand your collection as you grow more comfortable and experienced in handling these tools and identifying your unique requirements. DIY is all about learning and growing, and starting off with a basic, budget-friendly set is a great first step.
Recommended Tool Kit for Small DIY Projects
Every now and then, a minor repair or a creative DIY project pops up. It could be a leaky faucet, a loose doorknob, or an inspiring Pinterest craft. Whatever the task, having the right tools not only makes the job easier but significantly increases the odds of success. That's where the highly recommended BLACK+DECKER 12V Max Drill 60-Piece Home Project Kit comes into play. This toolkit is your all-in-one solution for small DIY projects around the house.
First and foremost, let's dive into what makes this toolkit a fantastic choice.
Comprehensive Range of Tools: This kit is not just extensive but practical. It includes a 12V MAX power drill and 59 hand tools and accessories, everything from pliers to a hammer, tape measure, drilling bits, screw driving bits, and many more.
Reliable Brand: BLACK+DECKER is a well-known brand in the world of tools and hardware, offering supreme quality and durability. This ensures that your tools last long and continue to perform exceptionally even after frequent use.
User-friendliness: With this kit, you don't have to be a skilled handyman. The tools are designed to be simple and easy to use for issues that often arise in households, making this kit perfect for people who are novices to DIY projects.
"I'm a firm believer that if you're going to do something, then do it right. The same goes for the tools you use. Invest in good quality—it will save you time and frustration in the long run." - Anonymous Handyman
The BLACK+DECKER 12V Max Drill 60-Piece Home Tool Kit brings together all the tools you may need for those small repairs or creative projects. It's a handy and practical kit that saves you from the hassle of investing in individual tools. It saves space, time, and in the long run, it saves money too.
In this always innovating, DIY era, a complete tool kit is not a luxury, but rather a necessity. Armed with the BLACK+DECKER 12V Max Drill 60-Piece Home Tool Kit, you're prepared to tackle any little curveballs your home might throw at you, from minor repairs to inspired DIY projects. With this reliable toolkit at your disposal, you're only limited by your imagination!
Conclusion
Diving into the DIY world can feel overwhelming, but with the right tools and knowledge, it becomes a joyful and rewarding journey. Despite the numerous options available in the market, choosing the right power tools shouldn't be a daunting task. Remember, quality, functionality, and affordability should guide your purchasing decision.
As you embark on your next DIY project, consider visiting Ultra Handy's Amazon store, where you'll find a wide array of top-notch and budget-friendly tools to suit your specific needs. Happy DIY'ing, and remember, your project's success is in your hands, and we're here to make your journey easier!
Frequently Asked Questions
What are some essential tools for DIY projects?Some essential tools for DIY projects include a hammer, screwdriver set, tape measure, utility knife, pliers, level, drill, and a set of wrenches.
How do I find the right tools for my DIY projects?To find the right tools for your DIY projects, consider the specific tasks you'll be performing. Research different brands, compare features and prices, read customer reviews, and consult with experts or experienced DIYers for recommendations.
Can I find quality tools on a budget?Yes, you can find quality tools on a budget. Look for sales, discounts, and promotions at hardware stores or online retailers. Consider buying used tools or borrowing from friends or family. It's also wise to invest in a few high-quality tools that will last longer, rather than buying a large collection of cheap tools.
Are power tools necessary for DIY projects?Power tools are not always necessary for DIY projects, but they can make tasks more efficient and easier to accomplish. If you plan on taking up frequent or complex projects, investing in a few essential power tools like a drill, circular saw, or jigsaw can be beneficial.
Do I need to have advanced DIY skills to use these tools?No, you don't need advanced DIY skills to use basic tools. With proper safety precautions and following instructions or tutorials, you can easily learn to use most tools. Start with simple projects and gradually build your skills and confidence.