Budget-Friendly Outdoor Gear for DIY Enthusiasts: Essential Equipment on a Budget
Discover essential budget-friendly outdoor gear for DIY enthusiasts. Find affordable equipment and tools that will help you tackle your outdoor projects without breaking the bank.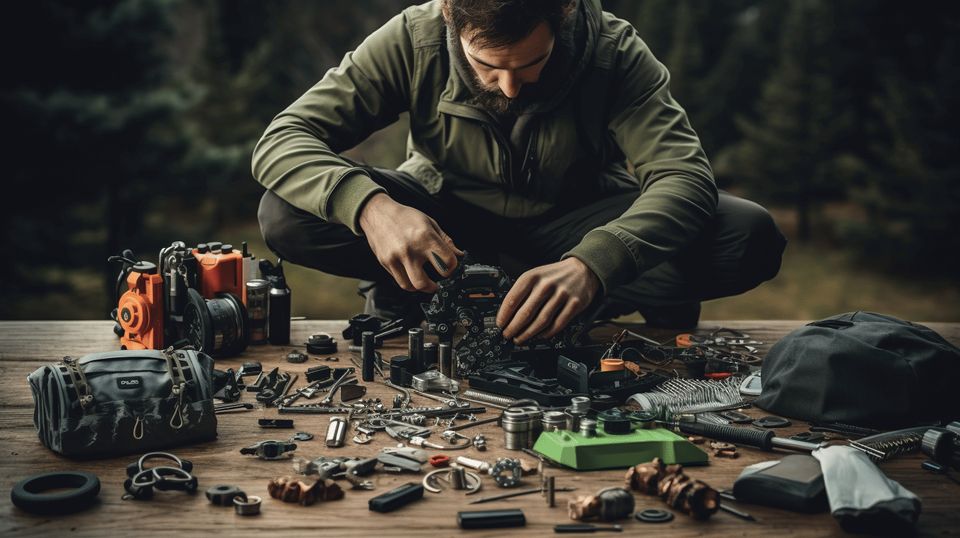 The great outdoors has always been a magnificent playground for adventure seekers, nature lovers, and DIY enthusiasts. From hiking and camping to bird-watching and beach-combing, there is an endless list of outdoor activities enjoyed by people across the globe. However, for many, one major hurdle comes in obtaining the right gear without breaking the bank. Budget-friendly outdoor gear can be difficult to source; it requires careful planning, thorough research, and a strategic understanding of where and when to purchase items. This article aims to provide readers with essential information and tips to help them find affordable outdoor gear without compromising on quality or safety. You will gain insights on savvy online shopping, local shopping options, tactical budgeting, community-based resources, and specific budget-friendly gear options suitable for diverse outdoor engagements. So gear up and let's dive right into this exciting guide.
Smart Online Shopping for Outdoor Gear
Are you an outdoor enthusiast and love spending time in the great outdoors, but find the cost of quality gear high? Worry not! In this digital age, finding affordable, yet reliable outdoor gear is just a click away. With numerous online retail platforms offering a plethora of options for discounted and used gear, your next camping trip doesn't need to break the bank. Let's delve into the world of smart online shopping for outdoor gear.
Discount Sites
One might wonder, are good quality outdoor gears and discounts mutually exclusive? Not at all! Sites like CampSaver, The Clymb, Steep & Cheap, REI Outlet, Sierra Trading Post, Backcountry, and Outdoorplay are breaking this myth. These websites offer deals and discounts certain to pique the interest of any savvy shopper.
CampSaver: Here, you can find deals on gear from renowned brands, perfect for the budget-conscious hiker.
The Clymb: They offer discounts on premium outdoor brands, making it possible to grab that coveted piece of gear at a steal.
Steep & Cheap: With daily deals and rotating sales, finding a bargain has never been easier.
Remember, discounted doesn't mean inferior quality. All these sites offer brand-name, authentic outdoor gear, just at friendlier price points.
Online Platforms for Used Gear
Why buy new when slightly loved works just as well? Used gear offers an earth-friendly and wallet-happy alternative to retail shopping. Platforms like REI Gear, Outdoorplay, and Amazon also offer used items, typically consisting of returned items that can't be sold as new but still have substantial utility left. Often, these are products which have been scarcely used and are available at a significantly reduced cost. Keep an eye out for sales events, like Amazon Prime Day, for unbeatable deals on gently used outdoor equipment.
Sales and Offers
There's great joy in snagging a great deal on that desired piece of gear, isn't there? Stores like Walmart, along with its label Ozark Trail, offer numerous sales events throughout the year. So whether you're looking for a reliable camping tent or a comfortable sleeping bag for your next outdoor adventure, stay alert for their mega sale events that often provide substantial savings.
Conclusively, shopping for outdoor gear need not be an expensive affair. With a keen eye for discounts, offers, and gently used items, you can accomplish your outdoor goals without overshooting your budget. Embrace smart online shopping as your shopping pal for your next outdoor adventure. Happy shopping!
Local Shopping Options for Outdoor Gear
When it comes to shopping for outdoor gear, many choices are out there, from big box stores to online marketplaces. But in this piece, we are focusing on how local options can give you excellent value for your money with a personalized touch. We'll highlight the benefits of turning to local outdoor dealers and army surplus stores in your area. Now, who's ready for an adventure?
Local Outdoor Dealers
Local outdoor dealers are a fantastic resource when prepping for your next great outdoor escapade. These stores offer a wide range of equipment, from hiking boots to tents and everything in between. Here are a few compelling reasons to visit your local outdoor dealer:
Great Selection: They keep a diverse inventory, catering to a variety of outdoor pursuits, increasing the chances of finding exactly what you need.
Expert Advice: The staff at these local dealers are often outdoor practitioners themselves. This means you can get personalized guidance based on your specific needs.
Support Local Economy: Finally, by opting for local outdoor dealers, you're supporting independent businesses and boosting your local economy.
One key point when cruising your local outdoor dealer is the wide range of affordable backpacking packs. This essential gear is often something people invest more in, but local dealers may offer economical options that don't skimp on quality or performance.
Army Surplus Stores
Another often overlooked but invaluable resource is the local army surplus store. These stores are goldmines, providing rugged, time-tested gear at bargain prices. Here's why you might want to consider checking out these stores before your next outdoor adventure:
Durability: Spawned from the need to withstand tough military conditions, the items sold here are built to last. Whether it's camping gear or clothing, you're guaranteed top-notch durability.
Affordability: While quality calls for a high price most of the time, army surplus is the exception to the rule. Here, you can score dependable gear at a fraction of the cost of other retailers.
Whether you're an experienced outdoors enthusiast or a beginner camper, it's always wise to explore all your options when hunting for gear. By considering local outdoor dealers and army surplus stores, you could find quality equipment at excellent prices, all while harnessing the spirit of shopping locally.
Remember, the right gear can make a significant difference during your outdoor adventures, and you might just find your next favorite piece of equipment tucked away in a local store. So why not give these local shopping options a try for your outdoor gear needs? You may be pleasantly surprised by what you discover.
Tactical Budgeting and Planning
When it comes to managing finances better, "tactical budgeting and planning" can be a lifesaver. By strategically planning our purchases and budgeting for our needs, we not only give more value to our money but also pave the way for financial strength and stability.
Optimal Months for Clearance Sales
A tactical approach to budgeting and planning would involve taking advantage of clearance sales. Everyone loves a good sale, and waiting for these can significantly help you save. To make the most out of clearance events, you may want to note down some particular months when retailers often slash their prices drastically.
February: It's the end of the winter season, and stores are eager to make room for spring collections.
March: Holiday goodies leftover from Valentine's Day are often on sale in March.
May: Expect furniture sales here as new models usually come in June.
Labor Day: You'll find summer items on clearance and great deals on back-to-school supplies.
November: Black Friday, a date that needs no introduction, offers some of the year's biggest discounts.
Prioritizing purchases during these periods can help you plan your budget efficiently and save significantly in the long run.
Outdoor Industry Wholesale Value
Besides seasonal sales, making purchasing decisions based on industry trends can also be a tactful budgeting strategy. An example of this could be seen in the outdoor industry. In 2021, the outdoor industry reached an impressive 6 billion euros in wholesale value. This spike in value indicates a surge in demand, which consequently leads to competitive pricing and a plethora of options for consumers.
Understanding these trends can provide insights into when the prices may be most competitive, allowing consumers to plan their purchases and budget appropriately.
By leveraging tactical budgeting strategies, such as taking advantage of clearance sales and understanding industry trends, you can effectively stretch your dollar and enhance your financial strength. It's not about spending less; it's about spending smart!
Community-Based Outdoor Gear Resources
Are you an outdoor enthusiast who often finds themselves overwhelmed by the cost of outdoor gear? Or perhaps you're a beginner, not ready to fully invest in your own set of equipment just yet? You're not alone! With high-quality outdoor gear often coming with a hefty price tag, community-based outdoor gear resources become a game-changer for many outdoor lovers.
Gear Rental Libraries
Forget about traditional libraries filled with books; imagine a library that lends out outdoor gear instead. Yes, these places exist! From tents to kayaks, hiking boots to camping stoves, gear rental libraries have everything you might need for your outdoor adventures.
In these community-centric spaces, both entry-level enthusiasts and seasoned adventurers can borrow high-quality equipment for a fraction of the cost. For instance, a place like Seattle's Gearhouse provides a vast range of affordable gear to rent that makes the outdoors more accessible to everyone.
Benefits of gear rental libraries include:
Variety: They offer a wide range of equipment, giving you the opportunity to try out different sports without breaking the bank.
Community: You get to connect with other outdoor enthusiasts, share experiences, and even arrange group trips.
Sustainable choice: By borrowing, we reduce the demand for manufacturing new products, thus contributing to a greener planet.
Outdoor Adventure Equipment Rentals
Another great resource for all your outdoor needs is outdoor adventure equipment rentals. These businesses run on a similar model, providing outdoor gear for rent for specific time periods.
For instance, the Outdoor Program offers an affordable outdoor adventure equipment rental solution that covers everything from rock climbing gear to paddleboards. It's not only convenient but also helps mitigate the upfront cost of investing in new equipment.
The advantages of outdoor adventure equipment rentals include:
Flexibility: Rent the gear only when you need it, reducing the hassle of storage and maintenance.
Affordable: It allows you to enjoy your favorite outdoor activities without the price tag associated with owning gear.
Expert advice: Staff at these establishments are usually experienced outdoor enthusiasts, they can offer valuable advice about the right gear for your adventure.
So next time you plan an outdoor adventure, remember there is no need to empty your wallet. Tap into the community-based outdoor gear resources - gear rental libraries and outdoor adventure equipment rentals, and you can equip yourself with everything you need for a successful venture into the great outdoors.
Specific Budget-Friendly Gear Options
If you're an outdoor enthusiast on a budget, you don't have to compromise on quality when it comes to equipment. The market is filled with budget-friendly gear that doesn't skimp on features or durability. Whether you're a backpacker, a weekend camper, or someone who just enjoys outdoor attire, there's something for every budget. With a bit of savvy shopping, you can find low-cost options that still uphold high standards for performance.
Backpacking and Hiking Gear
For the backpackers and hikers out there, you don't necessarily have to shell out for the most expensive gear to have a rewarding experience. A prime example of budget and quality merging beautifully is Paria Outdoor Products. This company balances affordability and performance, offering the best value for serious hikers. Their gear proves that lightweight, durable, and well-designed equipment doesn't have to drain your savings.
The range of products includes:
Tents
Sleeping Pads
Sleeping Bags
Trekking Poles
All these items are designed to withstand the elements and the rigors of backpacking treks. Whether on a long, strenuous journey or a quick weekend getaway, these products guarantee comfort and resilience.
Camping Gear
When it comes to camping, the right gear can make or break your outdoor experience. For those watching their spending, the SOTO Refillable Pocket Torch and Kelty Grand Mesa 2 tent come highly recommended.
The SOTO Refillable Pocket Torch turns less-expensive disposable lighters into a powerful, wind-resistant burner. It's a must-have for any camper looking for a small, versatile, and budget-friendly heating option.
On the other hand, the Kelty Grand Mesa 2 tent offers plenty of room, durability, and weather resistance, making it a worthwhile investment for your camping adventures without breaking the bank.
Outdoor Clothing
Lastly, let's delve into outdoor clothing. Investing in high-quality outdoor wear can seem expensive, but the longevity and performance of the items make them worth it in the long run. Plus, there are clothing brands out there catered to budget-conscious consumers that don't compromise on quality or aesthetic appeal.
For instance, REI offers a wide range of plus size outdoor clothing that is both affordable and durable. Designed to withstand different weather conditions while providing maximum comfort, their selection includes:
Jackets
Pants
Base Layers
Hats
Purchasing gear suited to your outdoor activities need not be a daunting or financially draining process. Always remember that there are budget-friendly options out there that do not compromise on quality, performance, or style. Enjoy the great outdoors without stretching your wallet too thin. Happy adventuring!
Conclusion
Equip yourself with affordable outdoor gear doesn't have to be a daunting task. With smart shopping strategies, local resources, and budget-friendly selections, you can efficiently acquire the necessary equipment without breaking your bank. Whether you're backpacking across a mountain range, camping in a serene forest, or undertaking any DIY endeavor, there are plenty of cost-effective options when it comes to outdoor gear.
But remember, sometimes the convenience of an all-in-one store, like Ultra Handy, can save you a lot of time (which, let's admit, is also money). Ultra Handy is your dedicated partner in thriving outdoors and succeeding in DIY tasks. With a vast selection ranging from backpacking and hiking equipment to camping gear and functional outdoor clothing, Ultra Handy ensures you have everything you need without straining your budget. So visit our Ultra Handy Amazon store, and let's make your next outdoor adventure a memorable and affordable one. Happy shopping!
Remember, the adventure begins with the right gear. So plan wisely, seek out affordable options, and enjoy the embrace of nature.
Frequently Asked Questions
What are some examples of budget-friendly outdoor gear for DIY enthusiasts?Some examples of budget-friendly outdoor gear for DIY enthusiasts include: 1. Multi-tool kits, 2. Camping hammocks, 3. Portable camping stoves, 4. Waterproof dry bags, and 5. Portable water filters.
Why is it important to have budget-friendly outdoor gear for DIY enthusiasts?Having budget-friendly outdoor gear allows DIY enthusiasts to pursue their hobbies without breaking the bank. It enables them to enjoy outdoor activities such as camping, hiking, and DIY projects while staying within their financial limitations.
Where can I find budget-friendly outdoor gear for DIY enthusiasts?Budget-friendly outdoor gear for DIY enthusiasts can be found in various places. You can check online marketplaces like Amazon, eBay, or even local classified ads. Additionally, discount stores, clearance sales, and second-hand stores are also great places to find affordable outdoor gear.
What should I consider when buying budget-friendly outdoor gear?When buying budget-friendly outdoor gear, consider factors such as durability, quality, reviews from other users, and the gear's functionality for your specific needs. Don't solely focus on price but also on the value and long-term benefits the gear can provide.
Are budget-friendly outdoor gear options reliable?Yes, budget-friendly outdoor gear options can be reliable if you choose wisely. Read reviews, research the brands, and opt for gear that has a good reputation for durability and functionality. Remember, just because something is affordable doesn't mean it's of poor quality.