Finding the Best Deals on Tools for DIY Enthusiasts: Where to Find Them
Discover the secrets to finding the best deals on tools for DIY enthusiasts. Learn where to search for great offers and save money on your next project.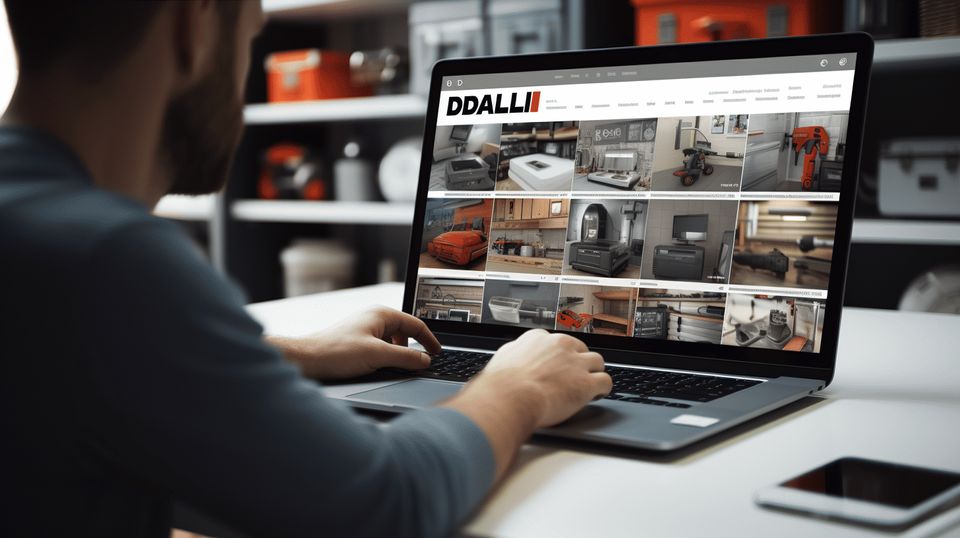 Roll up your sleeves, DIY enthusiasts! It's time to optimize your toolbox while maintaining your budget. Whether you're a veteran of several dazzling home improvement projects or a greenhorn eager to manage your very first, the right tools are essential. However, we might shy away at the sight of premium power tools' price tags. This article seeks to navigate you through the maze of tool shopping, helping you land the best deals on those essential items without breaking the bank. From highlighting key players offering jaw-dropping discounts to pinpointing the irresistible special promotional events, we're here to ensure your shopping experience is as rewarding as the projects you undertake. Let's help your budget breathe easier without compromising on quality. Let's find those hidden gems!
The Best Deals on Tools
We all know that every good home improvement project relies on the tools you utilize. With a multitude of options available, it may feel challenging to find the finest deal on power tools, hand tools, and outdoor equipment. However, the good news is that a wide array of retailers offer sensational deals on quality tools that won't break the bank. Today, we will explore some of the remarkable deals on tools that you can score from popular vendors such as Home Depot, Lowes, and more!
Power Tools
When it comes to power tools, quality and durability are vital. These are the workhorses of any major project, handpicked for their strength and ease of use. You can score some excellent deals on these indispensable items at numerous well-known retailers.
Home Depot regularly runs promotions on brands like Ryobi and DeWalt.
Lowes offers competitive prices on power tools throughout the year, especially during major sales events.
Acme Tools and Amazon are known for their extensive range of power tools at reasonable prices.
Stores like Tool Nut, Woot, and eBay have a wide variety of power tools, often at discounted prices.
Hand Tools
The right hand tool can make a world of difference in your project's outcome. From basic tools like hammers and screwdrivers to more specialized items, it's essential to choose quality over saving a few bucks. These retailers regularly offer deals on hand tools of the highest quality:
CPO Outlets and Direct Tools Factory Outlet, as their names suggest, specialize in overstock items and work directly with manufacturers to provide great deals.
Harbor Freight is known for its value-for-money packages.
Ryobi and DeWalt are popular brands that often run sales on their websites.
Outdoor Equipment
Investing in outdoor equipment can require a significant outlay, but you needn't overspend. These retailers offer excellent deals on outdoor equipment:
ToolStore UK and Shopzilla house an extensive variety of outdoor equipment at competitive prices.
Matco Distributor is worth exploring for their discounts on landscaping tools.
Harbor Freight and Home Depot are excellent places to check out for top-of-the-line lawnmowers, leaf blowers, and other yard equipment.
In this competitive market, a diligent consumer can find fantastic deals on tools. Do some research and look out for sales at these popular retailers. With the right focus, you can save a substantial sum without compromising on quality or performance. Remember, a well-chosen tool can make the difference between a frustrating project and a rewarding, enjoyable experience. Now get out there and start building!
Key Players Offering Major Discounts
Just whirled into the spirit of amazing deals, yet? This particular section is definitely going to fuel it further. You're going to love how some key tool-manufacturing players are coming forward with mind-blowing discount offers.
They are practicing their unique tradition of appreciating their loyal customer base with generous discounts and irresistible offers. Let's unveil how some of the key tool companies like DEWALT, Milwaukee, and Ryobi have decided to bring joy to their customers' faces this season.
DEWALT
DEWALT, a brand known for its radical innovation and commitment to the cause of DIY enthusiasts and professionals alike, is on the front line in the current discount bonanza. They have won the hearts of many by offering a whopping 44% discount on their top of the line- 12-inch sliding miter saw. Picture yourself in your workshop with this beast of a machine slicing through wood like butter at almost half the price! It's pretty safe to say that DEWALT is helping its customers save money without compromising on quality.
Milwaukee
Next to join the band is none other than Milwaukee. Embodying the spirit of this giving season, Milwaukee, with its roots with Lowes, has steeply discounted their power tools. A usually $369 power tool from Milwaukee is now up for grabs for just $269. A hundred bucks off- now that's what we call a savings home run! Milwaukee has just made it easier for you to add the might and efficiency of their top-notch power tools to your arsenal.
Ryobi
Finally, the last key player hitting high notes in the discount song is Ryobi. They're not just playing, they're changing the entire game with a whopping offer. With Ryobi's exclusive sale at The Home Depot, DIY enthusiasts stand a chance at saving up to $500. Yes, you read that right! It's a significant saving opportunity, an irresistible bait for tool lovers. On this note, it won't be an exaggeration to say that Ryobi is on its way to becoming the crowd favorite!
Without a doubt, these big discounts offered by prominent brands like DEWALT, Milwaukee, and Ryobi provide a shining opportunity to equip your workshop with professional-level power tools without burning a hole in your pocket. Bear in mind, though, these discounts are seasonal and won't last forever, so be sure to grab your deal now before it's all sold out!
Special Promotions and Discounted Events
Navigating the world of online shopping can be overwhelming, especially with countless deals being offered left, right, and center. But fret not. We will highlight some of the most enticing special promotions and discounted events available to you today. These are sure to hit the sweet spot between saving money and obtaining top-quality tools.
Amazon Prime Big Deal Days
If you're an Amazon Prime member, you have a competitive advantage indeed. One of the best examples is the 'Prime Big Deal Days.' During these events, discounts that lead to significant savings are abound. For instance, one recent deal offered a handy cordless impact driver kit with an attractive 40% off the original price. It's promotions like these that can transform your tool collection without wreaking havoc on your wallet.
Clearance Items
Meanwhile, Acme Tools has gained recognition for their exclusive discounts and rebates. They have a dedicated section on their website for clearance items where you can score impressive deals on quality equipment. Whether you're on a quest for a trusty hammer or a sturdy set of screwdrivers, chances are you'll find one here. Their clearance section is renowned for bringing weary deal-hunters much-needed relief.
Limited Time Flyer Discounts
If you consider yourself more of an exclusive deal connoisseur, Matco Distributor might have exactly what you need. This platform has an edge in the competitive tool market with their enticing 'Limited-Time Flyer Discounts.' You can find these deals straight on their website. Take advantage of these, and you might find that upgrading your toolset becomes a much more affordable endeavor.
Ultimately, finding the best deals online involves keeping your eyes peeled for the next promotional event or discounted offer, but focusing on the tips we've highlighted here should help make the process a little less daunting. With the right strategies (and maybe a bit of luck), your dream toolbox might be just one click away!
Finding Great Tool Deals: Tips and Tricks
If you've ever embarked on a DIY project or chosen to tackle home repair on your own, you know that having the right tools can make all the difference. Your tool collection is an investment that can pay off in a big way over time. Like any savvy investor, you're probably always on the lookout for deals to enhance your toolbox without breaking the bank. The search for great tool deals needn't be a daunting task. Here are some insider tips and tricks to nab fantastic bargains without sacrificing quality.
Keeping an Eye on Sales and Clearance Sections
Most tool stores have regular sales, which is the perfect time to grab those tools you've been eyeing. While flash sales and clearance sections may have a reputation for housing less popular or outdated items, they often also carry tools that surplus stock or are making way for a new model. This doesn't mean the tools are of a lesser quality; in many cases, they might be just what you need!
Monitor sales and promotions regularly at local and online stores.
Sign up for newsletters or membership cards to receive notifications about sales.
Buying Used or Refurbished Tools
While new, shiny tools certainly are enticing, don't underestimate the value of used or refurbished ones. Many people sell off their lightly used tools, and some stores specialize in selling refurbished machines that work as well as new.
Regularly check sites that sell used items.
When buying used, inspect the tool properly for any damage or defects, especially power tools.
Look for stores or sellers who offer a warranty with their refurbished items.
Consider Tool Bundles
If you're just starting your collection or looking to do a major overhaul, tool bundles might be the way to go. Often, manufacturers package several tools together, selling them at a lower combined price than if you'd purchase them individually.
Keep an eye out for toolsets or bundles in your favorite tool stores.
Make sure the bundle includes tools you will actually use to avoid paying for unnecessary items.
As you can see, there are several ways you can find great deals on tools. It's all about being patient, regularly checking for offers, and above all, knowing the real value of what you're paying for. Remember, the cheapest tool isn't necessarily the best deal, and the most expensive one isn't always the highest quality. Take your time in building your toolbox, and you'll have a collection that is as valuable as it is useful.
Conclusion
In the world of DIY, having the right tools is more than a convenience; it's a necessity. From power tools and hand tools to outdoor equipment, dwelling in the realm of the 'do-it-yourself' can be greatly enhanced by the quality and capabilities of your toolkit. Bringing your creative projects to life becomes an exhilarating experience when you're equipped with high-quality tools that offer unrivalled performance, durability, and affordability.
Let's face it; we all love a good bargain, especially when it comes to tools that add value to our lives and work. That's why we encourage you to keep an eye out for fantastic deals from leading brands like DEWALT, Milwaukee, and Ryobi, not forgetting the amazing discounts available during special promotions and events.
Last but not least, take advantage of the numerous tips and tricks we've shared in this article to help snag the best tool deals. Bookmark this page for those key shopping dates, and you won't miss out on fantastic discounts!
Consider Ultra Handy as your reliable partner for finding the best DIY tools and outdoor products. With Ultra Handy's Amazon store, you can expect a comprehensive range of high-quality tools that cater to your DIY and outdoor activities, offering excellent value for money. So, get clicking and add life to your DIY creations today with Ultra Handy!
Let the satisfying journey of 'doing it yourself' be complemented with the right tools, at the right time, and at the right price. And remember, the true value of a tool isn't in the amount you spend on it; rather, it's the value that tool adds to your work. Happy shopping and happy DIY-ing!
Frequently Asked Questions
What are some popular websites to find the best deals on tools for DIY enthusiasts?Some popular websites to find the best deals on tools for DIY enthusiasts include Amazon, eBay, Home Depot, Lowe's, and Harbor Freight.
Are there any specific times of the year when tools are on sale?Yes, tools often go on sale during holidays such as Black Friday, Cyber Monday, and Christmas. Additionally, many stores offer deals during annual sales events like Labor Day, Memorial Day, and Fourth of July.
Are there any online forums or communities dedicated to sharing tool deals?Yes, there are several online forums and communities where enthusiasts share information about tool deals. Some popular ones include Reddit's r/Tools subreddit, Tool-Rank, and GarageJournal forums.
Is it better to buy tools online or from physical stores?It depends on personal preference and the specific tool. Online stores often offer a wider selection and competitive prices, while physical stores allow you to see and feel the tools before purchasing. Consider factors such as convenience, price, return policies, and shipping costs when making a decision.
Are there any websites that offer coupons or promo codes for tool purchases?Yes, there are websites like RetailMeNot, Honey, and Coupons.com that offer coupons and promo codes for various retailers, including those selling tools. It's worth checking these websites before making a purchase to potentially save money.