Budget-Friendly Tools for DIY: Expert Recommendations for Every Enthusiast
Discover budget-friendly DIY tools recommended by experts for enthusiasts. Find affordable options to enhance your DIY projects and save money.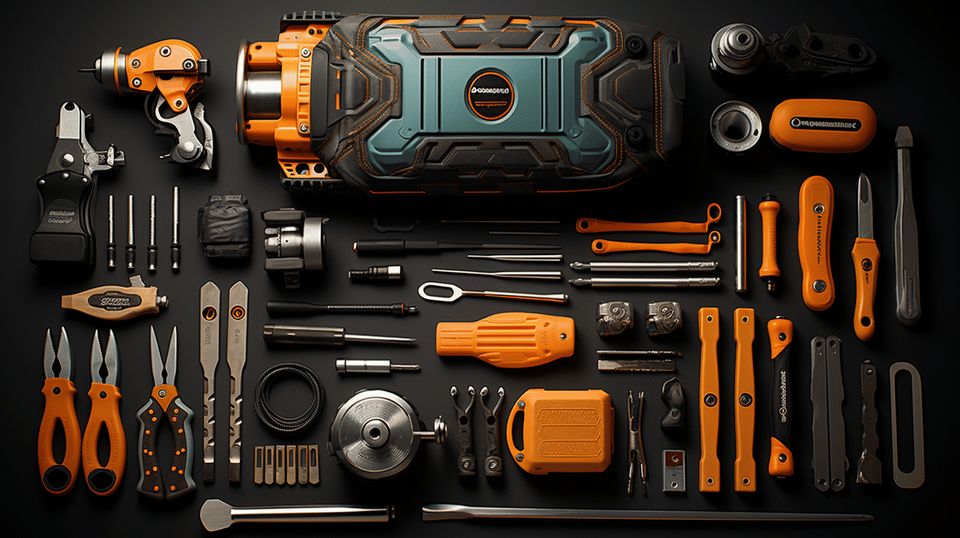 Stepping into the world of Do-It-Yourself (DIY) projects can feel like venturing into an exciting, yet seemingly costly affair. But does it always have to drain your wallet? The answer is an emphatic 'No'. With a touch of research and a splash of careful buying decisions, you can wrangle a collection of budget-friendly tools that facilitate your creative endeavors without breaking the bank. This article promises to serve as a comprehensive guide, aiding every DIY enthusiast, be they a novice or a seasoned veteran, to select and purchase high-quality, cost-effective power tools, digital tools, and garden tools to fructify their imaginations into reality. Let's dive into a world where creativity meets affordability.
Budget-Friendly Power Tools
They say, "Having the right tools is half the battle". Nowhere is this truer than in home improvement and renovation projects. For those embarking on DIY tasks, it can be a daunting task to find suitable power tools that fit a tight budget. Fear not, as there are several options available that are not only pocket-friendly but also pack a punch in terms of quality and performance. This article aims to shed some light on how you can assemble a comprehensive power tool set without breaking the bank.
Cordless Power Tools Starter Set
Choosing a cordless power tool starter set can be a wise and affordable initial investment. This option can quickly provide you with a variety of necessary tools, such as drills, saws, and impact drivers, among others, without the high upfront cost associated with buying each tool individually. High-quality and durable, these sets offer a fantastic way to kickstart your power tool collection.
One such excellent option for beginners and experienced users alike is the tool kit offered by Ryobi. This set comes complete with eight essential power tools, three batteries, and a carrying bag, offering outstanding value for your investment.
Budget-Friendly Recommendations
On the market, there are several other brands that offer fantastic power tools for those on a budget. For instance, Hart's 20-volt impact driver kit delivers robust performance at an affordable price that doesn't compromise on quality. Other budget-friendly offerings deemed worth exploring are those from Kobalt, Black+Decker, and DeWalt.
Companies like DeWalt also deserve an honorable mention. Well-known for producing top-tier power tools, DeWalt offers affordable yet quality tool sets that make a great choice for DIY enthusiasts. A great example is the Atomic 20-Volt Max* Cordless Drill/Driver Kit. Impressive with its compact size, this versatile set is just as powerful, maintaining the quality that DeWalt is known for.
But oh, wait! If you are willing to stretch your budget a little, premium tool manufacturers like Makita, Hikoki, Tone, Shindaiwa, Echo, and Kioritz might have something even more delightfully sturdy for you. These brands, though slightly pricier, are known for the exceptional quality and longevity of their tools.
In the end, it's all about what works for you. Whether you're just starting your collection or looking to upgrade, and regardless of your budget, there's something out there for everyone. Remember, home improvement is a journey. Equip yourself well, enjoy the process, and the results will follow. Happy DIYing!
Factors Affecting Power Tools Prices
The realm of power tools is vast, encompassing everything from drills and saws to air compressors and paint sprayers. With such a diverse range of products available, prices are equally variable and may leave customers wondering what influences these costs. Understanding the two key factors affecting power tools prices: voltage and the type of motor (brushed vs. brushless), can enlighten customers while helping them make informed purchasing decisions.
Voltage
One significant determinant of power tool prices is voltage. Typically, the greater a tool's voltage, the more power it has – and consequently, the higher the cost.
Low Voltage (6V – 12V): These tools are generally less expensive due to their lower-powered specifications. They are ideal for lightweight tasks such as assembling furniture or drilling small holes.
Medium Voltage (12V – 18V): Medium-voltage tools strike a balance between power and cost, offering enough strength to handle most jobs around the house without breaking the bank.
High Voltage (20V – 60V): High voltage correlates with more power and, thus, higher prices. These tools suit heavy-duty tasks like construction work or large-scale DIY projects.
Brushed vs Brushless
Another essential factor influencing power tools' prices is the type of motor – particularly, whether it's brushed or brushless. Though both motors deliver power, they differ in performance and cost.
Brushed Motors: In use for decades, brushed motors are more common and less expensive. However, their efficiency level and lifespan are lower than their counterpart. Their simpler design, with brushes transferring electricity to the motor's commutator, is the main reason for the lower price.
Brushless Motors: On the flip side, brushless motors utilize a more advanced technology that eliminates brushes, replacing electricity transfer with a small circuit board. This design reduces energy loss, improves efficiency, and extends the tool's lifespan. But, certainly, these advancements come at a higher cost.
In general, remember that the most expensive tool does not always equate to the best tool. Every project and requirement is unique, and as such, it's essential to understand these factors to ensure your chosen power tool not only fits your budget but also meets your specific needs. Now, armed with an understanding of voltage and brushed versus brushless motors, you can navigate the world of power tools with confidence.
Expert Tips to Shop for Power Tools
Shopping for power tools can sometimes feel like maneuvering through a jungle, especially with the extensive variety of brands, features, and price points available in the market today. Whether you're a seasoned contractor armed with a detailed shopping list, or a do-it-yourself enthusiast who's still getting the hang of things, there are expert-approved ways to make your shopping experience a lot more straightforward and cost-effective. This article aims to unveil some well-kept secrets that will help you discover the best deals, time your purchases perfectly, and invest wisely in combo kits.
Shopping Timings
Did you know timing is everything when shopping for power tools? Sure, there's no wrong time to get that screwdriver or hammer drill you've been eyeing, but there are times when you could land even better deals. One such time is during specific times of the year such as during Amazon Prime Day. At such times, sellers and manufacturers aim to move a significant number of products in a short span, and thereby roll out great offers you wouldn't want to miss.
Discounts & Deals
Unless you're in a rush, it's always a smart move to wait for discounts and deals. Most online and physical stores announce sales during special occasions or end-of-season periods. Sign up for newsletters from your favorite power tool companies or follow them on their social media platforms to stay updated on their sale announcements. This way, you save money and get your desired product, which is a win-win situation by all means!
Combo Kits
Speaking of saving money, have you considered power tool combo kits? These kits offer a cost-effective way to save money and build up a collection of power tools. Particularly popular among beginners and DIY enthusiasts, these kits come with a number of useful tools like drills, saws, and impact drivers, all bundled into one convenient package. Going for a combo kit not only helps you save but also ensures you are well-equipped for a variety of tasks around the house or at your worksite.
It's clear that with a bit of strategic planning and patience, shopping for power tools need not be an overwhelming job. Look out for the best shopping timings, wait for discounts and deals, and consider combo kits when you want to get more bang for your buck. Happy shopping!
Quality Assurance with Budget Tools
Longevity
For every professional in the market or DIY enthusiasts at home, investing in high-quality tools often translates to longevity and reliability. The criteria for choosing a versatile and durable set seem endless, from the technology implemented in these tools to the longevity they offer.
The focus often inclines towards productivity and cost-effectiveness. In fact, some of the favorite brands among professionals and DIY enthusiasts include EGO Power+, Makita, and DEWALT. Why? Because they've mastered the art of blending longevity with performance.
EGO Power+ has a fantastic array of cordless outdoor power tools fitted with advanced battery technology, offering not only long-term service but also noteworthy performance.
On the other hand, Makita, a long-time leader in cordless power tool technology, has magnetized a constant fan base directly tied to their 18V LXT Lithium-Ion line of tools.
DEWALT, a name synonymous with rugged quality, has a vast range of sturdy tools that are renowned for their durability on tough jobs. Equipped with practical yet innovative features, DEWALT tools are trusted companions in many professional ventures.
Technology
When talking about quality assurance with budget tools, technology takes a central role. Keeping up pace with the evolving tech landscape, brands are continually integrating advanced features and designs into their power tools.
Take, for example, the cordless advances. This progression in power tool technology has eradicated the requirements of power outlets and clumsy cords, ensuring users can enjoy their projects with freedom and efficiency.
EGO Power+ has completely embraced this technology revolution. Plumbing the depths of battery-powered performances, EGO Power+ cordless outdoor power tools have redefined the boundaries of what cordless equipment can do.
Meanwhile, Makita's pioneering cordless power tool technology, particularly their 18V LXT Lithium-Ion line, provides unbeatable performances that promise steady power delivery all through the battery life.
Never to be left behind, DEWALT prides itself in integrating state-of-the-art technology in their tools. As a result, DEWALT tools flawlessly perform even the toughest jobs, thus ensuring quality, efficiency, and progress on all your projects.
Given these points, it's safe to say that quality assurance doesn't have to break the budget. With brands like EGO Power+, Makita, and DEWALT, you can find lasting, technologically advanced tools that greatly enhance your productivity without straining your finances. Whether you're a seasoned professional or a die-hard DIY hobbyist, investing in these tools proves to be a worthwhile decision.
Budget-Friendly Digital Tools for DIY
Graphic Design
In the ever-evolving world of digital artistry, one tool has emerged as a reliable companion for beginners and professionals alike. Canva is a free tool for creating low-cost infographics, social media covers, presentations, and more. This tool offers an array of pre-made templates that users can customize to their liking, making graphic design accessible to everyone, whether you're a seasoned designer or a start-up founder wearing multiple hats.
Here are some notable features available on Canva:
User-friendly interface: The platform is intuitive and easy to navigate, making it an excellent choice for those who may be new to graphic design.
Extensive library: Canva boasts an extensive library of elements, fonts, and images to diversify your designs.
Collaboration option: Users can invite team members to edit designs, paving the way for creative collaboration.
This is not to suggest that other tools aren't worth considering. Software like Adobe Photoshop and Illustrator are heavyweights in the design industry, equipped with advanced features for more complex tasks. However, Canva's ease of use and affordability make it a clear standout for individuals or businesses on a budget.
Web Development
Developing a functional and visually appealing website used to require deep pockets and an experienced development team. Times have changed. Affordable web design and development options are now accessible to individuals and businesses with varying budgets.
Platforms such as WordPress, Squarespace, and Wix have disrupted the market, providing flexible and affordable tools that empower users to develop professional websites without the hefty price tag. They offer a vast catalog of templates, easy-to-use drag and drop features, and the ability to customize your site to your brand's needs.
Consider these points when evaluating these platforms:
Cost: While these platforms offer some free features, most require a paid subscription for site hosting and to access more advanced features.
Scalability: Consider your long-term goals. If you plan to grow your audience or e-commerce, ensure your chosen platform will scale up with you.
User-friendly: Choose a platform that matches your technical capability; avoid overly complex platforms if you're a beginner.
During the debate between affordability and feature richness, remember your website should reflect your business' personality and cater to your audience's needs. So, focus on your unique requirements when choosing between these budget-friendly DIY tools.
Beneficial Garden Tools for DIY
Every garden enthusiast knows the value of having the right tools at hand. They make the difference in transforming your garden from a wild, unruly wilderness into a flourishing Eden. Tools not only make your work easier but also ensure that each task is perfectly executed for the maximum aesthetic appeal. Today, we venture into the toolkit of the DIY gardener and highlight a tool that proves itself time and again in versatility and affordability - the billhook saw.
Billhook Saw
Once a traditional tool widely used in agriculture, the billhook saw has found its way into numerous modern gardening toolkits, and for a good reason. This dynamic tool presents an unparalleled combo of strength, precision, and adaptability that make it a must-have for any serious gardening enthusiast.
The billhook saw is a multi-functional tool, excelling in several gardening tasks:
Pruning: It quickly prunes branches and foliage with precision, keeping your plants healthy and giving your garden an organized look.
Clearing: It effortlessly clears out thick bushes and weeds, making way for new plants and improving your garden's appearance.
Splitting: The blade is also perfect for splitting and slicing logs into smaller pieces for the compost heap or fire pit.
Its unique design - a curved blade reminiscent of a bird's beak - enables the tool to deliver razor-sharp cuts. Despite its powerful functionality, the billhook saw remains treasured for its affordability. A perfect blend of quality and economy, this tool promises to scale up your gardening game without denting your wallet.
"I feel blessed to have stumbled on the billhook saw. It immediately became a game changer in my DIY gardening," quotes one gardening enthusiast. "The saw prunes, cleaves, and slices with an ease that significantly reduced the time I spend gardening. Plus, it's friendly on the wallet, an essential factor for any DIY endeavor".
However, while this tool proves incredibly useful, it's essential to use it safely. Given its sharp blade, always ensure you have a firm grip, and remember to store it correctly, a feat made easier by many models incorporating a safety sheath.
Indeed, the billhook saw is a juggernaut among gardening tools - economical, versatile and highly productive. Its inclusion in your gardening toolkit could be the game changer you've been seeking. Get your hands on one today, and experience the significant transformation it will bring to your DIY gardening tasks. There's a reason why this tool proudly bears the title of being versatile and affordable; it has earned it.
Conclusion
Embarking on a DIY journey has never been more rewarding. While it could be intimidating choosing the right tools, our comprehensive guide no doubt has shed some light on budget-friendly power tools, digital tools, and even garden tools specifically tailored for DIY enthusiasts. Remember, getting the best tool doesn't always mean breaking the bank. Be it graphic design or web development, it's crucial to find the tools that offer a blend of efficiency, longevity, and value for money. With options such as the cordless power tool starter set or the versatile billhook saw, Ultra Handy ensures a satisfying DIY experience for everyone. For people who love spending time outdoors, having the right garden tools makes the experience even more enjoyable. It not only saves time but also ensures a neat and tidy look for your outdoor space. Ultra Handy is here to walk right beside you in your DIY journey. With our comprehensive product range and customer-friendly approach, we aim to add a touch of joy and satisfaction to your DIY projects. Remember, all good things often start as an idea, then as a project, and with the right tools, you can create masterpieces.
Frequently Asked Questions
What are some budget-friendly tools recommended for DIY enthusiasts?Some budget-friendly tools recommended for DIY enthusiasts include: 1. Screwdriver set, 2. Adjustable wrench, 3. Hammer, 4. Tape measure, and 5. Utility knife.
Why is it important to have budget-friendly tools for DIY projects?Having budget-friendly tools for DIY projects is important as it allows enthusiasts to pursue their projects without breaking the bank. It makes projects more accessible and affordable for individuals who want to explore their creativity and improve their skills.
Can you achieve good results with budget-friendly tools?Absolutely! While high-end tools may offer some additional features, budget-friendly tools can still deliver excellent results if used properly. It's more important to focus on technique, patience, and creativity rather than solely relying on expensive tools.
Where can I find budget-friendly DIY tools?Budget-friendly DIY tools can be found at various places such as hardware stores, online marketplaces, garage sales, and even through borrowing from friends or family members. It's also worth checking out local classifieds or community groups for used tools at affordable prices.
How can I ensure the quality of budget-friendly tools?To ensure the quality of budget-friendly tools, it's recommended to read reviews or seek recommendations from experienced DIY enthusiasts. Look for tools with good ratings, durable materials, and a reputable brand name. Additionally, checking the warranty or return policy can provide peace of mind.