DIY without Breaking the Bank: Finding Cheap Tools and Equipment
Discover budget-friendly options for DIY tools and equipment without compromising quality. Learn how to save money while still getting the job done effectively.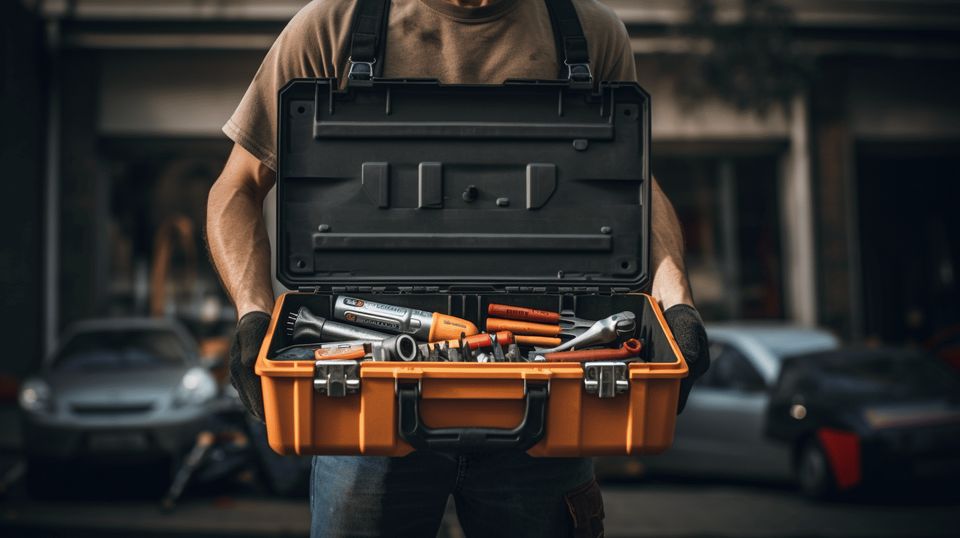 Embarking on DIY projects isn't just about embracing self-reliance or refining your skillset. It's about executing an idea from conceptualization to object of use or beauty. But these projects often require more than enthusiasm. They demand tools and equipment, but how do you equip a workshop without emptying your wallet? In this article, we demystify the tools and equipment market and provide useful tips to help you find affordable tools that won't break the bank. Stick around, and you'll understand why investing wisely in your DIY toolkit can turn your project dreams into reality.
Understanding the Tools and Equipment Market
The world of tools and equipment is expanding at an impressive rate, with new improvements and technologies continually hitting the market. Not only do these devices simplify our work, but they also make it more efficient. It's an expansive industry driven by innovation and demand, hence it's important to understand the market's dynamics. With that in mind, let's delve into some specific areas.
Global Power Tools Market
Power tools have become an indispensable part of various industries, including manufacturing, automotive, and construction. From drilling machines to electric saws, these devices provide the much-needed power and precision that manual labor often lacks. Predictably, the global power tools market reflects this essentiality, with projections estimating its growth to $36.82 billion by 2030, a leap from $26.61 billion in 2022. Such statistics underscore the increasing reliance of industries on power tools and the growing influence of this sector.
Global Cordless Power Tools Market
In the realm of power tools, cordless technology represents a pinnacle of convenience and flexibility. The freedom to maneuver without being tied to a power outlet gives users a significant edge in productivity. Recognizing the importance of this advantage, manufacturers worldwide actively focus on providing high-end cordless tools, leading to an expected rise in the global cordless power tools market to $35.62 billion in 2026 from $21.17 billion in 2022. These numbers reflect the market's robust momentum and the growing interest among consumers for cordless tools.
DIY Tools Market
There's something incredibly satisfying about DIY projects. From crafting furniture to fixing household items, these tasks provide a sense of accomplishment and independence. As the DIY culture spreads, so does demand for the tools that make these projects feasible. Consequently, the DIY tools market is expected to grow 4.0% year over year from 2021 to 2028. Such growth demonstrates the increasing popularity of DIY projects and the correlating increase in tool sales.
U.S. Power Tools Market
One cannot examine the global tool and equipment market without considering the U.S., one of the leading players in this sector. With a healthy manufacturing industry and an enduring construction market, the U.S. power tools market is predicted to expand at a 3.5% CAGR from 2021 to 2030. This expansion illustrates the sustained demand for these tools in the region, reinforcing the U.S.'s significant role within the global market.
By comprehending these market trends, we can appreciate the continuing evolution and growth of the tool and equipment industry. Regardless of the segment - power tools, cordless tools, DIY tools, or regional markets – these figures tell a story of advancement, efficiency, and an increasing customer appetite for these tools. As we advance, it's evident that these devices will continue to shape our industries and our way of life.
Affordably Equipping for DIY Projects
Undertaking a do-it-yourself (DIY) project is an ambitious endeavor, full of creativity, learning, and for most of us, modest budgets. It often starts as a desire to create something unique from scratch or revamp an old furniture, and soon enough, you are fully immersed in the DIY world. However, getting hands-on entails obtaining the correct tools. With so many equipment options on the market, how do you affordably equip yourself for these projects? Fret not, this section will guide you to make informed decisions without breaking the bank.
Finding Cheap Tools
Outfitting yourself with DIY tools doesn't necessarily demand a lavish budget, it just requires strategic planning and a meticulous eye for deals. Here are a few tips on how to find economical tools for your DIY endeavors:
Sift through second-hand tools: Flea markets, thrift stores, and garage sales often hide treasures in plain sight! You might locate incredibly affordable, yet excellent quality, hand tools in these dime-a-dozen locations.
Online marketplaces: Sites like eBay and Craigslist offer an array of used tools at a lower price. Private sellers might even toss in a few extras, giving you more bang for your buck.
Bulk buying from wholesalers: Buying tools in bulk can help rack up significant savings, especially if you foresee utilizing them for several projects down the line.
"The DIY world is full of creative characters and problem solvers, and finding affordable tools is just another challenge to overcome."
Investing in Multipurpose Equipment
While hunting for inexpensive tools, bear in mind that quality shouldn't be compromised. One way to balance cost and value efficiently is investing in multipurpose equipment. These gadgets can accomplish multiple tasks, making them a smart acquisition and giving you more functionality for your investment.
Adjustable wrenches: These handy devices can deal with a myriad of different sized nuts and bolts, thereby replacing the need for multiple wrenches.
Cordless drills: Beyond drilling, these tools can also be used for screwing and unscrewing, making holes, and more, once equipped with the appropriate attachment.
Oscillating multi-tools: These are excellent for cutting, sanding, scraping, grinding, and more, thereby serving as an all-in-one solution for many DIY tasks.
Remember, clever shopping and judicious decisions can make your DIY projects fun, fulfilling, and budget-friendly! So, embrace your creativity, don those tools, and let the DIY magic unfold!
Remember to stay tuned for our upcoming DIY project tutorials. Until then, happy crafting!
Future Forecast of Tools and Equipment Market
The tools and equipment market isn't one to be ignored in the coming decade. With recent predictions for growth, it's apparent this is a field ready to skyrocket. In fact, it's not an overstatement to say that the tools and equipment market may as well be the next big thing in the global economy. So, what are the numbers saying? Let's dive right in!
The power tools market shows the most spirited progression. It's estimated to grow at a compound annual growth rate (CAGR) of 4.6% from 2023 to 2032, culminating at a whopping $52.4 billion. Now, that's an astounding figure, wouldn't you agree?
But, the forecast only gets brighter from there. When we sip over to the global power tools market trends, there's an even more pronounced uptake. Experts anticipate this segment to hike at a CAGR of 5.13% from 2021 to 2030, landing the market size at a hearty $55.89 billion by the turn of the next decade.
What's driving this exciting growth? A significant factor is attributed to increased spending on infrastructure development and heightened demand for home improvement projects, especially during these pandemic hit times where DIY projects have taken a center stage in our lives. Speaking about DIY, the Do-It-Yourself power tools market also presents a promising outlook with a predicted steady growth of more than 4% by 2021.
From these forecasts, it's clear that the tools and equipment market is accelerating at full speed. With these predictions, it's definitely a sector to watch out for. Whether you're an investor looking for the next big thing or a professional considering career expansion, the future's looking big and bright in this industry. The only question left now is, are you ready to tap into its potential?
Conclusion
Our exploration of the tools and equipment market emphasizes its expansive range, catering to various needs. Quality tools, affordability, and durability are crucial considerations for DIY enthusiasts. Reliable platforms, such as Ultra Handy, facilitate this experience, showcasing a wide array of cost-effective options.
Ultra Handy's Amazon store harbors an assembly of tools and equipment honed towards individuals keen on hands-on tasks and outdoor time investments. With the tools market poised for further growth, access to such efficient resources promises a delightful DIY journey. The key lies in making informed choices and leveraging the right resources, making DIY projects not just fruitful but also enjoyable. The future looks bright, powering a rewarding, hands-on experience for everyone embracing the DIY culture. After all, as the saying goes, the right tools can turn even the most daunting task into a joyous project.
Frequently Asked Questions
Where can I find cheap tools and equipment?You can find cheap tools and equipment at various places such as local hardware stores, online marketplaces like Amazon or eBay, garage sales, thrift stores, or by renting from tool libraries.
Are cheap tools and equipment reliable?While not all cheap tools and equipment are reliable, there are affordable options that offer good quality. It's important to research customer reviews, check product specifications, and buy from reputable sellers to ensure you get reliable tools.
How can I ensure the quality of cheap tools and equipment?To ensure the quality of cheap tools and equipment, look for trusted brands, read product reviews, check for warranty or return policies, and physically inspect the item if possible. It's also helpful to consult with experienced users or professionals for their recommendations.
What are some alternative ways to obtain tools and equipment without spending much?Some alternative ways to obtain tools and equipment without spending much include borrowing from friends or family, joining tool sharing communities, attending tool swap events, or exploring the possibility of renting tools for short-term use.
Are there any specific seasons or times when tools and equipment are available at cheaper prices?Yes, there are certain seasons or times when tools and equipment are available at discounted prices. Keep an eye out for seasonal sales, clearance events, Black Friday deals, or end-of-year promotions to get the best deals on tools and equipment.