Affordable Outdoor Gear for DIY Enthusiasts on a Budget
Discover affordable outdoor gear for DIY enthusiasts on a budget. Find reliable and affordable equipment to enhance your outdoor projects without breaking the bank.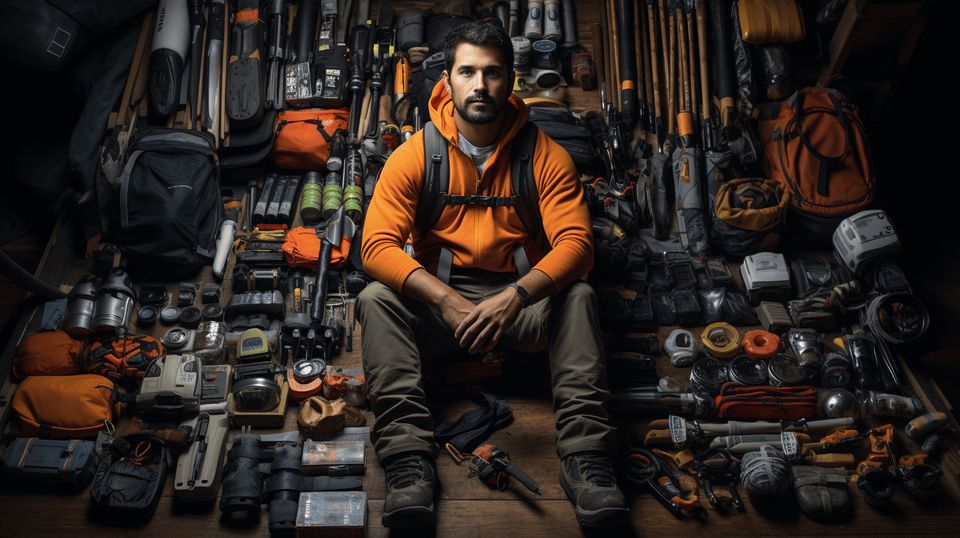 Who says enjoying the great outdoors should cost you a fortune? Whether you're an experienced hiker planning your next adventure, or a camping enthusiast dipping your toes into the wild, finding affordable and quality outdoor gear shouldn't be a laborious task. However, navigating the terrain of outdoor equipment can be as challenging as an uphill climb. With an overwhelming number of product alternatives, varying price points, and the challenge of discerning between high-quality and poor alternatives, it may seem daunting to select the perfect gear.
In this article, we'll guide you through the wilderness of affordable outdoor gear, exploring budget-friendly online platforms, reviewing industry trends, and even diving into hands-on gear reviews. Ultimately, we aim to arm you with the knowledge to outfit your next adventure without breaking the bank. So, strap on your hiking boots, we're about to embark on an exciting journey through the world of cost-effective outdoor gear!
Online Platforms and Retailers for Affordable Outdoor Gear
Outdoor enthusiasts understand the importance of having reliable outdoor gear for their excursions. With the right equipment, you can make your hiking, camping, or backpacking adventure more comfortable and safer. Acquiring this gear, however, can sometimes be a costly affair. Luckily, several online platforms and retailers offer everything you may need at affordable prices. You can find clearance outdoor gear and discount camping gear, often coming with savings of 25% to 40%.
REI Outlet
REI Outlet is a popular destination for outdoor enthusiasts shopping on a budget. They frequently offer sales where you can get high-quality camping and outdoor gear at price slashes. They boast of a variety of products, making it one of the most comprehensive platforms for outdoor equipment.
Steep & Cheap
If you're looking for a bargain, Steep & Cheap is the way to go. They have a catalog of outdoor gear with hefty discounts. You can equip yourself with affordable hiking gear using their genius ways to find cheap items. Throw in their regular promotions, and you've got yourself a shopping paradise for all things outdoors.
Backcountry.com Sales
Backcountry.com is a top-rated online platform specializing in outdoor gear. They frequently hold sales where you can get high-quality items at reduced prices. It's a fantastic place to find both essential and specialized gear.
Moosejaw
Looking for adventure equipment with a plethora of discounts? Moosejaw has got you covered. They offer a wide array of outdoor products and often provide excellent discounts.
Amazon
Amazon is a well-known online retail giant that hosts numerous sellers offering outdoor and camping gear. Amazon Prime Day can offer heavily discounted camping and hiking essentials, making it a great time to stock up on needed equipment.
Walmart
Walmart is another retail giant offering outdoor gear at affordable prices. They harbor the Ozark Trail label, known for its affordable camping and hiking gear. This makes it a great platform to find budget-friendly outdoor gear.
GearTrade
GearTrade is an online marketplace known for its second-hand outdoor gear. If you're comfortable buying used, high-quality gear, this site is a must-visit. It provides an ideal platform to buy and sell outdoor equipment, making outdoor adventures more accessible for everyone.
CampSaver
Last but not least, CampSaver offers a variety of camping and hiking gear at budget-friendly prices. They run discounts and promotions frequently, making it another recommended site to check for your outdoor gear needs.
In conclusion, these online platforms and retailers make outdoor adventures more accessible by offering affordable outdoor gear. With these resources, you can continue to enjoy the great outdoors without breaking the bank.
Upcoming and Bestselling Outdoor Gear
Can you smell the crisp outdoor air just yet? There's nothing like the call of the wild to rekindle our love for Mother Nature's vast playground. But, every good adventurer knows that the right outdoor gear can make or break an expedition. Whether you're camping under the stars or steering your way through challenging terrains, having essential and reliable gear to depend on is a must. From new kids on the block like the (soon-to-be-released) XP Trike to the perennial favorites in outdoor equipment, let's navigate through the world of upcoming and bestselling outdoor gear.
Released every outdoor enthusiast's anticipation, the XP Trike is an innovative gear product set to hit the market in May 2023. Combining advanced technology with practical design, the trike is all about promoting a new level of functionality and convenience for outdoor travel.
However, you won't have to wait till 2023 to equip yourself with top-notch gear. The market is rife with bestselling products that have stood the test of both time and terrain. Here's what every outdoor lover should consider adding to their kit:
Tents: A tent forms the core of a camping kit, providing a safe haven amidst nothing but the wilderness.
Sleeping Bags: Don't let dropping temperatures spoil your outdoors fun. Sleeping bags are an essential, ensuring a warm and cozy sleep under the stars.
Camping Stoves: These will make you a five-star chef in the mid of nature, offering hot meals to boost your energy during arduous hikes.
Outdoor Solar Showers: When cleanliness is a priority, an outdoor solar shower lets you bathe even in the most rugged conditions.
Backpacks and Duffel Bags: Being able to carry your gear conveniently is as important as the gear itself. Thus, never compromise on the quality of your bags.
Although being equipped with the basics is essential, one should not neglect specialized gear focused on specific activities. For instance, the Black Diamond Distance Carbon FLZ and the Gossamer Gear LT5 are both highly recommended trekking poles designed to offer stability and support on uneven terrains.
Lastly, protection against nature's harsh elements should never be overlooked. The Raw Elements Certified Natural Sunscreen shields your skin against harmful UV rays, while the Petzl Tikkina Headlamp will light your way in the darkest hours, making them not just optional but necessary gear for any trip outdoors.
Getting equipped with the right gear not only ensures safety and convenience but enhances the overall outdoor experience. Proper preparation is indeed the key to a successful adventurous trip. Thus, whether it's an upcoming product like the XP Trike or a bestseller like the Petzl Tikkina Headlamp, identifying and investing in the right outdoor gear can make your adventure into the wild feel like a walk in the park.
Growth and Impact of the Outdoor Industry
The outdoor industry has experienced consistent growth and significant impact in the recent years. It's rapidly becoming a cornerstone of the global economy, contributing a staggering 6 billion euros in sales in 2021 alone. This isn't just a wave passing, it's a roaring ocean, gaining momentum with each passing day.
People's passion for outdoor recreational activities have fueled the expansion of this sector. From camping and hiking gear to sports equipment, demand for outdoor products are at an all-time high. In fact, this industry sold over 240 million outdoor products last year. That's a clear sign of the public's growing interest and investment in exploring and enjoying the great outdoors.
The industry isn't just flourishing economically, it's also having a profound influence on society and the environment. Companies have made significant strides in developing sustainable, eco-friendly products and engaging in responsible manufacturing processes. This demonstrates the industry's commitment to protecting the great outdoors, which it so inherently relies on.
Here's how, in brief:
Economic Contributions: The outdoor industry churns out massive revenue each year, boosting economies on local, national, and global scales. It has been a source of employment and business opportunities, attracting entrepreneurs and investors alike.
Social Benefits: From fostering community spirit to driving tourism, outdoor activities have played a key role in bringing people together. Brands have been launching campaigns promoting outdoor recreation, resulting in increased awareness and participation.
Environmental Stewardship: Many outdoor companies have adopted green practices, contributing to environmental conservation. They've launched initiatives to offset carbon emissions, reduce waste, and utilize ethical sourcing and manufacturing.
"The outdoor industry has the unique opportunity to blend profit with purpose, to harmonize financial success with social and environmental responsibility."
As outdoor lovers continue to flock to stores (physical and online) in pursuit of the gear to fuel their adventures, the industry is poised for even more growth. It's not only about wild landscapes and adrenaline rushes; it's about promoting a mindful, active lifestyle that respects and preserves nature.
The growth and influence of the outdoor industry is a testament to the power of the great outdoors. It demonstrates exactly why the wilderness is worth cherishing, enjoying, and most importantly, preserving. Indeed, one cannot overlook the crucial role this industry plays in our economy, society, and environment.
In-depth and Independent Outdoor Gear Reviews
Hikers, campers, and outdoor enthusiasts need reliable gear that can withstand the elements and the rigors of the trail. Reliable gear, however, can be hard to find amidst a sea of internet advertisements and brand promotions. Welcome to the realm of independent gear reviews, your trustworthy source for an unbiased evaluation of outdoor equipment. Two of the most trusted platforms offering in-depth reviews are "CleverHiker" and "Outdoor Gear Lab."
CleverHiker
CleverHiker stands at the forefront of in-depth, user-driven outdoor gear reviews. As the name implies, CleverHiker caters, predominantly to hikers and backpackers, but its detailed reviews also hold immense value for campers and anyone else who loves to be outdoors. Praised for its unbiased approach, CleverHiker scrutinizes every product meticulously, evaluating in terms of:
Performance: How well it performs under different weather conditions
Durability: Whether the gear can withstand the wear and tear of outdoor use
Comfort: Ensuring the gear does not cause unnecessary discomfort; this point is especially prominent for products like boots and backpacks
Value for Money: Evaluating whether the product's performance justifies its price
To guarantee unbiased reviews, CleverHiker encourages readers to share their experiences through comments. This open dialogue allows potential buyers to gain a multifaceted perspective on the product— something traditional ads often fail to provide.
Outdoor Gear Lab
The second go-to platform is Outdoor Gear Lab. Like CleverHiker, Outdoor Gear Lab doesn't stop at simple product descriptions. They invest in products and evaluate them critically over extended periods of outdoor use, thereby maintaining their commitment to providing independent and in-depth reviews. Through their tried and tested method, the lab focuses on:
Versatility: Assessing whether the product can perform under varied circumstances
Affordability: Comparing similar products in terms of cost and functionality
Functionality: The ultimate test, examining whether the gear performs as it claims
Innovation: Reviewing whether the product offers any unique solutions or enhancements
Unlike CleverHiker, Outdoor Gear Lab's reviews include wider outdoor equipment, incorporating everything from camping stoves to kayaks. However, both platforms prioritize honesty and depth, creating a channel of trustworthy reviews for the avid outdoorsman.
Regardless of whether you're a weekend camper or a seasoned mountaineer, in-depth gear reviews can help you find products tailored to your outdoor needs. Both CleverHiker and Outdoor Gear Lab's unique approaches to reviewing products ensure you make a well-informed decision about your outdoor gear, armed with all the necessary information for an exhilarating outdoor experience.
Affordable Outdoor Gear Choices for Beginners
Venturing into the great outdoors is an adventure that everyone should get a taste of. Whether it's hiking, camping, or simply picnicking at a pretty spot in the park, the peaceful rejuvenation that comes with connecting with nature is unparalleled. Yet, for beginners, it may seem a daunting task to acquire the proper outdoor gear without burning a hole in their pockets. Thankfully, affordability doesn't mean compromising on quality or safety—if you know where to look.
Visiting Local Dealers
Often, a great starting point for beginners trying to source affordable outdoor gear is visiting local dealers. Not only are they abundant, but they also offer a wide range of products from trusted brands like Arc'teryx, Kelty, and Eureka. Local dealers can provide excellent advice based on your specific needs and budget. Here are some key points to remember when shopping at local dealers:
Your interaction with experienced staff can help determine what kind of gear you need based on your planned outdoor activities.
Good deals are often found in end-of-season sales.
Most local dealers offer top-quality products from renowned outdoor gear brands at competitive prices.
Don't be afraid to ask for discounts! Many local dealers offer discounts on display or slightly damaged items.
Checking Websites
The internet is a wealth of resources when it comes to finding affordable outdoor gear. Several websites aim at offering the best outdoor gear products within a price range suitable for beginners. Companies like Kelty and TETON have user-friendly websites showcasing their wide array of products.
Some advantages of checking websites for outdoor gear include:
Comparing different brands, products, and prices right from your home comfort.
Reading customer reviews helps to determine the reliability of a product.
Websites often have a larger stock and variety of gear than local stores.
You can find flash sales or online-exclusive discounts.
But, be aware while shopping online. Make sure you're purchasing products from official websites or authorized e-tailers to avoid counterfeit products.
One significant advantage of being a beginner is that you have the luxury of trying out different brands to see which one best suits your style, needs, and budget. Don't shy away from checking out discount clearance houses or even military surplus stores. They are treasure troves of affordable gear. Right from sturdy backpacks to durable tents, these places usually stock quality items at a fraction of their original prices.
Entering the world of outdoor activities doesn't have to be a bank-breaking venture. With a strategic approach, the right knowledge, and some patience, beginners can find the perfect gear built to last, without making their wallets wince. Now, all you've got to focus on is planning that perfect outdoor adventure!
Additional Ways of Getting Affordable Outdoor Gear
There's no denying it - outdoor gear can be expensive. However, what if we told you that you could own top-notch gear at remarkably lower prices? This article explores alternative methods of acquiring affordable outdoor gear without compromising on quality. The options range from buying used items to purchasing discounted products.
Used Gear
A great way to score affordable outdoor gear, especially for hiking, backpacking, and camping, is by buying used items. Notably, locations like Colorado Springs and Denver will see a surge in the availability of such gear in 2023. With this trend, outdoor enthusiasts can have their pick from a slew of preloved gear in good condition—all at a fraction of the original price.
While some may be skeptical about purchasing used items, it's essential to remember that many outdoor enthusiasts take good care of their gear. Therefore, it's possible to find equipment that works as well as new, but for a significantly lower pricing. Moreover, buying used gear also presents an excellent opportunity to explore higher-end brands that you might otherwise consider out of your budget range.
Discounted Products
Another avenue to explore when looking for affordable outdoor gear is discounted products. Multiple brands offer regular discounts on their products, allowing customers to purchase high-quality gear at more affordable prices. One brand that consistently stands out in this regard is Temu.
Renowned for providing a wide selection of affordably priced, high-quality outdoor gear, Temu prides itself on its dedication to making outdoor adventures accessible to everyone. From durable clothing items to reliable equipment, this brand ensures you're ready for whatever Mother Nature throws your way—without breaking the bank.
And, as an added bonus, buying discounted items often makes it possible to get brand new gear at almost the same price as used items. It's a win-win!
In essence, discovering affordable outdoor gear doesn't have to be an uphill task. Exploring the used gear market and taking advantage of discounted products is a smart way of preparing for your outdoor adventures without having to burn a hole in your pocket. With the advent of 2023, be ready to embrace these cost-effective methods and make your outdoor experiences even more enjoyable. Remember, the journey to the great outdoors begins with the right gear!
Conclusion
Navigating the world of outdoor gear can be an overwhelming journey, flooded as it is with myriad options and the promise of adventure in every package! Whether you're a budget-conscious newbie or an experienced do-it-yourselfer, finding quality outdoor gear that matches your personal goals and limitations is crucial. Remember, at the heart of each outdoor experience, it's not just about the equipment you carry, but about the memories you craft along the way.
Ultimately, the world of outdoor gear doesn't have to drain your wallet. There are various resources available, from civil community gear trades to retail sales, and even digital platforms such as Ultra Handy's Amazon store that specialize in providing excellent choices for both beginners and experienced enthusiasts alike.
So, go ahead and start exploring the great outdoors. Remember, investing in durable, affordable gear is just the first step, as the real treasure lies in the adventures and experiences waiting for you out there!
Frequently Asked Questions
Where can I find affordable outdoor gear for DIY enthusiasts?You can find affordable outdoor gear for DIY enthusiasts at various online retailers such as Amazon, eBay, and Walmart. Additionally, check out local thrift stores, outdoor gear rental shops, and online classifieds for budget-friendly options.
What are some essential outdoor gear items for DIY enthusiasts?Some essential outdoor gear items for DIY enthusiasts include a durable backpack, multi-tool, work gloves, headlamp, sturdy shoes, and a portable camping stove. These items can help you tackle various DIY projects and outdoor activities.
Are there any specific brands that offer budget-friendly outdoor gear?Yes, there are several brands that offer budget-friendly outdoor gear. Some popular options include Coleman, Ozark Trail, Etekcity, Teton Sports, and Stanley. These brands provide affordable gear without compromising on quality.
How can I save money on outdoor gear for my DIY projects?To save money on outdoor gear, consider buying during seasonal sales or clearance events. You can also look for discounted or used gear, compare prices across different retailers, and consider renting certain items instead of purchasing them.
Are there any alternatives to buying new outdoor gear for DIY projects?Yes, there are alternatives to buying new outdoor gear. You can borrow gear from friends or family, join local DIY or outdoor enthusiast groups to share equipment, or repurpose items you already own to suit your needs.