DIY on a Shoestring Budget: Tips for Finding Cheap Tools and Equipment
Discover effective tips for finding affordable tools and equipment for your DIY projects on a shoestring budget. Get the most out of your DIY experience without breaking the bank.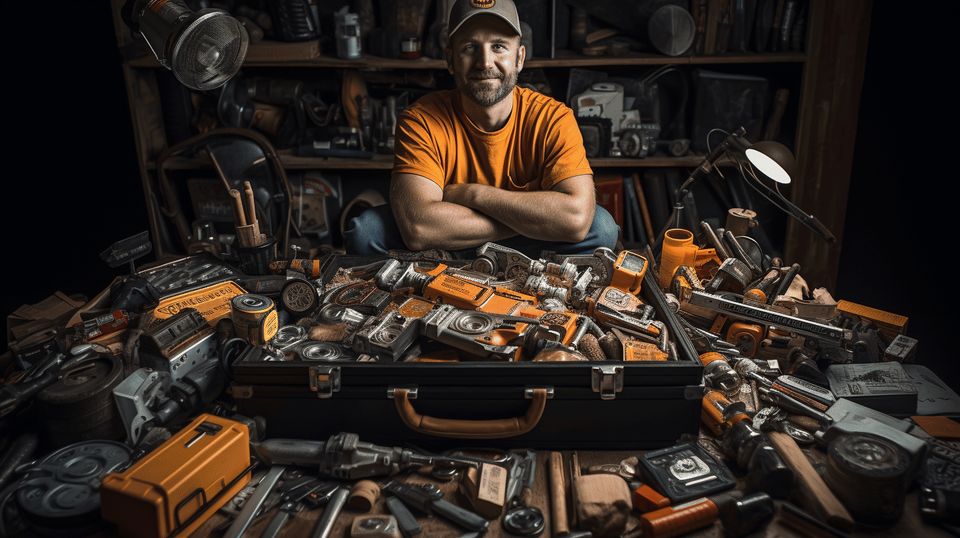 Welcome to the world of DIY - a place teeming with opportunities for creativity, innovation, and the immense satisfaction of creating something with your hands. If you're embarking on your do-it-yourself journey, one of your top concerns would be the cost of tools and equipment. Construction-grade power tools, hand tool sets, and even well-equipped workbenches could feel like investments that would make a considerable dent in your wallet.
However, does getting started with DIY always have to be expensive? Absolutely not! This article introduces you to the art of finding affordable tools and equipment for all your DIY needs. Whether you're interested in discovering the cost range of various tools, seeking hacks in finding discounted deals, or looking for reliable stores, we've got all the information you need. Let's dive into the DIY world without breaking the bank!
Understanding the Cost Range of Tools and Equipment
Whether you are a homeowner looking to undertake DIY tasks or a professional handyman keen on upgrading your power tools arsenal, understanding the cost range of tools and equipment is crucial. Prices can vary significantly, depending on type, quality, and brand, among other factors.
Cost Range of Power Tools
Power tools constitute an essential part of most toolkits. They can expedite various tasks, making them less labor-intensive and more efficient. Prices of power tools tend to range from a modest $100 to an upward of $400, largely dictated by factors such as the tool's specific type, brand reputation, and quality of the model.
Price of Tool Kits and Sets
For amateur handymen or DIY enthusiasts, tool kits and sets can be a cost-effective solution. These kits typically contain a range of basic tools essential for most domestic repair or maintenance tasks. They provide great value for money since they can be bought for as low as $20 to $30. However, bear in mind that the quality, diversity of tools, and brand reputation can influence the price significantly.
Cost of Pro-grade Power Tools versus DIY Models
One should note that professional-grade power tools are more expensive than DIY models, often costing two to three times more. This is primarily due to pro-grade models' superior performance, longevity, and ability to withstand heavy usage without failing. It highlights why the global power tools market stood at an impressive $42.8 billion in 2022 and is projected to touch $65.5 billion by 2025.
Workbench Costs
Lastly, let's touch upon workbench costs. This essential piece of furniture varies greatly in cost, between a budget-friendly $120 to a premium $1,000. Factors such as size, material type, quality, and additional features (like built-in tool storage or adjustable height) significantly influence its price.
Grasping these price ranges ensures that you make well-informed decisions when purchasing tools and equipment. It serves as a guide to balance the price with the quality and performance you need - whether for domestic DIY tasks or professional-grade projects.
Tips for Finding Cheap Tools
Whether you're a seasoned DIY enthusiast or merely getting started with your first project, the cost of tools can quickly add up. Rather than draining your budget, there are clever ways to make your money go further. This guide offers practical tips to help you find cheap tools without compromising on quality.
Deals, Coupons, and Discounts
It's worth noting that retailers like Home Depot, Lowes, and Acme Tools often provide excellent discounts. They offer deals, coupons, and discounts that can dramatically reduce the original price. Keep an eye on their promotional offers and subscribe to their newsletters to stay updated on potential savings.
Buying Used Tools
Purchasing pre-owned tools is another economical alternative. Used tools that are in excellent condition can sell for 85%-95% of the original cost, while those in good condition can sell for 75-85% of the price. Consider hunting for these deals in pawn shops or online platforms like eBay.
Renting Tools
If you only plan on using a tool for a specific project or on a sporadic basis, renting may be the best option. Local hardware stores usually have tool rental services, which prove to be cost-effective for occasional use.
Shopping During Sales and Clearance Events
Sales and clearance events offer yet another goldmine for affordable tools. Businesses like PlumbersStock and Tools for Cheap often have large clearances and sales at various points throughout the year. Do remember to keep an eye on these events, they can lead to some seriously penny-pinching deals.
Price Comparisons and Customer Reviews
Last but not least, do not underestimate the value of research. Make it a habit to read customer reviews and compare prices from different stores. This will help you gauge a tool's value for money and possibly uncover even better deals.
Remember, getting top-quality tools doesn't have to break the bank. By following these tips, you'll be able to find affordable tools that still do the job and last. Happy shopping!
Popular Stores for Buying Power Tools at Discounted Prices
Whether you're a professional contractor or a DIY enthusiast, having the right power tools can make the difference between an exceptional result and a mere satisfactory project. Thankfully, there are a host of popular stores where you can find top-quality power tools at discounted prices. In this article, we zoom in on some of the best places to explore for your next tool purchase.
Zoro
Zoro is an industrial supply company that provides a broad array of products, including power tools. With their extensive line-up, consumers have the flexibility to select from various brands and models. Zoro prides itself on its competitive pricing strategy, often offering discounts on top-tier power tools.
Toolbarn
If you're looking for not just power tools but also air tools and hand tools at a cut-rate price, Toolbarn is an excellent choice. The online tool retailer is known for its regular sales, making it a favorite among contractors and hobbyists alike.
Walmart
Sometimes, the most common places are the best starting points. Walmart, one of the first names that come to mind when shopping for everyday needs, also offers a wide range of power tools. From cordless drills to circular saws, you're sure to find what you need at affordable prices.
Home Depot
Home Depot is another huge retailer that is often the go-to choice for professional builders and DIY experts. The store has an extensive range of power tools, often at discounted rates. Furthermore, with its regular sales and promotions, there's always a saving opportunity.
Amazon Tools
Amazon isn't only for books and electronic gadgets. Its power tool section, Amazon Tools, offers a large selection of top brands at unbeatable prices. Plus, the convenience of home delivery makes shopping for power tools on Amazon a breeze.
Acme Tools
Acme Tools is one of the hidden treasures in the power-tool retail empire. They have an impressive selection of both new and used tools, and their frequent discounts and offers ensure customers can always find a bargain.
Harbor Freight Tools
Last, but definitely not least, is Harbor Freight Tools. This discount tool and equipment retailer is a must-visit for anyone wanting to add to their tool collection without breaking the bank. From ratchets and wrenches to power drills and table saws, Harbor Freight Tools offers low prices without sacrificing quality.
Investing in power tools doesn't have to strain your budget. Keep an eye on these popular stores, and seize the discounts when they become available. After all, with the right tools, you're one step closer to turning your project ideas into reality.
Conclusion
The power and joy of DIY projects are truly immense; not only in the fulfillment you get from creating something with your own hands but also the potential savings over hiring professionals. However, the cost of tools and equipment can quickly pile up. While you now know the typical price range of tools, the potential treasure to be found in used tools, deals, and the importance of timing your purchases for sales events, it is ultimately about being strategic and savvy with your investments.
And remember, DIY doesn't have to mean doing it alone. Online platforms like Ultra Handy's Amazon store are good starting points. These platforms not only offer a wide range of DIY tools for your varying needs but, more importantly, they serve as communities where you can gain valuable insights into the quality and cost-effectiveness of your options.
So, whether you're planning to build a workbench in your garage, fix a leaky faucet, or construct a treehouse your kids will definitely love, having the right set of tools is essential. With the tips laid out in this article, you'll know exactly where to look for the best deals, which will enable your creative journey to flourish without breaking the bank. Happy shopping, and happier creating!
Frequently Asked Questions
Where can I find cheap tools and equipment for my DIY projects?You can find cheap tools and equipment for your DIY projects at various places such as thrift stores, yard sales, online marketplaces like eBay or Craigslist, local classified ads, and even in the clearance sections of home improvement stores.
Are cheap tools and equipment of low quality?Not necessarily. While some cheap tools and equipment may be of lower quality, there are plenty of options available that offer good value for money. Look for reputable brands that offer affordable options or read reviews before making a purchase.
What are some DIY tool brands that offer affordable options?Some DIY tool brands that offer affordable options include Craftsman, Black+Decker, Stanley, Ryobi, and Kobalt. These brands are known for providing reliable tools that fit within a shoestring budget.
Should I buy used tools and equipment?Buying used tools and equipment can be a great way to save money, especially if they are in good condition. However, it's important to inspect the items carefully before purchasing and ensure they meet your needs. Buying from reputable sellers is recommended.
Are there any alternative options for borrowing or renting tools and equipment?Yes, there are alternative options if you don't want to buy tools and equipment. You can consider borrowing from friends, family, or neighbors who may have the tools you need. Another option is renting tools from local tool libraries or equipment rental stores.