DIY on a Budget: Finding Cheap Tools and Equipment for Every Project
Discover creative ways to find inexpensive tools and equipment for your DIY projects without compromising on quality. Get the most out of your budget.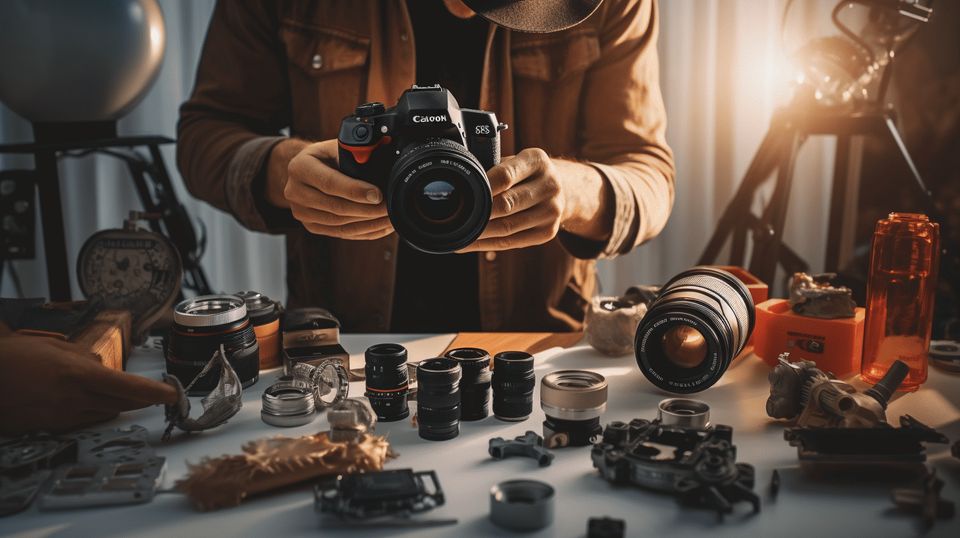 Wandering the aisles of a hardware store, eyes wide and dreams bigger, the notion of starting a DIY home improvement project can seem both exciting and daunting. The gusto to do it yourself is palpable, only to be tethered by the seemingly steep price tags adorning all the necessary tools and equipment. Yet, fear not, budding DIY enthusiasts! With a bit of ingenuity and resourcefulness, you can gather an arsenal of affordable tools and equipment to tackle any project that stirs your passion.
Making home improvements or crafting your own projects doesn't have to break the bank. Understanding what tools you will need, where to find them at better prices, and how to care for them can dramatically cut down costs. From the essential must-haves such as a screwdriver set and a level, to affordable equipment like power drills and woodworking tools, there exist a plethora of inexpensive yet quality options. The key to effective budgeting, however, lies in leveraging deals, sales, and even used tools in good condition.
This article is meant to be your comprehensive guide to navigating the world of affordable DIY tools and equipment. Ahead, we'll look at specific tools you'll need, discuss budget-friendly brands, talk about specific pieces of equipment, and share practical tips on finding the best deals. By the end, you should be ready to take on DIY projects without worrying about the toll they'll take on your wallet. So let's delve in, and start equipping your home workshop without splurging unnecessarily!
Must-Have Tools for Home Improvement on a Budget
Getting noticeably successful results from your home improvement project doesn't mean having to exhaust your wallet. Still, it does require the right tools, even on a budget. In this regard, these must-have tools can make a significant difference in achieving your desired makeover without breaking the bank. They are easy to use, efficient, and serve multiple purposes. Let's explore each one.
Screwdriver Set
A proper screwdriver set is indispensable for any home improvement project. Whether you're installing a new kitchen cabinet, fixing a loose door handle, or assembling a furniture piece, a quality screwdriver set allows you to handle different types of screws efficiently. They come in a variety of shapes and sizes, making it essential to have different options at your disposal.
Tape Measure
Don't underestimate the importance of a tape measure in your tool kit. From determining the space for a new piece of furniture to gauging the distance between wall studs, the tape measure is a reliable companion. Its accurate measurements can save you from costly mistakes. It might seem like an ordinary tool, but in fact, it's your pathway to precision and perfection.
Utility Knife
The utility knife is an unsung hero on your tool belt. It assists in a myriad of tasks such as opening boxes, cutting wallpapers or vinyl flooring, scraping old paint, and more. Choose a knife that is sturdy, easy to grip, and allows for blade changes. A dull blade isn't helping anyone, and safety always comes first!
Claw Hammer
Next on the list is the trusty claw hammer. This tool is designed for more than just pounding nails into the wall. The nail-removing claw on the opposite side of the head can extricate even the most stubborn nails, making it a convenient asset in your home improvement arsenal.
Level
Want those wall hangings and shelves perfectly straight? You'll need a level. This amazing tool ensures your DIY installations are not lopsided, giving everything a professional, polished appearance. Choose one with robust construction and clear visibility for the best results.
Adjustable Wrench
Last but not least, the adjustable wrench. This tool can fasten and loosen various sizes of nuts and bolts. It's adjustable, meaning it can conform to multiple sizes, eliminating the need for several different wrenches. It's a budget-friendly tool that stands to save you immensely in the long run.
So, the next time you think about embarking on a home improvement project, arm yourself with these affordable tools. You'll definitely thank yourself later when you see the impressive results they help you achieve.
Affordable Options for DIY Tools and Equipment
The DIY (Do-It-Yourself) movement has taken the home improvement world by storm. More than ever before, homeowners are venturing into building, fixing, and upgrading tasks without the aid of professionals. It has been enabled by an array of affordable tools and equipment readily accessible online and in-store. Picking where to shop for your tools is just as crucial as deciding what tools to get. Let's explore some of the most reliable and valued retailers for DIY tools.
Harbor Freight
If you've embarked on the DIY journey, chances are you've stumbled upon Harbor Freight. Popular for their low prices and vast product range, Harbor Freight offers an array of power tools, generators, jacks, and tool boxes. Its primary appeal lies in its blend of affordability and quality, making it a popular choice for both novice and experienced DIYers. Harbor Freight has become somewhat of a gem in the rough for those seeking budget-friendly and sturdy tools.
Walmart
Stepping up its game in the DIY retail arena, Walmart is another go-to destination for affordable tools, particularly for those who prefer in-person shopping. Its home improvement aisle provides a selection of hand and power tools that cater to both beginners and frequent DIYers. Walmart's competitive prices, seasonal sales, and easy return policy also contribute to the appeal it has for DIY enthusiasts.
Ryobi
Ryobi sets itself apart with a distinctive blend of affordability and innovation. Renowned for their comprehensive lineup of power tools, Ryobi tools are designed with user-friendly interfaces and features like cordless operation. This brand strikes a balance between cost and convenience, making it an attractive option for those seeking high-value, low-cost tools.
Amazon
When it comes to online shopping, Amazon is an undeniable powerhouse, and this holds true in the world of tools and equipment. The retail giant offers an extensive range of hand tools, power tools, and workshop supplies. Its appeal not only stems from its diverse offerings but also the convenience of customer reviews, price comparisons, and home delivery. Amazon has proven to be a notable platform for DIY consumers seeking the ease of online shopping and a wealth of options.
Alibaba
Rounding off our list, Alibaba is a potent platform for finding budget-friendly tools. It boasts an enormous catalog of power tools, yard tools, and equipment sourced from various manufacturers worldwide. Alibaba's business model allows DIYers to secure attractive discounts on numerous items by buying in bulk, making it an appealing option for more substantial projects or groups of DIYers looking to pool resources.
While the quest for affordable tools and equipment for your DIY projects may require some research and consideration, these retailers provide a mix of variety, quality, convenience, and savings. As each project and DIY enthusiast has different needs, your perfect tool source may vary. However, be it beginners or seasoned hands, these retailers have something to offer everyone, making DIY a more accessible and enjoyable venture.
Budget-Friendly Choices for DIY Projects
The first step to any successful DIY project is having the right set of tools at your disposal. But buying brand-new, high-quality equipment can quickly become an expensive affair. Thankfully, there are several budget-friendly alternatives that can help you commence your DIY journey without burning a hole in your pocket. From investing in a proper set of screwdrivers and rental tools to reusing and repurposing materials, this section will guide you through the many affordable options available for your DIY endeavours.
Proper Set of Screwdrivers
A screwdriver is a fundamental tool required for a wide range of DIY tasks. You might find a basic set sufficient, or you may want to invest in a more versatile toolkit that includes flat head, Phillips, Torx, and hex drivers. Consider purchasing a multi-bit screwdriver, which is cost-effective and takes up less space than a complete set.
Cheap Power Drill/Driver Combination
Often considered a necessity for any DIY enthusiast, a power drill can also be expensive. However, a power drill/driver combination is an excellent budget-friendly choice as it gets you two tools for the price of one. With multiple speed settings, these versatile tools can quickly alternate between drilling and driving operations with ease.
Affordable Safety Gear
Remember, safety should never be compromised. Thankfully, basic safety gear like goggles, gloves, and hard hats are reasonably priced. Make sure to wear the correct protective equipment to prevent injuries and accidents when working on your projects.
Woodworking on a Budget
Stepping into the world of woodworking? Look for affordable power tools that are effective yet easy on the pocket. Consider a reliable circular saw, power sander and drill press. Joining a community workshop can also provide you access to tools and machinery at a reasonable cost.
Inexpensive Reciprocating Blades
For demolition work or cutting through tough materials, a reciprocating saw is extremely handy. Luckily, the blades for this tool can be purchased at a comparatively lower price. Keeping a set of blades in varied types and lengths will cover most of your cutting needs without breaking the bank.
Creating Cheap and Free Gardening Tools
Gardening is one DIY activity that doesn't have to cost a lot. Old kitchen utensils can be transformed into gardening tools. Likewise, plastic jugs can serve as water dispensers, and old newspaper can be used for seed-starting pots.
Affordable Spinning Yarn Tools
Those interested in knitting or weaving can easily set up a budget-friendly workstation. Opt for less expensive spindles and yarn ball winders to cut cost. Also, look for seasonal sales to purchase quality, yet affordable yarn.
Finding Used Power Tools in Good Condition
Used tools can be just as good as new ones and come at a fraction of the cost. Explore local pawn shops, online marketplaces, or garage sales. Just make sure to check the tool's condition and functionality before making a purchase.
Renting Power Tools and Equipment
Renting power tools is a great way to save money, especially for one-off projects. Local tool rental services offer a variety of equipment, from drillers to saws, at affordable rental prices.
Seed Swaps
Instead of buying new seeds every season, consider joining a seed swap community. It's an economical way to acquire a variety of seeds while offering excess seeds from your garden.
Reusing and Repurposing Materials
Repurposing is the name of the game in budget-friendly DIY. Old furniture can be restored and used as valuable project material. This not only saves money but also lends a unique touch to your projects.
Budget-Friendly Power Tools
Investing in a personal set of power tools can seem daunting due to the price tags associated with them. However, there are budget-friendly brands offering reliable options. While they might lack some high-end features, they are excellent for basic DIY needs.
Engaging in DIY projects doesn't have to be an expensive venture. With creativity, resourcefulness, and careful planning, you can work on exciting projects that won't cost you a fortune. Happy DIYing!
Affordable Options for Specific Tools and Equipment
When it comes to working on any project, whether it's craft, DIY, or garden-related, having the right tools and equipment can make all the difference. However, while some tools can admittedly cost a small fortune, thankfully there is a myriad of more affordable options available that don't compromise on quality. In this section, we'll take a deeper dive into some of these economically achievable alternatives for your everyday needs.
B&M Tools
Shopping for tools shouldn't always mean breaking the bank. B&M Tools, for instance, is popularly known for providing a great selection of affordable yet quality tools that cater to a variety of needs, from basic handheld tools to power driven gadgets.
Kangaroo
One can't discuss affordability without mentioning Kangaroo. Nifty, easy to install, and incredibly budget-friendly, Kangaroo home security products are known for their innovative take on home protection. Products range from weatherproof doorbells to pet-friendly motion detectors.
Ring Alarm
For a cost-effective, comprehensive home security system, Ring Alarm comes highly recommended. Not only is it competitively priced, but it also offers high functionality and is easily controllable via a user-friendly smartphone app.
Northern Tool + Equipment
Northern Tool + Equipment boasts an impressive range of tools and equipment at pocket-friendly prices. From garden tools to generators, it's hard to argue against having Northern Tool + Equipment as your go-to tools store.
Five-Gallon Bucket
On the surface, a five-gallon bucket might seem like a simple storage item. However, it carries versatility in spades. From gardening and home repair to craft projects, the uses are virtually endless, making it a thrifty must-have for any home.
Studio Equipment
Good news for the aspiring photographers and podcasters out there. It's entirely possible to create your own studio on a budget. Affordable studio equipment, such as lighting kits, backdrops, and microphones, are readily available.
Essential and Inexpensive DIY Tools
Getting into DIY doesn't necessitate a hefty initial investment. With some research and direction, you can accumulate a useful collection of inexpensive, yet essential, DIY tools that will cover the majority of common home repair tasks.
Hex Keys
A hex key set is a prime example of an affordable, yet vital tool for your toolkit. Used for driving bolts and screws with hexagonal sockets, they're an invaluable asset for furniture assembly and bicycle maintenance.
Without a doubt, staying within budget doesn't mean you have to sacrifice on quality or variety. With affordable options for specific tools and equipment, getting your hands on the tools you need has never been more attainable.
Conclusion
Embracing the DIY spirit doesn't mean you have to overspend on tools and equipment. With the right research and patience, you can find numerous affordable and quality hand and power tools. Keep in mind to also include proper maintenance and care for these tools to ensure they stay in good condition longer.
Remember, part of the enjoyment of DIY projects is about being resourceful and innovative, so don't let budget constraints hamper your enthusiasm or creativity. Also, finding the right tools that cater to your specific needs helps you achieve your objectives without breaking your bank.
For a wider selection of affordable tools, Ultra Handy features an array of products that cater to every DIY enthusiast's needs while keeping your expenditure in check.
Whether you are a gardening aficionado, a home improvement enthusiast, or a DIY crafts lover, choose your tools wisely. And remember, making thoughtful and budget-conscious choices will lead to a more productive and enjoyable DIY journey.
Frequently Asked Questions
Where can I find cheap tools and equipment for my DIY projects?You can find cheap tools and equipment for your DIY projects at local thrift stores, garage sales, online marketplaces like eBay and Craigslist, and discount stores like Harbor Freight and Dollar Tree.
What are some tips for finding affordable tools and equipment?Some tips for finding affordable tools and equipment include: 1. Look for sales and promotions at hardware stores, 2. Check for clearance or discontinued items, 3. Buy used tools from reputable sellers, and 4. Borrow or rent expensive tools if you only need them for a specific project.
Are cheap tools and equipment of low quality?Not necessarily. While some cheap tools may be of lower quality, there are also budget-friendly options that offer good value for money. It's important to research and read reviews before purchasing to ensure you're getting a reliable product.
How can I ensure the quality of cheap tools and equipment?To ensure the quality of cheap tools and equipment, look for reputable brands even within the budget category, read product reviews and ratings, check for warranties or guarantees, and inspect the tools for any visible defects or flaws before purchasing.
Are there any online platforms specifically for buying affordable tools?Yes, there are online platforms specifically for buying affordable tools. Some popular ones include ToolBarn.com, MSC Industrial Supply, and Overstock.com. These platforms often offer discounts and deals on a wide range of tools.