Maximize Your Savings: Tips for Saving Money on Tools and Equipment for DIY
Discover valuable tips to maximize your savings on tools and equipment for your DIY projects. Save money without compromising on quality.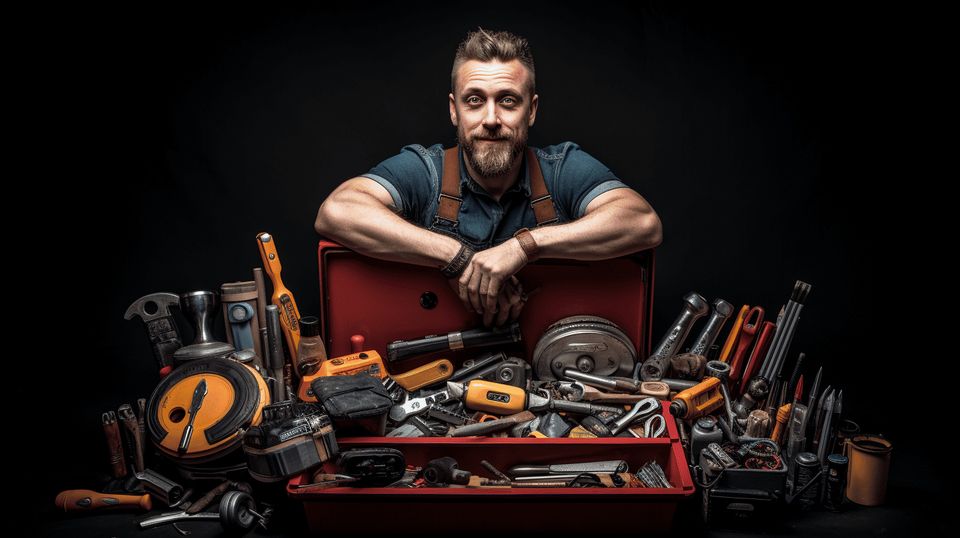 Welcome to a world where anybody can be a do-it-yourself expert with the right tools and equipment. Whether you're remodeling the kitchen or fixing a leaky pipe, having the necessary tools is crucial. However, these tools can rack up pretty hefty bills if you're not careful. Fear not, dear readers! This article is your ultimate guide to navigating the world of tools and equipment while keeping your wallet happy. We'll discuss where to find the best deals, the most cost-saving times to grab those deals, and some brand-specific insights. We'll also explore alternative saving options, and even share tips on managing your finances for maximum savings. So put on your work boots and join us on this money-saving journey. You're one step away from becoming a budget-savvy DIYer.
Finding Deals and Discounts
In today's competitive retail landscape, scoring the best deals and discounts needs both a keen eye and a strategic mind. More so when it comes to home improvement stores like Home Depot, Lowes, and Acme Tools, where discounts can mean significant savings on your budget. From power tools by well-loved brands like Makita, Milwaukee, and DeWalt to garden essentials and paints, knowing when and where to look can make all the difference.
Home Depot
When you swing by Home Depot, it's almost impossible not to be swept away by the array of products that catch the eye. But what if you could find the same dazzling products at discounted rates? Well, Home Depot offers great deals and coupons, making it that go-to dream store for every DIY fan and professional contractor alike!
Don't miss out on their online and in-store sales events throughout the year
Subscribe to their newsletters to receive exciting offers or promotional codes
Join the Pro Xtra Rewards program for deals tailored for professionals
Lowes
Across the nation, Lowes is a name that immediately brings thoughts of home improvement. It's well-stocked shelves are filled with goods from top brands such as Makita and Milwaukee. And would you believe that they also host sales events full of amazing deals?
Check out their Weekly Ad for the most current offers on a wide range of products
Look out for seasonal sales events like their spectacular Black Friday and Labor Day sales
Sign up for Lowes Advantage Card for more rewards and automatic discounts
Acme Tools
Known for their superb customer service and a stunning variety of brands on offer, Acme Tools is a favorite among many tool enthusiasts. The good news is – it's also a treasure trove of deals and discounts!
Utilize their 'Hot Deals' section on their online store which displays the latest sales
Keep an eye on the 'Clearance' section for products at deeply discounted prices
Acme Tools gift cards are also a great way to save on your purchases
As we navigate through these stores and their discount offerings, remember that the trick to finding the best deals lies not just in knowing where to look, but also when. That coveted DeWalt power drill may be on offer during a holiday sale, and the Makita chainsaw you need for your next project might have a hefty discount during a flash sale. Keep this guide handy, and happy shopping!
Best Times for Savings
The art of scoring substantial savings has always been a careful dance between patience and timing. Those in search of the best deals on power tools, hand tools, and various types of equipment understand this all too well. Often, the most significant discounts pop up during specific holidays. Top among these include Labor Day Weekend and the massive Black Friday event. The smart shopper should eagerly mark these dates on their calendars as the sea of discounts do not simply trim down costs, but also pave the way for a deeply fulfilling shopping spree.
Labor Day Weekend
The Labor Day Weekend is a treasure chest of sizeable savings just waiting to be unlocked. It heralds some of the most jaw-dropping deals one can find in the market. If you're lucky, you might just stumble upon the robust range of DeWalt tools, nestling its way into the market at encouragingly affordable prices. Famed for their strength and durability, these tools are a favorite amongst seasoned handymen, making Labor Day savings not just financially rewarding, but also something of a tools fiesta.
Ryobi, another key player in the field, also joins the ranks, offering substantial discounts across its impressive product line. Beyond the Labor Day discounts, there's the opportunity to become part of a larger fraternity - those that trust Ryobi for their reliability and longevity.
Black Friday
If you thought Labor Day Weekend provided exciting deals, then brace yourself for Black Friday. Known as the factotum of discounts, Black Friday elevates savings to entirely new heights. For those keen on revamping their tool-kit, this could very well be the haven of discounts you've searched for.
Here, popular brands like Klein Tools make a grand entrance. These highly reputable tools take a majestic bow on the price stage, offering unbeatable savings that resonate with the financial pulse of both the occasional DIY'er and the seasoned professional. If Klein were on your wishlist, Black Friday could very well prove the perfect time to turn this dream into reality.
Ultimately, finding the best times for savings involves staying alert and understanding when and where to look. Labor Day Weekend and Black Friday are surefire events that promise not just a reduction in price, but an elevation in tool quality and variety. So, keep your eyes peeled and your patience primed ready to grab these amazing deals when they roll around.
Specific Brands and Promotions
As DIY culture continues to expand, so does the demand for tools and equipment from specialized brands. Leading the pack are several notable companies, each offering a diverse range of machinery guaranteed to satisfy the needs of pros and hobbyists alike. Here, we delve into the offerings of some popular brands, setting the spotlight on their standout products and current promotions.
Makita USA
With over 100 years' worth of experience, Makita USA indeed lives up to its name as a prime provider of premium power tools. Their product lineup includes cordless tools, drills, saws, and even outdoor power equipment - an impressive range aimed at providing tradesmen and DIY enthusiasts with the exact equipment they need. Currently, Makita is running a special promotion on the cordless combo kit, making it an excellent time to bolster your toolbox.
Milwaukee Tool
Milwaukee Tool is another heavyweight in the industry, known for their innovative solutions making the lives of their users easier and more efficient. From their renowned M12 and M18 systems to their groundbreaking ONE-KEY technology, Milwaukee never fails to deliver performance and durability in the palm of your hand. Keep an eye out for their seasonal sales, which are often jam-packed with fantastic bargains.
Greenworks
If you are keen on environmentally friendly solutions, look no further than Greenworks. Their commitment to battery-powered outdoor equipment has positioned them as a leading brand in the landscaping and gardening sector. The highly popular 60V and 80V lineups offer the power of gas-operated tools without the emissions. Greenworks often has promotional sales to provide the public with high-quality equipment making yard work easier and more efficient, not to mention eco-friendlier.
Hilti
Hilti, a trusted brand amongst professionals, offers a multitude of tools catered to those in the heavy-duty construction industry. Their extensive range of demolition hammers, rotary hammers, and diamond coring machines are standout products, ensuring high productivity on the job site. Make sure to utilize the Hilti Trade-In Program, where you can exchange your old tools for brand new ones at a discounted rate.
WORX
WORX is the go-to brand for homeowners, offering an extensive product lineup - from cordless lawnmowers to robotic vacuums. They are famous for creating tools that are powerful, lightweight, and easy to use, highlighting their commitment towards meeting the needs of everyday users. To assist you in making your home look its best, WORX periodically offers deals on their top-selling items.
NAPA Auto Parts
When it comes to automotive needs, NAPA Auto Parts rules the roost. From battery chargers and engine components to a variety of auto repair tools, NAPA caters to professional mechanics and vehicle enthusiasts alike. Don't forget to check out their frequent "Buy One, Get One Free" deals for an opportunity to stock up on all your automotive needs.
The Tool Nut
The Tool Nut is a one-stop-shop for anyone looking for high-quality professional-grade tools. Not only do they carry the top brands, but they also offer expert advice to help you make the most informed decision. The cherry on top? The Tool Nut is currently running a promotion where orders above $75 qualify for free shipping.
These indispensable brands are shaping the tools industry with their superior offerings and ongoing promotions, largely contributing to the upward trajectory of the industry's steady growth. Whether you're an expert tradesman or a home-improvement enthusiast, these brands guarantee innovative, high-quality tools that will make any job a breeze.
Cost-Saving Options
From entrepreneurs to homemakers, everyone appreciates the value of cutting costs without sacrificing functionality. After all, why spend exorbitant amounts when there are smarter, cost-saving options available? With a little bit of insight, creativity, and patience, you can find economical solutions to equip yourself with the necessary tools without breaking the bank. This section explores some practical and sustainable cost-saving options for tools and equipment.
Homemade or DIY Equipment
Sometimes, the best way to cut down on cost is to make it yourself. With the rise of DIY culture, there are countless tutorials, guides, and resources available that can help you create your own tools and equipment. They can range from simple household items to complex machinery. It might require a bit of time and energy, but the savings can be substantial.
Renting Tools
When it comes to tools that you only need for a specific project or a short period, renting can be a viable option. Many hardware stores offer rental services for a fraction of the cost of purchasing. This can be a cost-effective solution for infrequently used tools.
Bundle Packages
The power of the bundle should never be underestimated. Many suppliers offer bundle packages where you can purchase multiple tools together at a discounted rate. Not only does this provide a cost saving, but it also increases efficiency by acquiring all the needed tools in one purchase.
Buying Refurbished Tools
Another pocket-friendly option is to consider buying refurbished tools. These are used products that have been restored to their original condition by the manufacturer. Not only are these products more affordable, they also come with a warranty for peace of mind.
Holiday Sales
Ever noticed how prices seem to plummet during certain times of the year? Holiday sales, Black Friday, and clearance sales can be great opportunities to snag tools and equipment at incredibly reduced prices. Just be sure to do your homework and ensure that the 'sale' price is genuinely a good deal.
Investing in Software Tools
In the modern digital age, software tools can often replace traditional physical tools. Not only can these be more versatile, but they can also save you money in the long run. Many software solutions also offer subscription models, allowing for a low initial investment and predictable ongoing costs.
Using Free Online Budget Tools
Keeping track of your spending is an effective way to control costs. Free online budgeting tools, such as spreadsheets and financial apps, can help you plan for future expenses, track current spending, and ensure a healthy cash flow.
Implementing Energy-Saving Tips
Incorporating energy-saving measures can help reduce your overall running costs. This can be as simple as turning off equipment when it's not in use, using energy-saving modes, or investing in energy-efficient models.
Utilizing Cash Back and Reward Programs
Many credit card companies and retailers offer cash back or reward programs for purchases. By utilizing these programs, you can earn points or money back that can be used towards future purchases.
By combining these strategies, you can effectively manage your budget, optimize your workflow, and ultimately, save money. Each tool and technique has its own advantages, but when used together, they can make a significant difference to your bottom line. Remember, there are multiple paths to cost-saving, and the best one for you will depend on your unique circumstances and needs.
Saving Money on Home Improvement Projects
Home improvement projects can add considerable value to your home, allowing you to create a space that mirrors your personal style. However, these ventures can also be heavy on your wallet. So, how can you embark on these projects without having to break the bank? Here are some savvy strategies to remodel your home on a budget!
DIY Projects
Undoubtedly, a significant portion of home improvement expenses goes into professional fees for contractors and interior designers. Taking on do-it-yourself (DIY) projects is an innovative and engaging way to reduce this cost. A simple trip to a local hardware store and online tutorials can set you on the right path. Ranging from painting walls to constructing bookshelves, you can do a multitude of tasks yourself, saving money while also adding a personal touch to your home.
Save on labor cost: DIY cuts out the middlemen contractors thereby giving you control over labor expenses.
Customization: Doing it yourself lets you bring your ideas to life exactly the way you envision.
Borrowing or Renting Tools
Purchasing tools for a one-time project is often costly and impractical. An alternative strategy to consider is borrowing or renting these necessary tools. Some hardware stores rent out equipment, and there are also companies that specialize in tool rental. Don't hesitate to ask neighbors or friends if they might lend you what you need, making sure to offer something in return, of course!
Key Benefits:
Cost-effective: It drastically brings down your project's cost, especially for big ticket or one-time-use items.
Space-saving: Renting eliminates the need to find storage space for tools in your home.
Sourcing Secondhand Materials and Decor
Why buy new when you can get quality items for less? Sourcing secondhand materials and decor can greatly reduce your home improvement expenses. Flea markets, online marketplaces, and thrift stores often have a diverse collection of decor pieces, furniture, and even construction materials at a fraction of the cost of new ones.
In A Nutshell:
Economical: Buying used items can save a significant amount.
Unique Finds: Secondhand markets often have unique, vintage pieces that add character to your home.
Delayed Purchases
Another strategy to cut costs is to delay non-essential purchases. If new curtains can wait while you fix the leaking roof, prioritize the tasks. Repair what's broken first and gradually move towards aesthetic enhancements. This approach not only helps spread out expenses but also provides you with time to research and find the best deals.
Remember: "A penny saved is a penny earned." Successfully executing home improvements doesn't always require hefty investments. With a little planning, creativity, and the adoption of these cost-saving strategies, you can efficiently remodel your space while ensuring it doesn't create a hole in your pocket.
Financial Management and Money-Saving Strategies
Learning how to manage your finances can be an uphill task, but it doesn't need to be. It's all about understanding where your money goes, setting goals, and taking deliberate steps to save on your spending. For DIY enthusiasts, this means knowing which tools and equipment you truly need, finding affordable alternatives, and practicing smart spending habits.
Setting Savings Goals
First, establishing clear savings goals can be remarkably useful. You might have your eyes set on a high-quality power drill, or simply making room for unexpected tool replacements. Devising specific, measurable, attainable, relevant, and time-bound (SMART) goals can help you stay on track with your savings. A SMART goal for a DIY enthusiast might be, "Save $500 in 6 months by reducing unnecessary spending on non-essential tools."
Tracking Expenses
Understanding where your money goes is essential in financial management. Tracking your expenditure gives you insights into your spending habits, revealing areas where you can save. Remember to include regular expenses such as utilities, groceries, and maintenance, but don't forget to record tool and equipment purchases too.
Cutting Unnecessary Spending
Once you've tracked your expenses, pinpoint areas where you can cut back. Do you have tools that are gathering dust or equipment you rarely use? Cutting unnecessary spending on rarely-used tools can significantly boost your savings.
Sticking to Essential Tools
Lastly, only buy the tools you truly need. There's always a shiny new gadget or tool promising to be a game-changer, but it's prudent to ask yourself if you really need it. Re-evaluating your purchasing decisions and sticking to essential tools not only declutters your workspace but also safeguards your wallet.
Each of these money-saving strategies is effective on its own but combining them can further amplify your savings. With these strategies, you can maximize your savings on tools and equipment, freeing up resources for other areas of your life. Remember, financial management is not about depriving yourself, but rather making your money work for you.
Frequently Asked Questions
What are some tips for saving money on tools and equipment for DIY projects?Some tips for saving money on tools and equipment for DIY projects include: 1. Research and compare prices before making a purchase. 2. Consider buying used or refurbished tools. 3. Borrow or rent tools if you don't need them frequently. 4. Look out for sales, discounts, and promotional offers. 5. Take advantage of loyalty programs or rewards.
Where can I find used tools and equipment for DIY projects?You can find used tools and equipment for DIY projects at various places, such as online marketplaces like eBay or Craigslist, local classifieds, garage sales, pawn shops, and even specialized tool rental stores that sometimes sell used items.
Are cheap tools worth buying for DIY projects?Cheap tools can be worth buying for DIY projects, especially for occasional or light use. However, it's important to consider the quality and durability of the tool. Investing in higher-quality tools may be more cost-effective in the long run, especially for frequent or heavy use.
What are some essential tools for DIY projects?Some essential tools for DIY projects include a hammer, screwdriver set, tape measure, adjustable wrench, pliers, utility knife, level, power drill, and a saw. The specific tools needed may vary depending on the type of DIY project.
Can I save money by renting tools instead of buying?Yes, renting tools can be a cost-effective option, especially if you only need them for a specific project or on a temporary basis. Renting eliminates the need for long-term storage and maintenance expenses, making it a convenient and affordable choice for many DIY enthusiasts.