DIY Projects Made Easy: Money-Saving Tips for Finding Affordable Tools
Discover money-saving tips for finding affordable tools to make your DIY projects easy and cost-effective. Get the tools you need without breaking the bank.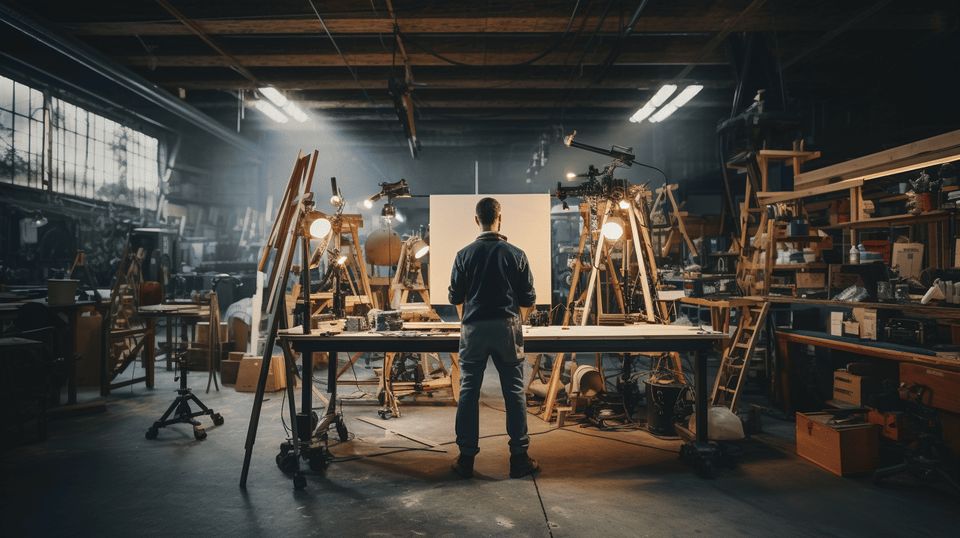 There's a certain satisfaction that comes from doing it yourself - whether it's crafting a charming piece of furniture or implementing significant home improvements. Yet often, the high costs of quality tools can be quite the financial impediment for DIY enthusiasts. But worry not, dear reader, because it's entirely possible to find affordable tools too, that won't put a strain on your pocket.
DIY projects are as much about the journey of creation as they are about the end product. Therefore, the tools you choose become your trusted companions along the way. Let's delve into the world of affordable DIY tools and explore the money-saving tips, recommending affordable tool sets, and highlighting essential tools for different types of DIY projects. It won't be long before you're equipped with all the insight needed to make your next DIY project a wallet-friendly endeavor.
Money-Saving Tips
In today's economy, every penny counts. And when it comes to purchasing DIY tools, cost-saving techniques can make a massive difference for your wallet. Whether you're a professional contractor or a home improvement enthusiast, these money-saving tips can help minimize your expenditure without compromising on quality.
Buying Combo Kits
First off, there's a piece of advice that can bring you significant savings - considering combo kits. Often, manufacturers provide sets of tools designed to perform interrelated tasks. These combo kits frequently offer more value for less money, making them an excellent alternative for anyone looking to amass a robust tool collection without breaking the bank. They often come with convenient carry cases too, making them both cost-effective and handy.
Utilizing Sales
Secondly, be on the lookout for massive sales events. Online platforms like Amazon often have sales during certain times of the year, such as Black Friday, Cyber Monday, or Prime Day. These sales events can offer substantial discounts on a wide range of tools, making it the perfect opportunity to purchase that long-desired power drill or cordless saw. But remember, the key is to plan your purchases - impulse buying can nullify your savings intent!
Renting Tools
Completing a one-off DIY project? Why buy when you can rent! Many local hardware stores offer rental services for various tools. Renting can be an effective way of saving money, particularly when dealing with rare, one-time-use tools. Don't let that expensive, yet rarely used tool take up space and collect dust in your garage. Rent it, use it, and return it!
Considering the Importance of Price
Last but not least, always remember to consider the price and value of a tool before purchasing. Saving money doesn't always mean purchasing the cheapest option. Sometimes, investing a bit more in a high-quality, durable tool can save you from frequent replacements, leading to more savings in the long run. So, while balancing your budgetary constraints, make sure you're not compromising on the durability and efficiency of your chosen tools.
By utilizing these money-saving strategies, you can amass a useful tool collection without putting a dent in your wallet. Being a savvy shopper not only helps maintain your budget but also helps enhance your DIY endeavors. So the next time you're on the lookout for DIY tools, remember these cost-effective tips to help guide your purchases.
Best Affordable Tool Sets of 2023
The world of DIY projects is not only appealing to the pocket but also rewarding in terms of self-satisfaction and creativity. However, the success of these handcrafted projects significantly depends upon the tools you use. That's why we've researched and compiled a list of the best affordable tool sets of 2023. Tailored to your specific needs, these kits are a fantastic starting point for beginner do-it-yourselfers and a reliable addition to the arsenals of seasoned ones.
Crescent
Crescent is a renowned brand known for its robust and diverse range of tools. If you're looking for an economical toolset without compromising quality, their latest 2023 offering would undoubtedly pique your interest. Comprising everything from screwdrivers to adjustable wrenches, each tool is designed with ergonomics and durability in mind. While being incredibly affordable, Crescent ensures that their tools stand the test of time, making them an excellent investment for any DIY enthusiast.
Craftsman
Craftsman is another game-changer when it comes to providing high-end yet cost-effective tool sets. Craftsman's 2023 range keeps up with their tradition of affordable, quality products. What sets Craftsman apart is their dedication to user-friendly design. Most of their tools sport comfortable, non-slip handles for easy gripping, which not only enhances productivity but also ensures safety during detailed and delicate projects.
DeWalt
DeWalt is a constant name in the arena of top-notch, value-for-money tool sets. The DeWalt 2023 tool set range is replete with superior features, including corrosion-resistant, chrome-finished tools that guarantee longevity. Plus, their compact, suitcase-style carrying case is perfect for those who need to move around with their tools, making DeWalt a great choice for both stationary and mobile DIY-ers.
Amazon Basics
For a versatile and affordable tool set, don't overlook Amazon Basics. Known for their economically priced products, the 2023 tool set lineup keeps up with their affordable pricing strategy without scrimping on variety or durability. From hammering nails to tightening bolts, the Amazon Basics tool set ensures you are ready for any DIY challenge at a price point that's hard to resist.
As noted, it's necessary to carefully research and select the most appropriate toolkit according to specific DIY project needs. These brands offer comprehensive versatility and unmatched affordability, allowing you to handle various tasks without busting your budget. Whether you're a beginner looking to dip your toes into DIY or a seasoned hobbyist seeking an upgrade, these four tool set brands will surely provide excellent value.
Budget-Friendly Finds on Amazon
There's always a bit of thrill when it comes to booking deals and scoring discounts. It becomes even more exciting when the bargain you've landed is on Amazon, the go-to hub for virtually anything you need. In this section, we'll dive into budget-friendly finds on Amazon that can offer you high quality and exceptional value without breaking the bank.
Amazon has thousands of products spanning from electronics and home goods to fashion, health, and beauty. However, knowing what and how to score the best deals is crucial to enjoying your shopping experience while remaining within your budget.
There are several products on Amazon that offer exceptional value for money, a prime example being the Dremel 4300-5/40 Rotary Tool Kit.
Here's what you need to know about this impressive piece of equipment:
The Dremel 4300-5/40 Rotary Tool Kit is versatile and super handy for carrying out small home improvement tasks, beginner craft projects, and even professional-quality work.
It usually retails at $124.99 but is available for a steal at $84.99, a solid $40 off its regular price.
The kit comes with up to 40 different accessories, making it highly conducive to a variety of tasks you may need it for.
Dremel sports a powerful motor that adjusts accurately with different speed settings, ensuring you have complete control over your activity.
Fredrick, a user from New York shares,
"It's more than a tool; it's an investment. The Dremel 4300 kit is worth every penny. Its versatility and power make it indispensable for all my DIY projects."
Clearly, this high praise from a regular user reflects the quality and functionality you'd be getting from this budget-friendly find on Amazon. However, remember that there's an array of other fantastic deals waiting for you on the platform. Consistently checking out Amazon's offers, discounts, and deals of the day can help you spot prime opportunities to save and get the absolute best value for your money.
In a nutshell, Amazon offers a plethora of products at varying price points. By doing a bit of homework and staying vigilant for deals like the one on the Dremel 4300-5/40 Rotary Tool Kit, you can find outstanding products without stretching your budget. That being said, the journey to scoring budget-friendly finds on Amazon involves strategic planning, patience, and persistence, and the result is indeed gratifying. So, happy deal hunting!
Other Notable Toolkits
Discovering the tools one needs can sometimes feel like an endless search, especially when the market is saturated with millions of options. But fret not, we're here to simplify your search with some notable toolkits worth checking out.
The DIY Specialist – A Pink Toolkit
If you think pink toolkits are just about being cute, think again. A pink tool kit could be considered as a complete set for DIY projects and small repairs. Now, while it's not just the hue that makes it stand out, there's more to it than meets the eye. Let's take a closer look at what makes it a notable choice.
Diversity of Tools: A standard pink toolkit contains an extensive selection of necessary tools like screwdrivers, wrenches, and pliers, ideal for various DIY home projects.
Portable: They are designed to be compact and lightweight, which is perfect for on-the-go usage.
Functional and Stylish: These toolkits are as functional as they are stylish, making home repairs less of a chore and more of an enjoyable activity.
Let's divert our attention to some more toolkits that deserve your attention:
The Outdoor Enthusiast - Camping Toolkits
"If you're an outdoors enthusiast or even a seasoned camper, a robust camping toolkit is essential," says an expert camper. Typically, it includes essential tools like multi-function knives, mini LED flashlights, compasses, and fire starters. It's tough, durable, and designed to withstand all kinds of weather conditions — an ideal choice for wilderness escapades.
The Tech Wizard - Computer Repair Toolkits
In today's digital era, a computer repair toolkit is an absolute necessity. Such toolkits are studded with delicate tools such as precision screwdrivers, anti-static wrist straps, and tweezers, offering a comprehensive solution for tech troubles.
While toolkits are a blend of necessity and convenience, the right toolkit could mean the difference between a quick fix and a prolonged, frustrating repair. Thus, it's crucial to choose one that best fits your requirements. Whether you find joy in creating things from scratch or love exploring the wilderness, there's a perfect toolkit awaiting you. Explore, discover, and choose wisely because a well-selected toolkit is an investment that goes a long way.
Essential Tools for Different Types of DIY Projects
If you've ever attempted to take on a do-it-yourself (DIY) project without the right tools, you know how frustrating it can be. Not only can wrong tools limit your capabilities, but they also can slow down your progress or even ruin your project altogether. As the saying goes, "the right tool for the right job" isn't just a cliche, it's a fundamental truth for DIY enthusiasts. Ensuring that you have the essential tools for your specific type of DIY project can make the process smoother and more efficient.
Let's delve into the diverse categories of DIY projects and identify some essential tools you'll need to excel in each venture.
Woodworking
Woodworking is an art that requires precision, passion, and a set of dedicated tools. Here are some must-haves for any woodworking project:
Hand saw: For making quick, clean cuts.
Chisels: Useful for removing large amounts of wood quickly.
Clamps: Perfect for holding pieces of wood together while you work.
Drill: To create holes and fasten pieces together.
Home Improvement
Turning your home into your dream space is a satisfying endeavor, but without the right tools, you could find yourself in a DIY disaster! Ensure your toolbox is well-stocked with:
Tape measure and level: To ensure accuracy and proportionality.
Utility knife: Incredibly versatile for a myriad of tasks.
Screwdriver set: Crucial for installing and removing various types of screws.
Hammer: An absolute necessity for nailing things in place or removing nails.
Crafts
Not all DIY projects are about heavy building or remodeling. Crafts allow you to turn simple items into beautiful creations. To prosper in crafting, consider these tools:
Scissors: A high-quality pair is essential for detailed cutting.
Hot glue gun: Perfect for quickly bonding various materials.
Craft knife: For precision cutting.
Paintbrushes: To beautifully embellish your works.
Remember, undertaking a DIY project without the right tools can be a frustrating experience. By investing in the right equipment, you'll not only save time but also enjoy the satisfaction that comes from successfully completing your project. Happy DIY-ing!
Conclusion
Taking on DIY projects doesn't have to weigh heavy on your wallet; with smart shopping strategies and an understanding of the tools necessary for your job, anyone can achieve their DIY dreams affordably. We've discussed tips and insights on bagging affordable kits, and even shared a few great picks available on Amazon.
Remember that at the end of the day, the right tools will make any project easier, quicker, and way more enjoyable. With budget-friendly options and high-quality toolsets, you can equip your workshop without breaking the bank.
And while you're at it, don't forget to check out Ultra Handy's eCommerce Amazon store, your one-stop-shop for all your DIY needs. Known for its exceptional range of products catering to DIY enthusiasts and those who enjoy spending time outdoors, Ultra Handy aims to help its customers succeed in their life and work, making DIY projects not just work, but a fulfilling feat.
And now, armed with tips, recommendations, and a newfound budgeting spirit, you're all ready to dive into your next DIY project! Happy crafting!
Frequently Asked Questions
Where can I find affordable tools for DIY projects?You can find affordable tools for DIY projects at hardware stores, home improvement centers, online marketplaces, auctions, garage sales, and by borrowing from friends or family.
What are some money-saving tips for buying tools for DIY projects?Some money-saving tips for buying tools for DIY projects are: 1. Compare prices from different sellers, 2. Look for sales and discounts, 3. Buy used tools in good condition, 4. Consider renting tools for one-time projects, and 5. Join tool rental or tool-sharing programs.
Are cheap tools of low quality?Not necessarily. While some cheap tools may be of low quality, it's possible to find affordable tools that are durable and reliable. Read reviews, check the materials used, and choose tools from reputable brands or sellers to ensure quality.
What are some essential tools for beginners in DIY projects?Some essential tools for beginners in DIY projects include a hammer, screwdrivers (Phillips and flathead), tape measure, utility knife, pliers, adjustable wrench, drill/driver, and safety goggles.
Can I save money by borrowing tools instead of buying them?Yes, borrowing tools instead of buying them can be a great money-saving option, especially for tools you may not use frequently. Borrow from friends, family, or consider joining a tool-sharing community or program in your area.