Maximizing Your DIY Budget: Tips for Saving Money on Tools and Equipment
Discover effective tips for maximizing your DIY budget by saving money on tools and equipment. Learn how to make the most out of your limited resources.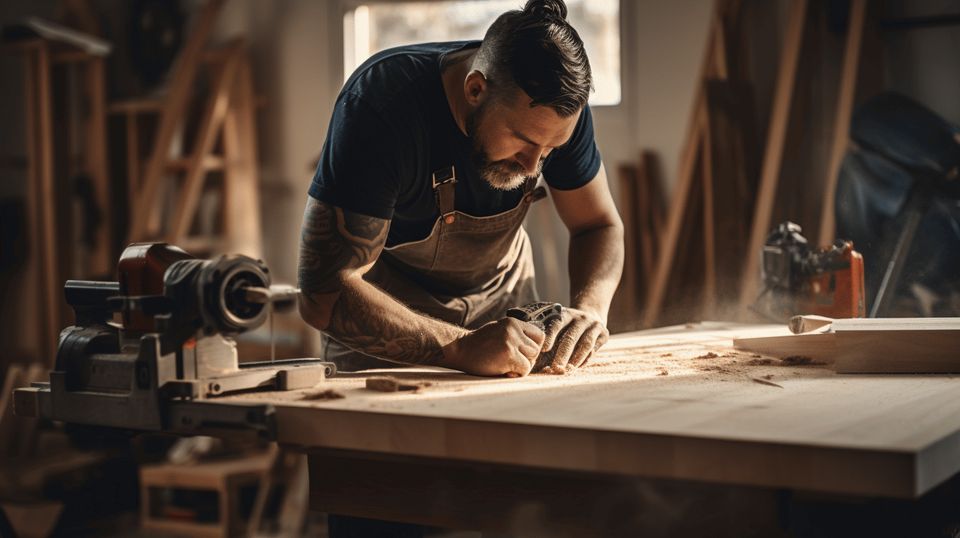 DIY enthusiasts, weekend warriors, and crafting hobbyists all understand the satisfying feeling of creating something with your own hands. There's something truly special about seeing your project come to life, knowing that you've built it from scratch. Still, a critical part of this joy-making process is owning the right set of tools and equipment. Without them, not only the quality but also the enjoyment of the project can take a hit.
However, filling your workshop with essential tools and equipment can sometimes become an expensive affair. Balancing a DIY budget while ensuring that you have all the necessary tools can be tricky. This is especially true when you're just starting out and need to build your tool kit from scratch.
But don't worry, you do not have to break the bank to gather all the tools you need. By employing intelligent shopping strategies and knowing exactly what to invest in, you can maximize your DIY budget. This article aims to guide you on this cost-effective journey, providing advice on essential tools on a budget, saving strategies, and how to save on specific DIY areas. By the time you finish reading, you'll be well-equipped to build your dream workspace without emptying your wallet! So, are you ready to dive in? Let's get started.
Essential DIY Tools on a Budget
You may think that having a robust collection of DIY tools means breaking the bank. However, that's not necessarily the case! With careful selection, you can equip yourself with a wide-ranging toolkit — without having to splurge. This article focuses on budget-friendly yet efficient tools worth considering for your DIY projects, delivering performance similar to some of the top brands like Milwaukee Tool, Bosch, DeWalt, Klein Tools, and Husqvarna.
Power Drill
From making holes in walls to screwing and unscrewing bolts, a power drill is exceedingly versatile. This multi-functional tool is a DIY must-have. When considering a power drill on a budget, take into account its power, speed, battery lifetime and overall durability.
Power Sander
A power sander provides an effortless solution to smoothing surfaces. It's efficient, saves time, and gives your projects a professional touch. Ensure your budget-friendly power sander doesn't skimp on speed control and comfortable handling features.
Measuring Tape
A measuring tape might seem like a basic tool, but its importance can't be overstated. For error-free measurements during your DIY tasks, choose a durable, budget-friendly tape with clear markings.
Level
A bubble level ensures precision. It's essential for tasks like hanging pictures, installing cabinets, and laying tiles. Opt for a well-constructed yet reasonably priced level that features clear vials and a comfortable grip.
Screwdriver Set
A comprehensive screwdriver set can tackle a broad range of projects. A budget-friendly screwdriver set should include multiple sizes, both flat-head and Phillips, to satisfy all your DIY needs.
Utility Knife
From cutting through packing tape to trimming carpet edges, a utility knife is indispensable. Invest in one that's robust yet lightweight, and offers easy blade change.
Additional budget-friendly tools worth considering include a stud finder, glue bot dispenser, Kobalt aluminum step stool and Stanley Fatmax 25-tape measure. Of course, no toolkit is complete without the basics: hammers, screwdrivers, pliers, and wrenches.
Remember, the ultimate goal of your DIY toolkit is efficiency and versatility. On a tight budget, aim for tools that meet these criteria while providing durable and reliable service.
The key takeaway: you do not need to spend a fortune to assemble a toolkit tackling most, if not all, of your DIY projects. With the right selection of tools, each DIY challenge can turn into an exciting and rewarding experience.
Saving Strategies for DIY Tools and Equipment
As every seasoned DIY enthusiast knows, accumulating the right tools and equipment can make a significant dent in your savings account. But it doesn't have to be this way. With some smart choices and minor adjustments, you can cut down on expenses without compromising on your craft. In this guide, we'll offer some practical and effective strategies for saving money on do-it-yourself (DIY) tools and equipment.
Buying Used Tools
Before rushing out to your local hardware store to buy that shiny new power tool, consider this – it's always wise to buy used tools, especially if you're just getting started with DIY projects. Garage sales and thrift stores can be goldmines for tools that are in good condition but priced significantly less than their brand-new counterparts. In fact, some previously owned tools have barely been used! Used tools may require a bit of cleanup, but with proper care, they can serve you just as well as newer ones.
Reclaimed Wood
Another cost-cutting strategy lies in your choice of materials. For instance, using reclaimed wood for a project not only saves money, but it also gives a beautiful rustic touch to your creation. Old barns, in particular, are a great source for durable and weathered planks that breathe new life into wooden creations.
Homemade Cleaners
Store-bought cleaning products can add up quickly, but a thrifty DIY enthusiast knows that making homemade cleaners is easy and economical. With a few household ingredients like vinegar, baking soda, and lemon juice, you can whip up powerful cleaners that can remove grease and grime from your tools.
Buying in Bulk
Planning a big project or frequently doing DIY projects? Then buying tools and materials in bulk can help you save significantly. Many retailers offer substantial discounts on bulk purchases. Just be sure to think through your needs carefully, because buying too much of an item that you hardly use can inadvertently end up costing more.
Online Equipment Auctions
Canvasing for your DIY resources? Check out online equipment auctions. Like garage sales, these platforms often have deep discounts on gently used or even new tools and construction materials. Just make sure to research the equipment thoroughly and factor in any shipping costs before placing a bid.
Maintaining Tools and Equipment
Did you know that well-maintained tools and equipment can last longer and perform better? Regular cleaning, proper storage, appropriate oiling, and ensuring tools like drills have the right bit can prevent them from overheating and reduce breakage, saving you costs in the long run.
Energy Saving Measures
Notice how some tools have power-saving features such as standby mode? These can help reduce energy consumption and subsequently save costs. By choosing tools with these cost-saving features, you can shave off those electric costs over time.
Workspace Organization
A well-organized workspace can also contribute to saving costs indirectly. Having everything in place minimizes the chances of misplacing or damaging tools. Furthermore, a tidy workspace can boost your productivity, helping you complete projects more quickly and efficiently.
Smart Purchasing Decisions
It's also crucial to make smart purchasing decisions when it comes to DIY tools. Analyze the benefits of owning versus renting a tool. For instance, if a tool is needed for a one-time job, it might be cheaper to rent it than to buy it. Similarly, borrowing tools from family, friends, or neighbors for short-term projects can also save costs significantly.
In conclusion, while indulging in DIY activities can be an expensive hobby, with some smart and strategic decisions, you can manage them affordably. Happy DIY-ing!
Saving on Specific DIY Areas
With the rise in the cost of living, embarking on do-it-yourself (DIY) projects is not only an exciting hobby but also an effective response to saving money. Tapping into the world of DIY doesn't necessarily mean spending a fortune. With a touch of creativity and patience, you can pull off just about anything while keeping your wallet intact. Let's delve into ways that you can save in specific DIY areas such as electronics, gardening, home repairs, and photography.
Electronics
Electronics can be a daunting area to dive into. However, with a little research and a few online tutorials, it's completely possible to make real savings. Think about making minor gadget repairs at home instead of relying on expensive repair services. By channelizing your inner tech wizard, you can maintain and repair your electronic devices, increasing their lifespan, and ultimately, saving money.
Gardening
Nature lovers, this one's for you. Cultivating a green thumb doesn't have to be costly. Start with simple indoor plants, which are both affordable and easy to maintain. Gradually, you can branch out into outdoor gardening, creating a green oasis around your living space. Investing in affordable and eco-friendly storage containers for your plant seedlings is a win-win.
Home Repairs
Home repairs can exhaust your savings if you're always reaching out to professionals. It's time to roll up your sleeves and harness your skills for DIY home repairs. It's as simple and efficient as using a homemade oven cleaner instead of a branded product, which often delivers similar results. Expensive HVAC systems can also be replaced with affordable, efficient, and easy-to-install models from the MRCOOL DIY series.
Photography
Unleash your inner photographer without burning a hole in your pocket by diving into DIY photography. From manufacturing your own light reflectors to creating unique backdrops, you can save a substantial amount while also delivering quality pictures. Also, embrace the affordability of DIY photography equipment available which are generally cost-effective and just as professional as pricey studio gear.
As with anything worthwhile, great DIY projects that save you money involve an investment: of time, patience, and sometimes, a nominal upfront cost. However, the savings coupled with the satisfaction of completing a project with your own two hands make every bit worth it. So, let's don our DIY hats and watch the savings roll in!
Conclusion
In the realm of DIY, saving money doesn't necessarily mean compromising on quality. With a little bit of insight and savvy decision-making, budget-conscious artisans can amass a collection of tools and equipment that rival even the most costly sets. From clever purchasing strategies to maintaining a well-organized workspace, we've covered some key methods to help our readers make the most of their DIY pursuits.
But remember, while saving money is essential, the craftsmanship, creativity, and satisfaction that come with DIY cannot be valued in monetary terms. And for those who appreciate the magnificence of a beautifully refurbished woodshelf or the joy of a properly tuned bicycle, Ultra Handy is always here to back you up with your inspirations and needs.
At Ultra Handy, we understand the value and joy in doing things by hand. Our wide suite of tools and outdoor wares, available on our Amazon store, is designed to support everyone from amateur hobbyists to professional builders, all the while being mindful of budgets of all sizes. So, get out there and feed your DIY aspirations!
Frequently Asked Questions
What are some tips for saving money on tools and equipment?Some tips for saving money on tools and equipment include: buying used or refurbished tools, comparing prices from multiple sellers, waiting for sales or promotions, considering renting instead of buying, and investing in versatile and multi-purpose tools.
Are there any reliable websites or platforms to buy used tools?Yes, there are several reliable websites and platforms where you can buy used tools, such as eBay, Craigslist, Facebook Marketplace, and ToolBarn.com. It's important to do thorough research, read reviews, and ask questions before making a purchase.
Should I prioritize brand or price when buying tools?It depends on your needs and budget. While reputable brands often offer better quality and durability, they may come with a higher price tag. Consider balancing your budget and the intended usage of the tools. Reading reviews and understanding the warranty or return policy can also help inform your decision.
Is it worth renting tools instead of buying them?Renting tools can be a cost-effective option if you only need them for a short period or for a specific project. However, if you anticipate using the tools frequently or in the long run, buying may be a more economical choice. Evaluate your needs and usage before deciding whether to rent or buy.
How can I ensure the quality of used tools before buying them?To ensure the quality of used tools before buying, consider the condition described by the seller, ask for detailed photos, inquire about the tool's history, and if possible, request a demonstration or inspection before finalizing the purchase. Additionally, buying from reputable sellers or platforms with good customer reviews can provide added peace of mind.