Building Your Budget-Friendly Toolbox: The Essential Tools Every DIY Enthusiast Needs
Discover the must-have tools for every budget-friendly DIY toolbox. Get started on your projects with these essential tools for the avid DIY enthusiast.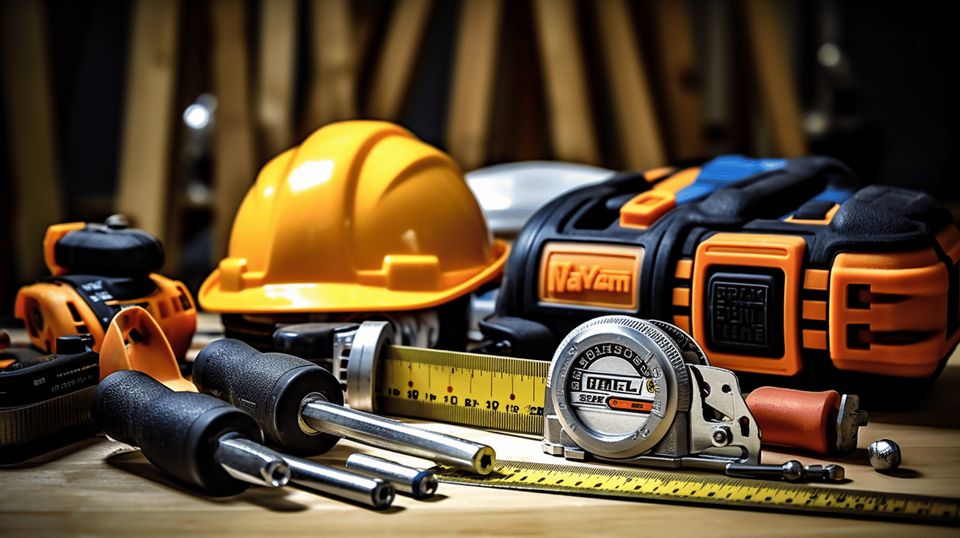 In the age of do-it-yourself (DIY) projects, having a well-equipped toolbox is the cornerstone of successfully accomplishing any task. From simple home repairs to intricate arts and crafts, DIY enthusiasts understand that having the right tools at their fingertips can be the difference between success and failure. This article delves into the world of essential and budget-friendly tools, covering everything from the absolute must-haves to cost-effective options for those looking to embark on DIY projects. We'll also explore affordable toolkits from top manufacturers, beneficial tools for common DIY tasks, and we'll even delve into some of the most frequently used tools in the DIY realm. So tighten your belts, roll up your sleeves, and let's embark on the mission of building your optimal, budget-friendly toolbox.
Absolute Must-Have Tools for DIY Enthusiasts
Are you a do-it-yourself enthusiast determined to take on your home improvement and repair projects? If so, step one is equipping yourself with the right tools. This article introduces you to the absolute must-have tools that need a spot in your DIY toolbox. Let's get you ready for all DIY challenges!
Hammer
A substantial, reliable hammer is the bedrock of any DIY tool collection. Best used for driving nails, breaking items apart, or simply morphing misshaped objects back to their original form, a hammer is a DIYers best friend.
Tape Measure
No DIY toolbox can ever be complete without a tape measure. From hanging art perfectly centered to ensuring that your new furniture piece fits just right, a tape measure is crucial in giving you precise measurements for every task.
Utility Knife
A utility knife, with its multi-faceted usage, becomes indispensable for a DIYer. It perfectly assists in all kinds of projects like cutting wallpapers, opening boxes, scraping paint, or even trimming carpets.
Screwdrivers
Screwdrivers, both flathead and Phillips, are the behind-the-scenes heroes in DIY projects. They serve multiple purposes such as installing fixtures, assembling furniture, or removing hinges. Remember, a good-quality set of screwdrivers is a long-term investment.
Hex Wrenches
Last but not the least, hex wrenches or Allen wrenches are essential for tasks that involve hex screw heads, which are frequently found in flat-pack furniture and household items.
Now that you know the five necessary tools for every DIY enthusiast, it's time to take a step further. Additional must-have tools for an ideally stocked toolbox also include a combination square, torpedo level, handsaw, electric drill, C-clamps, bar clamps, random orbital sander, and a staple gun. Armed with these tools, there's no DIY task that you cannot tackle!
Stepping into the world of DIY can be intimidating but also extremely rewarding. Remember, choosing reliable, high-quality versions of these essential tools is just as important as learning the right skills to use them. So, populate your toolbox, roll up your sleeves, and let the DIY magic begin!
Inexpensive Starter Toolkits from Top Manufacturers
The thrill of executing a do-it-yourself (DIY) project can be incredibly satisfying. With the right tools at your disposal, you might surprise yourself by accomplishing tasks you never thought possible! But a big hurdle for many DIY enthusiasts is finding an affordable toolkit that has everything needed to get started. Luckily, your search ends here as we delve into the world of starter toolkits offered by top manufacturers, providing the best bang for your buck. These manufacturers understand the need for comprehensive and inexpensive toolkits and hence, provide various options that cater to your needs.
Stanley
Stanley, a reputable name in the world of tools, is known for its robust and reliable products. There is a reason generations of handymen have put their trust in Stanley. The starter toolkit from Stanley is an excellent option for those dipping their toes in the world of DIY. Don't let the compact size of the toolkit fool you; it includes a range of essential tools such as pliers, a hammer, wrenches, and a screwdriver with multiple bits.
Key advantages of the Stanley starter toolbox include:
Durable construction for longevity
Versatile selection of essential tools
Compact design for easy storage
Affordable pricing
Workpro
Next on our list is Workpro. Known for creating tools with the user's comfort in mind, the starter toolkit from Workpro is not only budget-friendly but also ergonomically designed. The toolkit boasts of a variety of tools, including a tape measure, utility knife, and a pair of scissors, among others.
Why pick Workpro? Here's why:
Designed for user comfort
Comprehensive set of tools
Sturdy carry case for easy transportation
Excellent value for money
Deko
Last but definitely not least, we have Deko. Perfect for beginners, the Deko starter toolkit is easy to use with clear labeling and hassle-free storage. Comprising of essentials like a hacksaw, clamps, and a level, this toolkit checks all the boxes for a DIY enthusiast starting their journey.
Deko's offering stands out because of its:
User-friendly design
Wide array of tools
Clearly labeled compartments for easy tool identification
Competitive pricing
Remember, every great craftsman started as a beginner. So, don't let the absence of the right tools dampen your DIY spirit. With these inexpensive starter toolkits from top manufacturers such as Stanley, Workpro and Deko, get ready to embrace your inner handyman and embark on the exciting journey of DIY projects.
These affordable toolkits don't compromise on the variety or quality of tools, making them an excellent choice for those starting their DIY journey. So, whether you're assembling furniture, fixing a leak, or creating a piece of art, these toolkits have got you covered. Now, it's your turn to pick the toolkit that appeals most to you, and let the DIY magic begin!
Affordable Tool Inventory from Harbor Freight
There are places where professional-grade tools promise to deliver quality without ripping a hole in your pocket, and one such place is Harbor Freight. With an all-inclusive range at reasonable prices, Harbor Freight stands out as a haven for do-it-yourself (DIY) enthusiasts and professionals alike.
Reasonable yet Quality Products
What sets Harbor Freight apart is its unique amalgamation of affordability and quality. The company truly understands that high quality should not necessarily equate to high price tags.
Thanks to the rigorous testing standards, they assure durability and performance before any tool makes it to the shelf.
Their collection spans across various categories, including power tools, hand tools, air tools, and even specialized tools.
From smaller items such as screwdriver sets and wrenches to larger equipment like drill presses and generators, they have the capability to set up an entire workshop single-handedly.
High Customer Satisfaction
Perhaps the reason why Harbor Freight has been successful in garnering high customer satisfaction is due to their adherence to transparency and customer experience.
Their products bear clear and precise labels, providing patrons with all the necessary information to make an informed decision.
As a customer-centric company, Harbor Freight provides an easy-to-navigate website that helps users find what they're looking for without frills.
In addition, the company stands behind its products with warranties and has a generous return policy.
"Harbor Freight offers a range of cheap and affordable tools for DIY projects." quotes one satisfied customer.
This testimony echoes the sentiment of countless others who not only appreciate the cost factor but also the variety and quality offered.
At the end of the day, what matters is getting the best value for your money. And Harbor Freight has emerged as a credible player in this arena by offering high-grade tools without breaking the bank. Next time you're in need of tools, whether for a promising DIY project or a professional task, why not give Harbor Freight a try? You might just find it to be the perfect blend of quality, variety, and affordability.
Beneficial Tools for Common DIY Tasks
Are you embarking on a path of home improvement and DIY projects? Are you feeling overwhelmed by the sea of tool options available? Fear not! We've consulted with DIY experts to compile a list of indispensable tools to make your DIY journey much more manageable and enjoyable. From cordless drills to heat guns, there are a handful of tools every DIY enthusiast should have within reach.
Cordless Drill
Every DIY toolkit should start with a reliable cordless drill. It's not merely a luxury but rather a necessity, suitable for all sorts of tasks from assembling furniture to hanging pictures. High-quality cordless drills bring you the flexibility of moving freely around your workspace without the hassle of a cord. These tools are not merely a convenience; they're an investment towards a more efficient and enjoyable DIY experience.
Heat Gun
Moving onto our next suggested tool, let's chat about heat guns. This tool might not spring to mind when you think of DIY, but DIY experts point out their surprising versatility. They're particularly handy for stripping paint, but can also be used for tasks as diverse as loosening rusty screws and reshaping plastic. Despite its high utility, a heat gun is a relatively inexpensive addition to your tool chest, packing a lot of value into a small price tag.
Orbital Jig Saw
If you're planning to involve yourself in woodwork or generally require exact cuts, the Ryobi ONE+ 18V Cordless Orbital Jig Saw is a blessing. This efficient tool allows for precise straight and curved cuts, contributing significantly to the aesthetics and functionality of your DIY projects. It's not only a versatile device but also impressively affordable, making it accessible even for those just dipping their toes into DIY.
Wire Strippers
Last but not least, let's not forget wire strippers. Dealing with electronics or planning any electrical work? Wire strippers are a must! This simple yet effective tool is perfect for trimming and stripping electrical wires, ensuring safe and reliable connections. Although it may seem specialized, a set of wire strippers often becomes the unsung hero of a DIY toolkit.
To sum up, investing in these tools- a cordless drill, a heat gun, an orbital jig saw, and wire strippers, is a definitive way to aid and facilitate your DIY ventures. Let these tools serve as your trusted companions for all your DIY projects, delivering versatility, efficiency, and consistent performance that will significantly enhance your DIY experience.
Cost-Effective Tools for DIY Projects
The joy of crafting something with your own hands is unparalleled, and nothing compares to actually creating something tangible from scratch. The charm of DIY projects resides not only within the creative journey and hard work but also in the substantial potential savings. To bag those savings, you need cost-effective tools that can make the DIY process a smooth and hassle-free while reinforcing your skills. Let's explore some cost-effective tools that are staples for any DIY household project.
Caulk
From sealing cracks in walls to covering gaps around windows or setting up wallpaper adhesive — caulk has multifold uses and deserves its place in a DIY enthusiast's toolbox. It's an inexpensive tool with endless applications, making it a worthy investment. Besides, it's easy to use even for beginners, catering for a vast range of DIY projects without requiring high competency.
Spray Foam Insulation
Another effective and budget-friendly tool for your DIY adventures is spray foam insulation. It's an exceptional solution for insulating your home efficiently and with minimal effort. Whether it's about filling up cracks on walls, insulating cold rooms, or sealing gaps around doors and windows, this foam insulation can do it all. Moreover, it prevents energy loss, cutting down your utilities bills in the long run.
Electric Outlet Gaskets
Investing in electric outlet gaskets is synonymous with laying a solid foundation for a secure and safe abode. Being laden with wires and sockets, our homes are always at risk of short circuits and fire, especially during DIY renovations. These gaskets are inexpensive but provide insulation against such potential threats, ensuring safety along with energy efficiency.
Weatherstrip Adhesive
Last but not least on our list of cost-effective DIY tools is the weatherstrip adhesive. Used widely for sealing windows and doors against the elements, it can also be used for automotive purposes like applying trim and lightweight body moldings. The benefits, again, are twofold - the convenience of application and the long-term savings on heating and cooling costs, making it a worthwhile addition to your DIY kit.
In a nutshell, a cost-effective tool isn't necessarily one with the lowest price tag, but one that offers value—be it versatility, security, savings, or ease of use. Experimenting with these tools in your DIY projects can provide a learning opportunity while adding a personal touch to your creations. Every tool is a bit of an investment, but the returns, in terms of enhancing your skill set and the gratification of a job well done, are priceless. The more you get your hands dirty, the more adept you become at using these tools to their full potential, further fine-tuning your DIY competence.
Most Frequently Used Tools in DIY
Whether you're a seasoned DIYer or a beginner testing the water, having the right tools at your disposal can vastly improve your experience and the result of your project. The endless aisles at a hardware store can be overwhelming and quite frankly, a bit extravagant for the occasional handyman. It's always enticing to invest in niche, high-end gadgets, but chances are, the tools you'll reach for the most are simple, practical, and versatile.
Here, we're going to take you through two of the most frequently used tools you'll find in a seasoned DIYer's arsenal:
Power Drill/Driver
The power drill/driver is the quintessential tool in every DIYer's toolkit. It's no exaggeration to say that you might utilize this multitasker in almost every project, from assembling furniture to hanging decor. With this versatile gadget, you'll find that drilling holes and fastening screws become a breeze. As the most used tool, it should be on top of your list if you're equipping yourself for DIY tasks.
Good drills/drivers pack enough power to drive screws into all sorts of material, from hardwood to metal.
They come with adjustable speed settings and grip variations.
Most models include a reversible function to rapidly remove screws.
Tip: Invest in a cordless drill for optimal convenience and enhanced mobility.
Utility Knife
Next up on our list is a considerably basic but highly crucial tool: the utility knife, a workhorse too often overlooked. They might not seem as thrilling as power tools, but their wide range of applications—ranging from opening boxes to shaping materials—can't go unnoticed. Unlike inexpensive paper knives, a good utility knife can cut through thicker materials with ease, making them the better choice for a variety of tasks.
Slicing through packaging or tape is much simpler with a sharp utility knife.
It can score lines into wood or drywall, crucial for break-and-snap maneuvers.
The retractable blades ensure secure storage after use, making it a safe pick.
Tip: Opt for a utility knife with replaceable blades to ensure a sharp edge, thus reducing the risk of accidents.
There you have it. Two fundamental tools, each vastly different, yet equally indispensable for anyone who enjoys getting their hands dirty. Remember, it's not about having the most tools, but rather having the right ones. It's about how you use your tools, that truly sets you onto the path of DIY success. Happy DIYing!
Affordable and Reliable Options for DIY Enthusiasts
A new wave of resilience continues to sweep across the DIY landscape as more people turn their passion into reality through the power of Do-It-Yourself projects. Given the resourcefulness involved, your choice of tools can significantly make or break your DIY journey. For anyone embarking on a DIY endeavor, the affordability and reliability of their tools is a crucial matter. This section provides a highlight of two high-quality, pocket-friendly gadgets ideal for DIY enthusiasts.
DeWALT 20v Max Cordless Multi Tool Kit
Let's start with the tools that actualize the crafting magic - power tools! The DeWALT 20v Max Cordless Multi Tool Kit is a favorite among DIY enthusiasts for its versatility, power, and user-friendly design. Whether you're cutting, sanding, or scraping, this multi tool kit ensures you'll do it with ease and precision. Here are its striking features:
Cordless Design: Frees you from the hassle of tangled cords allowing a smooth workflow.
Powerful Battery: Ensures long hours of continuous operation suited for extended project timelines.
Versatility: Comes with an array of attachments suitable for different tasks.
Compact & Lightweight: Designed for easy handling to mitigate fatigue during long hours of work.
The DeWALT 20v Max Cordless Multi Tool Kit truly embodies the phrase, every penny counts, providing exceptional value for its price.
CyberPower USB Battery Pack
On the other hand, the CyberPower USB Battery Pack is an essential accessory for any DIYer. Keeping your essential cordless tools powered can be a challenge on a dedicated workflow and this is where this battery pack comes in handy. Here's why it's a must-have:
High Capacity: Stores significant power to keep you going for long hours uninterrupted.
Support for Multiple Devices: Equipped with multiple ports to charge multiple devices simultaneously.
Compact Design: Small enough to fit in a tool bag, making it perfect for on-the-go use.
Surge protection: Protects your devices from power fluctuations.
In essence, the CyberPower USB Battery Pack serves as the crucial lifeline for your cordless tools.
While tools are tools, nothing supersedes the significance of affordability and reliability when on your road to DIY mastery. Among the countless options available, the DeWALT 20v Max Cordless Multi Tool Kit and the CyberPower USB Battery Pack are time and again favored by DIY enthusiasts. They offer a desirable blend of superior functionality, sturdy build quality, and unparalleled value, making every DIY project a thrill to undertake.
Conclusion
Armed with the right tools, each DIY enthusiast can turn their vision into reality, and save serious money on repairs, home renovation, and other projects. Whether a beginner starting from scratch or a seasoned handyman looking to augment their toolbox, options abound to make smart, affordable choices without compromising quality.
Remember, a well-stocked toolbox doesn't have to cost the earth. It's about making savvy decisions based on what tasks you take on most frequently. This balance of needs and budget will enable you to create, innovate, and fix like a pro, wherever your DIY journey takes you. And, of course, for DIY enthusiasts who adore spending time outdoors as well, our Amazon store Ultra Handy has an exciting range of products designed just for you.
When it comes to achieving success in both your personal projects and your professional endeavors, remember the power of DIY, and the invaluable assistance of just the right toolbox. Dive into the rewarding world of DIY, and let's build something great together!
Frequently Asked Questions
What are the essential tools every DIY enthusiast needs?The essential tools every DIY enthusiast needs include a hammer, screwdriver set, drill, measuring tape, pliers, level, utility knife, adjustable wrench, and a set of various size and type of screws and nails.
How can I build a budget-friendly toolbox?To build a budget-friendly toolbox, prioritize purchasing basic tools that are versatile and of good quality. Look for deals, compare prices, consider second-hand options, and gradually expand your collection over time as you encounter new DIY projects.
Are power tools necessary for DIY projects?Power tools can greatly enhance the efficiency and effectiveness of DIY projects, but they are not always necessary. It depends on the complexity and scale of the projects you undertake. Start with basic hand tools and add power tools as needed.
What safety precautions should I take when using DIY tools?When using DIY tools, always wear appropriate protective gear such as goggles, gloves, and ear protection. Follow the manufacturer's instructions, ensure good lighting, keep your workspace organized, and be cautious of sharp edges and moving parts.
Where can I find DIY tool recommendations and reviews?You can find DIY tool recommendations and reviews online on websites such as Amazon, Home Depot, and Lowe's. Additionally, you can refer to DIY enthusiast forums or ask for recommendations from experienced DIYers.